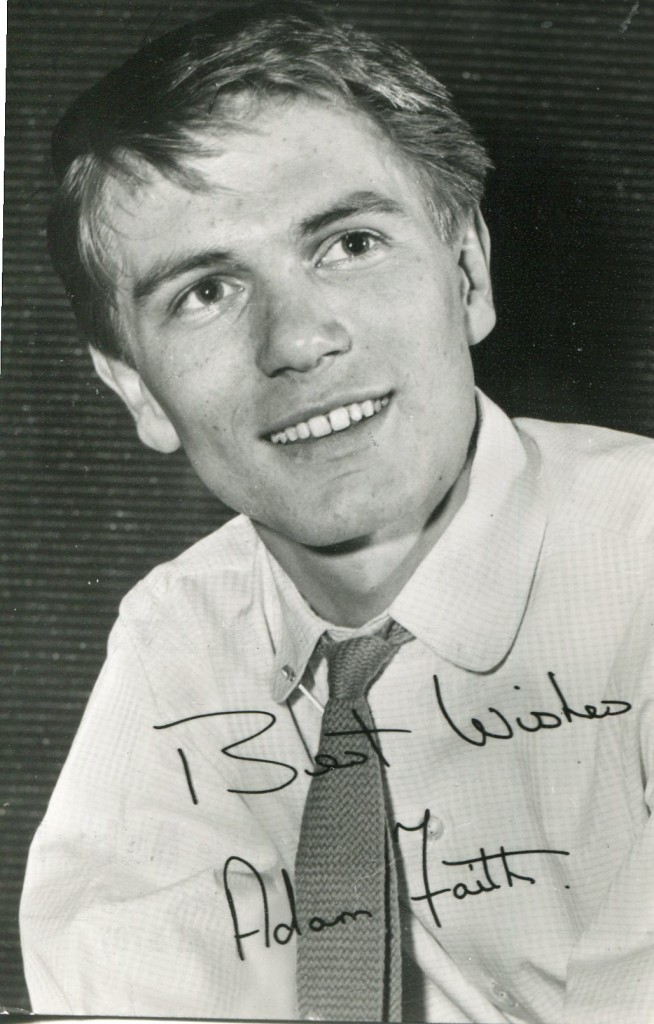 Adam Faith obituary in "The Guardian" in 2003.
Adam Faith was primarily known as a pop singer in Britain in the early 1960's. However he did make some very good movies at the same time. Later on he became a very accomplished television actor . He was very effective in "Budgie" and "Love Hurts". He was badly injured in a car accident and he required extensive plastic surgery. He died at the age of 62 suddenly from a heart attack.
Dave Laing's 2003 obituary in "The Guardian"
Adam Faith, who has died of a heart attack aged 62, was one of Britain's leading pop singers in the early 1960s. One of the first generation of home-grown British stars, he vied for popularity with Billy Fury and Cliff Richard. His brief career as a pop idol was eclipsed when guitar groups, such as the Beatles, took over and his style of beat ballad seemed outmoded. But he did not disappear from the limelight. Instead, he reinvented himself several times, as music businessman, financial expert and, in particular, as an actor. His acting career reached a peak in 1971 when he starred in the television series Budgie, scripted by Keith Waterhouse.
He was born Terence Nelhams in Acton, west London, the third of five children of a coach driver and an office cleaner. After leaving school, he worked in the film industry, progressing from messenger boy to assistant film editor. He was inspired to form the Worried Men skiffle group in 1956 by Lonnie Donegan's recording of Rock Island Line. As Faith said in his first autobiography Poor Me (1961): "Skiffle hit Britain with all the fury of Asian flu. Everyone went down with it." Faith later repaid his debt by producing a 1978 comeback album for Donegan, Puttin' On The Style.
While performing at the Two Is coffee bar in Soho, in a live broadcast for BBC TV's 6-5 Special show in 1958, Nelhams caught the eye of producer Jack Good, who told him that he could be a successful singer with a change of name. Good gave him a book of Christian names from which Terry picked Adam from the boys section and Faith from the girls.
His big break came when John Barry, the musical director of 6-5 Special, recommended him to Stewart Morris, the producer of a new TV series, Drumbeat. Morris created the moody Adam Faith image by ordering him to cut his James Dean-style mass of blond hair and forbidding him to smile on camera, resulting in Faith's trademark "sunken cheek, hungry look".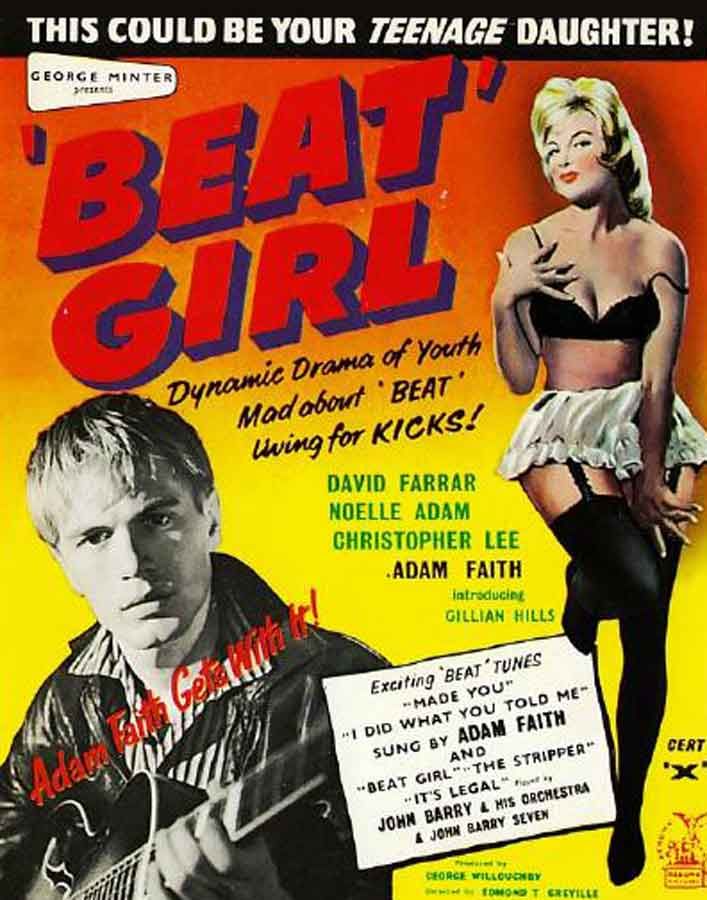 His first recording, in 1959, for the Parlophone label, What Do You Want, was masterminded by John Barry, songwriter Johnny Worth and producer John Burgess. They reinvented Faith as an Anglicised Buddy Holly with Barry's pizzicato string arrangement and quirky vocal mannerisms like the oddly pronounced "biya-bee" for "baby". The record was soon selling 50,000 copies a day and became No 1 in the hit parade and the first of Adam's 16 Top 20 records over the next five years. His other hits included Poor Me, Who Am I, Someone Else's Baby and Lonely Pup (In A Christmas Shop).
Adam Faith was quickly established as a teen-idol. From 1960 to 1962, he appeared in the films Beat Girl, Never Let Go, What A Whopper! and Mix Me A Person, a psychological drama which established his acting credentials. John Barry's scores for three of the films provided the springboard for his subsequent work for the James Bond series.
Such was his instant celebrity that in December 1960 Adam Faith was interviewed on the BBC TV programme Face To Face by John Freeman to whom he revealed that his favourite composers were Sibelius and Dvorak and his favourite book Catcher In The Rye. In the words of pop pundit Nik Cohn, Faith thereby introduced "the concept of pop singer as thinker".
By 1963, in order to compete with the new popularity of groups such as the Beatles, Adam Faith hired the Roulettes to accompany him on his live appearances and commissioned songs from a younger writer, Chris Andrews. Nevertheless, by 1967, Faith's star had waned and recognising that "the worst thing in the world is to be an ex-pop singer doing the clubs" he focussed on an acting career.
He toured as the lead in Keith Waterhouse and Willis Hall's Billy Liar, appeared as Feste in Twelfth Night and with Dame Sybil Thorndyke in Emlyn Williams' Night Must Fall. His role in Budgie, as the diffident small-time crook, suited Faith's stage persona and the show ran for several seasons. In 1988 a stage musical version was produced.
In the early 1970s, Faith returned to the music business as a manager and producer rather than a performer. While touring in 1964 he had discovered the singer Sandie Shaw and now he recognised the potential of Leo Sayer. Faith managed him until 1985 when the relationship soured and Sayer sued Faith for unpaid earnings. Faith also coproduced Sayer's early albums and the first solo album by The Who's Roger Daltrey in 1973.
In August 1973 he was seriously injured in a car accident, an event that he described later as the turning point of his career. The crash inspired the title song of I Survive, Faith's first recording for seven years. Although the album received good reviews, it was not a commercial success and it marked the end of his singing career.
In 1974 he returned to film acting. Producer David Puttnam persuaded him to play the manager of the rock star character played by David Essex in Stardust. In the Guardian, Derek Malcolm enthused that Faith's "portrait of a rough diamond on the make could scarcely be more authentic". Faith later starred in Yesterday's Hero (1979) and McVicar (1980). On the West End stage he appeared in Stephen Poliakoff's City Sugar (1975).
In the 1980s, Faith reinvented himself again, this time as a financial guru for the yuppie generation. Although he had invested in property since the 1960s, he had less success on the financial markets. He became a columnist for the Daily Mail and Mail on Sunday but was also associated with Roger Levitt. When Levitt's investment empire collapsed, Faith was reported to have lost £10m. Faith later became a partner in The Money Channel on cable and satellite television, but its failure in 2001 cost him £32m and forced him into bankruptcy.
In the 1990s, Faith returned to stage and television acting, appearing in the sitcoms Love Hurts with Zoë Wanamaker and The House That Jack Built with Gillian Taylforth. In the West End he starred in a revival of Bill Naughton's Alfie and in the musical A Chorus Line. In 1996 he wrote a memoir, Acts Of Faith.
He had a history of heart problems and was given open heart surgery to relieve blocked arteries in 1986.
He is survived by his wife, the former dancer Jackie Irving, whom he married in 1967, and their daughter Katya.
· Adam Faith (Terence Nelhams), singer, actor and businessman, born June 23 1940; died March 8 2003
• This article was amended on 3 July 2012. The original stated that Faith married Jackie Irving in 1975. This has been corrected.
Adam Faith's obituary in "The Guardian" can be accessed online here.