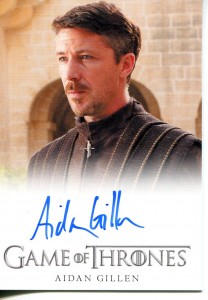 Aidan Gillen TCM Overview
Aidan Gillen is quietly building up a very impressive resume of roles on film, television and stage. On TV he has created such memorable characters as 'Stuart Alan Jones' in "Queer As Folk" in 1999, as 'Tommy Carcetti' in "The Wire", 'John Boy' in"Love/Hate" and as 'Petyr Baelish in "Game of Thrones". He was born in Dublin in 1968. Among his films are "The Lonely Passion of Judith Hearne" in 1987 with Maggie Smith, "The Courier" with Gabriel Byrne, "Shadow Dancer" and "Dark Knight Rises".
TCM overview:
A human chameleon with a deft touch at playing charismatic heels, Aidan Gillen became an intrinsic player to some of the most groundbreaking television shows of the 1990s and 2000s, including such prestige fare as the U.K.'s "Queer as Folk" (Channel 4, 1999-2000) and HBO's "The Wire" (2002-08) and "Game of Thrones" (2011- ). In the early 1990s, the Irish-born Gillen established a footprint in the U.K. theater scene and a run of well-regarded independent films like "Circle of Friends" (1995), "Some Mother's Son" (1996), "Mojo" (1997) and "Buddy Boy" (1999). In 1999, he landed one of the leads on the daring British series "Queer as Folk," one of the first humanizing looks at gay culture in television history. In 2003, Gillen's Broadway debut in Harold Pinter's "The Caretaker" earned him a Tony nomination, setting him up for a memorable splash on U.S. television as Mayor Tommy Carcetti on HBO's magnum opus urban drama "The Wire." Gillen carved a niche playing textured, scene-stealing villains in projects such as "Lorna Doone" (BBC, 2000), "The Final Curtain" (2002), "Shanghai Knights" (2003), "Blackout" (2008), "Freefall" (BBC, 2009) and "Blitz" (2011), capped deftly by his return home to play a mob boss in the Irish drama "Love/Hate" (RTE, 2010-11) and the Machiavellian counselor Littlefinger on "Game of Thrones." Boasting a CV "teeming with reptiles, chancers and scumbags," as the U.K.'s Guardian newspaper summarized, Gillen continues to build an élan as one of Ireland's best thespian imports.
Gillen was born as Aidan Murphy on April 24, 1968, in Dublin, Ireland, the youngest of six children of a nurse and an architect. He grew up in artistic ranks, with his sister Fionnuala becoming an actress and his brother John Paul a television writer and playwright. Aidan came of age fascinated by film, the home video revolution affording him a chance to devour movie classics. He began acting at age 13, studying the craft at the Dublin Youth Theatre. At age 15, he started dating a neighborhood girl, Olivia O'Flanagan, and it would become a long-term relationship. He took a featured role in the DYT's production of Shakespeare's "A Midsummer Night's Dream" when he was 16 and secured his Equity card the next year, picking up some minor film roles, most notably the Irish-shot feature "The Lonely Passion of Judith Hearne," which starred Bob Hoskins and Maggie Smith. Upon graduating from St. Vincent's C.B.S. secondary school in Glasnevin, he was already working regularly in the theater. He adopted his mother's maiden name, Gillen, as his stage name when he discovered there was another actor already working as Aidan Murphy.
At age 19, Aidan moved to London, U.K., where he soon found himself working in top-tier productions on the West End, such as revivals of dramas by playwright Billy Roche, "A Handful of Stars" and "Belfry" – both shot for broadcast on the BBC – Mamet's "The Water Engine," the groundbreaking AIDS-coping drama "Marvin's Room" and a revival of the Irish classic "Playboy of the Western World." Gillen won his first major screen role in the 1993 BBC telefilm "Safe," playing a young grifter amid a stark cross-section of homeless people. He garnered a broader international audience as the love interest of one of the two Dublin University co-eds (one of them played by Minnie Driver in her breakthrough role) central to the critically adored indie "Circle of Friends" (1995). Gillen continued to play countrymen the next year in "Some Mother's Son," which saw him as an imprisoned IRA member who puts his mother (Helen Mirren) in the thick of an awful moral dilemma when he undertakes a hunger strike to secure political prisoner status. In 1997, he reprised a previous stage credit in the film adaptation of Jez Butterworth's "Mojo," a tale of the London gang culture's interspliced relationship with the early days of rock-n-roll, with Gillen playing the manic, murderous son of a club-owner.
He again excelled at creepy in the Mark Hanlon-helmed indie thriller "Buddy Boy," rendering a man largely sequestered from the world to take care of his aging mother but developing an unhealthy fascination with a comely neighbor. In 1999, Gillen landed a television series, Channel 4's "Queer as Folk," Russell T. Davies' trailblazing, unflinching look at the gay subculture of Manchester's Canal Street district. With charismatic abandon, Gillen donned the character of Stuart Alan Jones, an unabashedly out, devil-may-care, randy PR executive. The show drew both condemnation from conservative cloisters and critical praise, much of it directed at Gillen. Channel 4 brought the series back for a two-episode sequel in 2000. The role scored him a BAFTA nomination for Best Actor. In 2001, Gillen married O'Flanagan. His demand rising, Gillen took another TV gig, starring as an amateur sleuth helping to track a serial killer in the miniseries "Dice" (CBC, 2001). Hoping to avoid being pigeonholed by TV stardom, he returned to one-off projects. He continue to hone his heel bona fides with variously menacing performances, playing the scheming villain of the BBC's high-profile retelling of the Scottish period adventure "Lorna Doone" (2000); a corrupt cop in the King Lear contemporary version of "My Kingdom;" and an unscrupulous, deranged game show host in a vicious feud with rival Peter O'Toole in "The Final Curtain" (2002).
In 2003, he took it to Hollywood, tapped to play the smarmy cad in the de rigueur Jackie Chan/Owen Wilson action comedy "Shanghai Knights." That year, he returned to the stage in high style, starring alongside Patrick Stewart and Kyle MacLachlan in a Broadway revival of Harold Pinter's "The Caretaker." He played Mick, a slick, borderline violent Londoner whose big-hearted brother (MacLachlan) helps out a homeless man (Stewart), which soon turns out to be a more menacing prospect than expected. Though the production opened to mixed notices, The New York Times, like many others, singled out Gillen's intense performance, calling it a "smashing Broadway debut." The performance drew him a Tony Award nomination, as well as the attention of producers of the HBO drama "The Wire." The intricate, exhaustively textured series of stories about weary cops and the drug trade denizens on the decaying streets of Baltimore, MD, was moving into its third season, heralded nearly universally as the new bar for narrative fiction in the U.S., and producer David Simon planned to expand the storyline beyond the street and into big-city politics. Gillen joined the cast in 2004 as the centerpiece of that arc, Tommy Carcetti, outwardly no-nonsense and liberal, but privately a manipulative city councilman, given to pulling strings in his oversight of the city's public safety functions.
Gillen continued with the show through 2008, seeing Carcetti make an unlikely ascent to mayor and eventually governor. With the show's importation to Ireland television, Gillen took the Best Actor laurel from the Irish Film and Television Awards (IFTAs) in 2009. He revisited Mamet's works in 2007, starring in revivals of "American Buffalo" in Dublin and "Glengarry Glen Ross" in London. He donned the heavy again in multivariate sequence of films: an unbalanced doctor in the indie thriller "Blackout;" a gleefully avaricious investment banker in BBC's telefilm of the credit meltdown, "Freefall" (2009); a standard con in another attempt to make pro wrestler Jon Cena an action star, "12 Rounds" (2009); and a self-styled rock star serial killer in the Jason Statham cop procedural "Blitz" (2011). Relocating with Olivia and their two children to Kerry, Ireland, in 2009, Gillen took the lead in the homegrown ensemble crime drama "Love/Hate," scoring the role of John Boy, an organized crime boss whose cool steadily unravels along with his criminal empire. In 2011, the show swept the IFTA awards, with Gillen again taking the Best Actor award. He kept his hand in more sympathetic roles on the ITV procedural "Identity" (2010), playing a hotshot identity crimes detective living a double life; in the sweet low-budget Brit comedy "Treacle Jr." (2010); and the Irish-set horror flick "Wake Wood" (2011).
In an internationally star-making role, Gillen would stride the rapier edge between heel and hero as the morally ambiguous Petyr "Littlefinger" Baelish, high-class pimp and counselor to the king on the ambitious HBO series "Game of Thrones." Premiering in 2011, the epic fantasy adventure, based on George R.R. Martin's series of novels under the rubric A Song of Ice and Fire, followed a vast cross-section of a fictional island confederation of fiefdoms thrown into political intrigue and eventually war over control of their unifying throne, pitting the draconian southern aristocrats, the Lannisters, against the brothers of the fallen king, the Baratheons, the Iron Islands-dwelling Greyjoys, and the honorable, largely sympathetic northern house, The Starks, led by Ned Stark (Sean Bean) and his strong-willed wife Catelyn (Michelle Fairley). Baelish's seemingly pragmatic parlays between Baratheons, Lanisters and Starks made him an enigma in the first season, clouded by his revealed previous suitorship of Catelyn Stark, then clarified by his ultimate betrayal of Ned with the smirk-delivered line, "I did warn you not to trust me." "Thrones" debuted to rave reviews, developing tsunami of pop cultural buzz and seeing ratings climbing throughout the season to reach an impressive-for-cable three million-plus viewers on initial airing and an average of nine million per episode with rebroadcasts. The show earned 13 Emmy nominations in 2011 and made Gillen and his many fellow cast members much-in-demand for interviews in fanatical sci-fi/fantasy circles.
By Matthew Grimm
The above TCM overview can also be accessed online here.
Interview with Aidan Gillen on "Game of Thrones" for "Rolling Stone" magazine can be obtained online here.