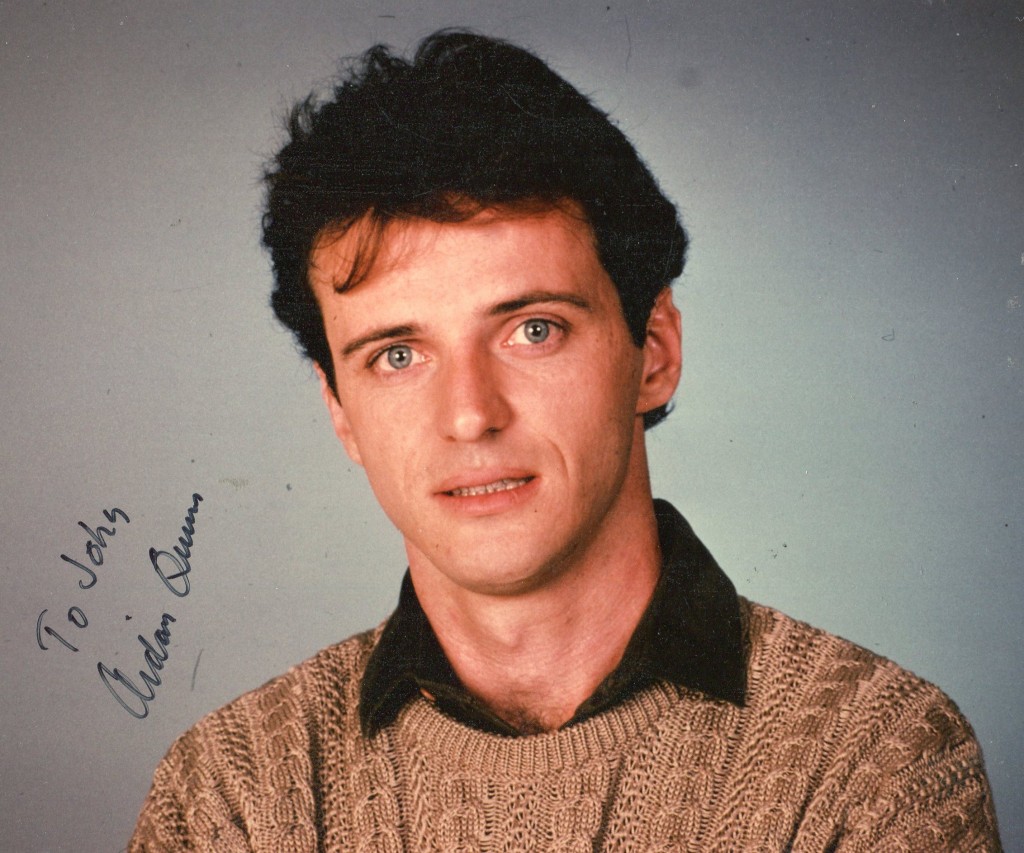 Aidan Quinn. TCM Overview
Aidan Quinn was born in the U.S. of Irish parents in 1959. He spent much of his childhood in Ireland in Birr Co. Offaly. Among his earlier work of note is the television film "An Early Frost" one of the first films to tackle the subject of AIDs. Aidan Quinn has made many films in Ireland including "Michael Collins", "Desperately Seeking Susan" and "This Is My Father".
TCM overview:
An actor known for the depth and intensity of his performances, Aidan Quinn eschewed the typical leading man roles in favor of complex characters in projects he found artistically appealing, rather than commercially attractive. After honing his craft in the theaters of Chicago, Quinn auditioned for and won his first feature film role – the lead in the romantic melodrama "Reckless" (1984). Even as he continued to perform on stage, he added to his screen credits with a charming turn in the quirky romantic comedy "Desperately Seeking Susan" (1985) and a daring portrayal of an AIDS victim in the made-for-TV drama "An Early Frost" (NBC, 1985). Quinn was endearing as a Baltimore family patriarch in "Avalon" (1990) and played put-upon brothers in films such as "Benny & Joon" (1993) and "Legends of the Fall" (1994). He was affecting as a doomed Irish farmer in love with an underage girl in "This is my Father" (1998), and as a troubled priest on the short-lived series "The Book of Daniel" (NBC, 2005-06). Never content to be confined to a single genre or character type, Quinn moved with ease from low-key family fare like the coming-of-age drama "Flipped" (2010) to the adrenaline-fueled action of "Unknown" (2011), continuing a career that highlighted diversity over publicity.
Born on March 8, 1959 in Chicago, IL to parents Teresa and Michael, Quinn's family vacillated between the city of Rockford – where his father was a professor of English literature at the community college – and his parents' home country of Ireland for the majority of his childhood. After graduating from high school, splitting his attendance between schools in the States and in Belfast, Ireland, he returned to Chicago at the age of 19 and began earning a living as a roofer in the construction business, while also taking acting classes at the Piven Theatre Workshop. Almost immediately, Quinn found himself bit by the acting bug and began auditioning with local theater companies. He made his professional stage debut in a Chicago production of "The Man in 605," later appearing off-Broadway in Sam Shepard's "Fool for Love" in 1983. Quinn launched his film career when he won the lead role of young rebel Johnny Rourke in James Foley's "Reckless" (1984), co-starring Daryl Hannah as the privileged girl irresistibly drawn to him. The following year he returned to the stage in another Shepard production, "A Lie of the Mind," before reappearing on the silver screen in that quintessential slice of mid-1980s pop culture "Desperately Seeking Susan" (1985). Co-starring Rosanna Arquette and Madonna – the latter in her screen debut – the quirky fairy tale of mistaken identity did big box-office business, propelling Quinn into the upper echelon of young acting talent at the time.
At the height of the AIDS epidemic, Quinn took a risk when he accepted the role of Michael Pierson, a closeted gay man diagnosed with HIV in his first made-for-television movie, "An Early Frost" (NBC, 1985), opposite Gena Rowlands and Ben Gazzara as his devastated parents. Although the network lost substantial revenue due to several advertisers pulling commercial spots, the controversial film was a ratings winner and Quinn garnered an Emmy nomination for his performance. He made a short, impressive contribution alongside Robert De Niro in "The Mission" (1986) prior to starring in the "Great Performances" production of Arthur Miller's "All My Sons" (PBS, 1987). Next, Quinn explored his villainous side in John Badham's buddy-cop comedy "Stakeout" (1987) before taking to the stage as Stanley Kowalski the following year in the Broadway revival of Tennessee Williams' "A Streetcar Named Desire." He essayed the title role in "Crusoe" (1989), a poorly-received revisionist adaptation of the oft-filmed 1719 Daniel Dafoe novel. Quinn went on to play the illicit lover of conscripted concubine Natasha Richardson in the problematic adaptation of Margret Atwood's futuristic novel "The Handmaid's Tale" (1990) and played a character based on Barry Levinson's father in the director's third film set in his hometown of Baltimore, MD, "Avalon" (1990).
Quinn played an idealistic missionary in the jungles of the Amazon in the well-intentioned, but ultimately disappointing drama, "At Play in the Fields of the Lord" (1991), followed by a turn as a member of a traveling Irish theater troupe courting Robin Wright in "The Playboys" (1992). He then carried the burden of an undeniably thankless role opposite the eccentric performances of Johnny Depp and Mary Stuart Masterson in the romantic comedy "Benny & Joon" (1993). Busier than ever, Quinn starred opposite Madeline Stowe in the romantic thriller "Blink" (1994), followed by a small cameo as the captain of a doomed Arctic vessel in the messy Francis Ford Coppola-produced adaptation of "Mary Shelley's Frankenstein" (1994). He closed out the year in the unenviable position of being overshadowed by the preternaturally handsome Brad Pitt in the historical melodrama, "Legends of the Fall" (1994). Later, he appeared as Richmond in Al Pacino's ingenious documentary exploration of Shakespeare, "Looking for Richard" (1996), and proved convincing as Harry Boland, co-strategist and romantic rival of "Michael Collins" (1996), Neil Jordan's epic take on the Irish freedom fighter.
Director Christian Duguay gave Quinn the opportunity to play the unconventional dual roles of Carlos "The Jackal" Sanchez, as well as a naval officer who bears an uncanny resemblance to the international terrorist in the gripping thriller, "The Assignment" (1997). On television that same year, he portrayed Henry Morton Stanley in the historical docudrama "Forbidden Territory: Stanley's Search for Livingston" (ABC, 1997). Quinn returned to his beloved Ireland for "This is My Father" (1998), a family affair written and directed by his brother Paul and shot by cinematographer brother Declan. Appearing in flashbacks, he deftly played the shy son of poor farmers whose romance with a spirited underage girl was doomed to end in tragedy. As the decade drew to a close, Quinn picked up supporting roles as the love interest of a modern day witch in the whimsical romance "Practical Magic" (1998), and as the concerned husband of nightmare-plagued Annette Bening in the thriller "In Dreams" (1999). He lent his services to efforts like the Pierce Brosnan family drama "Evelyn" (2002) and appeared in the critically drubbed "Stolen Summer" (2002), the first movie produced by the filmmaking reality show, "Project Greenlight" (HBO, 2001-03/Bravo, 2004-05). Quinn was, however, in much better company as part of the esteemed ensemble cast of the award-winning, two-part miniseries "Empire Falls" (HBO, 2005), starring Ed Harris and Paul Newman.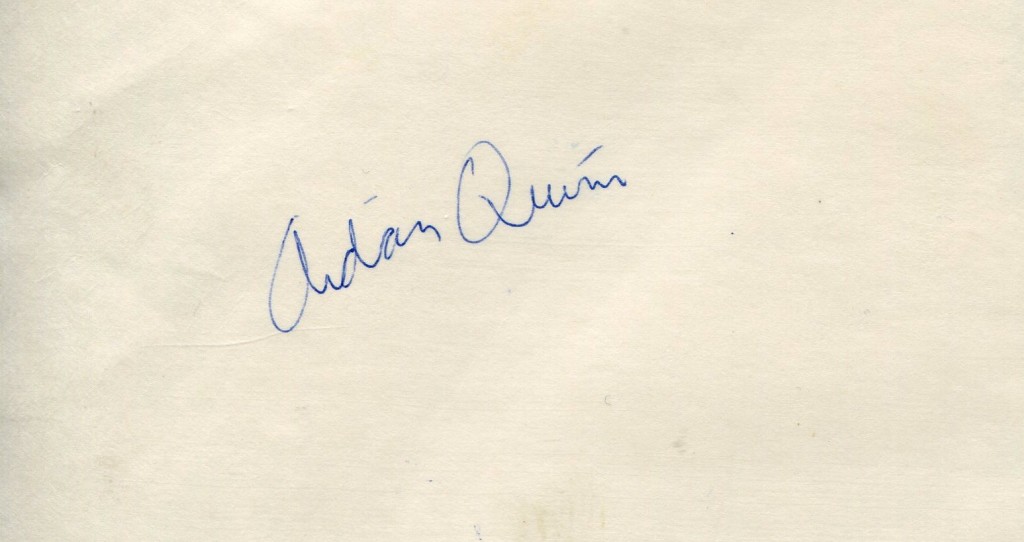 Quinn gave episodic television a shot when he led the cast of "The Book of Daniel" (NBC, 2005-06) as Daniel Webster, a priest who regularly converses with the literal embodiment of Christ, even as he battles his own personal demons. Touted as "edgy" and "challenging" by the network and at the same time maligned by certain church groups, the drama was pulled after just a few episodes. He returned to TV in the role of crusading attorney Julianna Margulies' husband in yet another short-lived show, the crime drama "Canterbury's Law" (Fox, 2007-08). Quinn went on to play a dogmatic cosmology professor in the fact-based tragedy "Dark Matter" (2008), the story of a frustrated Chinese foreign exchange student driven to violence after being the victim of perceived academic politics. He played President Grant in "Jonah Hex" (2010), a flawed adaptation of the comic book Western, as well as a loving dad in the Rob Reiner-directed family drama "Flipped" (2010). In the action-thriller "Unknown" (2011), Quinn played a conspirator impersonating a recent accident victim and possible amnesiac portrayed by Liam Neeson. Back on the small screen, Quinn had guest appearances on "White Collar" (USA Network, 2009- ) and "Weeds" (Showtime, 2005-2012), before landing a regular series role as the lieutenant of a rude, crude and occasionally reckless homicide detective (Maria Bello) on the well-received but ultimately short-lived "Prime Suspect" (NBC, 2011-12), a U.S. remake of the popular British series starring Helen Mirren. The following year, he returned with another regular series role, this time playing a New York City police captain genuinely fond of former Scotland Yard consultant Sherlock Holmes (Jonny Lee Miller) and his partner, Dr. Joan Watson (Lucy Liu), on the critically acclaimed series "Elementary" (CBS, 2012- ). The above TCM overview can also be accessed online here.
Interesting interview with Barry Egan in "Independent.ie" here.