Alain Delon TCM Overview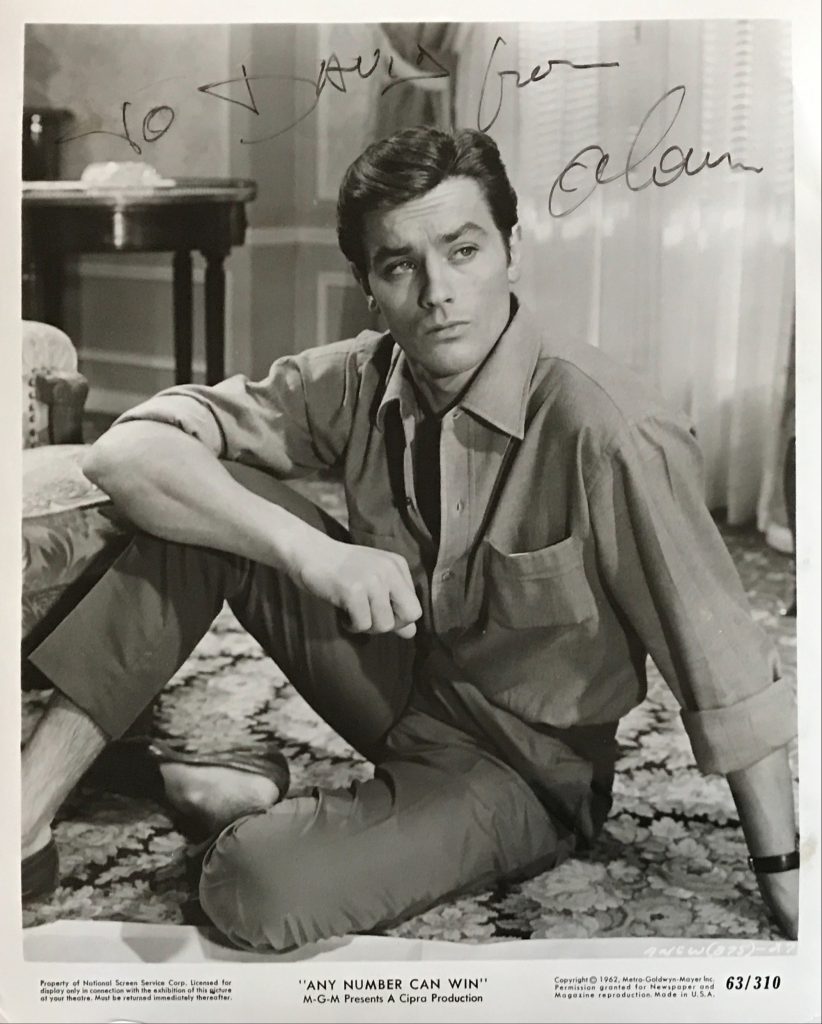 His website here. Alain Delon is regarded as a giant of French cinema. In the sixties he attempted Hollywood but by the end of the decade he resumed his career in Europe. He was born in 1935 in Sceaux, France. At a young age he joined the military and spent some time in Indochina. He was noticed by a talent scout in Cannes and in 1957 in "Sois Belle et Tais-toi". In 1960 he made an international breakthrough with Rene Clement's "Purple Noon". Luchino Visconti cast him in "Rocco and His Brothers" and "The Leopard". In 1964 he went to Hollywood to make "Once A Thief" opposite Ann-Margret. In 1970 he had a major hit with "Borsalino"
TCM overview:
One of the great cinematic anti-heroes of the 1960s and 1970s, French actor Alain Delon brought a sense of daring and insouciant charm to his portrayals of gangsters, hired guns and men of mystery in such international hits as "Purple Noon" (1961), "Le Samourai" (1967), "The Sicilian Clan" (1969) and "Monsieur Klein" (1976). That he appeared, at least in part, to live an outlaw life off the screen as well, with multiple high-profile affairs and alleged connections to organized crime, only furthered his appeal to moviegoers on both sides of the Atlantic, who were drawn to his icy, implacable calm and Gallic bravado. On occasion, he ventured to Hollywood, but the results were frequently subpar; viewers were not interested in seeing Delon play for laughs opposite Dean Martin in "Texas Across the River" (1964) or as a cardboard hero in "Concorde Airport '79" (1979). He was best served in his native country, where he dominated the box office well into the 1980s before pulling in the reins to focus on marketing his name through a variety of products. On occasion, the lure of the silver screen proved too strong to resist, and he would return to acting on several occasions during the '90s and early 2000s. Though his famous mane of hair was silvered and the smoothness of his face marked by time, Delon's extraordinary magnetism remained untouched by the decades – irrefutable proof of his status as one of France's most enduring leading men.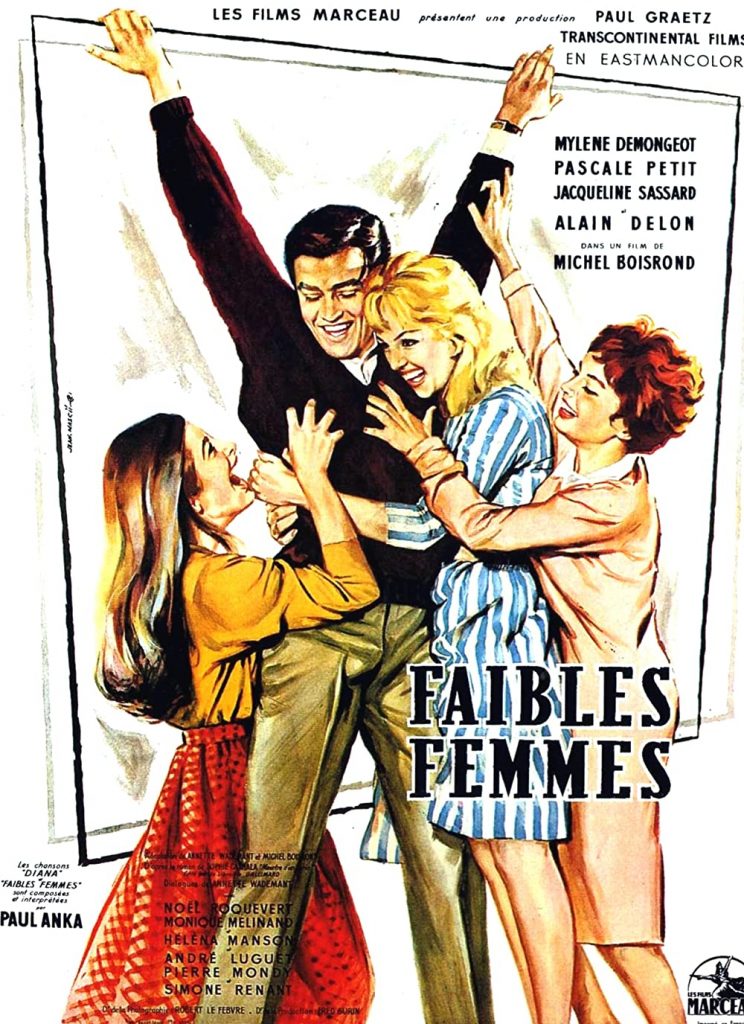 Born Alain Fabien Maurice Marcel Delon on Nov. 8, 1935 in the town of Sceaux, outside of Paris, France, he was the son of Fabien Delon, and his wife, Edith. His parents divorced when Delon was four, and subsequently remarried. The turmoil in his home was reflected in his schooling. An unruly student, Delon was expelled from six schools by the time he was a teenager. He eventually left school altogether at age 14 to work at his stepfather's butcher shop before enlisting in the French Navy, where he served in the First Indochina War. Again, his rebellious nature got the better of him, and he spent 11 months of his four-year stint in a military prison for lack of discipline. Delon was dishonorably discharged in 1956 and returned to France to work a series of menial jobs. While in Marseilles, he became friendly with actor Jean-Claude Brialy, who invited Delon to join him at the 1957 Cannes Film Festival. There, his striking good looks attracted the attention of numerous producers and talent scouts, among them allegedly a representative of "Gone with the Wind" (1939) producer David O. Selznick, who offered a multi-picture deal, provided that he learn English. Delon returned to Paris, where he met director Yves Allégret, who gave him his first screen role in "Quand la femme s'en mêle" ("When the Woman Butts In") (1957) as a young hit man hired to kill the rival of a club owner (Jean Servais), a felicitous bit of casting that would echo throughout Delon's career. Delon earned his first leading role in "Christine" (1958), as a young soldier who fell in love with an innocent (Romy Schneider) while involved in a scandalous affair with the wife of a commanding officer. Delon and Schneider became an off-screen couple as well, going on to announce their engagement in 1959.
The following year, Delon earned his star-making role as Patricia Highsmith's murderous anti-hero, Tom Ripley, in René Clément's "Purple Noon" (1960). His cool performance as an amoral young man who murdered and assumed his friend's identity to advance his social standing won favor from critics as well as Highsmith herself, and soon established Delon as a major European star. A richer, more sensitive turn as a young Italian in love with a prostitute (Annie Giradot) in Luchino Visconti's "Rocco and His Brothers" (1961) followed, as did his stage debut that same year opposite Schneider in a production of "Tis Pity She's a Whore," directed by Visconti. Delon was soon the leading man of choice for many of Europe's most acclaimed directors, including Michaelangelo Antonioni for "Eclipse" (1962), Julien Duvivier for "The Devil and the Ten Commandments" (1963), and Henri Verneuil, who cast him as a reckless criminal opposite French screen legend Jean Gabin in "Any Number Can Win" (1963). Delon also garnered a reputation as a rogue off-screen as well when Schneider called off their engagement in 1963 upon discovering that he had fathered a son, Christian, with the German singer-actress Nico. The following year, he married actress Nathalie Barthélemy, with whom he had a son, actor Anthony Delon. I
A 1963 Golden Globe nomination for his turn as the headstrong nephew of Italian prince Burt Lancaster in Visconti's celebrated "The Leopard" increased Delon's international visibility, leading to offers from Hollywood. Save for the gritty neo-noir "Once a Thief" (1965), with Delon as a reformed criminal dogged by the law (Van Heflin) and the mob (Jack Palance), his Hollywood efforts were largely glossy, empty affairs like the all-star "Yellow Rolls-Royce" (1965) and the truly dreadful Western comedy "Texas Across the River" (1966) with Dean Martin and Joey Bishop. He returned to France the following year to appear in his iconic role as an icy, meticulous hit man in Jean-Pierre Melville's New Wave cult favorite "Le Samourai" ("The Samurai") (1967). His carefully controlled performance as a moody loner who lived and died by a strict code of personal conduct would come to dominate his screen persona, and Delon would play variations on the role in subsequent films like "Le Motocyclette" ("Girl on a Motorcycle") (1968), which increased his standing among both French and international audiences. His marriage to Barthélemy ended during this period, due to his affair with actress Mireille Darc.
Delon's ascent to fame was severely threatened by a 1969 scandal involving the murder of his former bodyguard, Stefan Markovic. Investigations into the killing unearthed links between the actor and numerous members of the European underworld, as well as scandalous connections to political figures like the wife of French Prime Minister Georges Pompidou. Delon was repeatedly held for questioning in regard to the case, but was eventually acquitted. However, many industry figures believed that his association with Markovic would ruin his career. To the surprise of many, Delon became even more popular with French moviegoers, who felt that his connections to criminal elements lent a note of veritas to his numerous gangster roles. He quickly capitalized on the notoriety by starring in a string of popular crime films, including "The Sicilian Clan" (1969) and Jacques Deray's "Borsolino" (1970), which teamed him with enduring French movie idol Jean-Paul Belmondo. Delon also produced many of these films through his company, Delbeau Productions, and even enjoyed a continental pop hit with a 1973 duet with Dalida of the ballad "Paroles, paroles."
Delon again attempted to break into the American market with Michael Winner's political thriller "Scorpio" (1973), which reunited him with Burt Lancaster. But he was soon back in France, where he ruled the box office through crime pictures like "Two Men in Town" (1973) with Gabin, and "Flic Story" (1975), based on French police detective Roger Borniche's nine-year pursuit of escaped killer Emile Buisson (Jean-Louis Trintignant). He stepped briefly away from police procedurals to play the masked hero "Zorro" (1975), a choice made largely to please his young son. The following year, he received a Cesar nomination for Best Actor as "Monsieur Klein" (1976), a French art dealer who is mistaken by the Nazis for a wanted Jewish fugitive. A second Cesar acting nod came the following year for the police drama "Mort d'un pourri" ("Death of a Corrupt Man") (1977). This again led him back to the United States to play an airline captain in "Concorde Airport '79," but its abysmal failure nixed any further ventures to Hollywood.
In 1981, Delon made his directorial debut with "Pour la peau d'un flic" (1981), a modest crime picture that he fashioned as a tribute to Jean-Pierre Melville. He would direct two additional, entirely minor thrillers before balancing his time between producing and occasional acting appearances. By the 1980s, his famously aquiline features had grown craggy, and he was no longer the actor of choice for romantic leading men, though his personal appeal remained untouched, as evidenced by his 1987 romance with the much-younger model Rosalie van Breemen. Delon gave a critically acclaimed turn as a haughty but miserable royal in Volker Schlondorff's "Swann in Love" (1982) and finally earned a Cesar for "Notre Histoire" ("Our History") (1984), starring as a dissolute middle-aged man who became fixated on a disinterested prostitute and single mother (Nathalie Baye). These triumphs were compounded by the blockbuster hit "Parole de flic" (1985), an action-packed crime picture that featured the 50-year-old Delon performing his own stunts.
But advancing age, as well as the expensive failure of "The Passage" in 1986, forced Delon to consider his future projects with greater care. He directed his focus toward a popular line of products that bore his name – from perfume and cigarettes to sunglasses – that became the epitome of cinematic cool after Chow Yun-fat wore a pair in John Woo's epic crime drama "A Better Tomorrow" (1986). There were still film projects, most notably Jean-Luc Godard's "Nouvelle Vague" ("New Wave") (1990) with Delon as a hitchhiker taken in by Domiziana Giordano's mystery woman. The thriller "L'ours en peluche" ("Teddy Bear") (1994), with Delon stalked by an anonymous caller, was a return to form, but he announced his retirement from acting after Patrice LeCompte's "Un chance sur deux" (1998), an action film that reunited him with Belmondo, fizzled at the box office.

He did return sporadically over the next decade, most notably as a vain Julius Caesar in the smash European hit "Asterix at the Olympic Games" (2008). Between 1991 and 1995, he also reaped numerous honors for his lifetime of film work, including an Honorary Golden Bear in 1991 from the 45th Berlin International Film Festival, as well knighthood from the Legion of Honor that same year. In 1995, he was made an Officer of the National Order of Merit, while in 2005, his knighthood was promoted to the next highest class, that of Officer.
By Paul GaitaThe above TCM overview can also be accessed online here.