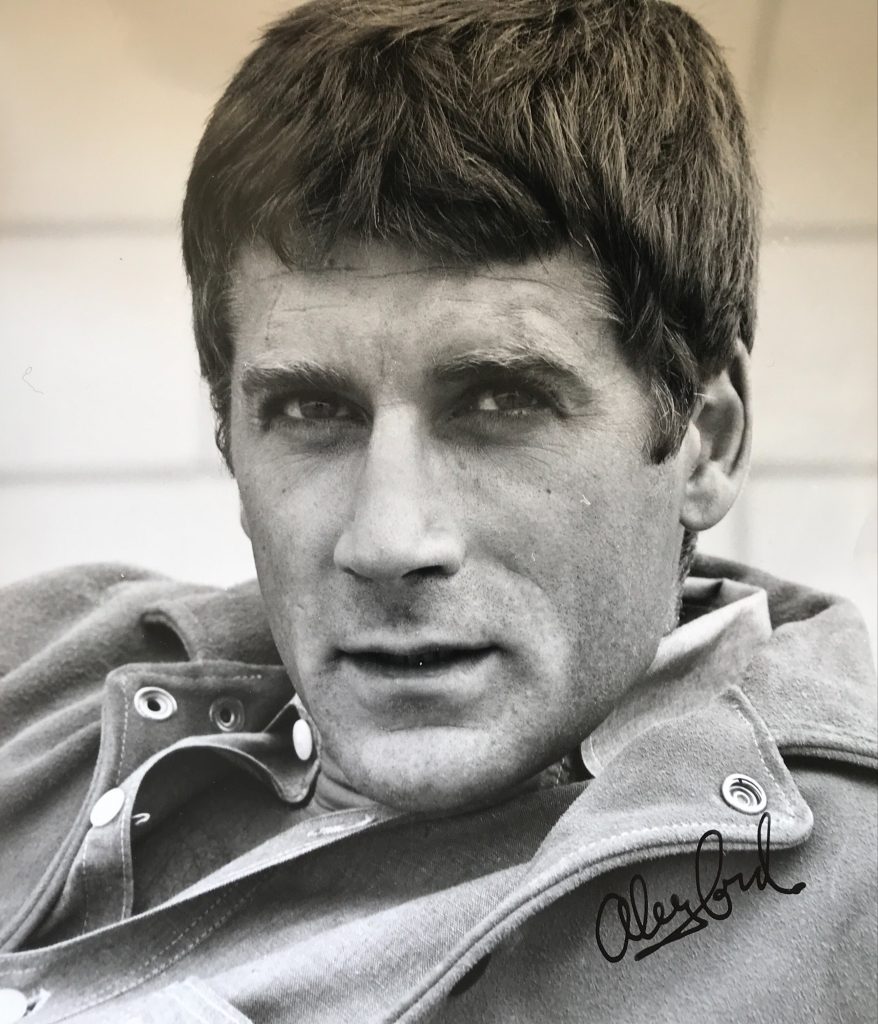 Alex Cord IMDb
Alex Cord was born in 1933 in Floral Park, New York. He had a brief run as a leading man on film in the late 1960's and early 70's. He played Kirk Douglas's brother in "The Brotherhood" and was also in "Stiletto" and "The Scorpio Letters" with Shirley Eaton. His best remembered role though was on television as Archangel in "Airwolf". Alex Cord's website can be accessed here.
His IMDB entry:
Tall (6 foot) in the saddle, brawny, ruggedly handsome, and very much oriented towards outdoor life, actor Alex Cord became best known in Hollywood for his 60s and 70s work in action adventure. Born Alexander Viespi in Long Island, New York in 1933, he was riding horses from the age of 2. Stricken with polio at the age of 12, he was confined to a hospital and iron lung for a long period of time before he overcame the illness after being sent to a Wyoming ranch for therapy. He soon regained his dream and determination of becoming a jockey or professional horseman.
A high school dropout at the age of sixteen, he was too tall to become a jockey so he joined the rodeo circuit and earned a living riding bulls and bareback horses. During another extended hospital stay, this time after suffering serious injuries after being thrown by a bull at a rodeo in New York City's Madison Square Garden, he contemplated again the direction of his life and decided to finish his high school education by way of night school. A voracious reader during his long convalescence, he later studied and received his degree in literature at New York University.
Prodded by an interest in acting, Alex received dramatic training at the Actors Studio and began his professional career in summer stock (The Compass Players in St. Louis, Missouri) and at the American Shakespeare Festival in Stratford, Connecticut where he played "Laertes" in a production of "Hamlet". A British producer saw his promise and invited him to London where he co-starred in four plays ("Play With a Tiger", "The Rose Tattoo", "A Midsummer Night's Dream" and "The Umbrella"). He was nominated for the "Best Actor Award" by the London Critics' Circle for the first-mentioned play.
The strapping, light-haired, good-looker eventually sought a Hollywood "in" and found one via his equestrian prowess in the early 60s. Steady work came to him on such established western TV series as Laramie (1959) and Branded (1965) and that extended itself into roles on crime action series (Route 66 (1960) and Naked City (1958)). Gaining a foothold in feature films within a relatively short time, Alex starred or co-starred in more than 30 movies, a number of them opposite Hollywood's loveliest of lovelies. He peaked at the very beginning as a dope addict in Synanon (1965) with Stella Stevens, as a cowboy in the remake of John Wayne's Stagecoach (1966) with Ann-Margret, and as a jet-setting hitman in Stiletto (1969) with Britt Ekland. Co-starring with Kirk Douglas in the mafia drama The Brotherhood (1968), he wound up marrying beautiful actress Joanna Pettet that same year. The couple had one child, then divorced in 1976.
When his American filmload sharply declining in the late 60s and 70s, he turned to action adventure overseas with the "spaghetti western" Un minuto per pregare, un instante per morire (1968) [A Minute to Pray, A Second to Die] and the British war drama The Last Grenade (1970) with Stanley Baker and Richard Attenborough. Around that time as well, he played the murderer opposite Sam Jaffe's old man in Edgar Allan Poe's dramatic short,The Tell-Tale Heart (1971).
It was TV, however, that provided more career stability for Alex, appearing in more than 300 shows, among them Hotel (1983), Fantasy Island (1977), Simon & Simon (1981),Jake and the Fatman (1987), Mission: Impossible (1966), Walker, Texas Ranger (1993) and Murder, She Wrote (1984). He also situated himself in a number of series, notablyAirwolf (1984), in which he co-starred with Jan-Michael Vincent and Ernest Borgnine as the mysterious white-suited, eye-patched, cane-using "Michael Archangel".
Later interest in Alex was drawn from his title role in Grayeagle (1977), a viable remake of the John Wayne film, The Searchers (1956), in which he played the Indian kidnapper ofBen Johnson's daughter. Lana Wood, sister of star Natalie Wood (who appeared in the original), also co-starred in this film. Alex can still be seen from time to time in lowbudget film entries and a TV episode or two, but other interests have now taken up his time.
Outside of the entertainment field, his ultimate love for horses extended itself into work for numerous charities and benefits. He was a regular competitor in the Ben Johnson Pro-Celebrity Rodeos that raised money for children's charities, and he is one of the founders of the Chukkers for Charity Celebrity Polo Team which has raised more than $3 million for worthy causes. He also chairs "Ahead with Horses", an organization that provides therapeutic riding programs for the physically and emotionally challenged. Alex and his second wife, Susannah, are both actively involved on their horse ranch in north Texas where she is a dressage trainer and he ropes and rides cutters. Alex also turned to writing, thus far publishing two novels: "Sandsong" and "A Feather in the Rain". A third book, "Harbinger", was never printed. He has written and sold three screenplays, as well. Of his two children, daughter Toni Aluisa and son Damien Zachary Cord, his son (by Ms.Joanna Pettet) died tragically in 1995 of a heroin overdose at the age of 26. Alex, more recently, became a grandfather of twins, a boy and a girl. Alex Cord died in August 2021 aged 88.
Obituary

Alex Cord, who co-starred with Jan-Michael Vincent and Ernest Borgnine in the 1980s attack-helicopter series Airwolf and had a long career onscreen, died Monday morning at his home in Valley View, TX. He was 88.
His talent agent and friend of 20 years, Linda McAlister, confirmed the news to Deadline.
Cord had been working in films and TV for more than 20 years before he landed his signature role as the mysterious, eyepatch-sporting Archangel on Airwolf. The CBS drama debuted in 1984 — the year all three broadcast networks bowed helicopter dramas following the theatrical success of Blue Thunder. Airwolf starred Vincent as Stringfellow Hawke, a brooding loner who was tasked with recovering the titular attack copter from its creator, who had stolen the craft with plans to sell Airwolf to Libya.
Cord was his contact at the Firm, an ultrasecret government group that recruited Hawke. Nattily dressed in crisp white suit, cane and that eyepatch, Archangel teamed with an old war buddy, Dominic Santini (Borgnine) on missions for the Firm. The midseason-replacement series never really clicked in its Saturday night slot, failing to make the year-end Top 30 primetime shows in the three-network universe. CBS canceled the show in July 1986, and it went on to air for a season on USA Network with a new cast.
While that would be Cord's signature role, he had scores of others — ranging from guest slots on such classic series as Route 66, Night Gallery, Gunsmoke, Mission: Impossible, Police Story and The Six Million Dollar Man to a lead in the short-lived 1978 NBC primetime soap W.E.B. He played Jack Kiley, the no-nonsense programming chief at Transatlantic Broadcasting System, a fictional TV network whose behind-the-scenes drama fueled the series. It lasted for about a half-dozen episodes.
He also was a regular on Cassie & Company,Angie Dickinson's follow-up series to Police Story. Cord played her ex-husband and DA Mike Holland on the NBC detective drama, which aired 13 episodes in 1982.
He also appeared in films, starring alongside Ann-Margret, Mike Connors, Bing Crosby and others in 1966's Stagecoach. Other film roles included Synanon, The Last Grenade The Brotherhood, Stiletto and The Dead Are Alive!
Born on May 3, 1933, on Long Island, Cord battled polio as a child and became a prolific horseman. He parlayed those skills into acting gigs in the popular Western genre of the late 1950s and early '60s.
Cord continued to work onscreen throughout the 1980s and '90s, guesting on such hit dramas as Murder, She Wrote, Simon & Simon, Jake and the Fatman and Walker, Texas Ranger