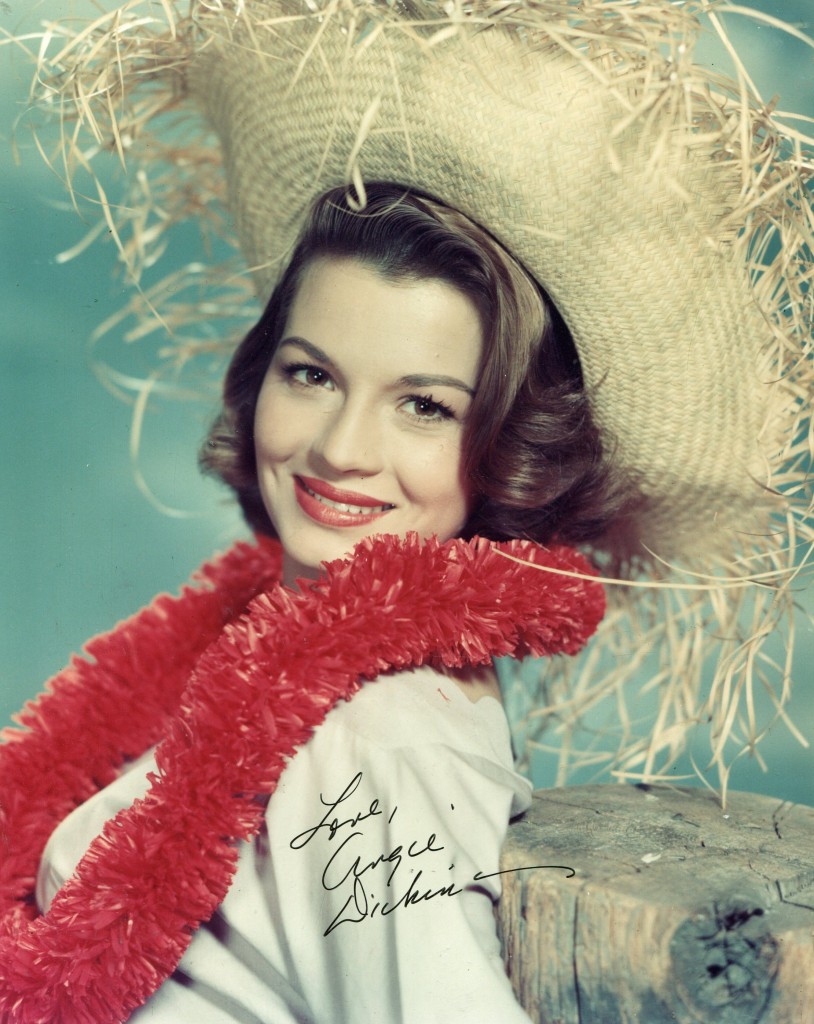 Angie Dickinson (Wikipedia)
Angie Dickinson is a definite favourite amongst film buffs. The eminent film writer David Thompson regards her as his favourite actress. She has had a long career with at least two classic films, "Rio Bravo" and "Dressed to Kill" amongst her credits. She was born in 1931 in North Dakota. Her film debut was in 1954 in "Lucky Me". She has starred opposite some of the giants of the film industry including Robert Mitchum, Kirk Douglas, James Garner, Gregory Peck, Frank Sinatra, Peter Finch, Roger Moore, Michael Caine and Burt Reynolds. She had a popular sucess on television with the series "Police Woman".
TCM Overview:
Though never making it onto Hollywood's A-list, Angie Dickinson nevertheless attained a kind of hipster-chick primacy in the rarified cloister of swinging, swanky showbiz royalty, even before reaching her zenith as a thespian. A former beauty queen, Dickinson began with early forays on television prior to her breakout performance as a feisty gambler opposite John Wayne in John Ford's influential western "Rio Bravo" (1959). Having fallen in with Frank Sinatra and his Rat Pack crowd, she later played his wife in the crime romp "Ocean's 11" (1960). That relationship also brought the young actress into close – rumor had it, intimate – contact with then Presidential candidate John F. Kennedy. A marriage to composer Burt Bacharach soon followed, as did more roles as tough but sexy women in features like director John Boorman's "Point Blank" (1967) opposite Lee Marvin. She enjoyed her greatest success in her forties as the first female lead of a TV drama series on "Police Woman" (NBC, 1974-78) then stirred up controversy with her steamy roles in Roger Corman's gangster B-movie "Big Bad Mama" (1974) and Brian De Palma's thriller "Dressed to Kill" (1980). Although her professional output tapered off considerably near the end of the millennium, the actress occasionally reappeared with impactful performances in such films as the societal drama "Pay it Forward" (2000). Rather than attempt to shed her sex symbol status, Dickinson instead used it to her advantage, both defying and exceeding expectations time and again.
Born Angeline Brown on Sept. 30, 1931, in the small town of Kulm, ND, she spent her early years there and in Edgeley, ND, the daughter of Frederica and Leo Brown, then the editor of the local newspaper. In 1942, her parents moved the family to Burbank, CA, to pursue the war production jobs springing up thereabouts. After graduating high school and Immaculate Heart College in Los Angeles, she married a college jock, Gene Dickinson, took his name, and did secretarial work until her entry into a local beauty contest resulted in being spotted by a producer of the variety show "The Colgate Comedy Hour" (NBC, 1951-55). She landed a bit part on the popular show and began taking acting classes. In 1954, she made her dramatic debut in an episode of the syndicated anthology series "Death Valley Days" (1952-1973), the first of a myriad of supporting roles on television and in B movies. She scored her first feature lead, curiously, as a Eurasian madam thwarting Communist designs in Indochina in one of Sam Fuller's lesser films, "China Gate" (1957), then a big part in the thriller "Cry Terror!" (1958) with Rod Steiger and James Mason. A guest shot on the courtroom drama "Perry Mason" (CBS, 1957-1966) caught the attention of director Howard Hawks, who gave her a key supporting role in his upcoming western "Rio Bravo" (1959), the disproportionately young, savvy and mercurial love interest of lawman John Wayne. Her self-assured performance opposite The Duke portended bigger things, as did the influential circle she and her "Rio Bravo" co-star, Dean Martin, now traveled in.
She had fallen in with the in-crowd in 1955 amid a dalliance with composer Jimmy Van Heusen. They made a famous trip to Vegas with Van Heusen's best friend Frank Sinatra and a drunken retinue that included Humphrey Bogart, Judy Garland, David Niven and agent Swifty Lazar, all of whom Bogart's wife Lauren Bacall later appraised as looking "like a goddamn rat pack." It would give rise to Sinatra's Vegas stage act with Martin, Sammy Davis, Jr., Joey Bishop, Peter Lawford and their celebrity posse, in which Dickinson became a fixture, entering an on-again/off-again relationship with Sinatra himself. Dickinson's mother frowned on her choice of vocation until meeting Sinatra. In 1960, the Rat Pack made a campy vanity film, "Ocean's 11," with Dickinson playing the beleaguered wife of danger-junkie criminal Danny Ocean (Sinatra), which she followed with a turn opposite Richard Burton in the overwrought soaper "The Bramble Bush," dying her hair her thereafter standard blonde.
She interspersed continued TV work with meatier-if-minor movie roles, from Italian location-shot fare such as "Jessica" (1962) and "Rome Adventure" (1962), to the early Burt Reynolds flick "Sam Whiskey" (1969), as well as abysmal would-be epics like "Poppies Are Also Flowers" (1966) and "Cast a Giant Shadow" (1966). She did a stint with Universal – the studio reputedly took out a $1 million insurance policy on her legs with Lloyds of London – in lighter fare such as "Captain Newman, M.D." (1963) and "The Art of Love" (1965), a romantic comedy opposite James Garner and Dick Van Dyke, She reteamed with the latter in the bizarre bomb "Some Kind of a Nut" (1969). She excelled in hardboiled films such as "The Killers" (1964), the cheap but stylish Don Siegel remake of the noir classic in which she is notoriously slugged by Ronald Reagan; Arthur Penn's steamy drama "The Chase" (1966), which set her as Brando's wife in a dark tale of Southern class conflict; and John Boorman's edgy New Wave noir "Point Blank" (1967), which reunited her with "Killers" co-star Lee Marvin. She would also find herself some romantic stability with her 1965 marriage to songwriter Burt Bacharach. Though hardly among the top actresses of the day, she managed to frontEsquire's inaugural "Women We Love" issue in 1966 in what would become an iconic photo of her tastefully posed but wearing only high-heel pumps and a sweater.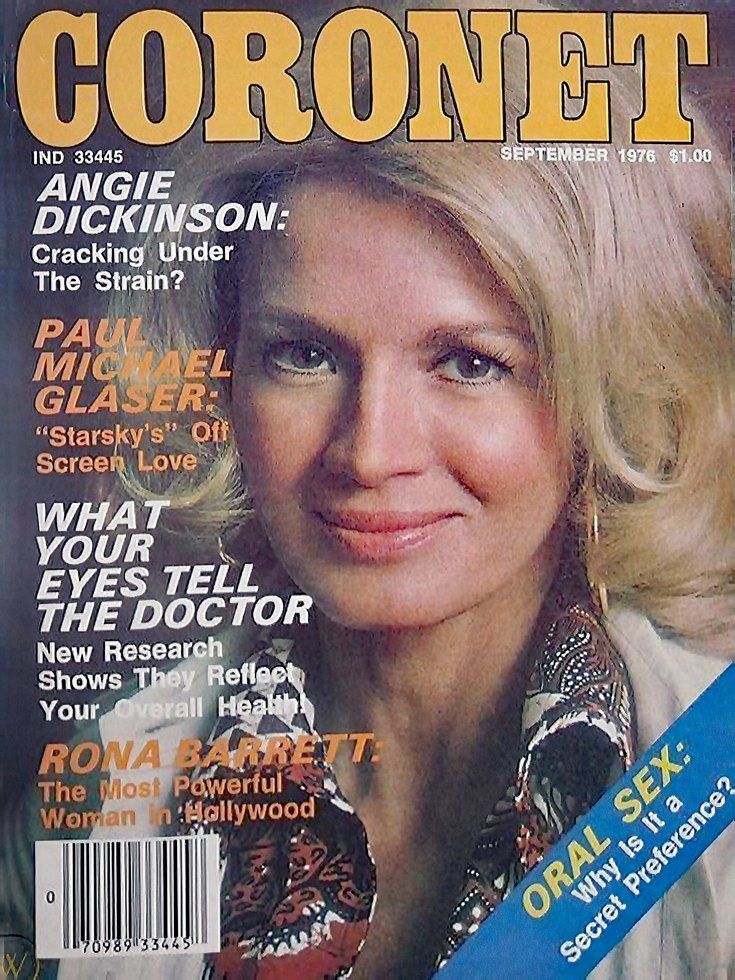 The 1970s would see Dickinson's zenith. She rang in the decade weirdly enough with "Pretty Maids All in a Row" (1971), an oddball indie-ish MGM outing written and produced by "Star Trek" creator Gene Roddenberry and directed by sexploitation maven Roger Vadim. Ostensibly a black comedy, the movie set Dickinson and heartthrob Rock Hudson as much-coveted faculty members at a southern California high school, where both engage in libertine liaisons with the student body, some of whom end up murdered. Dickinson's buzz-worthy semi-nude scene seemed to set the stage for (arguably) her most inspired performance, playing a lusty gangster on a crime-spree with vivacious daughters in "Big Bad Mama" (1974), schlockmeister Roger Corman's ultra-R-rated homage to "Bonnie and Clyde" (1967). Dickinson tore it up as a comely Robin Hood, raiding banks during the Depression, with Corman making use of her still stunning 43-year-old physical charms in multiple sex-scenes – one with Roddenberry's "Trek" hero, William Shatner.
Also in 1974, she did a one-off on the season finale of the NBC anthology series "Police Story" (1973-77), and during the shoot, the producers began discussing a spin-off. Dickinson was game, and the next fall, "Police Woman" premiered on the NBC line-up. The show rated well, with Dickinson's Sgt. Pepper Anderson taking on different undercover personae, many requiring form-fitting outfits. She was the first female lead of a dramatic series in television history and earned three Emmy nominations for her work. But premises ran thin and, with Dickinson intent on devoting time to her and Bacharach's daughter Nikki – who had been born prematurely in 1967 and had Asperger's syndrome – the show shuttered in 1978. For a time, she relegated herself to one-off projects, such as the World War II-set miniseries "Pearl" (ABC, 1978), before returning to the big screen with a vengeance in Brian De Palma's dark thriller "Dressed to Kill" (1980). Even at 49, she still fired libidos as a lovelorn married woman acting on her rough-sex fantasies, resulting in her grizzly murder. The film sparked controversy for its salacious and violent content but also, feminists charged, for relaying the tired, old line of women inviting sex crimes against themselves. Dickinson cheerfully told People, "I am not Doris Day," and went on to win the next year's Saturn Award for Best Actress.
She flirted with a sitcom project in partnership with late-night great Johnny Carson's production company – her marriage to Bacharach ending in 1980, she and Carson also dated – but it was scrapped and retooled as a short-lived action/drama, "Cassie & Company" (NBC, 1982), with Dickinson heading up a private detective agency. Having passed on a female lead in the soon-to-be hit primetime soap "Dynasty" (ABC, 1981-89), she settled into a steady schedule of made-for-TV movies, mostly potboilers and crime dramas, and occasional TV "events" like the cheeseball miniseries "Hollywood Wives" (ABC, 1985) and Oliver Stone's sci-fi opus "Wild Palms" (ABC, 1993), in which she played a venomous, high-tech villainess. She reprised her debauched criminal hijinks for Corman's realm in "Big Bad Mama II" (1987), and proved game for the low-budget creepfest "The Maddening" (1994), with old friend Burt Reynolds playing an uncharacteristic psychopath. She also caused a minor stir in 1994, when NBC's periodically revived reality show "This Is Your Life" prepped an episode on her, but when loved ones and colleagues sprung the surprise, she simply said, "F*ck no, I won't do it," and bolted.
In the late 1990s and early 2000s, she settled into a regimen of matriarchal supporting roles in TV guest-shots and "little" films such as "Pay It Forward" (2000) and "Big Bad Love" (2001). She also contributed a cameo in Steven Soderbergh's sleek remake of "Ocean's Eleven" (2001) starring George Clooney and Brad Pitt. In 2007, Dickinson's daughter Nikki committed suicide. In January 1999, Playboy ranked Dickinson No. 42 on its list of the "100 Sexiest Stars of the Century," while three years later TV Guide named her the third of its "50 Sexiest TV Stars of All Time" – fitting for a star who leveraged her own sex appeal with a refreshing real politick. "I always felt lucky," she said in 1978, "because in this business if you don't get exploited, you don't get a job."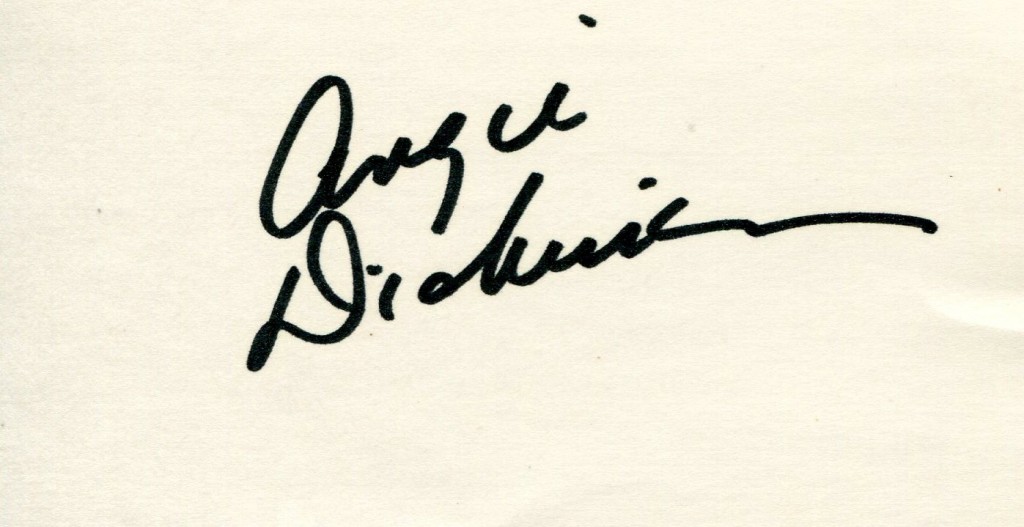 By Matthew GrimmThe above TCM Overviewcan also be accessed on line here.