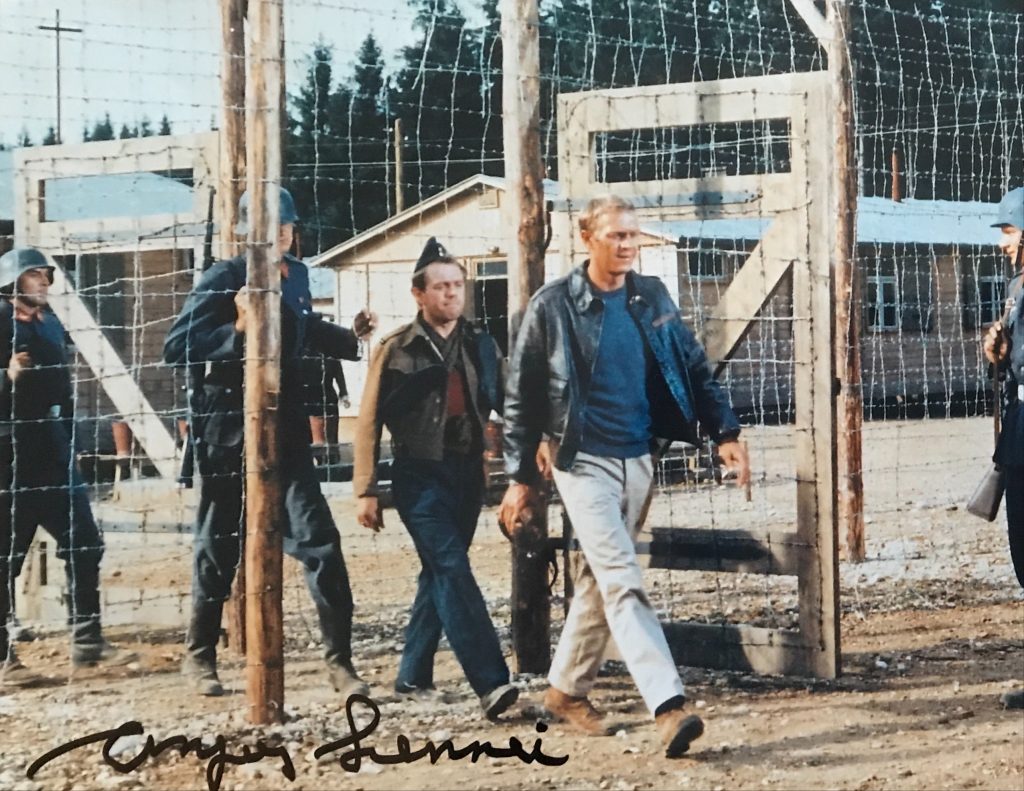 Angus Lennie has one terrific performance on film to his credit. It is surprising that he did mot mantain the momentum on film. His glory moment was as Steve McQueen's buddy in "The Great Escape". Angus Lennie was born in 1930 in Glasgow. He featured as a repertory player in theatres in England and Scotland. His many television appearances include "Crossroads", "Z Cars", "Rumpole of the Bailey" and "Monarch of the Glen". He made quite a few war movies including "633 Squadron" and "Tunes of Glory". He died in 2014
"Guardian" obituary by Anthony Hayward:
The actor Angus Lennie, who has died aged 84, found a new audience when he played the irascible, amorous motel chef Shughie McFee in the teatime soap opera Crossroads (1974-81). The role came after years of taking character parts on screen, most memorably in the 1963 prisoner-of-war film The Great Escape as Flying Officer Archibald Ives – known as the Mole – who is shot dead while scaling a German barbed-wire fence after the plot he has hatched with Steve McQueen's US Army Air Force captain is uncovered.
Lennie's appearance as a PR consultant in two 1972 episodes of Crossroads led Jack Barton, on being promoted from director to producer two years later, to create the role of Shughie for him. The actor joined when the ITV serial was at its height, watched by up to 18 million viewers, but panned by the critics for its wooden acting and wobbly sets.
Lennie simply decided to enjoy his time as Shughie. "I had great fun playing him as a Scottish comedian, very over-the-top, because many chefs are OTT," he once said. The character, renowned for his tall stories, blagged his way into the job with a tale of having worked on a luxury cruise ship when, in fact, it was a workers' ferry on the Clyde.
Although he did not leave until 1981, Lennie had plenty of time out of Crossroads, which allowed him to play other roles. This led to the soap again being criticised, this time for poor continuity, as on one occasion Shughie disappeared behind a fridge to get some ingredients and was not seen again for weeks. And he was not the only one: Paul Henry, as Benny, went to find a spanner and failed to reappear for six months.
Lennie was born and brought up in Shettleston, in Glasgow's East End, where he attended Eastbank Academy. At the age of 14, while training as a stockbroker's clerk, he joined the entertainer Jimmy Logan's parents, the music-hall act Short and Dalziel, as a dancer at the city's Metropole theatre. He subsequently toured Scotland before the impresario Vivian Van Damm put him in his Revudeville variety performances in between the strippers at London's Windmill theatre for two years.
At the age of 23, Lennie branched out into acting and gained repertory experience in Oxford and Birmingham. He also worked at theatres across Scotland during his long career. In 1957, he made his television debut in the Armchair Theatre play The Mortimer Touch. Two years later, he was cast as the cabin boy Sunny Jim in the BBC Scotland comedy series Para Handy – Master Mariner (1959-60)
Alongside many character roles in popular TV shows – and that of Able Seaman Murdoch throughout the sitcom HMS Paradise (1964-65) – Lennie played military types in the cinema, starting with Tunes of Glory (1960), before The Great Escape in 1963. That film's story line of courageous servicemen was followed by real-life danger when Lennie played a flying officer in 633 Squadron (1964). "Cliff Robertson and I had to escape from a burning plane," he said. "They used gas jets to simulate the fire, but they didn't take into account that the Mosquito was made of wood and it went up in flames. Close-ups of us scrambling to get out of the plane were for real." Lennie also had a small role in the screen musical satire Oh! What a Lovely War (1969).
On stage, he appeared in six pantomimes over 10 years with the comedian Stanley Baxter at the King's Theatres in Edinburgh and Glasgow, and toured the Far East with Derek Nimmo's company.
After Crossroads, his television roles included the bakery worker Tom in the sitcom All Night Long (1994) and Badger, loyal valet to Earl Kilwillie (Julian Fellowes), on and off between 2001 and 2003 in the feelgood drama Monarch of the Glen. In 1994, he reprised the role of Shughie McFee alongside his fellow Crossroads stars Jane Rossington and Tom Adams for a send-up of the soap during BBC Two's ATV Night.
The actor enjoyed travelling in Europe but reflected that he could never leave chef Mcfee behind. "It can be a little disconcerting to turn up at Barclays Bank in Paris and have the doorman greet you with, 'Ah, bonjour, Monsieur Shughie,'" he said.
• Angus Wilson Lennie, actor, born 18 April 1930; died 14 September 2014
The above "Guardian" obituary can also be accessed online here.
Interview with Angus Lennie at University of Glasgow in 2001 here.