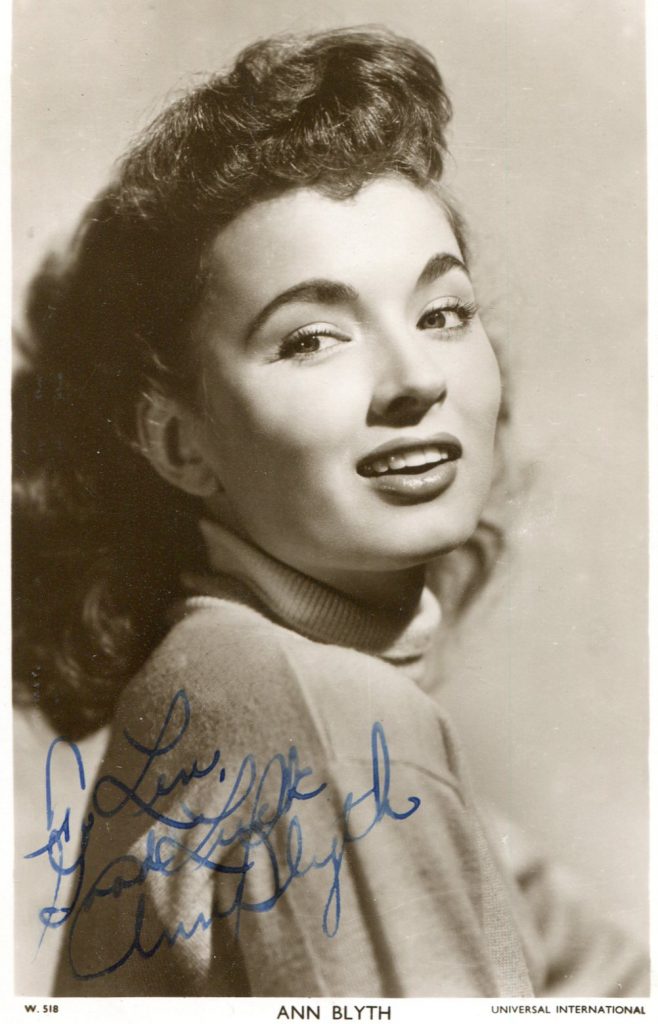 Ann Blyth (Wikipedia)
Ann Blyth was one of the ugly ducklings of show business. As a teenage star she was one of the least attractive of that unprepossessing species. Then she suddenly emerged as one of the screen's better soubrettes, shed of the affectation that had marked her earlier work and now very pretty. Then, just as she looked like taking her place among the top stars, she disappeared". – David Shipman – "The Great Movie Stars – The International Years". (1972)
Ann Blyth seemed to have two distinct careers. In the 1940's she was brilliant as Velma he spiteful spoilt daughter of Joan Crawford in 1945's "Mildred Pierce". She was nominated for an Academy Award. In the 1950's she was under contract to MGM and made some of their big budget movies where she sang wonderfully and was very nice. It would have been terrific if she was allowed to show more for her lemon acid and vinegar as she matured. Her MGM musicals included "The Great Caruso" with Mario Lanza in 1950, "Rose Marie" with Howard Keel and "Kismet"" with Keel and Vic Damone. Her greatest box office success was "The Student Prince" where Mario Lanza lurked inside the body of Edmund Purdom and belted out Sigmund Romberg's glorious songs. Ann Blyth retired from major movie making at the end of the 50's to devote time to her family of five children.
Her IMDB entry:
The dark, petulant beauty of this petite American film and musical star worked to her advantage, especially in her early dramatic career. Ann Marie Blyth was born of Irish stock to Harry and Nan Blyth on August 16, 1928, in Mt. Kisco, New York. Her parents split while she was young and she, her mother and sister moved to New York City, where the girls attended various Catholic schools. Already determined at an early age to perform, Ann attended Manhattan's Professional Children's School and was already a seasoned radio performer, particularly on soap dramas, while in elementary school. A member of New York's Children's Opera Company, the young girl made an important Broadway debut as Paul Lukas' and Mady Christians' daughter in the classic Lillian Hellman WWII drama "Watch on the Rhine" (1941), billed as Anne (with an extra "e"). She stayed with the show for two years.
While touring with the play in Los Angeles, the teenager was noticed by director Henry Koster at Universal and given a screen test. Signed on as Ann (without the "e") Blyth, the pretty, photographic colleen displayed her warbling talent in her debut film Chip Off the Old Block (1944), a swing-era teen musical starring Universal song-and-dance favorites Donald O'Connor and Peggy Ryan. She followed it pleasantly enough with other "B" tunefests such as The Merry Monahans (1944) and Babes on Swing Street (1944). It wasn't until Warner Bros. borrowed her to make self-sacrificing mother Joan Crawford's life pure hell as malicious, spiteful daughter Veda in the classic, Oscar-winning wallowMildred Pierce (1945) that she really clicked with viewers and set up her dramatic career. With murder on her young character's mind, Hollywood stood up and took notice of this fresh-faced talent.
Although Ann lost the Best Supporting Actress Oscar that year to another Anne (Anne Revere), she was borrowed again by Warner Bros. to film Danger Signal (1945). During filming, Ann suffered a broken back in a sledding accident while briefly vacationing in Lake Arrowhead and had to be replaced in the role. After a long convalescence (over a year and a half in a back brace) Universal used her in a wheelchair-bound cameo in Brute Force (1947).
Her first starring role was an inauspicious one opposite Sonny Tufts in Swell Guy (1946), but she finally began gaining some momentum again. Instead of offering her musical gifts, she continued her serious streak with Killer McCoy (1947) and a dangerously calculated role in Another Part of the Forest (1948), a prequel to The Little Foxes (1941) in which Ann played the Bette Davis role of Regina at a younger age. Her attempts at lighter comedy were mild at best, playing a fetching creature of the sea opposite William Powell in Mr. Peabody and the Mermaid (1948) and a teen infatuated with much-older movie star Robert Montgomery in Once More, My Darling (1949).
At full-throttle as a star in the early 1950s, Ann transitioned easily among glossy operettas, wide-eyed comedies and all-out melodramas, some of which tended to be overbaked and, thereby, overplayed. When not dishing out the high dramatics of an adopted girl searching for her birth mother in Our Very Own (1950) or a wrongly-convicted murderess in Thunder on the Hill (1951), she was introducing classic standards as wife to Mario Lanza in The Great Caruso (1951) or playing pert and perky in such light confections as Katie Did It (1951). A well-embraced romantic leading lady, she made her last film for Universal playing a Russian countess courted by Gregory Peck in The World in His Arms (1952).
MGM eventually optioned her for its musical outings, having borrowed her a couple of times previously. She became a chief operatic rival to Kathryn Grayson at the studio during that time. Grayson, however, fared much better than Ann, who was given rather stilted vehicles.
Catching Howard Keel's roving eye while costumed to the nines in the underwhelmingRose Marie (1954) and his daughter in Kismet (1955), she also gussied up other stiff proceedings like The Student Prince (1954) and The King's Thief (1955) will attest. Unfortunately, Ann came to MGM at the tail end of the Golden Age of musicals and probably suffered for it. She was dropped by the studio in 1956.
She reunited with old Universal co-star Donald O'Connor in The Buster Keaton Story(1957), but both were oddly cast with Ann playing a totally fictional love interest to O'Connor's Keaton. Ann ended her career on a high note, however, playing the tragic title role in the The Helen Morgan Story (1957) opposite a gorgeously smirking Paul Newman. Ann has a field day as the piano-sitting, kerchief-holding, liquor-swilling torch singer whose train wreck of a personal life was destined for celluloid. Disappointing for Ann personally, no doubt, was that her singing voice had to be dubbed (albeit superbly) by the highly emotive, non-operatic songstress Gogi Grant.
Through with films, Ann's later concentration (besides family life) was the musical stage, with dramatic TV guest appearances thrown in now and then. Over the years a number of classic songs have been tailored to suit Ann's glorious lyric soprano both in concert form and on the civic light opera/summer stock stages. "The Sound of Music", "The King and I", "Carnival", "Bittersweet", "South Pacific", "Show Boat" and "A Little Night Music" are but a few of her stage credits. During this time Ann appeared as the typical American housewife for Hostess in its Twinkie, cupcake and fruit pie commercials, a job that lasted well over a decade.
She made the last of her sporadic TV guest appearances on Quincy M.E. (1976) andMurder, She Wrote (1984) in the mid-'80s. Married since 1953 to Dr. James McNulty, the brother of late Irish tenor Dennis Day, she is the mother of five. Ann continues to be seen occasionally at social functions and conventions.
– IMDb Mini Biography By: Gary Brumburgh / gr-home@pacbell.net
Her IMDB entry can also be accessed online here.