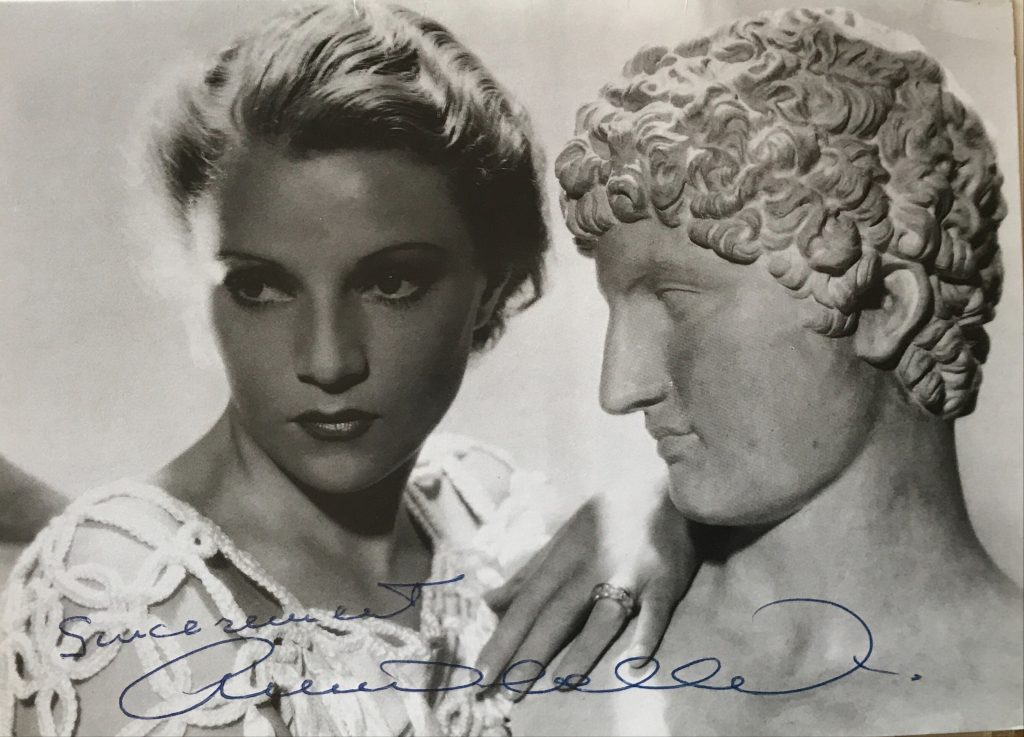 Annabella. Obituary in "The Independent" in 1996.
Annabella was born Suzanne Charpentier in France in 1907. She made her first film in her native country in 1927. In the late 1930's she came to the UK to make the first British colour film "Wings of the Morning" with Henry Fonda and the Irish tenor Count John McCormack. Annabella then went to Hollywood where she made many fims including "Suez" with her future husband Tyrone Power. In the late 40;s she returned to France to resume her career there after her divorce from Power. She retired from film making in 1962. Annabella died in 1996.
Kevin Brownlow's Independent newspaper obituary:One of the best-loved stars of French films of the 1930s, Annabella was also celebrated for her work in Hollywood in films like Suez (1938), with Tyrone Power, whom she married.
Born Suzanne Charpentier on 14 July – Bastille Day – 1909 at La Varenne- Saint-Hilaire, near Paris, she grew up with a fascination for the cinema. She was particularly passionate about Lillian Gish. "I always talked about movies. When I was 12, I wrote Studio on the chicken-shed in the back garden and acted scenes from the movies I had seen. I was the director, cameraman, everything. I used to sell my books to buy film magazines!
"My father was the publisher of a magazine. He spent all his time with writers and painters, and he was a keen photographer. I remember two phrases from that time that used to bother me: `Come along, darling, it's time for your piano lesson' and `Come along, darling, Daddy wants to take some photos.' And one day, Daddy, who always had photos of his family in his pocket, went to a painter's house, and met the famous writer t'Serstevens, a close friend of director Abel Gance. Daddy showed his photos, and t'Serstevens said, `I know that Gance is looking for a girl . . .' So Daddy came back and said, `You know what? I've made a date for you.' "
Gance was embarking on his monumental Napoleon, production of which began in 1925, when Suzanne was 15. Apart from Josephine, there were few parts for women, but Gance invented a little family which would follow Bonaparte throughout his career. The daughter, Violine, was to represent those young women who worshipped Napoleon as their counterparts later worshipped Valentino. The part had been assigned to the English actress Mabel Poulton, and Suzanne was sent to Corsica to play one of Bonaparte's sisters. When he saw how beautifully she photographed, Gance dropped Mabel Poulton and gave the role to Suzanne. As an admirer of D.W. Griffith, he regarded Suzanne as his Lillian Gish. He renamed her Annabella, after a poem, "Annabel Lee", by Edgar Allan Poe.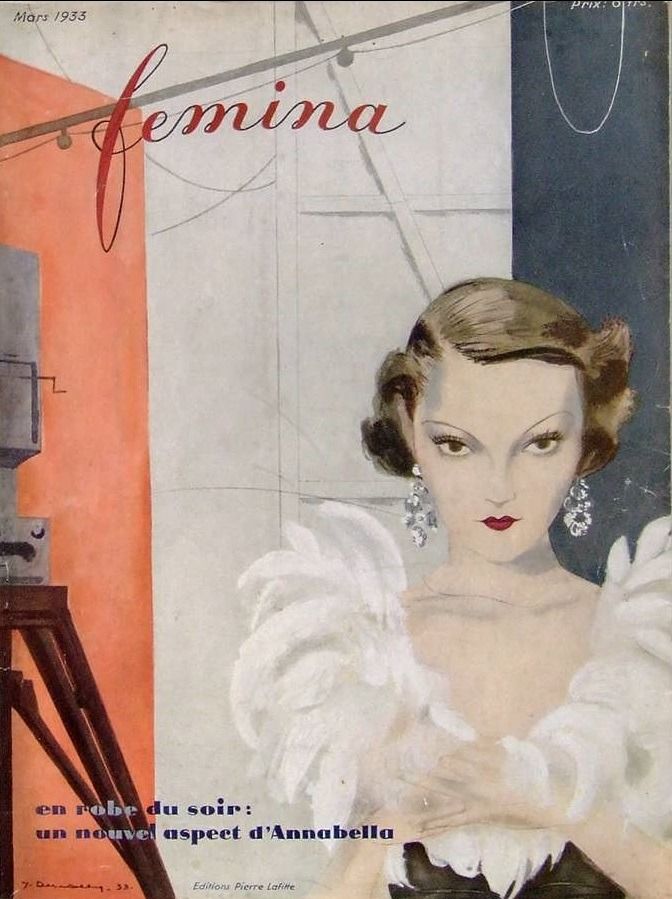 Gance expanded the part until her screen time rivalled that of Josephine (Gina Manes). But when, after months of work, Annabella attended the Paris Opera for the premiere, she had the experience all actresses dread; virtually all her scenes had been cut. Gance explained that this was a specially shortened version; her scenes would reappear in the full-length version. But Annabella never went near the film again until she attended the restoration in 1983 at the Barbican, when she saw herself as Violine for the first time. (Ironically, when the restoration was presented in America, by Francis Ford Coppola, it was reduced from five to four hours – and all Annabella's scenes were cut once again.)
After the presentation at the Barbican, and an interview with David Shipman, Annabella wanted to see something of London, and we strolled around the West End. Her energy was extraordinary, as was her enthusiasm and humour; it was impossible to believe she was 73.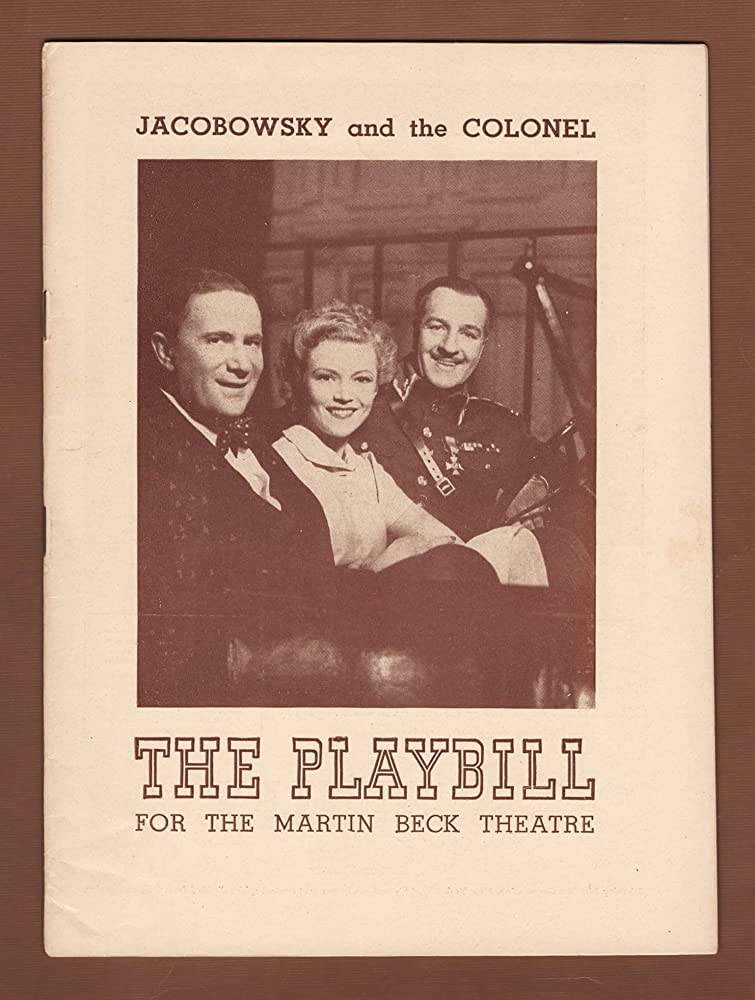 "I loved filming," she said, "not to become a star but to continue playing like when I was little. You know when you see children with an old box – for them it's a carriage. So, for me, to be in a film of Gance – I was that character. I was no longer me. So it was funny, on growing up, I continued to play as when I was little. It wasn't serious work. Heartfelt, yet, I had to give my all."
Her father managed her early career; when sound arrived he had the good fortune to secure her a role in Rene Clair's Le Million (1931).
"Rene Clair was a strange character. For months he would stay at home working on the scenario. His wife said, `He won't answer the telephone. He won't even speak to me.' But when Rene had written the word FIN at the end of a scenario, for him the work was over and the fun started."
Practical jokes staged by Clair included a call from Berlin asking for Annabella. Clair said she was not free. A representative from Berlin arrived at the studio. Annabella despatched an assistant to report on what he was like. He was hideous – pock-marked, bearded, enormous. Clair encouraged her to leave the studio by a window to avoid him. "It was an extra he had made up like that. All the studio was in on it. One day, I thought I'd get back at him. Between scenes, Clair would play with a yo-yo. He would even delay us with this yo-yo, doing the same annoying tricks. We hid a camera and we filmed Rene Clair at the back of a set. We said, `Tonight we'll look at the rushes and we'll show this – what a laugh.' As soon as we went into the projection room, there arrived an important producer. We looked at each other: `It can't be cut. What are we going to do? My God, he's going to be angry.' But no, to show you Rene's personality, he got up and said, `You will have noticed, my friends, that I did it with my left hand?' "
Her favourite director, however, was the Hungarian Paul Fejos, for whom she made Marie, legende hongroise (1931) in Budapest. "I adored him. He was sincerity personified. I mean, if the scene required me to have tears in my eyes, he'd be behind the camera, with tears in his eyes as well. I thought Marie was a beautiful picture, the way Fejos told the old legend." For Vieille d'armes, Annabella won the best actress award at Venice in 1934 – the European equivalent of an Oscar. Thanks to such triumphs, she was soon in demand by Europe's top leading men. She married one of them – Jean Murat. She admired Louis Jouvet, but felt he didn't enjoy working in films. He was accustomed to directing on the stage, and it was hard for him to accept orders. Jean Gabin she adored, and she had nothing but praise for Henry Fonda, with whom she played in Wings of the Morning in 1937. The first Technicolor feature to be made this side of the Atlantic, it was shot on location in England and in Ireland. Annabella was particularly fond of it because she had what amounted to three parts: Maria, a gipsy who escapes from the war in Spain – she played her both as a girl and in disguise as a boy – and Maria's grandmother.
Also in England, she made Dinner at the Ritz (1937) with David Niven and Under the Red Robe (1937) with Conrad Veidt. She returned to France to star in Marcel Carne's classic Hotel du Nord (1938). Under contract to Fox, she went to Hollywood. Annabella had dreamed of Hollywood since childhood. She fell in love with the place. And she fell in love with Tyrone Power. She divorced Jean Murat in 1938 and married Power in 1939. According to her, the head of the studio, Darryl F. Zanuck, was so incensed by the marriage that he put her on a blacklist.
Zanuck was further angered by her refusal to return to Britain to make three films she owed 20th Century-Fox British. "He thought I was a crazy woman who despised success, money, pictures. The last straw was when I did a play with Tyrone." The play, Liliom, was intended to be a quiet little affair in Westport, where not too much notice would be taken of them. But Elsa Maxwell gave a huge party, the notices were excellent and the couple were hailed as the next sensation for Broadway. Not a prospect that pleased Mr Zanuck. She did one more film for Fox, 13 Rue Madeleine (1943), with James Cagney, but only because the director, Henry Hathaway, insisted on having her.
Her proudest memory as an actress occurred on Broadway in 1944, during her stage career. "It was a very successful play, Jacobovsky and the Colonel, and in the middle of a big scene, the safety curtain dropped. I said to myself, `My God, there's a fire!' I went backstage. `Paris has been liberated. Yes, it's just been on the radio. We'll take the curtain up – go and tell the audience.' I thought of my parents, my family, my friends, France, I went back on the stage all by myself and I said to them, `Paris is free.' And you know the whole audience stood and sang La Marseillaise. It was thrilling."
Now an American citizen, Annabella toured North Africa and Italy, entertaining the troops with plays like Blithe Spirit. The separation did her marriage no good. Power, who had been in the marines, returned to Hollywood, where his name was linked with other stars. Annabella wrote to him "It is like seeing a beautiful black swan surrounded by geese."
They separated and Annabella returned to Europe. She had lost her young brother, killed while trying to escape the Nazis, her father had died just after the war and the family's two houses had been ransacked by the Germans. She worked in Spain and she worked in France. She made Dernier amour, an experience she hated. After a final film in Spain, she decided to end her career. "I finally had freedom. I hadn't had any since I was a kid; I'd always been famous. And one day I walked out and no one stared at me. I loved it."
Annabella remained loyal to Tyrone Power. They may have divorced in 1948, but she retained his name for the rest of her life. His portrait held pride of place in her home and they remained friends. "I was with him four days before he died," she told David Shipman, "making Solomon and Sheba, and he said, `You know, the worst mistake I ever made was letting you go.' Wasn't that nice?"
Suzanne Georgette Charpentier (Annabella), actress: born La Varenne- Saint-Hillaire, France 14 July 1909; married 1932 Jean Murat (one daughter; marriage dissolved 1938), 1939 Tyrone Power (marriage dissolved 1948); died Neuilly-sur-Seine, France 18 September 1996.
See Independent obituary here.
Born Suzanne Georgette Charpentier, the daughter of a magazine publisher, in La Varenne Saint Hilaire, France, on July 14, 1909 (although sources vary the years from 1904 to 1913), Annabella appeared in Abel Gance's legendary silent epic Napoleon(1927). Director René Clair immediately recognized her gamine appeal and photogenic allure, casting her in his classic Le Million (1931). European stardom was hers.
Although only in her 20s, she was already a widow (due to the death of husband Albert Sorre, a writer) with a young daughter, Anne, to support. She pursued her career with ardent dedication and passion. She appeared on the stages of Berlin and Vienna and continued her professional association with director Clair by giving a superb performance in July 14 (1933) [July 14th]. She continued to shine working alongside the likes ofCharles Boyer, Jean Gabin, Albert Préjean and Jean Murat. Her popularity was further heightened by a successful association with writer/director Pál Fejös.
She first arrived in America to shoot a French-language version of a Hollywood film and began mastering English from that point on. Instead of settling in Hollywood, however, she headed to London and away from the Hollywood glitz. She had appeared earlier with Jean Murat in Companion Wanted (1932) and Mademoiselle Josette, ma femme (1933), and the couple married in 1934. She won the Venice Film Festival Award for her glorious performance in Sacrifice d'honneur (1935) [Sacrifice of Honor] and went on to appear with Murat in two other pictures — Anatole Litvak's Flight Into Darkness (1935) [Flight Into Darkness] and Anne-Marie (1936).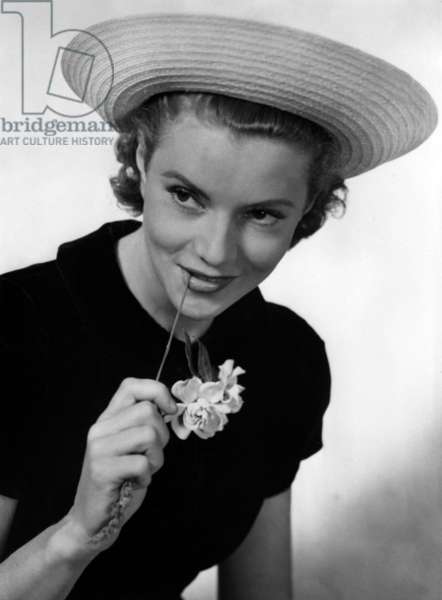 Hollywood beckoned again, this time courtesy of 20th Century-Fox, but the open-faced, ash-blonde beauty continued to resist. They finally arrived on a settlement of sorts — she would agree to make English-speaking films with the studio but only if they were made in England. Her English-speaking debut was opposite Henry Fonda in Wings of the Morning (1937), which was quite successful. It was the first Technicolor feature ever shot in England and Annabella looked every inch the star.
As her following American movies were given their release, such as Under the Red Robe(1937) with Conrad Veidt and Raymond Massey and Dinner at the Ritz (1937) with Paul Lukas and David Niven, Annabella was drawn into the Hollywood maelstrom despite her desire for privacy. This privacy would be shattered dramatically after the still-married French actress met and fell hard for the studio's main attraction, Tyrone Power. From that time forward, the soon-to-be-divorced Annabella and Power became prime objects of tabloid frenzy. They finally married on April 23, 1939. Hounded by an ever-curious public, the couple soon began having marital troubles, complicated by their inevitable time apart for filming and his war service. His numerous affairs only compounded their problems. She bravely kept a strong front and continued filming, but her vehicles were not up to par. The Baroness and the Butler (1938) with William Powell, Suez (1938), which she filmed with her husband, and Bridal Suite (1939) with Robert Young did little to bolster her American career. After Tonight We Raid Calais (1943) and Bomber's Moon (1943), she ended her contract with 13 Rue Madeleine (1947), and then she was gone.
Divorcing Power in January of 1948, she returned to Europe. Her last French film was released in 1952. Her only child Anne would find love and heartbreak married to the Austrian actor Oskar Werner who self-destructed from depression and chronic alcoholism. Annabella's last years were spent quietly, volunteering at one point in prison welfare. She died of a heart attack at Neuilly sur Seine on September 18, 1996, at the age of 87.
– IMDb Mini Biography By: Gary Brumburgh / gr-home@pacbell.net
Her IMDB entry can also be accessed here.