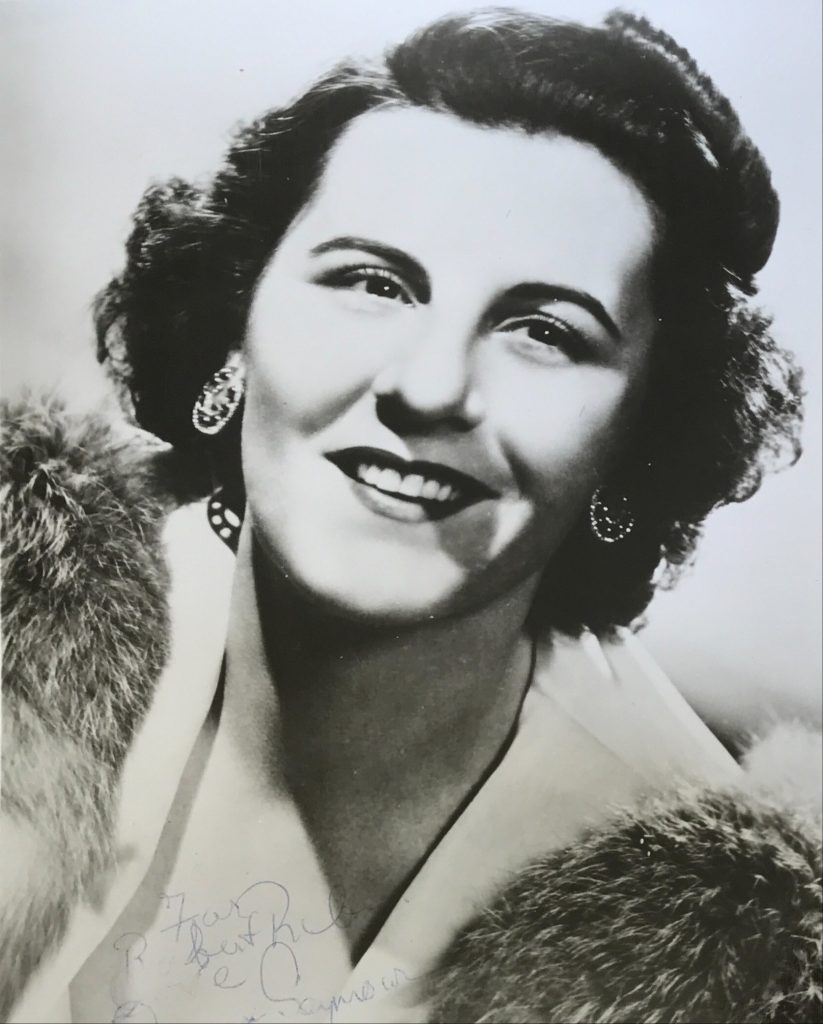 Anne Seymour was a formidable character actress who acted in Hollywood films from the 1940's. She was born in 1909 in New York. Her great-uncle was the great character actor Harry Davenport. She made her movie debut in 1949 as Broderick Crawford's wife in "All the King's Men". Her other films include "Home from the Hill" and "Field of Dreams". She died in 1988.
Her IMDB entry:
The daughter of a copper expert (William Stanley Eckert) and an actress and museum curator (May Davenport), character actress Anne Seymour was born on September 11, 1909 in New York City. She was the seventh generation of a theatrical family that could be tracked back to Ireland in 1740. Her great-uncle was the popular character actor Harry Davenport and her two older brothers were writer James Seymour (42nd Street (1933)) and actor John Seymour (The Sporting Club (1971)).
Anne trained for the stage at the American Laboratory Theatre School with Richard Boleslawski and Maria Ouspenskaya, and began her career performing with The Jitney Players. She, as did her brothers, eventually changed her stage moniker from Eckert to her mother's maiden name of Seymour. After touring throughout New England, Anne made her New York debut in Mr. Moneypenny in 1928. Other Broadway shows followed including At the Bottom (1930) and A School for Scandal (1931). The following year, she entered the world of radio drama. Her distinctively warm style and vocal timbre were perfect for playing some of radio's noblest, self-sacrificing heroines. She portrayed "Mary Marlin" for 11 popular seasons; it turned out to be her most identifiable role.
In the late 1940s Anne switched to film and made an auspicious debut as Lucy Stark in the Oscar-winning picture All the King's Men (1949). Although movie appearances would remain sporadic and relatively minor, Anne was a solid, capable player during the golden age of television and could be seen dressing up many glossy dramas, including Studio One in Hollywood (1948) and Robert Montgomery Presents (1950). Her rather hawkish, matronly features, which seemed in stark contrast to her smooth, modulated tones, nevertheless had her primarily playing benevolent roles as concerned relatives and professionals somewhat in the background.
In 1958, Anne earned strong marks for her portrayal of Sara Delano Roosevelt alongside Tony-winning Ralph Bellamy's FDR in "Sunrise at Campobello" on Broadway. She lost the 1960 movie role to Ann Shoemaker. Anne was actively involved on the SAG and AFTRA boards throughout a good portion of her career. Unmarried, she died in 1988 of natural causes after completing a small part in the popular film Field of Dreams (1989).
– IMDb Mini Biography By: Gary Brumburgh / gr-home@pacbell.net
Her IMDB entry can also be accessed here