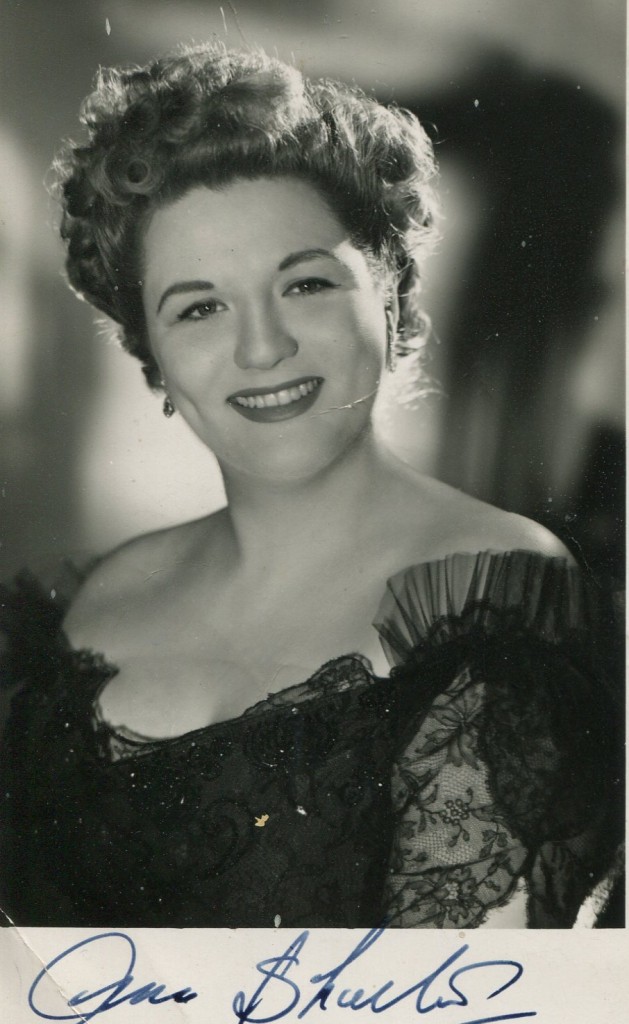 Anne Shelton was after Vera Lynn, the most popular female vocalist in Britain during World War Two. She was born in 1923 in Dulwich in London. She began singing in military bases in 1942. She sang with Glenn Miller and his orchestra in Europe. Among her more popular songs were "I'll be Seeing You", "Galway Bay", "Isle of Innisfree" and "Lay Down Your Arms". Anne Shelton made some films including "Jeannie" in 1941 followed by "King Arthur Was A Gentleman" and "Bees in Paradise". Anne Shelton died in 1994 at the age of 70.
Her "Independent" obituary:
Patricia Sibley (Anne Shelton), singer: born Dulwich, London 10 November 1973; OBE 1990; married 1953 David Reid (died 1990); died Herstmonceux, East Sussex 31 July 1994.
ANNE SHELTON was, with Vera Lynn, one of Britain's best-loved popular singers of her generation. She is chiefly remembered as a 'Forces sweetheart', who regularly entertained the troops during the Second World War, and who sustained a loyal following that continued well into peacetime. Although she never achieved Lynn's prominence and popularity, Shelton became a well-loved icon of the period, a promoter of wartime comradeship and tenacity.
She was born Patricia Sibley in Dulwich, south London, in 1923. When only 12 she sang 'Let the Curtain Come Down' on the BBC radio evening show Monday Night at Eight. The dance-band leader Albert Ambrose heard her performance, and persuaded her to sing with his prestigious and popular 'Ambrose Orchestra'. Instead of becoming a child evacuee with her friends, Shelton was given a regular spot (still in her school uniform) in Ambrose's radio shows. She continued to work for Ambrose during the war, but also enjoyed considerable success in her own right, and with other major bands. On the occasions that Glenn Miller visited Britain she regularly appeared with his band.
Introducing Anne, her own radio show, became highly popular amongst troops. The programme was primarily devised for soldiers serving in the North African desert and ran for over four years. She also presented, with Ronald Shiner, Calling Malta, a show that was a lifeline to troops serving on the island, particularly during the 1942 air bombardment and siege. As with many of her other shows and material, Calling Malta, served as a perfect platform for a style of music that captured the pathos and tone at the time. She had a strong melodious voice which had a dynamic presence. The sentiments and subject-matter of her songs became a 'bonding' medium which carried with it its own special nostalgia.
This 'nostalgic' quality carried over into her recordings. She had adopted 'Lili Marlene' as a signature piece (previously only heard on the radio). An English lyric was added by Tommy Connor and her recording, released in 1944, became an immediate success. She was constantly in demand by this time and appeared in a crop of films which were mainly a fixture of musicals and comedy: King Arthur was a Gentleman (starring the comedian Arthur Askey), Miss London Ltd (1943) and Bees in Paradise (1943).
Immediately after the war, Shelton capitalised on her success as a wartime radio personality, touring Britain extensively. She made numerous guest appearances, including singing alongside Bing Crosby. My parents, who performed in variety, toured with Shelton on many occasions. These included appearances at the London Palladium and with the Royal Commission (which had previously been ENSA). My mother danced with Anne Shelton's show and remembers her appearance for the army of occupation at the Garrison Theatre, Hamburg. Shelton's show-stopping number was a little-known song, 'My Tenement Symphony', which never failed to evoke audience reaction, usually with the entire front stalls of soldiers cheering and stamping.
In 1949 she recorded an updated version of 'Lili Marlene' with 'The Wedding of Lili Marlene' and subsequently became the first British artist to cover the entire United States, coast to coast with a tour that lasted a year. Shelton had a degree of early success as a recording artist in America, which was unique for a British artist, recording versions of 'Galway Bay' and 'Be Mine'. Back in Britain in the early Fifties she continued to court the sentimental and nostalgic with 'My Yiddisha Momma', 'I Remember the Cornfields', 'Arriverderci Darling' and 'Seven Days'. However, in the later Fifties, finding the right material became increasingly difficult for her. It was still the military association which worked best and a Swedish song with English lyrics by Paddy Roberts topped the British charts in 1959 – 'Lay Down Your Arms'. Her last British success was a cover version of Petula Clark's hit 'Sailor' in 1961 (again – an armed forces connection). She sang 'You'll Never Know' for the Queen Mother (reputedly her favourite song) on her 80th birthday. In the same year 1980, Shelton performed 'I'll Be Seeing You' in Yanks, John Schlesinger's film about GIs in wartime Britain.
Anne Shelton toured extensively, appearing in cabaret, television and world-wide variety. She devoted an increasing amount of her time to charity work and reunion projects for the British Legion and the British Services organisations. In 1990 she was appointed OBE for services to the Not Forgotten Association, a charity which provides care and support for disabled ex-service personnel. Her husband Lieutenant- Commander David Reid died in the same year.
Last November Anne Shelton was invited to record a commemorative album for EMI, Wartime Memories, which was released in April. This was recorded with Dennis Lotis and the Royal Airforce Squadronaires – the band which emerged from Albert Ambrose's Orchestra in 1939, her first backing.
The above "Independent" obituary can also be accessed online here.