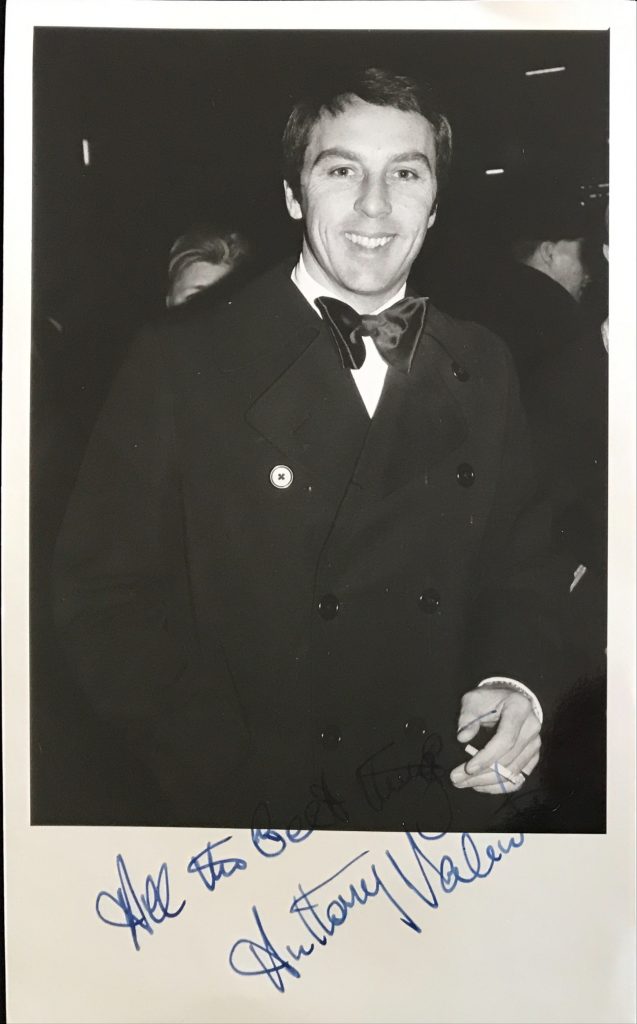 Anthony Valentine was born in 1939 in Blackburn, Lancashire. His first film role pf prominence was in 1962 in Joseph Losey's "The Damned" as one of the thugs terrorising Shirley Anne Field. His other film appearances include "Performance" in 1970, "Tower of Evil" and "To the Devil A Daughter" in 1976. On television he has starred with Margaret Lockwood in "Justice" between 1971 and 1974. The following year he starred as the title character in "Raffles". More recently he has appeared as George Wilson in "Coronation Street". He died in 2015.
His "Independent" obituary:
Anthony Valentine exuded charm and sophistication but made his name on television as psychopathic Toby Meres in Callan and ruthless Nazi Major Mohn in Colditz. Both roles, which brought him fame in the 1970s, typecast him as a screen "nasty" for years. "There must be something in me that other people see," the former child star once told me. "They must have a sixth sense that says, 'He looks a bit dodgy,' or, 'I don't like him.' I find that strange because, inside, I feel just as warm and friendly as the next guy."
Alongside Edward Woodward's title character in Callan (1967-72), a brutal drama set in the world of intelligence and intended as an antidote to the James Bond films, Valentine chillingly portrayed fellow agent Meres as a cold-blooded licensed killer, an upper-class thug who enjoys his deadly work.
He brought the same sadistic qualities to menacing Luftwaffe security officer Horst Mohn in the final series of Colditz (1974), based on Major Pat Reid's memoirs of his time in a German prisoner-of-war camp. Valentine also proved adept at depicting another side of Mohn's personality with his pathetic attempts to get the PoWs to testify that he treated them well as the Third Reich's imminent defeat becomes clear.
He played a more debonair character, albeit on the wrong side of the law, as the gentleman jewel thief in Raffles (1975-77), adapted from EW Hornung's short stories. AJ (Arthur) Raffles was a cricketer and amateur cracksman and, unlike Valentine's previous notorious characters, disapproved of violence.
He was born Tony Valentine in Blackburn, Lancashire, where his parents, Mary (née Walsh) and William, worked in a cotton mill. When he was six, the family moved to south London and Valentine's mother, a fan of Fred Astaire and Gene Kelly film musicals, enrolled him in dancing lessons.
At the age of nine he was spotted tap-dancing in a stage version of Robin Hood at Ealing Town Hall and chosen to act in the film thriller No Way Back (1949). Then, while training at the Valerie Glynne Stage School and attending Acton County Grammar School, he appeared in the film The Girl on the Pier (1953) and had various roles on television, including Trout in Emil and the Detectives (1952).
On leaving school, children's TV kept Valentine busy, casting him as Humphrey Beverley in The Children of the New Forest (1955), JO Stagg in Rex Milligan (1956) and Lord Mauleverer (1955), then Harry Wharton (1956-57), in Billy Bunter of Greyfriars School. He also sang in the children's magazine show Whirligig – accompanied by Steve Race on the piano – and for two seasons in operas at Sadler's Wells Theatre.
Making the successful transition to adult acting, Valentine performed in repertory theatres around the country. He also enjoyed invaluable experience at the Royal Court Theatre in 1958 with roles in John Osborne's Epitaph for George Dillon and Arnold Wesker's Chicken Soup with Barley. Back on television, he played Gerald Quincey in the Francis Durbridge serial The Scarf (1959) and, switching to the classics, took a dozen parts in An Age of Kings (1960), the BBC's Shakespeare anthology series.
Fame in Callan led Valentine to be cast in two other thriller series, playing Vickers in Scobie in September (1969) and Philip West in Codename (1970). He also acted barrister James Eliot (1974) in the final series of Justice, a popular legal drama starring Margaret Lockwood.
This celebrity made him a popular panellist in television game shows such as Call My Bluff (between 1974 and 1981), but he began to find good, strong starring roles hard. So he simply made guest appearances – as streetwise gambler Maurice Michaelson in Minder (three episodes, 1979-83), charming black marketeer Squadron-Leader Dickie Marlowe in Airline (1982) and evil sorcerer Baron Simon de Belleme in Robin of Sherwood (1984 and 1985).
He then bounced back with several leading roles. After acting sinister Tony Slater, one of the partners in crime, in The Fear (1988), he was cast in Body & Soul (1993) as Stan Beattie, the stubborn manager of an ailing north of England mill coming into conflict with the young nun (played by Kristin Scott Thomas) who takes charge of it after the death of her brother. Then came the part of smuggler George Webster (1994-96) in the Customs & Excise drama The Knock.
Guest roles continued, including a 36-episode run in Coronation Street as George Wilson (2009-10), the grandfather of Simon Barlow (Alex Bain) and father of Lucy Richards (Katy Carmichael), who had died after splitting up with her bigamist husband, Peter Barlow (Chris Gascoyne). On discovering his newly found grandson, retired builder George spoiled him and offered to pay for a private education, to the annoyance of Simon's other grandfather, Ken Barlow (William Roache).
Valentine's occasional film appearances included Joey Maddocks, a bookmaker contending with James Fox's east London gangster, in Performance (1970), SS Major Volkmann, the sadistic town commandant, in Escape to Athena (1979) and the British ambassador in Jefferson in Paris (1995). On the West End stage, Valentine acted in The Shifting Heart (Duke of York's Theatre, 1959), Two Stars for Comfort (Garrick Theatre, 1962), Half a Sixpence (Cambridge Theatre, 1962), No Sex, Please – We're British (Strand Theatre, 1971-72), as the assistant bank manager, Peter Hunter, Sleuth (St Martin's Theatre, 1972) , Hans Andersen (London Palladium, 1977) and Art (Wyndham's Theatre, 1999-2000).
Valentine, who was diagnosed with Parkinson's disease in 2012, was married to the actress Susan Skipper (née Cook), who met him when she guest-starred in Raffles. They also appeared on screen together in the 1979 television production of the Ivor Novello musical The Dancing Years.
The above "Independent" obituary can also be accessed online here.