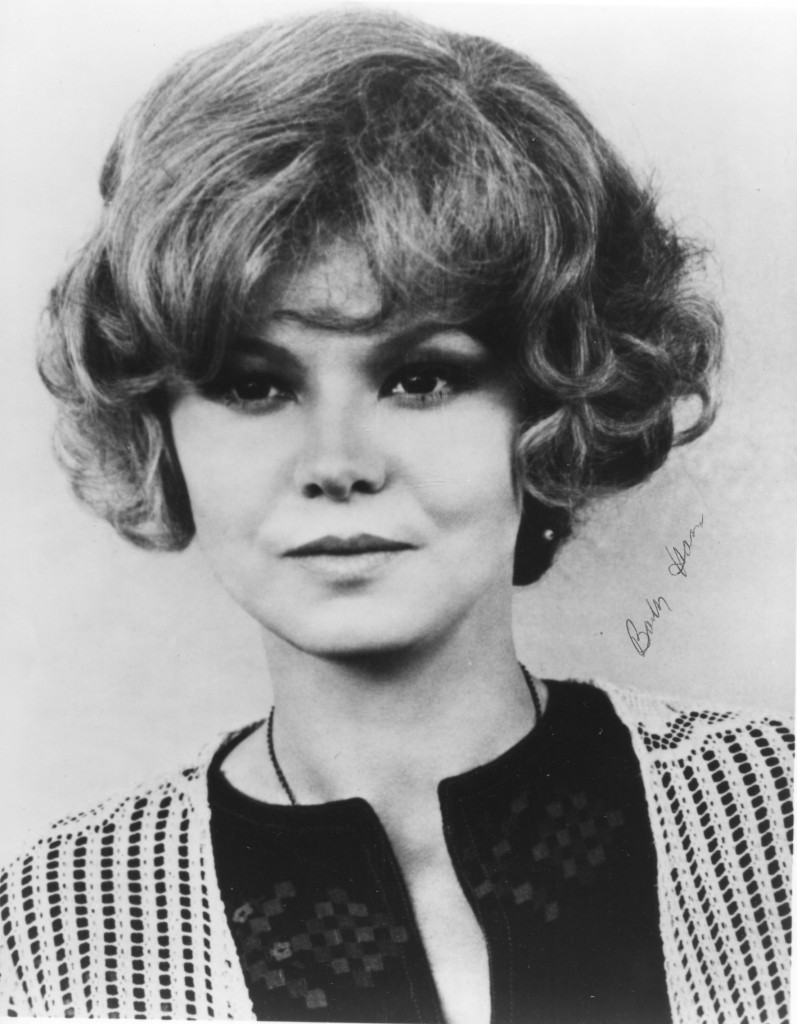 Barbara Harris was born in Evanston, Illnois in 1935.   She began her career on Broadway.   She had a waifish pixie appeal in her initial films.   Among her relatively few film credits are "A Thousand Clowns" with Jason Robards Jnr in 1965,  "Who Is Harry Kellerman And Why Is He Saying Those Terrible Thinga About Me" with Dustin Hoffman, Robert Altman's brilliant "Nashville" and Alfred Hitchcock's final film "Family Plot" in 1976.
TCM Overview:
This charming stage-trained comedy specialist had an intermittent but once beguiling screen career dating back to the mid-1960s. Long a critic's darling, Harris convinces as scatterbrained characters with endearing child-like qualities. This aptitude made her, for a time, something of a thinking man's Goldie Hawn. Harris made her film debut as social worker Sandra Markowitz (her real name) in the feature version of Herb Gardner's play "A Thousand Clowns" (1966). Her performances often garnered far better notices than the films that framed them. Harris' reprisal of her off-Broadway role as what VARIETY called a "nymphet chippie" in "Oh Dad, Poor Dad, Mamma's Hung You in the Closet and I'm Feelin' So Sad" (1967) was deemed the film's only saving grace in some circles. As a late arriving love interest of discontented rock star Dustin Hoffman in "Who Is Harry Kellerman and Why Is He Saying Those Terrible Things About Me?" (1971), Harris fared better than the star and received an Oscar nomination for Best Supporting Actress for her efforts. British culture mag TIME OUT deemed the "delightful" Harris "wasted" as the married old flame of lecherous film producer Walter Matthau in a segment of Neil Simon's "Plaza Suite" (1971), but she fared well opposite a cranky Jack Lemmon in the James Thurber-inspired "The War Between Men and Women" (1972).
The above TCM Overview can also be accessed online here.
A founding member of Chicago's celebrated Second City Players in 1960, Harris came with them to appear in "From Second City" on the NY stage. Moving to NYC she established a positive reputation on and off-Broadway before alternating between stage and screen. Harris racked up three Tony nominations, including one for her delightful turn as the daffy heroine of "On a Clear Day You Can See Forever" (1966). She won the 1967 Best Actress in a Musical Play Tony for "The Apple Tree," in which she played multiple roles opposite Alan Alda and Larry Blyden. Two of her most noteworthy feature credits were in memorable 70s films from divergent auteurs Robert Altman and Alfred Hitchcock: in "Nashville" (1975), Harris was Albuquerque, a housewife whose dream of becoming a country-Western singing star seemingly comes true after an unexpected tragedy; in "Family Plot" (1976), she was a phony but basically benign psychic. Hollywood was less kind for the remainder of the decade.
Harris struggled gamely in the Disney comedies "Freaky Friday" (1976) and "The North Avenue Irregulars" (1979) and won some excellent notices as the frustrated wife of a senator (Alan Alda) in "The Seduction of Joe Tynan" (1979) but by then her star had decisively fallen.
Harris all but disappeared in the 80s, surfacing briefly in Hal Ashby's disastrous "Second-Hand Hearts" (1980), where even her performance was savaged by reviewers; a bit as Kathleen Turner's mom in Francis Coppola's time-traveling "Peggy Sue Got Married" (1986); and a small part as a wealthy traveler conned by a scheming Michael Caine in the comedy "Dirty Rotten Scoundrels" (1988). Harris should not be confused with the young character actor of 80s film and TV with the same name.