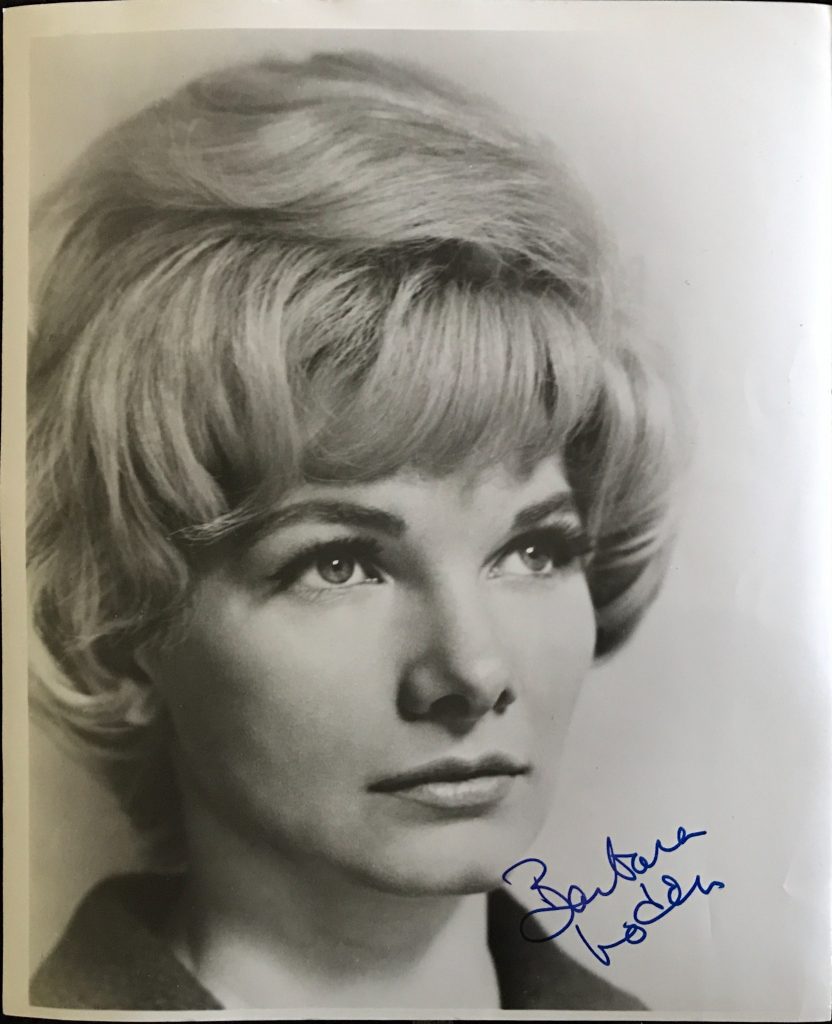 Barbara Loden was born in 1932 in Marion, North Carolina.   Her films include "Splendour in the Grass" in 1961 which was directed by her husband Elia Kazan.   She directed the film "Wanda" in 1970.Barbara Loden died in 1980 at the age of 48.
Gary Brumburgh's entry:
A one-time pin-up beauty and magazine story model, Barbara Loden studied acting in New York in the early 50s and was on the Broadway boards within the decade. She was discovered for films by legendary producer/director Elia Kazan who was impressed with what she did in a small role as Montgomery Clift's secretary in Wild River (1960). He moved her up to feature status with her next role as Warren Beatty's wanton sister in his classic Splendor in the Grass (1961). As Kazan's protégé, she appeared as part of Kazan's stage company in the Lincoln Center Repertory Theater's production of After the Fall, winning the Tony and Outer Critic's Circle awards for that dazzling performance. An oddly entrancing, delicate blonde beauty possessed with a Marilyn Monroe-like vulnerability, she impressed in two of his other stage productions as well – But For Whom Charlie and The Changeling . After appearing in the failed movie Fade-In (1968) with Burt Reynolds, she married Kazan and went into semi-retirement. Barbara wrote, directed and starred, however, in a bold independent film entitled Wanda (1970) and became an unexpected art house darling, distinguishing herself as one of the few woman directors whose work was theatrically-released during the period. She won praise in all three departments, nabbing the Venice Film Festival's International Critics Prize. Supposedly discouraged by a doubting, perhaps even resentful Kazan, Barbara never followed up on this success. She expressed interest and was in the midst of putting together another film, based on the novella The Awakening by Kate Chopin, when she learned in 1978 she had breast cancer. Barbara died two and a half years later, at age 48, after the cancer spread to her liver – before the project ever came to fruition. The Hollywood industry lost a burgeoning talent who just might have opened doors for other women directors had she been given the time.
– IMDb Mini Biography By: Gary Brumburgh / gr-home@pacbell.net
Article on Barbara Loden in "Tina Aumont's Eyes" website:
Remembered mainly as the second wife of legendary director Elia Kazan, former pin-up and model; Barbara Loden, would later become an award-winning actress of stage and screen, and the first female director to write, direct and star in their own movie.
Born on July 8th, 1932, Barbara began in television, appearing as a scantily clad sidekick on 'The Ernie Kovacs Show' in 1956. Around this time Loden met and married promoter Laurence Joachim, with whom she had a son. Studying acting in New York, it wasn't long before she was spotted by one of the most acclaimed producer/directors of the day; Elia Kazan, quickly becoming his protégé.
In 1960 Barbara had a small role as a secretary in Kazan's interesting drama 'Wild River', then a slightly bigger part, as Warren Beatty's reckless sister, in his next feature; 'Splendor in the Grass' ('61). On stage, Loden received a Tony award for her excellent portrayal of Maggie, in Arthur Miller's 'After the Fall', again directed by Kazan. A very personal project by playwright Miller, 'After the Fall' was based on his failed marriage to Marilyn Monroe. Loden was magnificent in the part and showed enormous range, fully encapsulating this troubled and complicated character.
In what was to be her biggest screen role to date, Barbara was later cast as Burt Lancaster's ex-wife; Shirley Abbott, in the superb drama 'The Swimmer' ('68). Unfortunately, a dispute between the film's producer Sam Spiegel and director Frank Perry, coupled with rumours of Lancaster feeling overshadowed by her performance, resulted in her scenes being re-shot with Broadway actress Janice Rule. This unhappy experience may have led to Barbara wanting to take full control of her work, and to do things her own way. Now separated from her husband, Loden married Kazan in 1968 and, while in semi-retirement, began working on her own material.
In 1970 and armed with a small budget, Loden made her own independent movie, the semi- autobiographical drama 'Wanda'. Shot in grainy colour, it's an absorbing study of an unpredictable, emotionally scarred woman. Set in the coal mining region of Pennsylvania, it tells the story of an abused woman, who leaves her unhappy family life and runs away with a petty criminal who's planning a bank robbery. Largely improvisational in tone, it's a very good, if seldom seen movie that sustains to this day, due mainly to Barbara's remarkable and moving performance. Sadly, success at the Venice and Cannes film festivals did little to boost Loden's career, and her relationship with Kazan also suffered greatly at the time.
Unable to capitalise on her earlier success, Barbara only made a couple of more features; two shorts in 1975. In 1978, having finally found the source material for another film; 'The Awakening', based on Kate Chopin's 1899 novel, Loden learned that she had breast cancer, and the project was abandoned. Sadly, the cancer spread to her liver, and two years later, aged 48, Barbara died on September 5th, 1980. A sexy, natural actress, Barbara was unfortunately overlooked by many in the industry, who strangely ignored instead of embrace her. Hopefully, with a positive re-appraisal of 'Wanda' in the last few years, Barbara Loden just may have finally left a lasting legacy for other women harbouring dreams of making movies.
Favourite Movie: 'Wild River'
Favourite Performance: 'Wanda'
The above article can also be accessed online here.