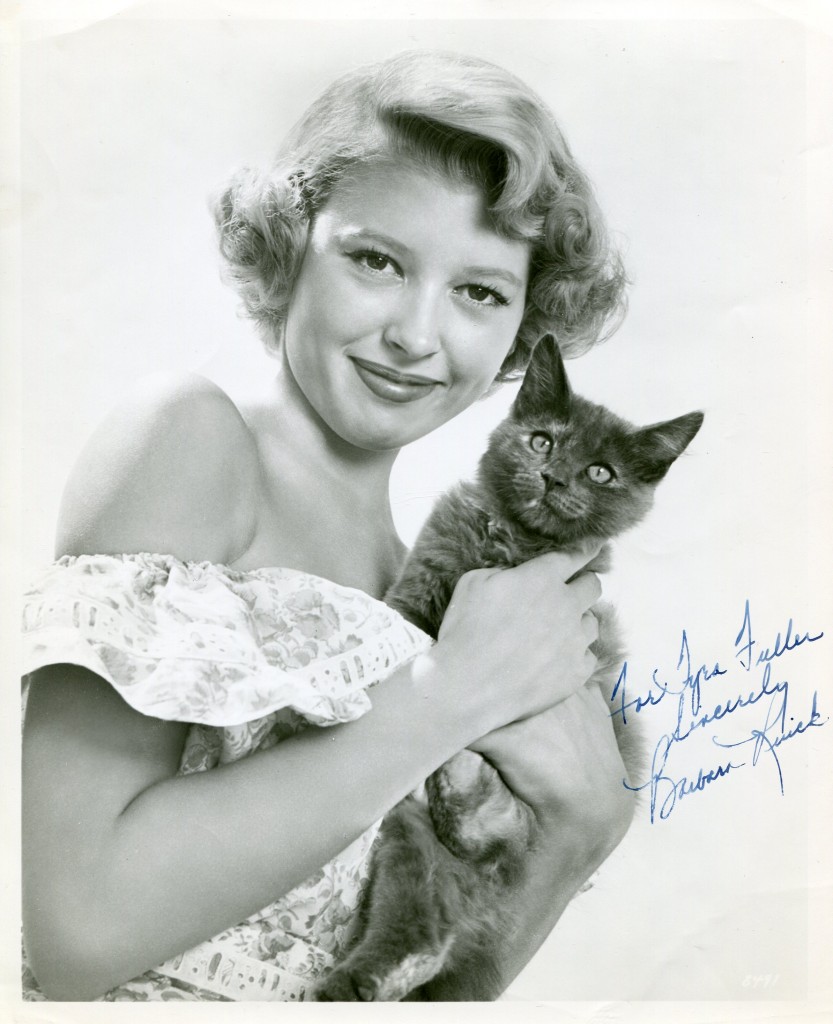 Barbara Ruick was born in 1930 in Pasadena, California.   She was the daughter of actress Lurene Tuttle.   She is prehaps best known for her role of Carrie Pipperidge in the film musical "Carousel" with Gordon MacRae and Shirley Jones.   Her other films include "Confidentially Connie" in 1953 and "The Affair of Dobie Gillis".   Barbara Ruick was married to the reknowned film composer John Williams.   She died in 1974 at the young age of 44.
Gary Brumburgh's entry:
A bundle of bright sunshine and unabashed energy, lovely musical actress Barbara Ruick delighted audiences for over two decades. The brown-eyed singer/actress who admittedly came up short in the dancing department nevertheless toyed with top musical stardom in mid-1950s films and almost nabbed it. A vivacious beauty whose sparkling, fresh-faced appeal reminded one instantly of a Mitzi Gaynor or Vera-Ellen, Barbara's untimely death at age 41 robbed Hollywood of a tried-and-true talent.
She was born on December 23, 1930 in sunny Pasadena, California, the daughter of show biz professionals. Father Mel Ruick was a well respected radio actor and announcer while mother Lurene Tuttle earned equal distinction as a radio player and (later) reliable TV and film performer playing a lovely assortment of fluttery matrons and mothering types. Deeply influenced by her parents' obvious success and fulfillment, the blonde and starry-eyed Barbara started acting on radio and TV as a Hollywood High School teenager. One of her first jobs was in the chorus of Chico Marx's TV show despite the fact she was a lackluster dancer.
Following other TV work, the just-turned-21 Barbara earned the attention of MGM and signed a long-term contract with the topnotch studio. She dutifully apprenticed in starlet parts with bit or unbilled roles in both musical and dramatic outings including Invitation(1952), Scaramouche (1952) and Fearless Fagan (1952). Slightly better parts were handed to her in the films You for Me (1952), Above and Beyond (1952) and Apache War Smoke (1952). The last movie mentioned co-starred future husband Robert Horton, known for his rugged appearances in numerous westerns. The twosome married in Las Vegas in 1953.
The next couple of years were quite frustrating for Barbara at MGM. After finally earning a second femme lead role in the film The Affairs of Dobie Gillis (1953) alongside Bobby Van, Debbie Reynolds and Bob Fosse, MGM inexplicably reverted her right back to playing bit parts again in such offerings as Confidentially Connie (1953), I Love Melvin (1953) and The Band Wagon (1953). She finally retreated from both MGM and Hollywood and returned to New York to concentrate on TV. She earned a slew of assignments including a number of variety show appearances. On series TV she was a bright and breezy regular for such stalwarts as Ezio Pinza, Jerry Colonna and Johnny Carson. She also proved her dramatic mettle on such programs as "The Loretta Young Show," "The Public Defender" and "The Lineup".
Out of nowhere Barbara was ushered back to Hollywood for the most important film role of her career. In Rodgers and Hammerstein's classic Carousel (1956), it seemed that stardom was just within reach after winning the cute and flighty Carrie Piperidge role alongside Gordon MacRae and Shirley Jones. Ruick shined in the well-mounted 20th Century-Fox production while offering a lovely rendition of "When I Marry Mr. Snow". Instead of this success propelling Barbara into other films, it would be her last movie for nearly two decades. She also recorded for Columbia Records around this period but, other than a couple of novelty items, none of her songs ever made it to the top of the charts.
Divorced from actor Horton in 1956, Barbara married Academy Award-winning composer and Boston Pops conductor John Williams that same year. They had one daughter and two sons. The boys went on to have musical careers of their own; their daughter became a doctor. She continued to thrive on TV in the late 50s. In 1965 angular Barbara and plump Pat Carroll camped it up and nearly stole the proceedings as the evil stepsisters with their uproarious version of "The Stepsisters Lament" in Rodgers & Hammerstein's star-studded musical special Cinderella (1965) starring Lesley Ann Warren.
Barbara was little seen in the ensuing years but did pop up for a small role as a barmaid in the comedy film California Split (1974) showcasing the then-hot film stars Elliott Gouldand George Segal. Barbara died suddenly of a cerebral hemorrhage on March 3, 1974 in Reno, Nevada. Although her musical gifts were shamefully underused by MGM in the early 1950s, her comeback role in Carousel (1956) will endure and remain a film treasure.
– IMDb Mini Biography By: Gary Brumburgh / gr-home@pacbell.net