Barbara Rush was born in 1927 in Denver, Colorado.   She made her screen debut with "The Goldbergs" in 1951.   She starred among the major actors of the 1950's including Marlon Brando, Paul Newman, James Mason, Rock Hudson and Tony Curtis.   Her film credits include "When Worlds Collide", "Bigger Than Life" in 1956, "The Bramble Bush" and "Hombre" in 1967.   Recently she appeared as Stephen Collin#s mother in the very popular TV series "7th Heaven".
Gary Brumburgh's entry:
The epitome of poise, charm, style and grace, beautiful brunette Barbara Rush was born in Denver, Colorado in 1927 and enrolled at the University of California before working with the University Players and taking acting classes at the Pasadena Playhouse. It didn't take long for talent scouts to spot her and, following a play performance, Paramount quickly signed her up in 1950, making her debut with The Goldbergs (1950). Just prior to this, she had met fellow actor Jeffrey Hunter, an incredibly handsome newcomer who would later become a "beefcake" bobbysoxer idol over at Fox. The two fell in love quickly and married in December of 1950. Soon, they were on their way to becoming one of Hollywood's most beautiful and photogenic young couples. Their son Christopher was born in 1952.
While at Paramount, she was decorative in such assembly-line fare as When Worlds Collide (1951), Quebec (1951), The First Legion (1951), Flaming Feather (1952) andPrince of Pirates (1953). Universal picked up her option where she continued to provide love interest angles amid the action and derring-do with It Came from Outer Space(1953), Taza, Son of Cochise (1954) and The Black Shield of Falworth (1954). She finally got her break with the second lead femme role in the popular Jane Wyman tearjerkerMagnificent Obsession (1954), the movie that certified Rock Hudson as a top star. From there, Barbara's own star began to ascend in more quality pictures. She co-starred opposite some of Hollywood's top leading males in such glossy dramas as Bigger Than Life (1956) starring James Mason, No Down Payment (1957) with ex-husband Jeffrey Hunter (they had divorced in 1955), The Young Lions (1958) starring Montgomery Clift,Marlon Brando and Dean Martin, The Young Philadelphians (1959) alongside Paul Newman, The Bramble Bush (1960) with Richard Burton and Strangers When We Meet(1960) with Kirk Douglas. In most cases, she played brittle wives, conniving "other women" or socialite girlfriend types.
Despite the "A" list movies Barbara was piling up, the one single role that could put her over the top never showed its face. By the early 60s, her film career started to decline. She married publicist Warren Cowan in 1959 and bore a second child, Claudia Cowan, in 1964. TV became a viable source of income for Barbara, appearing in scores of guest parts on the more popular shows of the time (Peyton Place (1964), Medical Center(1969), Ironside (1967)) while co-starring in standard mini-movie dramas. She even had a bit of fun playing a "guest villainess" on the Batman (1966) series as temptress "Nora Clavicle". The stage also became a strong focus for Barbara, earning the Sarah Siddons Award for her starring role in "Forty Carats". She made her Broadway debut in the one-woman 1980s showcase "A Woman of Independent Means", which also subsequently earned her the Los Angeles Drama Critics Award during its tour. Other showcases included "Private Lives", "Same Time, Next Year", "The Night of the Iguana" and "Steel Magnolias". The still-beautiful Ms. Rush occasionally graces the big and small screen these days, more recently in a recurring role on TV's 7th Heaven (1996).
– IMDb Mini Biography By: Gary Brumburgh / gr-home@pacbell.net
).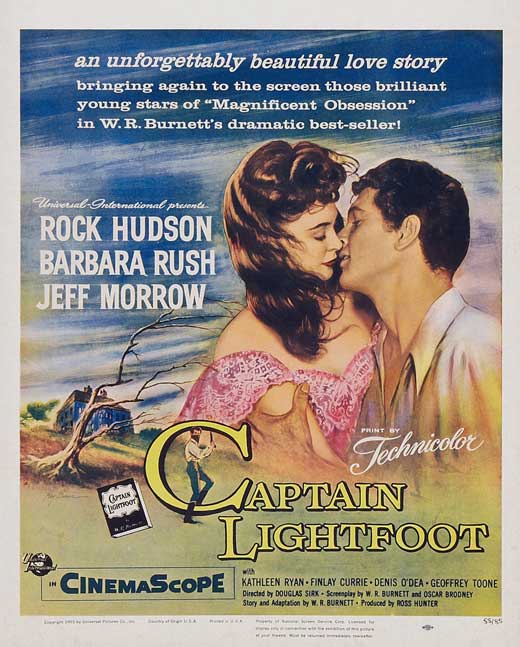 TCM overview:
An attractive leading lady often cast in well-bred roles, Barbara Rush entered films at the tail end of the studio system, making her debut in a small role in "Molly" (1950), based on the popular radio show "The Goldbergs". She went on to play leading ladies in some top pictures, but appeared in numerous forgettable ones before breaking into TV in the 1960s. Although Rush won her first leading roles in such Paramount films as "The First Legion" (1951), she is probably better remembered as Joan, the woman who loves Paul Newman even after he chooses a job over her hand in marriage, in "The Young Philadelphians" (1959), and opposite Frank Sinatra in "Come Blow Your Horn" (1963). She also had key roles in "The Young Lions" (1958), "The Man" (1972), and an amusing supporting role in "Can't Stop the Music" (1980).
Rush first worked as a series regular playing a Washington newspaper correspondent in "Saints and Sinners" (NBC, 1962). She garnered some notice for her season-long (1968-69) stint as Marcia Russell on ABC's primetime soap "Peyton Place". Rush then tried her hand at comedy, portraying a temperamental soap opera star on "The New Dick Van Dyke Show" (CBS, 1973-74). In the early 80s, it was back to the real thing as the matriarch Eudora Weldon on NBC's "Flamingo Road" (1981-82) and a brief turn on ABC's daytime staple "All My Children".
Approaching the age when actresses find roles difficult to land, Rush stayed active on stage appearing throughout the USA in such fluff as "Forty Carats" and "Same Time, Next Year". She commissioned and earned rave reviews in the solo theatrical piece "A Woman of Independent Means", based on the novel by Elizabeth Forsythe Hailey in New York and Los Angeles. More recently, Rush returned to the small screen appearing in the recurring role of Stephen Collins' mother in "7th Heaven" (The WB