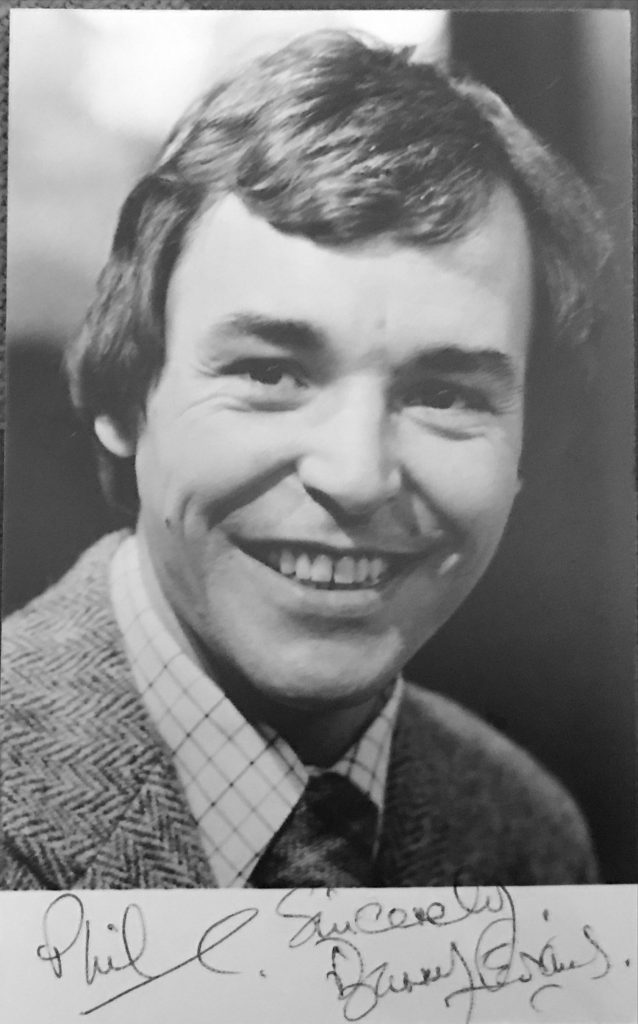 Barry Evans was a popular British television actor who made occasional films.   He was born in Guilford, Surrey in 1943.   He attended the Italia Conti School of Acting.   His successes on television include the long-running "Doctor in the House" and "Mind Your Language".   His films include "Here We Go Round the Mulberry Bush" and "Adventures of a Taxi Driver".   He died in 1997.   Article on Barry Evan's website here.
"Independent" obituary from 1997.Obituary: Barry Evans
Anthony Hayward Thursday 13 February 1997.   The youthful, ever-smiling Barry Evans found fame in the comedy series Doctor in the House and Mind Your Language, but failed to shake off the image that those television programmes gave him, despite his earlier appearances in a wide range of screen dramas and stage performances with the National Theatre and Young Vic.
Born in Guildford, Surrey, in 1943, Evans was orphaned and brought up in a Dr Barnardo's home in Twickenham, Middlesex. Intent on a career in acting, he won a John Gielgud Scholarship to train at the Central School of Speech and Drama, before making his theatre debut in Barrow-in-Furness. He found his first big break in Spring Awakening at the Royal Court Theatre and, soon afterwards, appeared in Chips with Everything on Broadway (1963).
On returning home, Evans joined the Nottingham Playhouse repertory company and toured with it throughout Britain and the Far East. He also acted in the films The Class (1961) and The White Bus (1966, directed by Lindsay Anderson) and on television in Redcap (1964), Undermind (1965), The Baron (1966), Much Ado About Nothing (1967) and Love Story (1967).
After a year with the National Theatre, Evans was chosen by the director Clive Donner to star as the former grammar school boy Jamie McGregor, determined to lose his virginity, in the film Here We Go Round the Mulberry Bush (1968). The picture was regarded as an adolescent romp, with music by Stevie Winwood and Traffic and the Spencer Davis Group, which helped it to capture the mood of the permissive society of the Swinging Sixties. He subsequently appeared in the film Alfred the Great (1969).
Then, Evans was cast as a medical student, Michael A. Upton, in Doctor in the House (1969), the ITV sitcom based on Richard Gordon's Doctor books and scripted by writers such as John Cleese, Graham Chapman, Graeme Garden, Bill Oddie and Barry Cryer. The series came about after Frank Muir, LWT's head of comedy, acquired the rights to produce television adaptations of the books in consultation with the author, 20 years after they had first appeared in print and 15 years after the first film, starring Dirk Bogarde and James Robertson Justice. To update the stories for television, new staff and students at St Swithin's teaching hospital were created.
Upton, young and gauche, and the other new students, played by Robin Nedwell, George Layton, Martin Shaw, Simon Cuff and Geoffrey Davies, had to deal with the wrath of authority in the person of Professor Loftus (played by the actor Ernest Clark). A second series followed in 1970, before Upton and some of his colleagues returned as newly qualified doctors for two series of Doctor at Large the following year. However, Evans did not appear in the further sequels, Doctor in Charge, Doctor at Sea, Doctor Down Under and Doctor at the Top.
Evans appeared in the soap opera Crossroads and a Thirty Minute Theatre production of Torquil (1972), as well as the films Die Screaming, Marianne (1971) and Adventures of a Taxi Driver (1976), before starring in the sitcom Mind Your Language (1977-79) as the English teacher Jeremy Brown, who had to deal with mature foreign students while enduring criticism from the dragon-like college principal Miss Courtney (actress Zara Nutley). The series, written by Vince Powell, returned in 1986 for a further 13 episodes, but it suffered from stereotypes of foreigners and Evans – by then in his forties – subsequently found that casting directors and producers passed him over for roles, as a result of the image he had of being a fresh-faced young man with a boyish smile.
Between series of Mind Your Language, he appeared on television alongside Dick Emery in the six-part comedy thriller Legacy of Murder (1982). He also acted for one season with the Young Vic Theatre, toured in the hit comedy Doctor in the House, with Jimmy Edwards, and directed a regional production of The Norman Conquests, in which he also played Norman. As acting work diminished, Evans switched to taxi-driving to earn a regular income, although in 1993 he returned to the screen as Bazzard in the film The Mystery of Edwin Drood, which starred Robert Powell, but it failed to make an impression.
Barry Joseph Evans, actor: born Guildford, Surrey 18 June 1943; died Claybrooke Magna, Leicestershire c9 February 1997
The above "Independent" obituary can also be accessed online here.
.