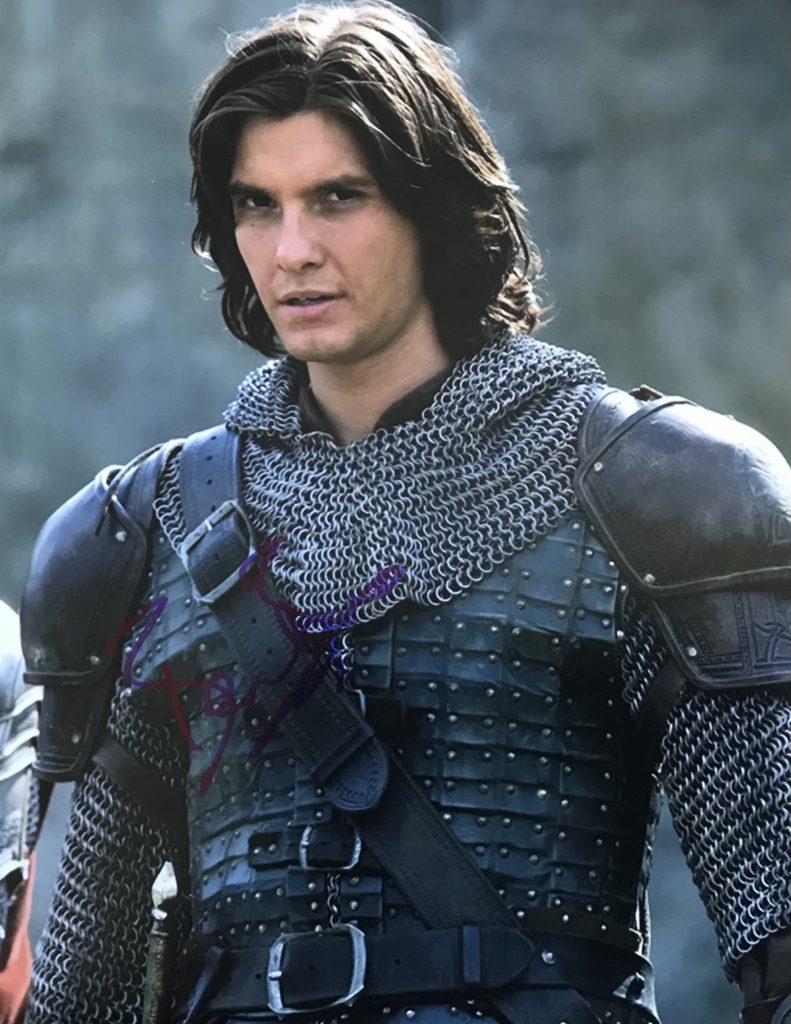 Ben Barnes is probably best known for his performances in "Stardust" as Young Dunston and Caspian in "The Chronicles of Narnia". He is due to be in the play "Birdsong" on the West End stage in September 2010. A website fpr Ben Barnes can be accessed here.
Ben Barnes (Wikipedia)
Ben Barnes is a British actor and singer. He is best known for his roles as Prince Caspian in The Chronicles of Narnia film series, Logan Delos in Westworld, and Billy Russo in The Punisher.
He has also played Tom Ward in the fantasy film Seventh Son, Dorian Gray in Dorian Gray, supporting roles in The Words, and The Big Wedding, and portrayed Samuel Adams in the 2015 miniseries Sons of Liberty.
Barnes was born in London, to Tricia, a relationship therapist, and Thomas Barnes, a professor of psychiatry.
Barnes was educated at two independent schools for boys: Homefield Preparatory Schoolin Sutton and King's College School in Wimbledon, south-west London (where his classmates included the film actor Khalid Abdalla and comedian Tom Basden),[5] followed by Kingston University in Kingston-upon-Thames, where he studied drama and English literature, and from which he graduated with BA Honours in 2004.
Barnes began his career in musical theatre. As a teenager, he spent a few years as part of the National Youth Music Theatre, whose alumni also include actors Jude Law and Jamie Bell.[8] At fifteen, Barnes landed his first professional job as a drummer in the West End musical adaptation of Bugsy Malone. He was briefly a singer in the pop boy band Hyrise, which was in the running to represent the United Kingdom in the Eurovision Song Contest in 2004 with the song "Leading Me On"; however, they lost out to James Fox and "Hold Onto Our Love". Barnes began working in television in 2006, including a guest appearance on the UK series Doctors. That same year, he joined the ensemble cast of a West End production of The History Boys, in which he starred as the sexually provocative Dakin, a role originally played by Dominic Cooper on stage and in the film The History Boys.
Barnes made his feature film debut as Young Dunstan in 2007's Stardust, directed by Matthew Vaughnand based on the Neil Gaiman novel of the same name. Barnes then starred as a Russian hoodlum named Cobakka in Suzie Halewood's Bigga Than Ben, which was released in 2008 in the United Kingdom and other European countries.[11]
In February 2007, it was announced that Barnes would play the role of Caspian in the film adaptation of The Chronicles of Narnia: Prince Caspian, directed by Andrew Adamson. Adamson said "Caspian is a coming of age and, to some degree, a loss of innocence story, with Caspian starting out quite naïve, then craving revenge and finally letting go of the vengeance." While many readers interpret Caspian as a child, a passage in the novel mentions his age to be near that of Peter's, so an older actor was sought to match William Moseley. Barnes had read the novel as a child, and was cast in two-and-a-half weeks after meeting with the filmmakers. He spent two months in New Zealand horse riding and stunt training to prepare for shooting.  Barnes says his Mediterranean accent in the movie was inspired in part by Mandy Patinkin's performance as Inigo Montoya in The Princess Bride. Adamson did not expect to cast a British actor as Caspian, and said Barnes fitted well into the surrogate family of Adamson and the four actors playing the Pevensies.[16]
In the spring of 2008, Barnes finished filming the role of John Whittaker for Noël Coward's romantic comedy, Easy Virtue opposite Jessica Biel. Written and directed by Australian Stephan Elliott,[17] the film premiered at the Toronto International Film Festival on 8 September 2008.[18] The film has screened at the Rio, Rome, Abu Dhabi, London and Adelaide Film Festivals.[19][20] It also screened at the Tribeca Film Festival prior to its U.S. release on 22 May 2009.[21] Easy Virtue is a social comedy in which a glamorous American widow, Larita, impetuously marries a young Englishman, John Whittaker, when they return to England to meet his parents, his mother takes an immediate and strong dislike to the new daughter-in-law.[22] The score contains many Coward and jazz-age songs, some of which are sung by Barnes. In the United States, the film enjoyed some commercial success. Sony Pictures Classics paid an estimated $US1 million to acquire the film's distribution rights in the United States, Latin America and South Africa.[23]
Barnes next starred in the title role in a film adaptation of Oscar Wilde's Dorian Gray, directed by Oliver Parker for Ealing Studios.[24] The film was released on 9 September 2009 in the United Kingdom and had its world premiere that month at the Toronto International Film Festival.
In May 2009, Barnes was nominated for MTV Movie Awards' Best Breakthrough Male for his performance in Prince Caspian, which went to Robert Pattinson from Twilight.[25] In June 2009, Barnes filmed the psychological thriller Locked In, directed by Suri Krishnamma, on location in Boston. In the movie (which was originally titled Valediction), Barnes plays an American father named Josh whose daughter seems to be in a coma after being in a car accident.[26]
Barnes appeared as King Caspian in The Chronicles of Narnia: The Voyage of the Dawn Treader (2010), the third installment in the series. Directed by Michael Apted, the movie was filmed from July to November 2009 in Brisbane, Australia. It premiered on 30 November 2010 at a Royal Film Performance in London.[27] and released in December 2010.[28][29] It was released in traditional 2D, RealD 3D, and Digital 3D, and a limited release in 4D.[30] The film was the 12th highest-grossing film of 2010 worldwide.[31]
In January 2010, Barnes began filming Killing Bono,[32] a comedy based on the Neil McCormick memoir Killing Bono: I Was Bono's Doppelgänger, in which McCormick recounts his youth in Ireland as an aspiring rock star who is overshadowed by his friend Bono, the lead singer of U2. Barnes played McCormick in Killing Bono, which is directed by Nick Hamm. Filming started at the beginning of January in the city of Lisburn. Killing Bono was released on 1 April 2011, in the United Kingdom and Ireland. The European premiere was at the Savoy Cinema in Dublin. Sony Music Entertainment released the movie's soundtrack worldwide.
Barnes returned to the West End stage in London with a starring role as World War I soldier Stephen Wraysford in Birdsong, a drama based on the Sebastian Faulks novel of the same title. The play, directed by Trevor Nunn and adapted for the West End stage by writer Rachel Wagstaff opened on 28 September 2010, running through 15 January 2011. He was then cast alongside Bradley Cooperand Zoe Saldana in The Words (2012).
In 2013 Barnes had one film released, The Big Wedding, a remake of the original 2006 French film Mon frère se marie (My brother is getting married). The movie starred an ensemble cast that included Robert De Niro, Diane Keaton, Katherine Heigl, Topher Grace, Amanda Seyfried, Susan Sarandon and Robin Williams. The movie released on 26 April 2013.
In December 2012, Barnes began filming the modern day crime drama By the Gun with co-stars Harvey Keitel and Leighton Meester. By the Gun had its world premiere at the 2014 Zurich Film Festival, theatrical premiere in Boston on 2 December 2014, and a limited theatrical release on 5 December 2014. It was released on DVD on 20 January 2015.
Barnes played Tom Ward in the film Seventh Son (2014). Directed by Sergei Bodrov and co-starring Jeff Bridges, Alicia Vikanderand Julianne Moore, it is based on the novel The Spook's Apprentice (titled The Last Apprentice: Revenge of the Witch in the US) by Joseph Delaney.[49] The presentation was at Comic-Con International 2011. The film was released in France on 17 December 2014, and in Canada and the United States on 6 February 2015.
In 2015, Barnes starred as Sam Adams in the History Channel's three-part fictional mini-series Sons of Liberty. Barnes also starred with Katherine Heigl in the romantic drama Jackie & Ryan. On 20 July 2015 it was announced that Barnes would replace Eion Bailey as Logan Delos in HBO's science fiction thriller Westworld, the first season of which aired in the fall of 2016.
In September 2016, Barnes was cast as Billy Russo in the Marvel Netflix series The Punisher.[54]