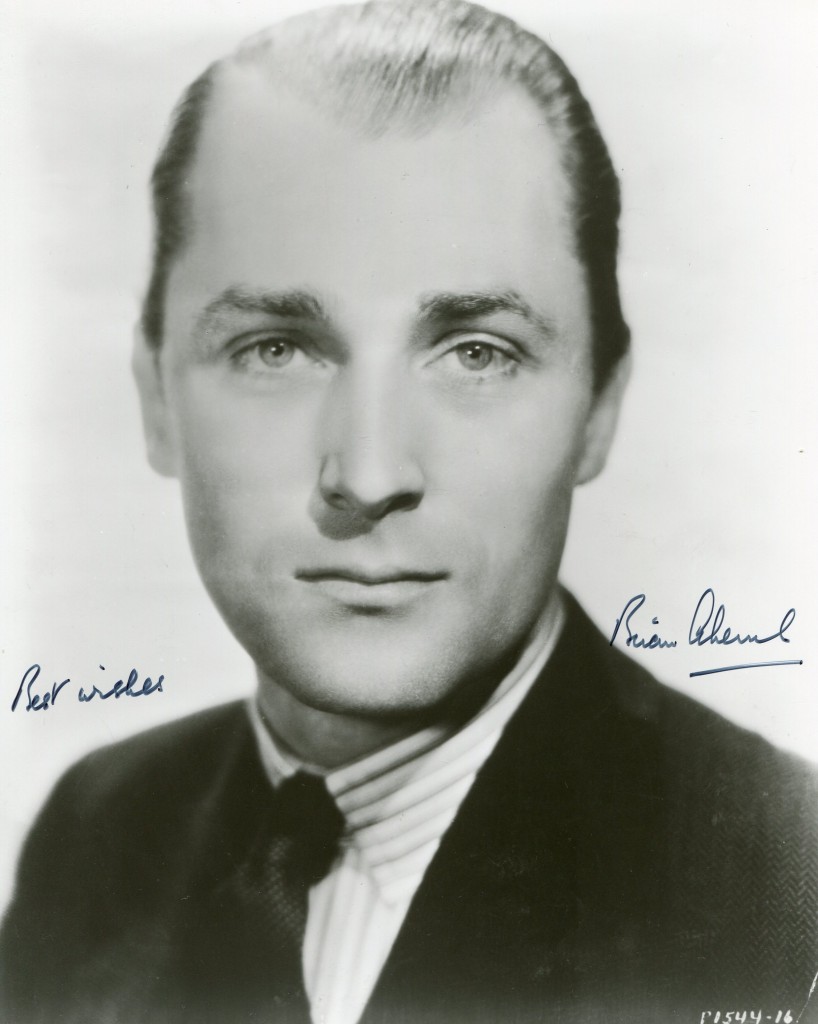 Brian Aherne was born in Kings Norton, England in 1902.   He made his talkie debut in 1931 in the British film "Madame Guillotine".   By 1935 he was in Hollywood where he made such films as "Sylvia Scarlet", "Jurez", "Vigil in the Night" and "My Son, My Son".   He graudated into character parts in the 50's and made such films as "Titanic", "The Swan" with Grace Kelly  and "The Best of Everything".   In the 60's he was in ""Susan Slade" with Troy Donahue and Dorothy McGuire and "Rosie" with Rosalind Russell and Sandra Dee.   He died in 1986 at the age of 64.
TCM overview:
British born Brian Aherne possessed the attributes that all but guaranteed him a career in motion pictures, in that he was a polished stage performer, came across as a cultured gentleman and was also quite handsome. He first made his name in America as one of the stars of Broadway's "The Barretts of Wimpole Street" (1931) and was soon gracing such notable features as "Sylvia Scarlett" (1935), "Beloved Enemy" (1936), "The Great Garrick" (1937), and "Juarez" (1939). While he did not generate the same degree of publicity as the major stars of the time, Aherne was a respected actor and reliable box office draw who earned a great deal of money from his film assignments. He continued to appear in gems like "A Night to Remember" (1942), "The Locket" (1946), "I, Confess" (1953), and "The Best of Everything" (1959), but also took breaks to do stage work. These detours usually found him either back on the Great White Way or in touring productions of old standbys like "My Fair Lady," where his interpretation of Professor Henry Higgins proved a hit with audiences. Following his retirement in 1967, he penned sharp and amusing books about his life and that of longtime friend and colleague, George Sanders. While he only starred in a handful of classic movies, Aherne was welcomed by audiences of the era for the touches of charm and sophistication that he could be counted on to display in most any role.
Brian Aherne was born William Brian de Lacy Aherne in King's Norton, Worcestershire, England on May 2, 1902. He began to log stage credits at the princely age of nine and continued to perform over the years that followed. Aherne became a member of the Birmingham Repertory Theatre in his late teens and while he had studied architecture at Malvern College, it became clear that acting was his true calling. Engagements in such West End productions as "Paddy the Next Best Thing" (1923) and "White Cargo" (1924) soon followed, and he also toured Australia in several additional plays. Cinematic opportunities were also soon on the horizon. Aherne debuted in the silent crime drama "The Eleventh Commandment" (1924) and graced several other pictures before making his first sound feature, a spy thriller called "The W Plan," in 1930. He was invited to America and his Broadway bow came in "The Barretts of Wimpole Street" (1931), the highly popular and acclaimed comedy that would enjoy many revivals. Aherne was quickly sought out by Hollywood producers and co-starred with Marlene Dietrich, whom he reportedly also dated for a time off the set, in the romantic drama "The Song of Songs" (1933). Additional lead engagements followed in such films as "The Fountain" (1934) and "I Live My Life" (1935), and he returned to the Great White Way to play Mercutio in a revival of "Romeo and Juliet" (1934-35) alongside such talented co-stars as Basil Rathbone and young up-and-comer Orson Welles.
Frederic March took over Aherne's role in MGM's pleasing adaptation of "The Barretts of Wimpole Street" (1934), but the debonair and cultured Aherne had plenty of other cinematic work to choose from. One character he did not want was the titular part of swashbuckler "Captain Blood" (1935) and Aherne's refusal to sign on to the project inadvertently helped launch the career of Errol Flynn. He joined Katherine Hepburn and Cary Grant in "Sylvia Scarlett" (1935) and co-starred with Merle Oberon in the Irish Rebellion drama "Beloved Enemy" (1936). Aherne also had a fine vehicle for his talents in "The Great Garrick" (1937), where he played a fictionalized version of the talented but decidedly egotistical 18th century stage star David Garrick. During this period, Aherne began to guest star on various radio programs and would play roles on "Lux Radio Theater" (WJZ/CBS/WABC/CBS/NBC, 1934-1955) at various times for the better part of almost two decades.
Aherne's highest-profile credit of the time was the elaborate historical biopic "Juarez" (1939), in which he came off well as Emperor Maximilian opposite notorious firebrand Bette Davis, dominating the screen as unbalanced Empress Carlotta. He was also able to try his hand at the sort of adventure vehicle he had previously shunned as star of "Captain Fury" (1939). While the Australia-set adventure was shot entirely in California, the combination of Western-style plotting supplemented with a dash of Robin Hood-style derring-do made for diverting entertainment. On the personal front, Aherne wed his first wife, 22-year-old actress Joan Fontaine, who found fame that year in "The Women" (1939) and followed up with the superb Alfred Hitchcock efforts "Rebecca" (1940) and "Suspicion" (1941). Fifteen years apart in age, the two made for a highly photogenic couple, but their union proved to be less than smooth sailing.
Aherne was employed by several studios in the 1940s and proved adept at various genres. "Vigil in the Night" (1940) found him playing an empathetic doctor opposite Carole Lombard in a rare drama for the screwball comedienne about the nursing profession, while he and Loretta Young displayed excellent chemistry in the splendid mystery-comedy "A Night to Remember" (1942). He joined a number of fellow ex-patriots in "Forever and a Day" (1943), a drama produced to bolster the British war effort, and the romantic comedy "What a Woman!" (1943), which cast Aherne as a reporter with his eye on publishing executive Rosalind Russell. Movie work proved to be very lucrative for Aherne and a Security and Exchange Commission report revealed that he made $145,000 in 1942, only $5,000 less than Columbia studio chief Harry Cohn. That financial luxury allowed Aherne to occasionally step off the production treadmill and devote his time to other pursuits. In the wake of "What a Woman," Aherne did not make another movie until "The Locket" (1946), in which he gave an excellent performance as a psychiatrist whose past includes a dangerously unbalanced woman (Laraine Day) who is about to marry anew. Aherne and Fontaine had ended their own union by that point, with the latter citing extreme cruelty as the cause. A few months after their separation was finalized, Aherne wed Eleanor de Liagre Labrot, with whom he would remain for the rest of his life.
Despite the steady flow of opportunities available to him in Hollywood, the stage remained Aherne's first love and after the adventure "Angel on the Amazon" (1948), he decided to switch his emphasis for a time and acted in productions of plays like "She Stoops to Conquer" (1949-50) and "The Constant Wife" (1951-52). Their runs proved short, however, and he was soon back in features, including Alfred Hitchcock's "I, Confess" (1953), "Titanic" (1953), and the colorful CinemaScope costumer "Prince Valiant" (1954), in which he portrayed King Arthur. In the wake of other films like Grace Kelly's final film "The Swan" (1956) and "The Best of Everything" (1959), stage work again returned to the actor's schedule. He enjoyed his longest run in sometime via a revival of "My Fair Lady" that found him on the road for more than a year as Professor Henry Higgins, the role countryman Rex Harrison had made famous. Aherne also found time for periodic small screen guest star outings during this period and made his best remembered television appearance on "The Trouble with Templeton," an excellent episode of Rod Serling's "The Twilight Zone" (CBS, 1959-1964).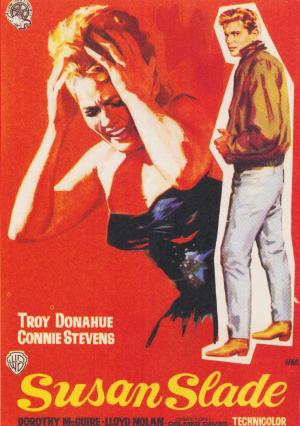 Aherne started off the 1960s by receiving a star on the Hollywood Walk of Fame and took his final Broadway bow playing George Bernard Shaw in "Dear Liar" (1960). Now approaching his sixties, he began to slow down, taking supporting assignments in the glossy soap opera "Susan Slade" (1961) and the lower-budget outings "Sword of Lancelot" (1963) and "The Cavern" (1964). Following his work on the Jane Russell comedy "Rosie!" (1967), Aherne announced his retirement and penned the well-received A Proper Job: An Autobiography of an Actor's Actor (1969). He followed up a decade later with A Dreadful Man: The Story of Hollywood's Most Original Cad: George Sanders, a wry and entertaining tribute to Aherne's troubled longtime friend and fellow thespian, who took his own life in 1972. In distinct contrast to Sanders, Aherne's own final years were spent in quiet repose. He succumbed to heart failure at a hospital in Venice, FL on Feb. 10, 1986.
By John Charles
The above TCM overiew can also be accessed on line here.