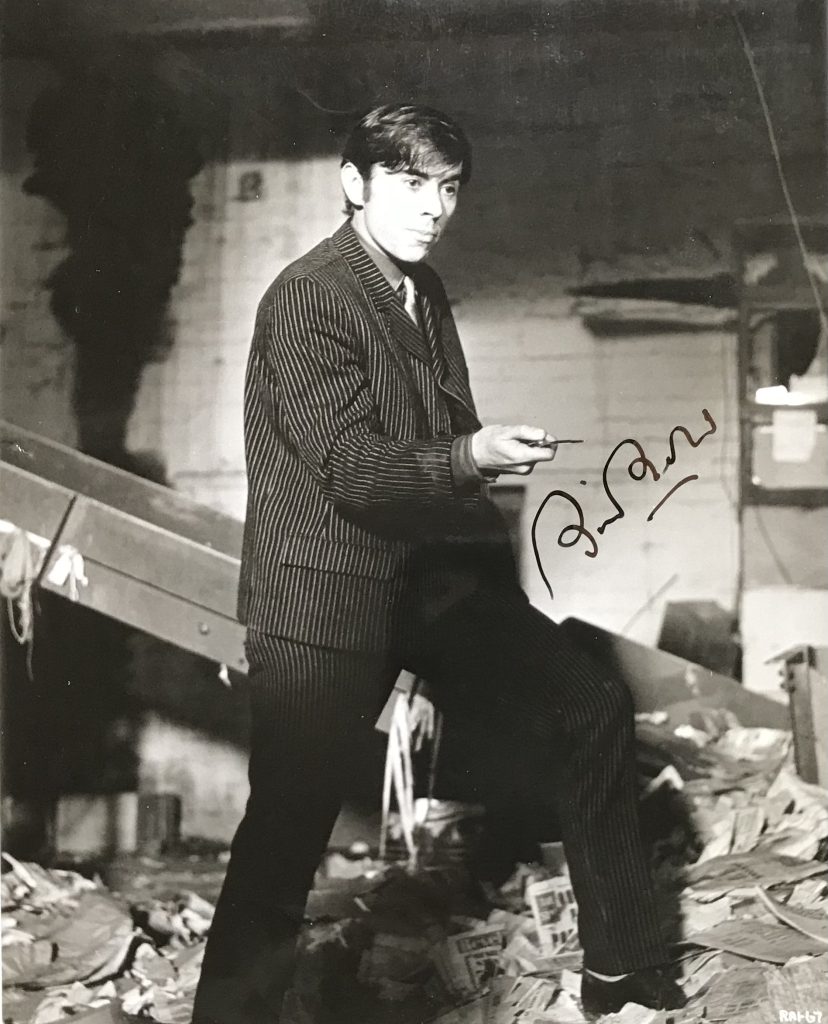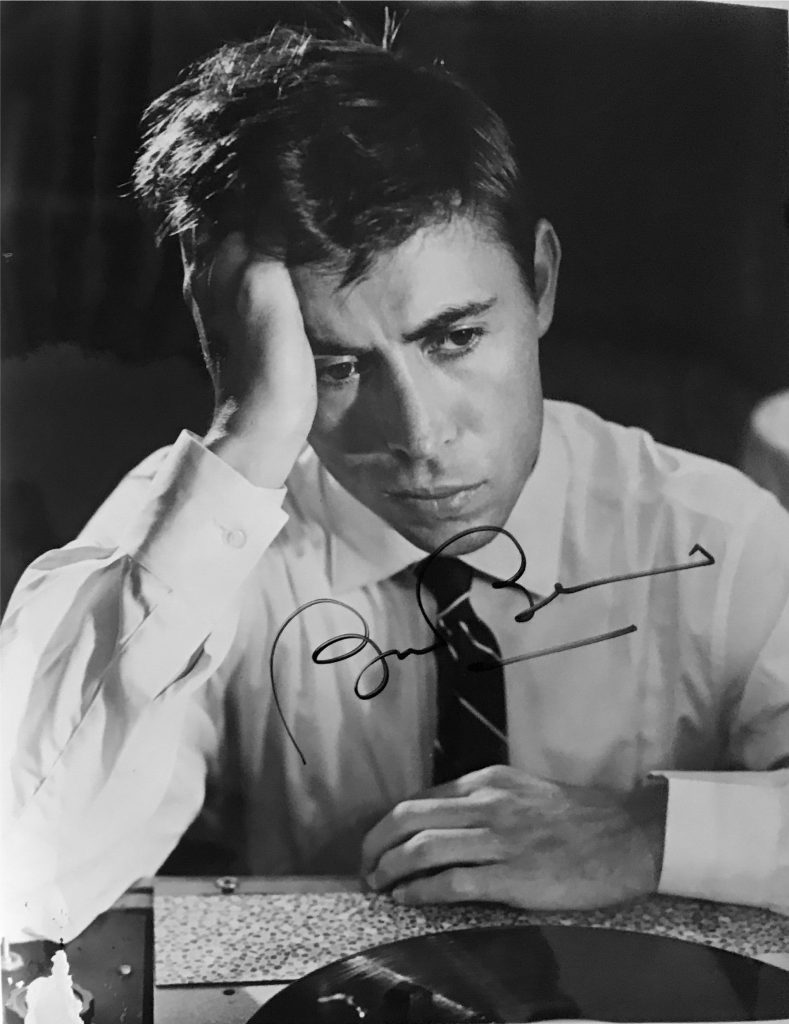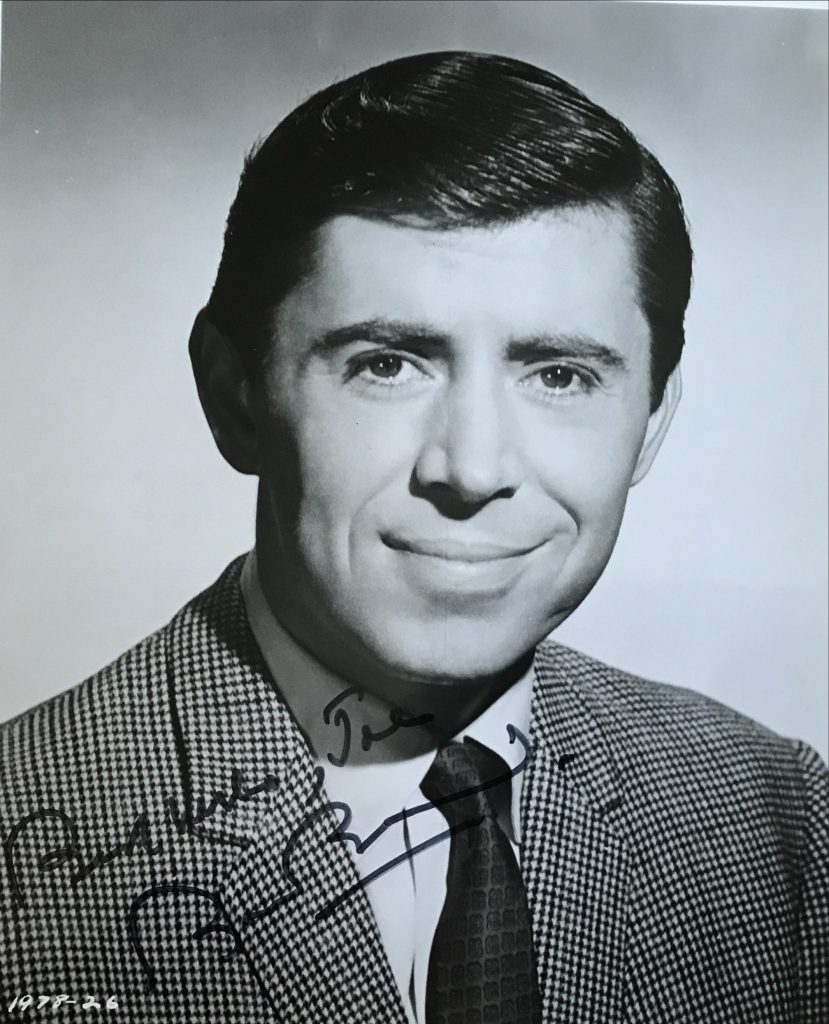 Brian Bedford obituary in "New York Times".
Brian Bedford was born in Morley, West Yorkshire in 1935. His first film role was "Miracle in Soho" in 1957. He had a good supporting role as a thug menancing Richard Attenborough in "The Angry Silence". He has though spent the majority of his career on the U.S. stage with just the occasional film role. Article on Brian Bedford in "The New York Times" website here. He died in January 2016.
"New York Times" obituary:
Brian Bedford, the British-born actor, reared in working-class misery, who became a stellar portrayer of the princes, kings, fops and faded aristocrats of Shakespeare, Molière and Chekhov, died on Wednesday in Santa Barbara, Calif. He was 80.
The cause was cancer, said one of his agents, Richard Schmenner.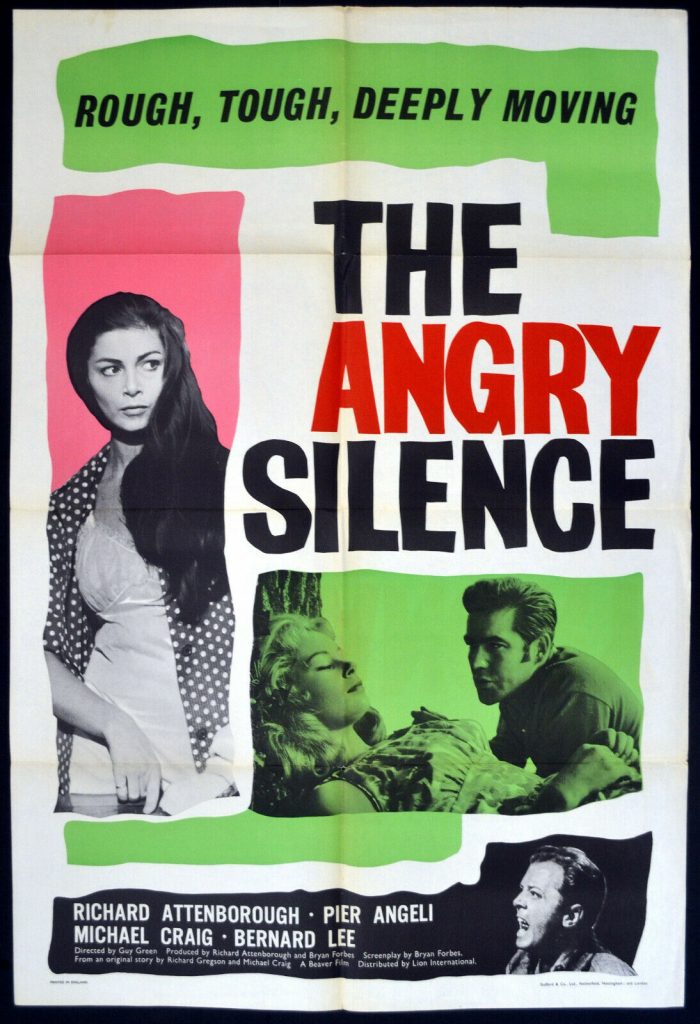 A dapper, handsome man with a comfortingly resonant speaking voice, Mr. Bedford was an understated and perhaps undersung star. He was a protégé of John Gielgud and a theater-school classmate of Alan Bates, Albert Finney and Peter O'Toole, sharing their elaborate gifts but not their celebrity, probably because he performed only occasionally in movies and on television.
Sylvan Barnet, Scholar, Is Dead at 89; Edited Signet Shakespeare PaperbacksJAN. 13, 2016
His stage career, however — in England, in the United States (Off Broadway as well as on) and in Canada, where he was a mainstay at the Stratford Shakespeare Festival for nearly four decades — had few equals. Playing comedy or tragedy, pathos or hilarity, Mr. Bedford was known for controlled and layered performances, and for finding the depth and subtlety in monumental characters, from King Lear to Tartuffe.
Mr. Bedford, left, as Lady Bracknell and Charlotte Parry as Cecily Cardew in "The Importance of Being Earnest," a 2010 production at the American Airlines Theater. Credit Sara Krulwich/The New York Times
He won only one Tony Award, in 1971, for playing Arnolphe, the desperately jealous and insecure spouse-seeker in Molière's "School for Wives," but he did it against especially formidable competition; Gielgud and Ralph Richardson were among the other nominees.
In 2011, Mr. Bedford, who appeared in 18 Broadway productions, earned his seventh Tony nomination for his drag performance as Lady Bracknell, Oscar Wilde's often-wrong, ever-certain social arbiter, in "The Importance of Being Earnest."
"With his long jaw and listening eyes, Bedford, now 75, uses his physiognomy to tell the stories that no playwright or director can prefigure; that is, he allows himself to be transformed by the theatrical moment," Hilton Als wrote in The New Yorker in a brief, admiring article about the show.
He added: "As a kind of magistrate in a tall wig and a false front, Bracknell lives for her younger charges' attempts to contradict her. But how can they scale the wall of imperiousness that Bedford builds with his silences and his disapproving glances? Life doesn't stand a chance in the face of such brutally honest artifice."
Mr. Bedford was also the director of "Earnest," a production that originated at Stratford (now simply called the Stratford Festival) and was itself nominated for a Tony as best revival. And though his career as a director was consequential — Mr. Bedford staged more than 20 shows at Stratford — he craved performing most of all.
"I'm most alive when I'm acting," he said. "I can't deny it, it's where I belong."
His résumé was vast. His Shakespearean roles included Hamlet, Brutus, Macbeth, Richard II, Richard III, Shylock, King Leontes, Timon of Athens, Benedick, Ariel and Dogberry. His Chekhov included Astrov in "Uncle Vanya," Tusenbach in "The Three Sisters" and Trigorin in "The Seagull."
In more modern roles he was Elyot in Noël Coward's "Private Lives," Vladimir in Beckett's "Waiting for Godot," Henry in "The Real Thing" by Tom Stoppard, Martin Dysart in Peter Shaffer's "Equus," Salieri in Mr. Shaffer's "Amadeus" and the title character in Simon Gray's "Butley."
A student of theater history, Mr. Bedford played not just the roles that the great writers wrote, but also the writers themselves in one-man shows about them.
"He is perhaps the finest English-language interpreter of classical comedy of his generation, and he seems to pick up a Tony nomination every time he steps on a Broadway stage," Ben Brantley wrote in The New York Times in 2011. "Yet he is as likely to be found on a cruise ship performing a one-man show about Shakespeare or Oscar Wilde, or in Prague, in high summer, appearing in a supporting role in a traveling musical production of 'A Christmas Carol' starring Kelsey Grammer."
For an actor who became known for interpreting classic works, his background might be considered surprising.
Mr. Bedford was born on Feb. 16, 1935, in the mill town of Morley, near Leeds and Bradford, in Yorkshire — "a pretty awful place," he told The New York Post in 1971, comparing it to Lawrence, Mass., another city that played a grim role in his family history. "Only much dirtier. Chimneys belching smoke night and day."
His father, Arthur, was a postal worker; his mother, the former Eleanor O'Donnell, was a factory weaver. Two of his three older brothers died of tuberculosis. Sometime after Brian left home and began his acting career, his father took his own life.
"Suicide runs in the family," Mr. Bedford said in a Times interview in 1971. "My father's brother also committed suicide. He got a girl into trouble when he was 22, and in order to save face for both families, he emigrated to America, took a boat to Boston, went to a tiny place — Lawrence, Mass. — booked into a hotel and shot himself in the mouth."
The austerity of his upbringing fostered a lively fantasy life. "I used to spend all my time pretending to be a radio," Mr. Bedford said. He attended a Roman Catholic school in Bradford but left at 15, working in a warehouse by day and performing in amateur theater at night. At 18, he auditioned for the Royal Academy of Dramatic Art.
"I did a bit of Romeo and a bit of 'Boy With a Cart'" — a verse drama about a saint by the 20th-century playwright Christopher Fry — "and I got a scholarship," he recalled. "That was the beginning of my life. I moved to London."
At RADA, as the academy is familiarly known, Mr. Bedford joined a generation of actors who came of age at a turning point on the British stage, when class conflict and the lives of young people in hardscrabble circumstances became central subjects, realism displaced escapism, and gentility was no longer a watchword for writers or performers.
The shift was given impetus with the first performance, in 1956, of John Osborne's "Look Back in Anger," about life in a cramped city flat. It propelled a movement of playwrights and novelists, joined by Arnold Wesker, Alan Sillitoe, John Braine, Kingsley Amis and David Storey, who became known as the angry young men.
Alan Bates, who was Mr. Bedford's roommate in their own cramped flat, appeared in Osborne's play; to do so he had to give up a role in another play, based on stories by F. Scott Fitzgerald, called "The Young and the Beautiful," and Mr. Bedford took over for him.
From there, Peter Brook cast him as Rodolpho, the young swain, in Arthur Miller's "A View From the Bridge" and as Ariel in "The Tempest," which starred Gielgud, whom Mr. Bedford had met while at school and who had counseled him when, at 21, he played Hamlet at the Liverpool Repertory Theater.
Gielgud later directed him in "Five Finger Exercise," Peter Shaffer's play about an imploding family, which brought him to New York for the first time in 1959; the play ran for 10 months on Broadway.
Mr. Bedford appeared again on Broadway in the early 1960s — in "Lord Pengo," a comedy by S. N. Behrman, and in an evening of one-acts by Mr. Shaffer, "The Private Ear" and "The Public Eye." He also appeared Off Broadway in "The Knack," a frisky bachelor-pad comedy directed by Mike Nichols (fresh from his triumph with Neil Simon's "Barefoot in the Park"), after which he decided to move to New York.
"I found England dreary," Mr. Bedford later explained. "I suppose it's understandable if your childhood was as mean as mine."
In the movies, Mr. Bedford appeared in "Grand Prix" (1966) with James Garner, and as Clyde Tolson, associate director of the F.B.I., in "Nixon" (1995), whose title role was played by his fellow Briton Anthony Hopkins.
His best-known film role may be the voice of the title character in the Disney animated feature "Robin Hood" (1973), who was portrayed as a fox. On television he made occasional guest appearances on prime-time series, including "Ben Casey," "Judd for the Defense," "Murder, She Wrote," "Cheers," "Frasier" and "The Equalizer."
In 1975, after his debut performance at Stratford as Malvolio in "Twelfth Night," the festival became his artistic home. He performed in more than 50 productions there, taking on many of his grandest and most celebrated classic roles.
He also displayed a wide range as a director at Stratford, staging not just Shakespearean tragedies like "Titus Andronicus," "Othello" and "King Lear" but also 20th-century classics, including "Waiting for Godot" and "Blithe Spirit," and Michael Frayn's contemporary farce "Noises Off," not to mention "Earnest."
He toured internationally in one-man shows of his own creation; in a tour of Shakespeare's life and works called "The Lunatic, the Lover and the Poet"; and in "Ever Yours, Oscar," drawn from the letters of Oscar Wilde.
Mr. Bedford is survived by his partner of 30 years, the actor Tim MacDonald. They married in 2013.
In 2013, illness forced Mr. Bedford to withdraw from a Stratford production of "The Merchant of Venice," in which he was cast as Shylock.
"We were hoping he would bounce back," Antoni Cimolino, Stratford's artistic director, said in an interview on Wednesday. "He was a great actor, a brilliant comedian, a tragedian and comedian of equal measure. For many of us here, he was the reason we went into the theater, an inspiration and a mentor."
"Onstage he was luminous," Mr. Cimolino added. "You could feel he was a theater animal — he had such a sense of ease. He was like a fish in water on that stage."
The above "New York Times" obituary can also be accessed online here.