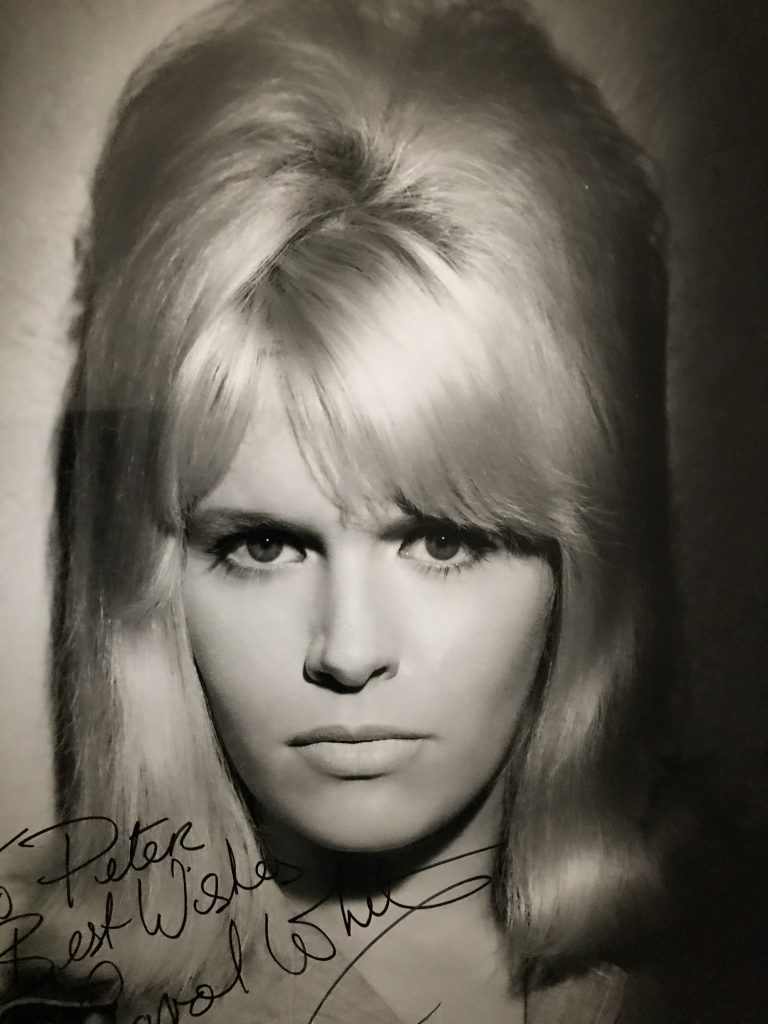 Carol White was one of the gifted young actors who rose to prominence with the rise of British cinema in the 1960's. She made a huge impact in the television programme "Cathy Come Home" directed by Ken Loach. She went on to work with Loach again in "Poor Cow" opposite Terence Stamp in 1968. The following year she went to Hollywood and made a tense triller "Dayy's Gone A Hunting" but sadly her career tapered off significantly thereafter. She died in reduced circumstances in 1991 in Miami at the age of 48.
Her obituary from Bob Meade's website:
CAROL WHITE, the actress who has died in Florida aged 49, was celebrated for her powerful performance in the title role of Cathy Come Home, Jeremy Sandford's coruscat­ing account of homelessness on BBC Television, which caused a national sensation in the 1960s. Cathy Come Home was not so much a television play as fierce propaganda. Sandford traced the painful downhill journey of a young couple who began their married life full of hope and gaiety and ended it, separated from their children, as casualties of the Welfare State. After an accident cut the husband's earnings, the couple lived with unfriendly relations, were evicted from squalid tenements, were driven out of a caravan site and found refuge in a rat-ridden hostel. For all its over­emphasis, the production showed with compassion the raw degradation of hostel life. In a tour-de-force of naturalistic acting the highly photogenic Carol White succeeded in making Cathy likeable and eventually extremely moving as the courage and optimism in her wasted away. The diminutive Miss White, a London scrap mer­chant's daughter who had already made her mark in the television version of Nell Dunn's Up the Juction (1965), consequently became something of a Sixties icon. She went on to bring warmth and a plausible innocence to the film Poor Cow, a raw and realistic picture of South London life which opened with a graphic scene of Miss White giving birth while reflecting on the shortcomings of her absent husband ("He's a right bastard").
Subsequently Miss White was rather miscast as a jolly virginal girl in Michael Winner's all too forgettable I'll Never Forget What's 'Is Name. However, she made a good impression — when she remembered to substitute a Glou­cestershire accent for her native Cockney — as a comely country lass in Dulcima (1971) adapted from a story by H. E. Bates.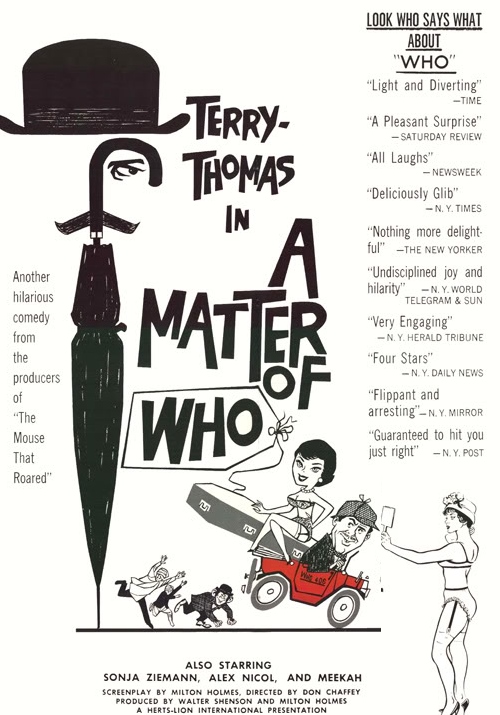 Miss White showed promise of better things as an actress opposite Alan Bates, Dirk Bogarde and lan Holm in the film of Bernard Malamud's The Fixer. Her performance as Raisl Bok won her a Hollywood contract in 1968 to make Daddy's Gone-A-Hunting.
But from then on nothing seemed to go right, and the rest of her career was distinctly chequered. Miss White's attempts to establish herself in America were dogged by ill fortune. Her name — forever bracketed with her role of Cathy — became more familiar in the press in connection with her amours, divorces, court appearances, drink and drugs than with her acting. "I came to America thinking I was at the very top," she recalled shortly before her death from liver failure, "and that no one could touch me. But pimps, pushers, liars and ex-husbands brought me crashing down."-• In 1982 she returned to London to take over the role of Josie from Georgina Hale, in Nell Dunn's play Steaming, but her comeback ended unhappily when her contract was terminated following several missed performances.
Carol White was born in Hammersmith, London, on April 1 1942. She described her father as "a scrap-metal merchant and a spieler in a fairground and a door-to-door salesman of the elixir of life". At the age of 11 Carol heard about theatre schools from a hairdresser and thereafter attended the Corona. Miss White made her film debut three years later in Circus Friends and went on to appear in Carry On Teacher, Beat Girl and Never Let Go, in which she played Peter Sellers's girlfriend. "In those days in British films," she recalled, "brunettes were ladies and blondes were bits. I wore my hair white and painted my lips red and my eyes dark." She then married Michael King of the King Brothers singing act and gave up acting for a few years. She returned, this time on the smaller screen in Emergency — Ward 10 and, more notably, as a bright Battersea girl in Nell Dunn's exhilarating sketch of South London life, Up the Junction. Miss White's later films for the cinema — not a distinguished collection — included The Man Who Had Power Over Women, Something Big, Made, Some Call It Loving, The Squeeze, The Spaceman and King Arthur and Nutcracker.
She wrote a racy volume of memoirs, Carol Comes Home (1982), in which the Swinging Sixties of purple hearts and Courreges boots gave way to the excesses of Hollywood ("the assault course of a hundred different bedrooms . . . with broken hearts and broken promises left at every corner"), as well as a beauty book, Forever Young. After her divorce from King she married Dr Stuart Lerner, a psychiatrist, and then Michael Arnold, a musician. She had two sons from her first marriage. Jeremy Sandfbrd writes: In her early films Carol cap­tured powerfully the quality of the urban girl-next-door from the less prosperous areas. And in Cathy Come Home she seemed the archetypal young mother, every mother who has ever struggled not to be separated from her children. I last saw her some 10 years ago when she had come over to London and asked me to help her write her autobiography. She had devastating tales to tell about double-dealing Hollywood psychiatrists. Unknown to her, she told me, hers had been paid double her fee by an ex-boyfriend, to "muck her up". She told me she had come home for good to live the simple life back in Hammer­smith, and I never dreamed she would go back to America. She later wrote the book with help from another writer and I have regretted since that it wasn't me. It seems the classic tale of the pretty but unsophisticated girl who goes to Hollywood. There is no simple moral, though, because Carol, besides being pure and straight, was always reckless, always something of a life gambler.
September 20 1991
The above obituary can also be accessed online here.
Article from Tina Aumont's Eyes:
Known as the 'Battersea Bardot', Carol White used her working class background to enable her to give several natural performances in British dramas, which sometimes mirrored her own turbulent life. Unfortunately, a later problem with alcohol and drug abuse would harm her career, and ultimately end her life.
Born Carole Joan White in Hammersmith, London, on April 1st 1943, Carol studied drama at the Corona Stage Academy. This led to early minor appearances in many of the UK's best known products at the time. There were 'blink and you'll miss it' parts in 'Doctor at Sea'(1956), 'Blue Murder at St. Trinian's'(1957), 'Carry on Teacher', and 'The 39 Steps'( both 1959). After another dozen or so bits in mainly sexy background roles, Carol's breakthrough came in Ken Loach's 1966 social drama 'Cathy Come Home', a ground-breaking production, shot as part of 'The Wednesday Play' television series. White's performance was so realistic that for many years afterwards, Carol would quite often be stopped in the streets by people believing her to be Cathy, and offer her money to help her out.
Following 'Cathy Come Home', Ken Loach cast Carol as Joy in what would become White's signature film, the mostly improvised 'Poor Cow' (1967). Carol was superb once again as a struggling young mother, married to an abusive criminal (John Bindon). Carol's final scene where her character gives an interview to camera is astonishingly real and powerful, leaving the viewer with a slight hope of optimism for the much put-upon Joy. The success of 'Poor Cow' had everybody knocking on White's door, with Frank Sinatra and Warren Beatty just two of Carol's famous new fans.
Travelling to America, White's Hollywood career got off to an interesting start. Taking the lead role in Mark Robson's stalker flick 'Daddy's Gone A-Hunting' (1969), the film has gained a cult reputation over the years. A pretty good thriller, it tells the exciting story of a woman who is menaced by the man whose baby she once aborted.
Favourite Movie: The Squeeze
Favourite Performance: Poor Cow
Carol's career continued apace, with co-starring roles in the under-rated tragedy 'Dulcima' with John Mills, and the muddled western spectacle, 'Something Big' with Dean Martin, (both 1971). A rather bizarre movie followed with 'Some Call It Loving' (1973), a strange variation on the Sleeping beauty myth. Directed by 'Lolita' producer James B. Harris, it starred Tisa Farrow as a carnival attraction who has been asleep for eight years, and is one day bought by a lonely man with a role-playing obsession.
Bad relationships coupled with her addictions caused Carols' once promising career to wain in the Seventies. Back in the UK, her last significant role was that of a kidnapped wife, in Michael Apted's excellent gritty gangster flick 'The Squeeze' (1977). Her character is certainly put through the mill, including being subjected to a humiliating strip-tease. Carol's final movie was the 1982 drama 'Nutcracker' with Joan Collins. It was at this time that Carol was also appearing in the West End play 'Steaming', but would often turn up late, causing her to be sacked. Soon after, White moved back to America.
With her career long over, but her problems remaining, Carol White sadly died in Florida on September 16th 1991, aged 48. The cause of her death is still disputed, with some saying she took a drug overdose, and others saying it was liver disease. Whatever the real cause, Carol was a natural talent who unfortunately got caught up in a whirl of excess. As she herself put it shortly before her death:
"I came to America thinking I was at the very top," But pimps, pushers, liars and ex-husbands brought me crashing down"
Married three times, White left behind two sons from her first marriage. A natural performer, I always thought Carol worked best in British cinema and especially television, as the more polished products from Hollywood did not suit her talents. Had she not gone to Hollywood maybe Carol's life would not have ended so tragically.