Carroll Baker (TCM Overview)
Carroll Baker was a graduate of the Actors Studio in New York and made her first film in 1955 as the daughter of Rock Hudson and Elizabeth Taylor in "Giant". Her next movie was in the title role of Tennessee William's "Baby Doll" directed by Elia Kazan. In the late 1950's she made some very impressive films e.g. "The Big Country" but by the mid sixties she had switched to making sudsy melodramas which did not give her the opportunity to shine critically as did her earlier work. She has matured into a splendid character actress and her work with Jack Nicholson in "Ironweed" is very noteworthy. Interview by Carroll Baker with Foster Hirsch can be found here.
TCM Overview:
A talented former dancer and magician's assistant, voluptuous, blonde bombshell Carroll Baker came under the private tutelage of Lee Strasberg once in NYC, eventually becoming a member of the famed Actors Studio. She had appeared in a bit role in "Easy to Love" (1953), but it was her performance on Broadway in Robert Anderson's "All Summer Long" (1955) that led director Elia Kazan and playwright-screenwriter Tennessee Williams to chose her (over Marilyn Monroe) for their classic "Baby Doll" (1956). Although George Steven's "Giant", which opened two months earlier that same year, introduced Baker as a terrific screen presence, it did not prepare anyone for her sizzling portrayal as the underage and overly ripe wife of Karl Malden, whose erotic thumb-sucking and torrid "love scene" (without a single kiss) played with Eli Wallach on a swing outside the house somehow slipped past the Hays' censors, earning her a much-deserved Oscar nomination for Best Actress. Condemned by the Catholic Church's Legion of Decency because of its "carnal suggestiveness", "Baby Doll" established Baker solidly as an A-list actor.
"Baby Doll" also typed her in Hollywood's eyes as a sexpot, and no matter how hard she tried to transcend that image with serious, unglamorous performances in quality offerings ("The Big Country" 1958, "Something Wild" 1961 and "Cheyenne Autumn" 1964), producers continued grooming her to replace Monroe as the screen's preeminent sex goddess. She got her man (Jimmy Stewart) in the heroic "How the West Was Won" (1962) and reunited with Stevens for his Biblical epic, "The Greatest Story Ever Told" (1965), and although "The Carpetbaggers" (1964), "Sylvia" and "Harlow" (both 1965) captured her flamboyant earnestness, none of these movies did anything to dispel her reputation as a sex kitten. Blackballed by producer Joseph Levine for failing to promote "Harlow", Baker finally slipped from the A-list for the first time in a decade. Hopelessly in debt with two young children to support after her second marriage (to director Jack Garfein) fizzled, she fled to Italy.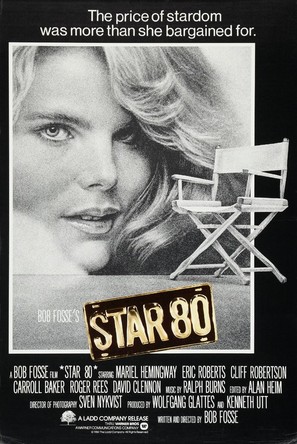 Baker returned to the stage, making her London debut as Sadie Thompson in a revival of Somerset Maugham's "Rain" (1977), reprising a role she had played on British TV (BBC) in 1972. She then performed in American regional theater in places like Atlanta, GA ("Bell, Book, and Candle" 1978) and Dallas, TX ("Forty Carats" 1979), the United Kingdom, where she acted in such plays as "Lucy Crown" (1979) and "Motive" (1980), and Canada ("Little Hut" 1981). As for film, her luck began to change when she landed a part opposite Bette Davis in "The Watcher in the Woods" (1980), which led to higher-profile character work in more promising material ("Star '80" 1983 and "Native Son" 1986). Baker turned in a fine performance as Annie Phelan, Jack Nicholson's wife in "Ironweed" (1987), but it wasn't until playing a villainess to Arnold Schwarzenegger in "Kindergarten Cop" (1990) that she felt confident enough to move back to Los Angeles. Since then she has acted in the features "Blonde Fist" (1991), David Fincher's "The Game" (1997), in which she played the crucial role of Michael Douglas' housekeeper, and "Nowhere to Go" (lensed 1997). Baker has appeared frequently on TV in the 90s, appearing in a three-week stint on "L A Law" in 1993 and acting in movies like "Skeletons" (HBO, 1996), "North Shore Fish" (Showtime, 1997) and "Heart Full of Rain" (CBS, 1997). The above TCM overview can also be accessed online here.