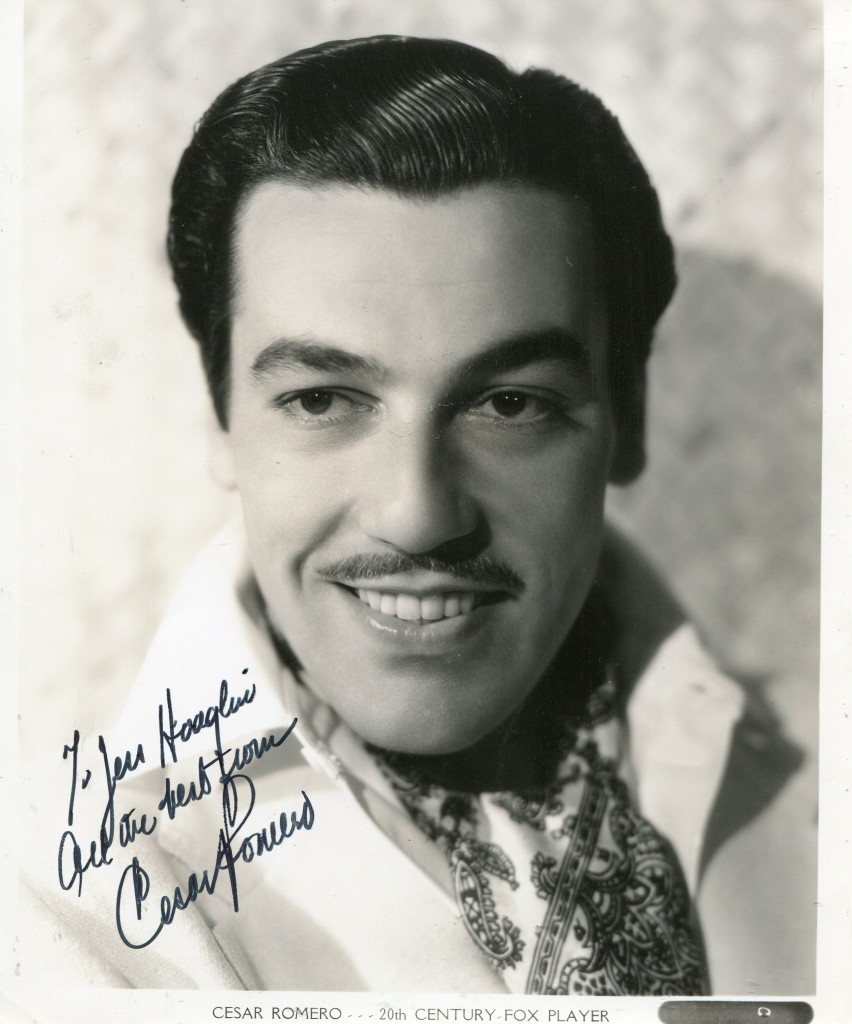 Cesar Romero was born in 1907 in New York to Cuban parents. He had a very lengthy and profilic career, his first film been "The Shadow Laughs" in 1933 and his last film performance was in 1988 in "Judgement Day". Among his major films were "Springtime in the Rockies", "Lady in Ermione", "Captain from Castile" and "Lust in the Dust". Cesar Romero died in 1994.
"Independent" obituary:
Caesar Julius Romero (Cesar Romero), actor: born New York City 15 February 1907; died Santa Monica, California 1 January 1994.
CESAR ROMERO was the most ubiquitous – and his career was the longest – of those actors who, starting with Valentino, were typecast as Latin lovers. This meant being suave and slick, as in one of his earliest films, The Thin Man (1934), when for a while audiences weren't quite sure whether he was Minna Gombell's husband or her gigolo. It was his appearance in the Broadway hit Dinner at Eight which had attracted the interest of the studios.
The world, then, was Hollywood's oyster and, since he hardly looked like a red-blooded Grade-A American baseball player, Romero was cast as various foreigners, usually treacherous: an Indian nabob in Clive of India, a Russian prince spying for Germany in Rendezvous (both 1935). As a young French lover in Cardinal Richelieu, he was innocuous, and he was ludicrous as Marlene Dietrich's true love in The Devil is a Woman (both 1935). She was 'the toast of Spain . . . the most dangerous woman you'll ever meet,' says Lionel Atwill, at the same time so besotted with her that he refuses to cede her to the much younger Romero. Twentieth Century-Fox engaged Romero to play a notorious Indian chieftain in Wee Willie Winkie (1937) – which turned Kipling's boy hero into Shirley Temple – and put him under contract. Over the next few years Fox had a number of female stars as popular as Miss Temple, including Sonja Henie, Loretta Young, Alice Faye and Betty Grable. The arrival of another, Carmen Miranda, called for stories set South of the Border. Romero's days of villainy and paid love were over, with the bonus of his name sometimes above the title: but he was invariably the Other Man, the fall-guy, or best buddy to the hero or heroine.
He was also the Cisco Kid, a 'lovable', daredevil Mexican bandit first played by Warner Baxter in several early talkies. Fox resurrected him for Return of the Cisco Kid (1939), but the half-dozen films which followed – all Bs – provoked little interest. Romero looked better, however, in the Kid's buttons and bows than in the white tie and tails, the tuxes and the bum-jackets which he usually sported. He was usually dressed as though escorting a pretty doll to a night-club because that was what he was usually doing. Fox gave him a rare taxing role in Captain from Castile (1947), as Cortez, and he was capable but hardly more. The star was Tyrone Power, with whom Romero was said to have had a long-standing romance. In studio parlance, Romero was 'a confirmed bachelor'.
When the studio system broke up in the early 1950s Romero's familiarity as a character actor was strong enough to keep him in work over the next 30 years. His career received a fillip when he played the Joker in the television series Batman, and he reprised it in the 1966 movie which capitalised on its popularity. In recent years, looking distinguished with white hair and his trim trademark moustache, he was often to be found introducing his films on American television and reminiscing about their stars. Very often, in fact, since there were few with whom he had not worked.
The above "Independent" obituary can also be accessed online here.