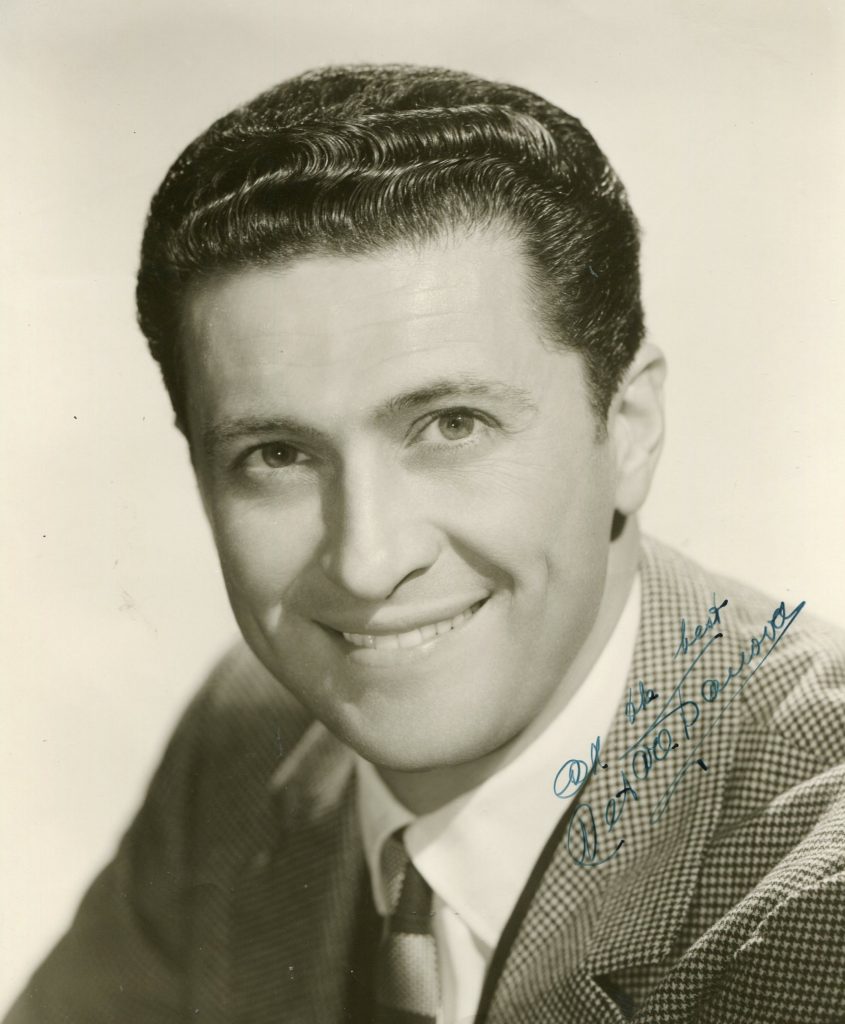 Cesare Danova was born in 1926 in Bergamo, Italy.   He began his acting career in Rome after Word War Two.   In 1955 he travelled to the U.S. to make "Don Juan".   Other films he made in Hollywood include "The Man Who Understood Women" with Henry Fonda and Leslie Caron and "Viva Las Vegas" with Elvis Presley and Ann-Margret in 1964.   he had his own television series "Garrison's Gorillas" and guest starred on numberous TV shows such as "Falcon Crest" and "Murder She Wrote".   Cesare Danova died in 1992.
His mini biography on IMDB:
Tall, dark, and handsome, Italian actor Cesare Danova (pronounced Chez-a-ray Da-NO-va) was a true Renaissance man. As a boy, it appeared he might become a professional athlete. But his family wanted him to become a doctor. Cesare, by his own account, studied medicine with such diligence that he suffered a nervous breakdown shortly before he was to take his degree. While recuperating, he was sent by a friend to see Dino De Laurentiis, the famous Italian producer, who was so impressed that he gave Danova a screen test. Thinking it was a joke, Danova insisted on seeing the screen test for himself. Soon, he was cast as the lead in The Captain's Daughter (1947) (The Captain's Daughter). Thus began his career as an Italian Errol Flynn. In almost 20 European films, Danova played the dashing lead, riding horses, jumping through windows, dueling, and romancing beauties such as Gina Lollobrigida.
Known for his aristocratic bearing, he often played noblemen. The six-foot-four Danova was also an expert athlete. A devotee of strenuous daily workouts from age 12, Danova was a fencing champion by age 15 and a member of the Italian National Rugby Team by age 17. In addition to playing golf, tennis, and croquet, Danova was an amateur swimming champion, an expert horseman and polo player, and a master archer. He won the Robin Hood Trophy when he shot and embedded one arrow inside another arrow within the target's bull's eye. He was also a licensed pilot who flew his own planes (Beechcraft, Piper, Cherokee, and Cessna).
A descendant of famed medieval artist Filippo Lippi, Danova collected antiques and paintings. Describing himself as a fair painter, he taught himself to draw by studying a 75-cent how-to-draw book. Danova owned a library of over 3,000 books, each written in one of the five languages he knew-Italian, English, Spanish, French, and German.
Danova loved the theater and appeared onstage in Rome, Venice, Spain, New York, and Los Angeles. He was in the habit of carrying a small leprechaun good luck charm (and a shamrock ) he'd bought in Ireland, The actor traveled to the Emerald Isle many times. 'I love Ireland and I go there every chance I get,' he once said.
With almost 20 European films under his belt, Danova was spotted by MGM's head of talent in the German-backed 'Don Giovanni'(1955), his first film shown in the U.S. Impressed, the studio signed Danova to a long-term contract in June of 1956, and he traded his flourishing career in Europe for Hollywood. Rumors abounded that MGM had found its Ben-Hur (a role coveted by Tony Curtis and Kirk Douglas, among others) for the upcoming super-epic remake by director William Wyler. The studio said it expected big things from Danova but that it was too soon to say whether he'd play the lead until he'd perfected his English. Still, it was no secret that Danova had been brought to America by Wyler to be groomed for the lead role. Hollywood columnist Bob Thomas referred to Danova as the 'new Italian sensation' and others compared him to 'Tyrone Power (I)' andRobert Taylor, a glamour boy to fill the shoes of Rudolph Valentino.
When Danova arrived, he didn't speak English and insisted on not learning his lines by rote. He spent the next six months learning the language, a not-terribly-difficult feat for a man with a self-professed love of words who already spoke four languages. With a background in classical acting, and his newfound English fluency, Danova was ready for his big break. But just as filming was to get underway in March, 1957, Wyler decided he didn't want an actor with an accent playing Ben-Hur (1959) and, instead, chose Charlton Heston (who would win the best actor Oscar for the role). Danova was shocked – the role would almost certainly have made him an international star.
Although Wyler didn't want Danova, MGM did. The studio said it expected important things from him when they signed him. But now they had no definite alternative plans for him. Danova's career idled for the next two years. MGM kept him on its payroll, paying him well for doing nothing at all. Danova admitted that, although he was not bitter, the lack of work day after day was enough to drive him crazy. He stayed busy reading, writing, taking diction lessons, building furniture, and playing with his two small sons, Fabrizio and Marco, by English actress Pamela Matthews, whom he had wed in 1955.
Finally, with MGM's consent, Danova made his American debut in Los Angeles oppositePaul Muni in a musical version of Grand Hotel (1932). When it flopped, he traveled to Cuba to appear in Catch Me If You Can (1959), a film starring Gilbert Roland and Dina Merrill. Financed by soon-to-be-deposed Cuban dictator Fulgencio Batista, it was apparently never released. Danova's American film debut was as the lover of Leslie Caronin the now-forgotten The Man Who Understood Women (1959), starring Henry Fonda.
When Danova first came to America, he was quoted as saying that he wished to lose his accent so that he would be able to play the role he most wanted, that of an American cowboy. In 1958, he got his wish. He made his American television debut in a first-season episode of The Rifleman (1958) called 'Duel of Honor,' the first of three appearances. United Press International summed up Danova's reversal of fortune this way: "Televiewers will have the opportunity to see the man who almost played the title role in Ben-Hur (1959) – but in place of a chariot he'll be bouncing around in a stage coach…Danova, a ruggedly handsome Italian import, is making his American debut in ABC-TV's The Rifleman (1958). It's quite a comedown from his original intent to star in the most expensive movie in history."
Cesare Danova got a second chance at stardom when he was cast as Cleopatra's court advisor, Apollodorus, in the Cleopatra (1963), starring Elizabeth Taylor. As originally scripted, Danova's character was to be Cleopatra's lover, servicing her when she wasn't being romanced by costars Rex Harrison and Richard Burton. "I'm sort of the third man-the real lover," Danova was quoted as saying.
But then the torrid, real-life love affair between Elizabeth Taylor and Richard Burtonbecame a worldwide media sensation. The resulting scandal, since both stars were married but not to each other, generated badly needed public interest in the troubled, bloated, fantastically over-budget production. Le Scandale (as the French dubbed it) upstaged everything about the film not related to Taylor & Burton. As a result, Danova's performance was now a distraction and most of it was cut, dashing predictions that Danova "should be in big demand after this one."
In October 1963, not quite two-and-a-half months after Cleopatra's release, Pamela and Cesare Danova were divorced. The Associated Press headline stated merely: Wife Divorces Cleopatra Slave.
In his early years in America, Danova turned down the opportunity to appear as a series regular on TV for fear of being typecast and locked out of movies altogether. When he finally accepted, it was for the WWII ensemble cast Garrison's Gorillas (1967), a show patterned somewhat after The Dirty Dozen (1967). Danova said he accepted because he was the first to be cast and his was the best part. He appeared as actor, a con man, expert at disguises and spreading disinformation behind the lines among the Nazis. Although he took pains to distinguish the two roles, Danova's character was obviously similar to that played by TV contemporary Martin Landau on Mission: Impossible (1966). In any event, Garrison's Gorillas (1967) did not last beyond the 1967-1968 season.
In time, as movie roles became fewer, Danova did a great deal of television work. Two of his most memorable later screen roles (and the ones for which he is best remembered) were as Mafia Don Giovanni Cappa in Mean Streets (1973), directed by Martin Scorsese, and as corrupt mayor Carmine DePasto in Animal House (1978).
Cesare Danova died of a heart attack on March 19, 1992, shortly after his 66th birthday, during a meeting of the Foreign Language Film committee of the Academy of Motion Picture Arts and Sciences (AMPAS), at its Los Angeles headquarters.
– IMDb Mini Biography By: Tom O'Connor
The above IMDB entry can also be accessed online here.