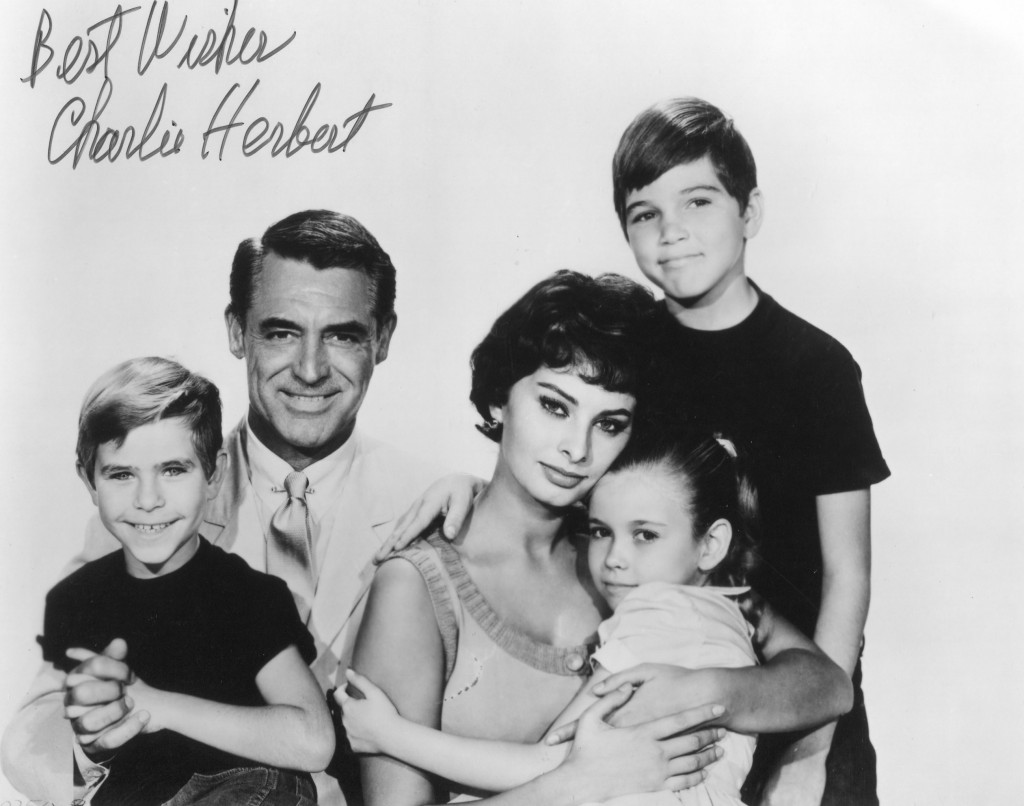 Charles Herbert was born in 1948 in Culver City, California.   He was a brilliant child actor of the 1950's.   His screen debut came in 1954 with "The Long Long Trailer" with Lucille Ball.   He went on to make 20 feature films , career highlights being "The View from Pompey's Head" with Dana Wynter in 1955, "The Fly" with Vincent Price and Patricia Owens in 1958 and "Houseboat" with Cary Grant and Sophia Loren.   He died in 2015.
"Telegraph" obituary:
Charles Herbert, who has died of a heart attack aged 66, was a tousle-haired, all-American child star whose life slipped into a spiral of drug abuse after the demise of his career.
Herbert, heavy-browed with an enquiring face, spent little time at school, and made his screen debut at four. He appeared in dozens of films, often in the horror-sci-fi genre, including The Fly (1958), featuring Vincent Price, about an atomic scientist (Al Hedison) experimenting with a teleportation device who accidentally turns himself into a human insect. Herbert played his son, Philippe.
The same year he appeared in the romantic comedy Houseboat, as one of the three children of Cary Grant, a widower who meets a beautiful Italian (Sophia Loren) and moves into a leaky boat with her and his family; in one scene Sophia Loren spins the youngster around a dance floor to the accompaniment of That's Amore. Herbert featured in numerous television serials as well as films, among them The Twilight Zone, Rawhide, Wagon Train and The Fugitive. In The Miracle Hour (1956), an episode of Science Fiction Theatre, he gave a touching performance as Tommy Parker, a blind boy whose stepfather (Dick Foran) will stop at nothing in his search for a cure.
Charles Herbert (in the dark shirt next to Sophia Loren) in Houseboat   Photo: Alamy
By the mid-1960s, however, the telephone had stopped ringing. Herbert found himself, at 21, as another washed-up child actor. "I suffered the curse that inflicts every child star," he said later. "I grew up. Some, like Shirley Temple, survived. For every Shirley there were a dozen who didn't."
Charles Herbert Saperstein was born in the shadow of Metro-Goldwyn-Mayer in Culver City, California, on December 23 1948. His 40-year-old father was an invalid with a heart ailment; his mother, also 40, was his father's carer. Charles was the family breadwinner by the age of five.
He entered show business when, aged four, he was going shopping on a bus with his mother, and was spotted by a casting agent.
Herbert made his debut in a weekly television show called Half Pint Panel (1952) and soon after that was selected for The Long, Long Trailer (1954), a comedy vehicle for Desi Arnaz and Lucille Ball. Unfortunately, Herbert's scenes ended up on the cutting-room floor.
His first proper role was in Secret Interlude (1955), followed by Ransom! (1956) with Glenn Ford and Donna Reed (on whose television show Herbert later became a regular), and The Tattered Dress (1957). The film that launched him as a star was the sci-fi chiller The Colossus of New York (1957), and in director William Castle's 13 Ghosts (1960) he was given star billing alongside adult stars such as Margaret Hamilton and Rosemary DeCamp. In Please Don't Eat the Daisies (1960) he was one of Doris Day's amusing children, although he later claimed that the star had said only three words to him during filming. He spoke warmly, in contrast, about Sophia Loren and Vincent Price.
Herbert said he was "petrified" when filming his best-known role in The Fly. To elicit the most convincing reaction when the camera was rolling, the director kept Herbert away from the set, and when the boy was first shown the grotesque "fly" head, long after everybody else, he "felt physically sick".
Herbert gave up acting in 1968, and discovered he was in penury. He once explained that he had spent 39 years of his life "on drugs". But in later years he shook off his addictions and settled in Las Vegas, where he was happy to hear from sci-fi fans and attend film conventions.
He was unmarried.
The above "Telegraph" obituary can also be accessed online here.
Gary Brumburgh's entry:
Charles Herbert was a mildly popular 1950s child actor with a trademark sulky puss and thick, furrowed eyebrows, who was known for his inquisitive kid besieged by alien beings, including a robot, human fly and several house-haunting ghosts. He racked up over 20 films, 50 TV shows and a number of commercials during his youthful reign. He was born Charles Herbert Saperstein to non-professionals on December 23, 1948, in the Los Angeles area. Noticed by a Hollywood talent agent while riding a bus with his mother, Charles began his career at age 4 on a 1952 TV show entitled "Half Pint Panel".
Elsewhere on TV, he showed up regularly on series fronted by such stars as Robert Cummings and Gale Storm. This period was marked by amazingly high-profiled performances such as his blind child on the Science Fiction Theatre (1955) episode,Science Fiction Theatre: The Miracle Hour (1956). On the feature film front, Charles made an inauspicious debut in the Lucille Ball/Desi Arnaz comedy, The Long, Long Trailer(1953). Although director Vincente Minnelli had handpicked him for the role, his part was completely deleted from the movie. Other tyke roles turned out more positively and in a variety of genres, including the film noir pieces, The Night Holds Terror (1955) and The Tattered Dress (1957), the dramas, Ransom! (1956) and No Down Payment (1957), and the comedies, Houseboat (1958) and Please Don't Eat the Daisies (1960). His most recognized genre, however, was sci-fi, and he appeared in a number of films that are now considered classics of that genre. He started off in a bit part as a boy playing tug-of-war with a dead sailor's cap in The Monster That Challenged the World (1957). Up front and center, he came into his own playing the young son of dead scientific genius Ross Martin, whose brilliant brain is transplanted into what becomes the robot-like The Colossus of New York (1958). He loses another dad (David Hedison) to a botched experiment in The Fly (1958), also starring iconic master of macabre Vincent Price. Lastly, Charles headed up the cast in the somewhat eerie but rather dull and tame William Castle spookfest, 13 Ghosts (1960). Castle handpicked Charles for the child role and even offered the busy young actor top-billing over the likes of Donald Woods, Rosemary DeCamp, Jo Morrow,Martin Milner and Margaret Hamilton if he would appear in his movie. In this haunted house setting, Castle's trademark gimmick had audiences using 3-D glasses in order to see the ghostly apparitions.
He had another leading role in the fantasy adventure, The Boy and the Pirates (1960), then film offers for Charles completely stopped. Growing into that typically awkward teen period, he was forced to subsist on whatever episodic roles he could muster up, including bits on Wagon Train (1957), Rawhide (1959), The Fugitive (1963), Family Affair (1966) and My Three Sons (1960). By the end of the 1960s, however, Charles was completely finished in Hollywood, having lost the essential adorableness that most tyke stars originally possessed. Unable to transition into adult roles, his personal life went downhill as well. With no formal education or training to do anything else and with no career earnings saved, he led a reckless, wanderlust life and turned to drugs. Never married, it took him nearly 40 years (clean and sober since October, 2005) to turn his life around. During good times and bad, however, he has appeared from time to time at sci-fi film festivals.
– IMDb Mini Biography By: Gary Brumburgh / gr-home@pacbell.net