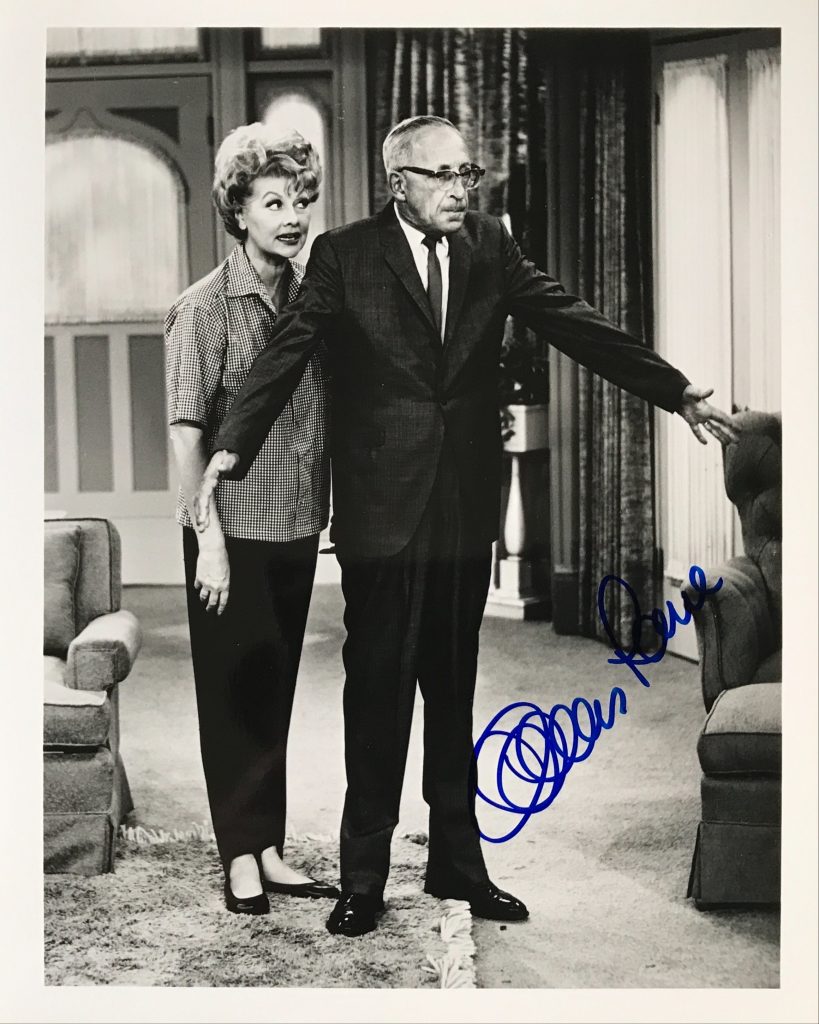 Charles Lane was an American character actor who died at the age of 102 in 2007. His last film was "The Night Before Christmas" which he made when he was 101 years old. He was a solid reliable actor who usually played cranky neighbours or grouchy hotel clerks/sales assistants. He was very active in both film and television. He was never a leading player but was easily identifible in the background or in a supporting part. Among his many films are "It's A Wonderful Life", ""You Can't Take It With You", "Golden Boy" and "Mr Smith Goes to Washington".
"Guardian" obituary:
Charles Lane, who has died aged 102, was probably the most celebrated of "I-know-the-face-but-not-the-name" actors. Most filmgoers, some time or other, were bound to have seen the prolific Lane, who made hundreds of appearances in films and on television.
If casting directors wanted a mean-spirited bureaucrat, hard-hearted businessman, tightfisted relative, crotchety clerk or cantankerous neighbour, the thin, sour-faced, bespectacled Lane was their man. On being typecast, he commented that it was "a pain in the ass. You did something that was pretty good, but that pedigreed you into that type of part, which I thought was stupid and unfair. It didn't give me a chance, but it made the casting easier for the studio."
Most typical was his role in Frank Capra's It's a Wonderful Life (1946) as the rent collector for Mr Henry F Potter (Lionel Barrymore), the richest and meanest man in the county, who owns every institution in Bedford Falls except the Bailey Building and Loan Society. "Look, Mr Potter, it's no skin off my nose," Lane says, using his most raspy voice. "I'm just your little rent collector. But you can't laugh off this Bailey Park any more. Dozens of the prettiest little homes you ever saw. Ninety per cent owned by suckers who used to pay rent to you. The Baileys were all chumps. Every one of these homes is worth twice what it cost the Building and Loan to build."
Of course, Lane would never be in a role as big as Barrymore's, though he admitted that "having had so many small parts, there was a [type of] character I played that showed up all the time and people did get to know him, like an old friend." During his busiest period in films, the 1930s and 40s, he would sometimes play more than one role at once, getting into costume and filming his two or three lines, then hurrying off to another set for a different costume and different role.
Lane was born in San Francisco as Charles Gerstle Levison. Appropriately, he started out as an insurance salesman until an acquaintance, film director Irving Pichel suggested he try acting. His first role in the movies was in the uncredited role of a hotel clerk in Smart Money (1931), which starred Edward G Robinson and James Cagney. After a dozen further uncredited parts, he was named (as Charles Levison) playing the cashier in Blondie Johnson (1933). Capra gave him more than a couple of lines as a gangster in Broadway Bill (1934), a lawyer in Mr Deeds Goes to Town (1936), a tax collector in You Can't Take it With You (1938), newspaper reporters in Mr Smith Goes to Washington (1939) and Arsenic and Old Lace (1944), and It's a Wonderful Life.
For decades, Lane was also a permanently scowling regular on television, in Petticoat Junction as a scheming, cost-cutting railroad executive; The Beverly Hillbillies as an untrustworthy landlord; Dennis the Menace as a drugstore owner, and Soap, as a judge. He was often seen in I Love Lucy in different roles and later played Lucy's banker boss on The Lucy Show, belying his stern acting persona.
Lane was known to be a gentle, kind, warm and witty man. In 1990, he was rushed to hospital, having difficulty breathing. When asked if he smoked, he replied that he had kicked the habit 45 minutes earlier. He never smoked again. His last performance, as grumpy as ever, was aged 90, in the television remake of The Computer Wore Tennis Shoes (1995). His last public appearance was at the 2005 Emmy awards, when he was honoured as one of the founders of the Screen Actors Guild in 1933. Appearing via satellite, he announced: "Hello, I'm Charles Lane. I'm an actor and I'm 100 years old. And, in case anyone's interested, I'm still available."
In 1931, Lane married his childhood sweetheart Ruth Covell. They remained together until her death in 2002. He is survived by his son and daughter.
· Charles Lane (Charles Gerstle Levison), actor, born January 26 1905; died July 9 2007
His obituary by Ronald Bergan in "The Guardian" can also be accessed here.
Gary Brumburgh's entry:
Mean, miserly and miserable-looking, they didn't come packaged with a more annoying and irksome bow than Charles Lane. Glimpsing even a bent smile from this unending sourpuss was extremely rare, unless one perhaps caught him in a moment of insidious glee after carrying out one of his many nefarious schemes. Certainly not a man's man on film or TV by any stretch, Lane was a character's character. An omnipresent face in hundreds of movies and TV sitcoms, the scrawny, scowling, beady-eyed, beak-nosed killjoy who usually could be found peering disdainfully over a pair of specs, brought out many a comic moment simply by dampening the spirit of his nemesis. Whether a Grinch-like rent collector, IRS agent, judge, doctor, salesman, reporter, inspector or neighbor from hell, Lane made a comfortable acting niche for himself making life wretched for someone somewhere.
He was born Charles Gerstle Levison on January 26, 1905 in San Francisco and was actually one of the last survivors of that city's famous 1906 earthquake. He started out his working-class existence selling insurance but that soon changed. After dabbling here and there in various theatre shows, he was prodded by a friend, director Irving Pichel, to consider acting as a profession. In 1928 he joined the Pasadena Playhouse company, which, at the time, had built up a solid reputation for training stage actors for the cinema. While there he performed in scores of classical and contemporary plays. He made his film debut anonymously as a hotel clerk in Smart Money (1931) starring Edward G. Robinson and James Cagney and was one of the first to join the Screen Actor's Guild. He typically performed many of his early atmospheric roles without screen credit and at a cost of $35 per day, but he always managed to seize the moment with whatever brief bit he happened to be in. People always remembered that face and raspy drone of a voice. He appeared in so many pictures (in 1933 alone he made 23 films!), that he would occasionally go out and treat himself to a movie only to find himself on screen, forgetting completely that he had done a role in the film. By 1947 the popular character actor was making $750 a week.
Among his scores of cookie-cutter crank roles, Lane was in top form as the stage manager in Twentieth Century (1934); the Internal Revenue Service agent in You Can't Take It with You (1938); the newsman in Mr. Smith Goes to Washington (1939); the rent collector in It's a Wonderful Life (1946); the recurring role of Doc Jed Prouty, in the "Ellery Queen" film series of the 1940s, and as the draft board driver in No Time for Sergeants (1958). A minor mainstay for Frank Capra, the famed director utilized the actor's services for nine of his finest films, including a few of the aforementioned plus Mr. Deeds Goes to Town (1936), Arsenic and Old Lace (1944) and State of the Union (1948).
Lane's career was interrupted for a time serving in the Coast Guard during WWII. In post-war years, he found TV quite welcoming, settling there as well for well over four decades. Practically every week during the 1950s and 1960s, one could find him displaying somewhere his patented "slow burn" on a popular sitcom – Topper (1953), The Real McCoys (1957), The Many Loves of Dobie Gillis (1959), Mister Ed (1958), Bewitched(1964), Get Smart (1965), Gomer Pyle: USMC (1964), The Munsters (1964), Green Acres(1965), The Flying Nun (1967) and Maude (1972). He hassled the best sitcom stars of the day, notably Lucille Ball (an old friend from the RKO days with whom he worked multiple times), Andy Griffith and Danny Thomas. Recurring roles on Dennis the Menace (1959),The Beverly Hillbillies (1962) and Soap (1977) made him just as familiar to young and old alike. Tops on the list had to be his crusty railroad exec Homer Bedloe who periodically caused bucolic bedlam with his nefarious schemes to shut down the Hooterville Cannonball on Petticoat Junction (1963). He could also play it straightforward and serious as demonstrated by his work in Twilight Zone (1959), Perry Mason (1957), Little House on the Prairie (1974) and L.A. Law (1986).
A benevolent gent in real life, Lane was seen less and less as time went by. One memorable role in his twilight years was as the rueful child pediatrician who chose to overlook the warning signs of child abuse in the excellent TV movie Sybil (1976). One of Lane's last on-screen roles was in the TV-movie remake of The Computer Wore Tennis Shoes (1995) at age 90. Just before his death he was working on a documentary on his long career entitled "You Know the Face".
Cinematically speaking, perhaps the good ones do die young, for the irascible Lane lived to be 102 years old. He died peacefully at his Brentwood, California home, outliving his wife of 71 years, former actress Ruth Covell, who died in 2002. A daughter, a son and a granddaughter all survived him.
– IMDb Mini Biography By: Gary Brumburgh / gr-home@pacbell.net