Christian Roberts (Wikipedia)
Christian Roberts made his first big impact on film in "To Sir With Love" with Sidney Poitier, Judy Geeson and Lulu in 1967. Another major credit was "The Anniversay" where he played the son of Bette Davis.
He ceased acting on film and television in 1979. He was a very underrated actor.
His own mini-biography on IMDB:
Born 17th March 1944 in Southmoor, Berkshire, England, Christian Roberts was educated at Cranleigh School, Surrey, England from 1953 to 1962 and at the Royal Academy of Dramatic Art, London, England from 1964 to 1966.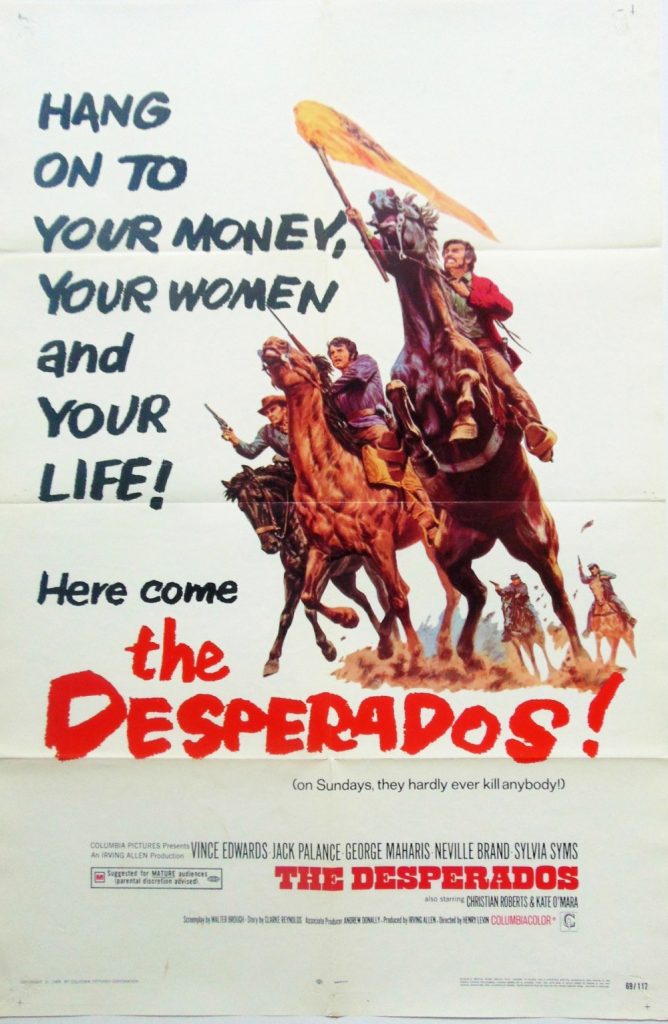 He debuted in To Sir, with Love(1967). Laurel Award and Filmdom's Famous Fives. Apart from films and TV, between 1972 and 1980 he acted in theater seasons at the Redgrave Theatre, Surrey; The Salisbury Playhouse, Theatre Royal, York; and the Watford Palace Theatre.
In 1980 he joined the board of his family business, Job's Dairy, and was also a director of the Theatre Royal, Windsor.
In 1988 he returned to acting and Produced and starred in "Return to the Forbidden Planet" (Laurence Olivier Award 1990) and "From a Jack to a King", both in London's West End.
In 1995 he went to live in Barbados in the Caribbean, where he now runs the famous "Lone Star" Restaurant and Hotel on the island's fashionable West Coast.
He is keen to act again.
He has just completed filming "Holding on " for the Barbados Film Festival, Produced by Laura Lin Hutchinson. Directed by Martinique's Maharaki.
– IMDb Mini Biography By: Christian Roberts,
Christian Roberts died in 2022.
Telegraph obituary:
Christian Roberts obituary
Well-connected actor who enjoyed romances with many of his co-stars and later opened a fashionable restaurant in Barbados
Wednesday January 18 2023, 12.01am GMT, The Times
Hired straight from Rada to play the unruly pupil Bert Denham opposite Sidney Poitier as a good-natured teacher in James Clavell's 1967 schoolroom drama To Sir, with Love, the handsome young actor Christian Roberts could not believe his luck. He was being paid a princely £75 a week and was dating his co-star Judy Geeson. The film did well — made for $600,000, it netted $14 million at the box office in its first year — and he was put on a five-year contract by Columbia Pictures.
His second feature, the black comedy The Anniversary (1968), proved a reality check when he encountered an imperious leading lady in Bette Davis. Fearing she would be upstaged in her role as his mother, she demanded cuts to his witty one-liners in the script.
But it was the 1960s, when Swinging London was at its height, so he hardly cared as he spent his nights with Geeson at La Famiglia, Alvaro Maccioni's trendy King's Road trattoria frequented by Princess Margaret, and learnt the art of professional hosting (his later calling) from Johnny Gold, who ran the night club Dolly's, later Tramp, in Jermyn Street.
He had bought a 1954 Bentley R-type, which he sprayed white; after taking up with the fiery actress Kate O'Mara, who starred in his fourth film, a 1969 western called The Desperados, he drove it and her to Rome, where Lewis Gilbert, director of his 1970 film The Adventurers, paid him $400 a week in expenses and insisted on using his car in a scene with Candice Bergen.
Another girlfriend was the French actress Pascale Petit, with whom he worked on a TV film, Berlin Affair. He stayed with her in Paris until she threw him out for smoking dope, a social accessory of the times that he enjoyed and did not hide in his self-published memoir, typically self-effacingly called Thank God I'm Not Famous.
According to that book, his father Douglas's only comment on The Adventurers, based on a Harold Robbins novel, was: "Far too much sex". Douglas was the paternalist boss of Job's, once the largest privately owned dairy in Britain, a successful family business with origins in the 1870s, when Roberts's great-grandfather Edward moved from Wales to work as a milkman in Teddington, then in Middlesex.
Christian Charles Roberts was born in March 1944 in Southmoor, Berkshire, where his family were evacuated during the war. Roberts's formative years were spent in some comfort at Long Orchard, a 50-acre farm in Cobham, Surrey. Following his father and grandfather, he was educated at nearby Cranleigh School, where he was head boy and captain of the rugby XV. Having discovered a love of Shakespeare, after a spell at Grenoble University he went in 1964 to Rada, where his friends included Kenneth Cranham and Roger Lloyd-Pack. After his performance as the Comte de Dunois in George Bernard Shaw's Saint Joan, the impresario Val Parnell, father of a school friend and producer of the TV showSunday Night at the London Palladium, recommended him to an agent, who signed him to To Sir, with Love.
In 1973, with his film career no longer sparkling, he returned to his first love, live theatre, working closely with the now defunct Redgrave Theatre in Farnham, Surrey. That year he married the Yorkshire-born Christine Carswell, with whom he had two children: Lucy, a psychotherapist, and Ben, an electrical designer. They all survive him. In 1979, aware that he had mouths to feed, Roberts quit acting and joined Job's as director of health and safety.
Family ties were important. He later recalled taking his seven-year-old nephew Andrew to the premiere of the 1970 film Waterloo, and liked to claim that this encouraged the boy, now Lord Roberts of Belgravia, to become a historian and write a bestselling biography of Napoleon.
After his father's death, Job's was sold to Unigate in 1987, though the family still owned the franchise on more than 50 Kentucky Fried Chicken branches across southern England. No longer in a job, he returned to the theatre where, acting at the Redgrave, he befriended the director Bob Carlton. They collaborated onFrom a Jack to a King, a rock'n'roll version of Macbeth, encouraging Roberts to invest in a follow-up, Return to the Forbidden Planet (based on The Tempest). That proved a hit, winning the Laurence Olivier award for best new musical in 1989, clocking up more than 1,500 performances at the Cambridge Theatre in London, and earning Roberts, who starred in it, and his angels a considerable profit. Buoyed by this and the sale of the family business, he bought a house on the west coast of Barbados, close to Sandy Lane, the luxury hotel beloved by the super-rich.
Next door was a disused Texaco garage that he acquired for $10,000 and turned into the Lone Star, a chic beachfront restaurant with a four-room hotel attached. This was much-loved by the local glitterati, who appreciated his discretion as much as the food and atmosphere. Simon Cowell described it as "probably the best restaurant in the world", which was endorsed by Michael Winner in his Sunday Times restaurant column. When Michael Caine, with whom Roberts had acted in the 1971 film The Last Valley, visited, he pronounced: "You ain't done too bad, 'ave you, Christian?"
Roberts wrote an unpublished piece for the Sunday Times Magazine in 2008 titled "Day in the Life of a Self-Confessed Hedonist", which detailed how, on waking to the sound of breaking waves, he smoked his first Montecristo of the day. After riding his paint horse Jack, he repaired to his restaurant for lunch, preceded by a couple of rum sours and another cigar, and accompanied by a bottle of rosé. The afternoon was given over to a "siesta", and then at 6.30pm he was back in the restaurant, using his charm and theatrical skills to orchestrate a memorable evening for his guests. If dining with friends, a vodka martini would be followed by a fillet steak and a bottle of Château Clarke.
Christine, however, no longer enjoyed Barbados and stayed mainly in London. Realising he was overdoing it, Roberts told a friend he needed to sell the restaurant or it would kill him. A buyer emerged in David Whelan, the multimillionaire owner of JJB Sports and Wigan Athletic football club, who had grown to love the Lone Star on trips to Barbados. The property changed hands in 2013 for $13 million. For several years afterwards Roberts still kept an apartment on the island.
ADVERTISEMENT
Christian Roberts, actor and restaurateur, was born on March 17, 1944. He died of cancer on December 26, 2022, aged 78