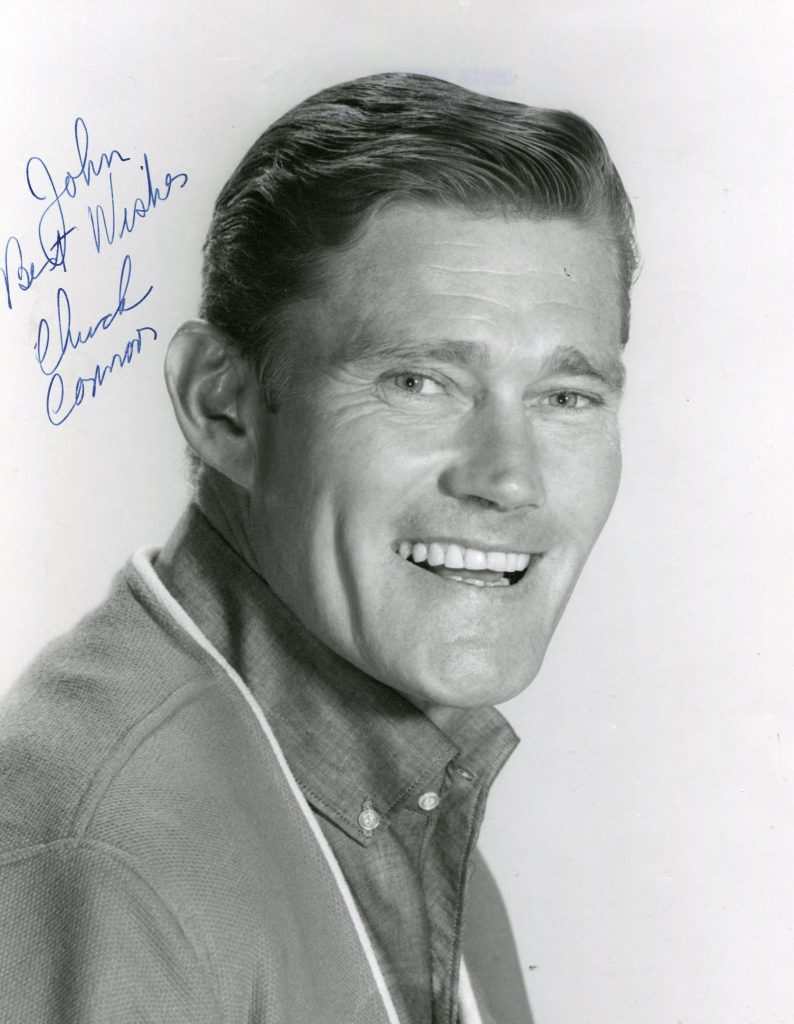 Chuck Connors was born in Brooklyn, New York in 1921. He was a professional basketball and baseball player. His first film was "Pat and Mike" in 1952 and his movie highlights include "Good Morning Miss Dove" with Jennifer Jones in 1955, "The Big Country" and "Move Over Darling" with Doris Day. He had success on televsion in the series "Rifleman" and "Arrst and Trial". Chuck Connors died in 1992 at the age of 71.
His IMDB entry:
Born to immigrant parents from the Dominion of Newfoundland (now part of Canada) Chuck Connors and his two-years-younger sister, Gloria, grew up in a working-class section of the west side of Brooklyn, New York, where their father worked the local docks as a longshoreman.
Chuck's natural athletic prowess earned him a scholarship to Adelphi Academy, a private high school, and then to Seton Hall, a Catholic college in South Orange, New Jersey. Leaving Seton Hall after two years, on October 20, 1942, he joined the army, listing his occupation as a ski instructor. After enlistment in the infantry at Fort Knox, he later served mostly as a tank-warfare instructor at Camp Campbell, Kentucky, and then finally at West Point. Following his discharge early in 1946, he resumed his athletic pursuits. He played center for the Boston Celtics in the 1946-47 season but left early for spring training with the Brooklyn Dodgers. Baseball had always been his first love, and for the next several years he knocked about the minor leagues in such places as Rochester (NY), Norfolk (VA), Newark (NJ), Newport News (VA), Mobile (AL) and Montreal, Canada (while in Montreal he met Elizabeth Riddell, whom he married in October 1948. They had four sons during their 13-year marriage). He finally reached his goal, playing for the Brooklyn Dodgers, in May 1949, but after just five weeks and one at-bat he returned to Montreal. After a brief stint with the Chicago Cubs in 1951, during which he hit two home runs, Chuck wound up with the Cubs' Triple-A farm team, the L.A. Angels, in 1952. A baseball fan who was also a casting director for MGM spotted Chuck and recommended him for a part in the Spencer Tracy–Katharine Hepburn comedy Pat and Mike (1952). Originally cast to play a prizefighter, but that role went instead to Aldo Ray. Chuck was cast as a captain in the state police. He now abandoned his athletic hopes and devoted full time to his acting career, which often emphasized his muscular 6'6″ physique.
During the next several years he made 20 movies, culminating in a key role in William Wyler's 1958 western The Big Country (1958). Also appearing in many television series, he finally hit the big time in 1958 with The Rifleman (1958), which began its highly successful five-year run on ABC. Other television series followed, as did a number of movies which, though mostly minor, allowed Chuck to display his range as both a stalwart "good guy" and a menacing "heavy".
Chuck Connors died at age 71 of lung cancer and pneumonia on November 10, 1992 in Los Angeles, California. He is buried in San Fernando Mission Cemetery with his tombstone carrying a photo of Connors as Lucas McCain in "The Rifleman" as well as logos from the three professional sports teams he played for: the Dodgers, Cubs and Celtics.
– IMDb Mini Biography By: dinky-4 of Minneapolis (qv's & corrections by A. Nonymous)
The above IMDB entry can be accessed online here.