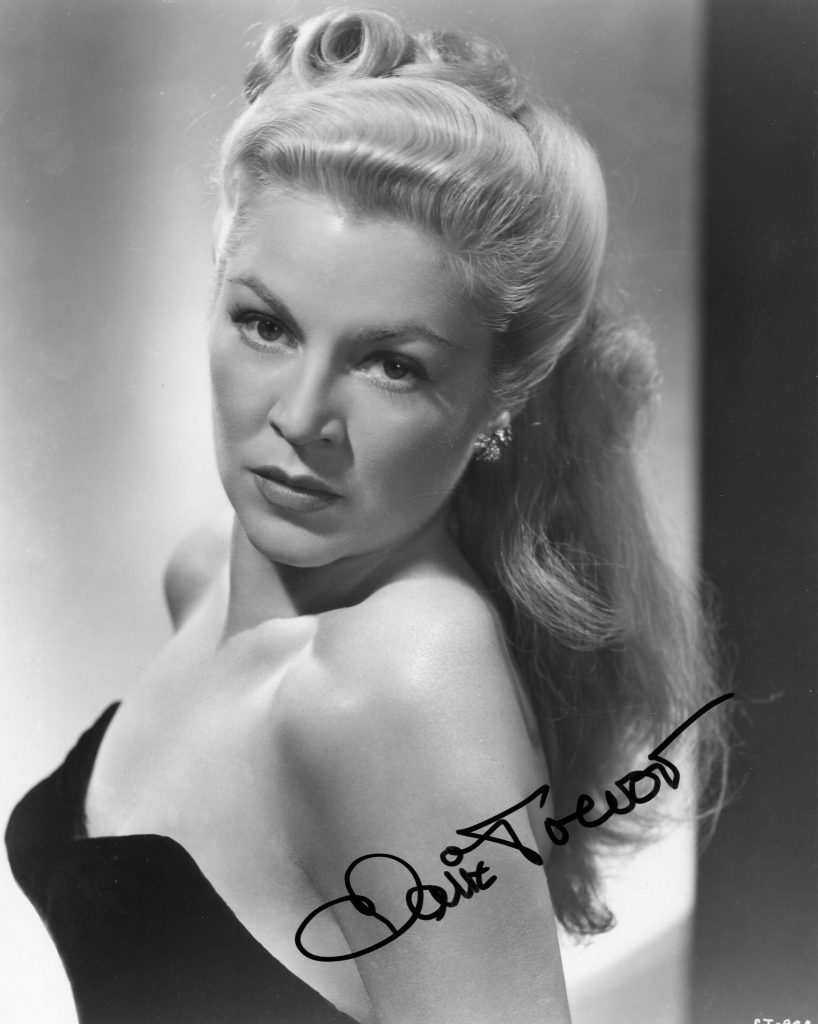 Claire Trevor was born in 1910 in Brooklyn, New York.   Her mother was from the North of Ireland.   By 1932 she was on Broadway and the following year made her movie debut in "Jimmy and Sally".   Her major breakthrough role was in 1939 in John Ford's "Stagecoach" with John Wayne.   In the 1940's she seemed to specialize as hard-boiled dames in film noir such as "Murder My Sweet" in 1944 and "Johnny Angel".   In 1948 she won an Academy Award for her performance in "Key Largo".   In the 1950's she developed into an excellent character actress and was seen to great effect in "The High and the Mighty" with Wayne again in 1954.   Her final film performance was with Jeff Bridges and Sally Field in 1982 in "Kiss Me Goodbye".   Ms Trevor died in 2000 at the age of 90.
Ronald Bergan's "Guardian" obituary:
Claire Trevor, who has died aged 91, will be remembered mainly for playing blondes with tough exteriors that hid her vulnerability. In her best films, she was not only a woman who had kicked around the world, but who had been kicked around by the world.
In John Ford's Stagecoach (1939), which raised the western genre to artistic status, she was "saloon girl" Dallas, who has been forced out of town by puritanical women. When the Ringo Kid (John Wayne) proposes to her, she says, "But, you don't know me, you don't know who I am." "I know all I want to know," he says. Seeing a glimmer of hope, she asks the drunken doctor (Thomas Mitchell), "Is that wrong for a girl like me? If a man and woman love each other? It's all right, ain't it Doc?" Typical as the role was, Stagecoach was one of the few films that sanctioned her happiness.
She was born Claire Wemlinger in in New York of a French father and Northern Irish mother. When her father lost his clothing business during the Great Depression, she went out to work to help the family. Later she managed to attend Columbia University and the American Academy of Dramatic Arts, before starting her acting career in stock in the late 1920s. By 1932, she had starred on Broadway opposite Edward Arnold in The Party's Over, which brought her to the attention of 20th Century Fox, who gave her a five-year contract in 1933.
At Fox, she played Shirley Temple's mother in Baby Takes A Bow (1934), supported Spencer Tracy in Dante's Inferno (1935), and made six films directed by veteran craftsman Allan Dwan, but they were mostly inconsequential programmers. She left Fox hoping for better roles and immediately landed one from Samuel Goldwyn in William Wyler's Dead End (1937) as hoodlum Humphrey Bogart's ex-girlfriend, reduced to streetwalking and ravaged by illness. Although she is barely on screen for five minutes, in a memorable seriers of close-ups, she made enough impact to be nominated for a supporting actress Oscar. "I'm tired. I'm sick," she tells Bogart. "Can you see it? Look at me good. You've been looking at me like I used to be."
Dead End set her off on a series of roles as wanton women: gangsters' molls in thrillers and saloon bar gals in westerns. In The Amazing Dr Clitterhouse (1938), she played Bogart's moll who betrays him, and in I Stole a Million (1939), she helps her mobster husband George Raft. However, Trevor had to wait for the rise of 1940s film noir to become one of the leading women of the genre. With her long, blonde hair whisked up above the broad-shouldered gowns and a seen-it-all look in her eyes, she was able to hit her stride.
In Street of Chance (1942), she misleads amnesiac Burgess Meredith by telling him he is wanted for murder, though she is the real killer. As the sexy, two-faced Mrs Grayle in Edward Dmytryk's Murder My Sweet (1944), she tells Philip Marlowe (Dick Powell), "You shouldn't kiss a girl when you're wearing a gun. It leaves a bruise." In Born to Kill (1947), she is "a silken savage," a mercenary divorcee with a fatal attraction for a man who has already killed two people. "You're strength, excitement and depravity," she is told. Anthony Mann's Raw Deal (1948) was one of the rare noir movies in which the narration was supplied by a woman, in this case Trevor as the betrayed girlfriend of a racketeer.
In the same year, in Key Largo, for which she won an Oscar for best supporting actress, Trevor played Gaye Dawn, the fading alcoholic mistress of sadistic gangster Johnny Rocco (Edward G Robinson). "She's a lush," says Robinson's fat henchman (Thomas Gomez). "After she bends the elbow a few times, she begins to see things – rats, roaches, bats, you know. A sock in the kisser is the only thing that will bring her out of it." Pathetically singing Moanin' Low to please Rocco, Trevor revealed the character's touching dependence on the brute.
During the next decade, Trevor's image continued to be "strength, excitement and depravity", especially in two films of 1951: Best of the Badmen as Robert Preston's angry and disillusioned wife, and Hard, Fast and Beautiful as the greedy ambitious tennis mother determined to live off her daughter's earnings. In 1954, she gained another Oscar nomination for The High and the Mighty (1954), this time as a loose woman among imperilled airline passengers. Ironically, Charles, her only child by the second of her three marriages died in an air crash in 1978.
In Vincente Minnelli's Two Weeks in Another Town (1962) as Edward G Robinson's "worn out, dry, old hag" of a wife, she rants and raves, drinks and smokes. "Don't take an overdose," Robinson tells her. "You know how ill it makes me." Like most of her later roles, such as the man-hating harridan in How To Murder Your Wife (1965), it was a reference to many of the parts she had played in her black-and-white movie past.
She not only enjoyed a Hollywood career spanning five decades, but performed in hundreds of radio and television shows – including an Emmy-winning role in Dodsworth. She retired from acting in 1987 and became a patron of the arts.
• Claire Trevor (née Claire Wemlinger), film actress, born March 8 1909; died April 8 2000
Her "Guardian" obituary can also be accessed online here.