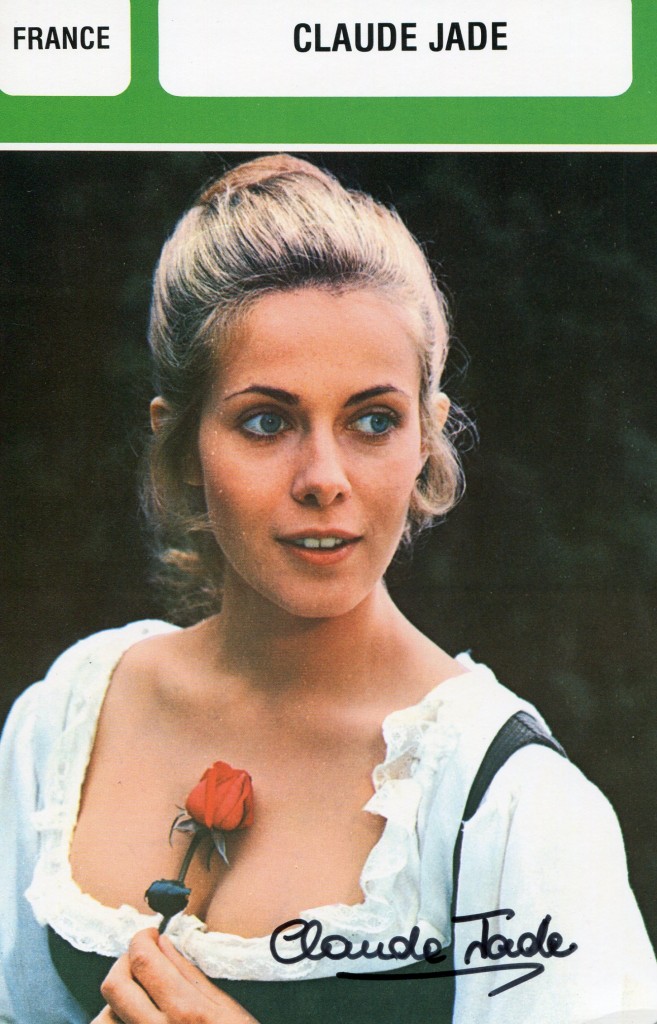 Claude Jade was born in 1948 in Dijon, France. Francois Truffaut cast her in 1968 in "Stolen Kisses" and her career was launched. The following year Alfred Hitchcock cast her in "Topaz". Her other films include "Bed and Board" in 1970 and in 1979 "Love on the Run". She died in 2006 at the age of 58.
Her obituary in "The Guardian":
Claude Jade, the 20-year-old who plays the heroine of the film I've recently completed, Stolen Kisses, is eight years younger than Catherine Deneuve, and has something of Grace Kelly-Joan Fontaine about her,' wrote François Truffaut in a letter to Alfred Hitchcock on July 4 1968, recommending his young discovery for a role in Topaz (1969). Thanks to Truffaut, Jade, who has died of cancer aged 58, did get a leading role in that film, and went on to have a distinguished career on stage and screen. Above all, Jade will be remembered for the three films she made for Truffaut, part of his bittersweet semi-autobiographical cycle, following the romantic adventures of Antoine Doinel (Jean-Pierre Léaud) from the ages of 12 to 30.
When Truffaut saw Jade as Frida in Sacha Pitoeff's production of Luigi Pirandello's Henry IV at the Theatre Moderne, he was "completely taken by her beauty, her manners, her kindness, and her joie de vivre," and cast her as Christine Darbon, the violin student Antoine would court, marry and divorce but always love. Truffaut fell in love with her, and there was talk of marriage.
The director's love shines through his alter-ego Doinel in Stolen Kisses (1968), Bed and Board (Domicile Conjugal, 1970) and Love on the Run (1978), as Christine puts up with Antoine's foibles and affairs, patiently waiting for him to face up to the adult consequences of being a husband and father. Memorable scenes pass through the mind like a montage: her teaching Antoine the best way to butter toast in the morning, their writing each other little notes, his calling her "my little mother, my little sister, my little daughter" in a taxi, and she replying she would rather be his wife; her attempts to guess Antoine's latest job, amusingly suggesting cab driver or water taster, her reaction when Antoine hangs a scissors on her ring finger, his affectionate response to her wearing glasses in bed, the medium tracking shot of her legs as she stops at a shop for tangerines then heads up the stairs, as one of the neighbourhood men longingly admires them.
Born Claude Marcelle Jorré in Dijon, the daughter of university professors, she spent three years at the Dijon Conservatory of Dramatic Art, winning the prix de comédie for her performance as Agnès in Molière's School of Wives. In 1967, she moved to Paris and studied under Jean-Laurent Cochet and Mary Marquet, in a class with Gérard Depardieu. It was not long before she was discovered by Truffaut.
By 1969, Jade was playing Helena in Jean-Christophe Averty's A Midsummer Night's Dream on television; was the spirited lover of Jacques Brel in Eduard Molinaro's 18th-century romp My Uncle Benjamin; and she also appeared as a French secret agent's anxious daughter in Topaz, one of Hitchcock's weakest efforts. Some of her best scenes were edited out when the film was released (they have been restored in the director's cut). At the same time filming of Tony Richardson's Nijinsky, with Rudolf Nureyev in the title role and Jade as his wife Romola, was cancelled by producers Albert R Broccoli and Harry Saltzman.
But Jade was kept fairly active mostly on television (notably in the series The Island of 30 Coffins), and in minor French films in the 1970s. At the same time, she was a member of Jean Meyer's theatre company in Lyons, appearing in plays by Jean Giraudoux (La guerre de Troie n'aura pas lieu [The Trojan War Will Not Take Place] and Intermezzo), Henry de Montherlant (Port Royal), James Joyce (The Exiles) and Jean Racine (Britannicus).
In 1980, she moved to the Soviet Union with her French diplomat husband Bernard Coste, whom she had married in 1972 to Truffaut's chagrin. In Moscow, she played the Bolshevik Inessa Armand in Sergei Yutkevich's Lenin In Paris (1980), though it was not possible to show Lenin in love with her, and starred in Tegeran-43 (1981), a spy thriller with Alain Delon among an international cast. On her return to France, Jade appeared in a number of television series and the odd film, such as Jean-Pierre Mocky's Bon Soir (1992) in the role of a shy lesbian.
In 1998, Jade became a chevalier de la légion d'honneur, and in 2004, published her autobiography Flying Kisses (Baisers envolés). Her last stage role was in Jacques Rampal's Celimene and the Cardinal, performed in Paris and at festivals this summer. Suffering cancer of the liver, which had spread, she wore a plastic eye for her performances. She is survived by her son.
· Claude Jade (Claude Marcelle Jorré), actor, born October 8 1948; died December 1 2006
he above "Independent" by Ronald Bergan obituary can also be accessed online here.