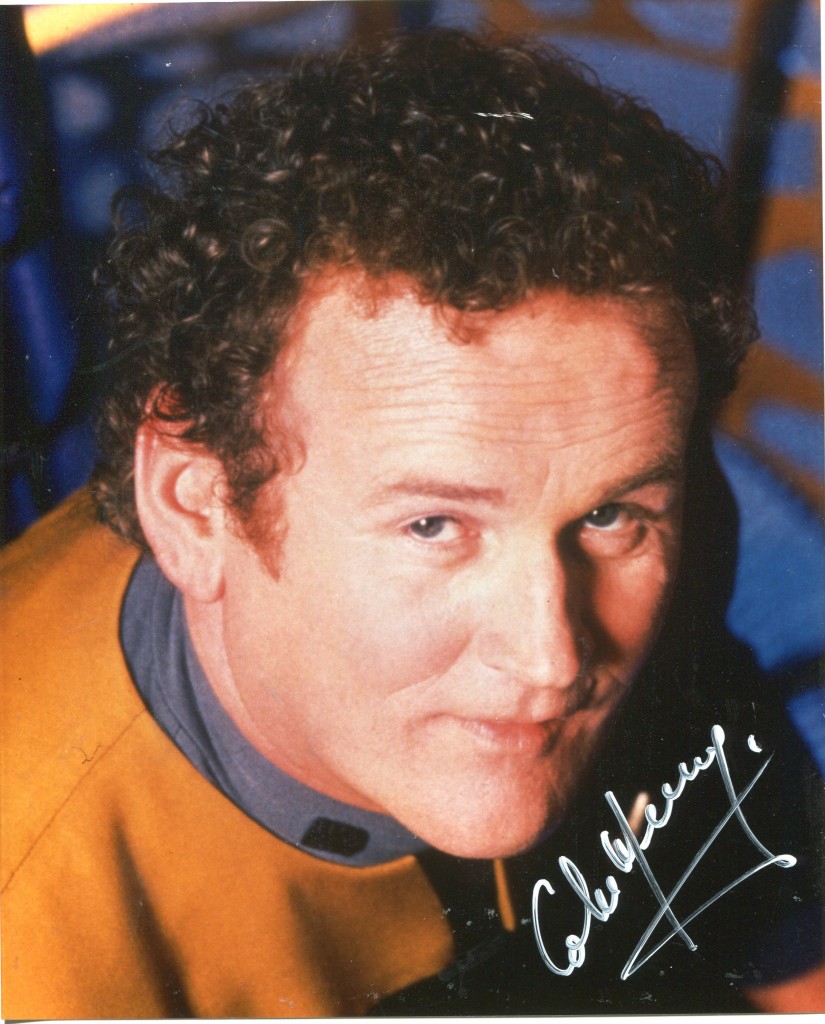 Colm Meaney was born in Dublin in 1953. He appeared on Irish television in dramra at RTE when he was a teenager. He made his British television debut in 1978 in "Z Cars". In 1987 in Hollywood he starred in the cult favourite TV series "Star Trek". Among his films are John Huston's "The Dead". ""Die Hard 2", "The Commitments", "Snapper", "Under Siege" and "This Is My Father".
TCM Overview:
Curly-haired Irish player Colm Meaney, perhaps best known to American audiences as Chief Engineer Miles O'Brien on the hit syndicated series "Star Trek: Deep Space Nine", has had a long and varied career in features, as both a scene-stealing supporting player and a charismatic lead. Determined to be an actor since age 13, Meaney spent some time in a fisherman training program after leaving high school, but soon began his career at the renowned Abbey Theatre, first as an student in its training program and later on the Dublin stage before moving to Great Britain where he joined 7:84, a leftist theater group. He traveled to the USA in 1982, settling in the Hell's Kitchen section of Manhattan, and jetted back-and-forth between the New York and London stages. After four years of continent-hopping, Meaney and his then-wife actress Bairbre Dowling moved to Los Angeles, where he soon made his feature debut in the action thriller "Omega 7/Omega Syndrome" (1986). The following year would bring him back to Ireland for a role in "The Dead", John Huston's final film, an adaptation of James Joyce's short story. Meaney was initially cast in a recurring role of Engineer Miles O'Brien in the syndicated "Star Trek" spin-off "Star Trek: The Next Generation" (from 1987 to 1992), and was later upgraded to regular as Chief Engineer O'Brien, the most accessible and human character, on "Star Trek: Deep Space Nine" (syndicated, 1993-99). While Meaney worked extensively in television during this time, even taking a supporting part in the 1994 CBS miniseries "Scarlett" in addition to his series role, his film career didn't slow down.
Meaney began his frequent work with Alan Parker on the World War II-era romance "Come See the Paradise" (1990). That same year, he was also featured in the cartoonish "Dick Tracy" and the action sequel "Die Hard 2: Die Harder". Meaney reteamed with Parker for "The Commitments" (1991), stealing scenes as the Elvis-worshipping father of the manager of a burgeoning soul band on Dublin's northside, in the first installment of novelist Roddy Doyle's acclaimed Barrytown trilogy. The following year Meaney co-starred in the turn-of-the-century tale of Irish immigrants settling America's west in "Far and Away" and had the featured role of Major Ambrose in Michael Mann's epic "The Last of the Mohicans". His next three films, however, were lensed in his native Ireland: "Into the West" (1992), "The Snapper" (1993) and "The War of the Buttons" (1994). While the latter was notable for pairing Meaney onscreen with his then-wife, it was "The Snapper", Stephen Frears' adaptation of the second novel in Roddy Doyle's trilogy that would provide a more memorable turn, as well as marking the actor's debut starring role–as Dessie Curley, a loud-mouthed blue collar man who proves a sensitive and caring father when faced with the unplanned pregnancy of his young unwed daughter. Physically imposing with a manner at once brusque and comically weary, Meaney turned in a masterful performance, making Dessie a sympathetic and delightful character.
A third teaming with Alan Parker as a rabid proponent of vegetarianism in 1994's "The Road to Wellville" was followed by turn as Morgan the Goat, a proud and crafty innkeeper who endeavors to protect the status of his Welsh village's beloved mountain, which English map surveyors designate as a hill in "The Englishman Who Went Up a Hill but Came Down a Mountain". In 1996, after portraying a smarmy politician in the romance "Last of the High Kings" (released on video in the USA in 1998 as "Summer Fling"), Meaney took on the last installment of Doyle's Barrytown trilogy, reteaming with Frears for "The Van", joining Donal O'Kelly as unemployed men who go into business, selling fish and chips out of the titular vehicle. With a similar character to his previous Doyle efforts (the books followed the same characters throughout, but names were changed for the film versions), Meaney turned in another inspired and endearing performance In 1997, the actor conquered the big budget action genre with a role as a flashy and reactionary DEA agent who must be convinced by John Cusack's US Marshal Vince Larkin to not shoot down a hijacked aircraft full of dangerous prisoners and one parolee in "Con Air". Remaining in demand in 1998, he was featured in Ted Demme's crime drama "Monument Ave", starring Denis Leary and offered a delightful cameo as a fey bed and breakfast owner whose mother helps to solve a man's mysterious origins in Paul Quinn's "This is My Father" (released in the USA in 1999). Rounding out the year, Meaney starred as the menacing pimp Cain in "Claire Dolan", the story of a call girl (Katrin Cartlidge) who endeavors to start a new life with taxi driver Elton (Vincent D'Onofrio) and co-starred in the odd thriller "October 22", the charming children's film "Owd Bob" and the gangster drama "VIG" (which premiered on Cinemax).
In 1999, following the end of the seven-year run of "Star Trek: Deep Space Nine", Meaney returned to his theatrical roots, appearing Off-Broadway in "The Cider House Rules–Part One: Here in St Cloud's" as an ether-sniffing obstetrician. This marked his first New York engagement since his Broadway appearance in a small role in 1988's "Breaking the Code" starring Derek Jacobi. Meaney has not forsaken film roles, however, having accepted supporting parts in the David E Kelley-scripted "Mystery, Alaska", a look at a shrouded small town with a local hockey team that takes on the NHL's New York Rangers and in thriller "The Criminal" (lensed 1999), starring Steven Mackintosh. He also starred as the Head Leprechaun opposite Grand Banshee Whoopi Goldberg in the NBC fantasy miniseries "Leprechauns" (scheduled to air in November 1999).
This TCM overview can also be accessed online
here.