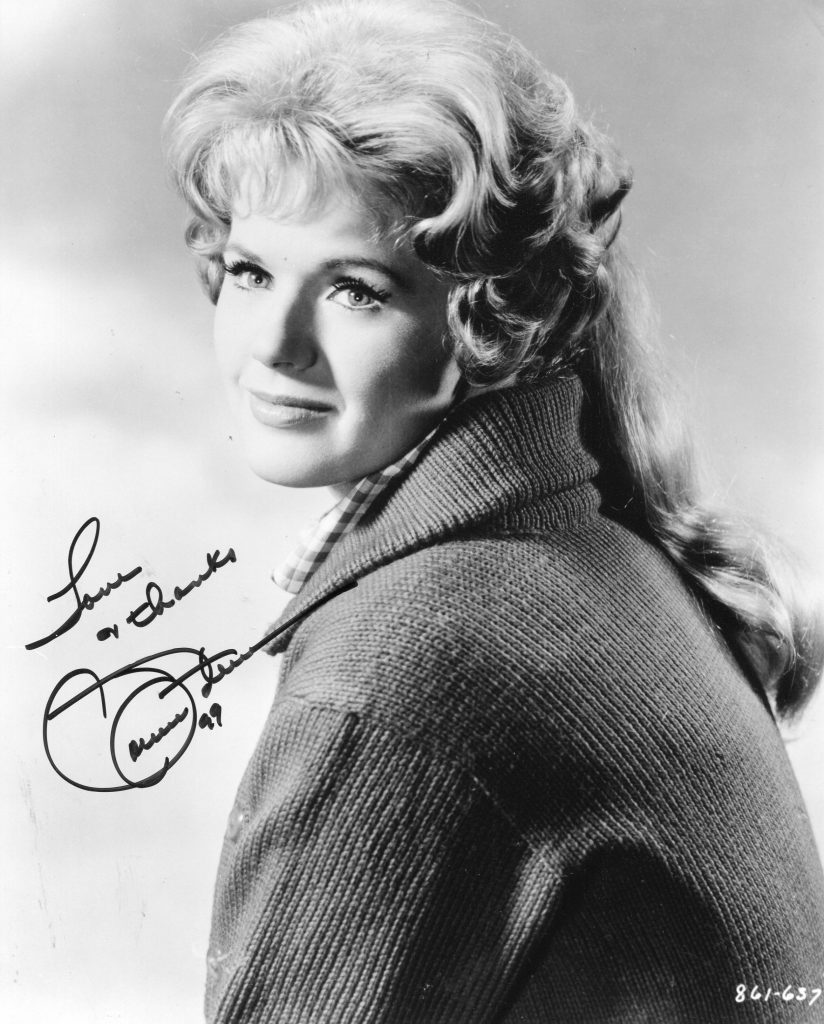 Connie Stevens is an actress, singer and successful business women.   She was born in 1938 in Brooklyn, New York.   She won a contract with Warner Brothers.   She was wonderful in her films with Troy Donahue, "Parrish" and "Susan Slade" in 1961 and "Palm Springs Weekend" in 1963.   They also co-starred in the television series "Hawaiian Eye".   She had a U.S. Top Ten hit with "Sixteen Candles".
Gary Brumburgh's entry:
Born in Brooklyn of Italian, Irish, and Native-American parentage with the unlikely name of Concetta Anna Ingolia, Connie Stevens was raised by grandparents when her parents (both jazz musicians) filed for divorced. She attended Catholic boarding schools in her formative years and a distinct interest in music led to her forming a vocal quartet called "The Foremost" which was comprised of Connie and three men. Those men later became part of The Lettermen. In Hollywood from 1953, Connie formed yet another vocal group "The Three Debs" while trying to break into films as an extra. Although she managed to co-star in a few mediocre teen dramas such as Young and Dangerous (1957), Eighteen and Anxious (1957), The Party Crashers (1958), and Dragstrip Riot (1958), it was comedian Jerry Lewis who set things in motion by casting the unknown starlet in his comedy Rock-a-Bye Baby (1958). Warner Bros. signed her up for their hot detective series Hawaiian Eye (1959) and she was off. As pert and pretty "Cricket Blake", a slightly flaky and tomboyish singer/photographer, Connie became an instant teen idol — trendy and undeniably appealing. A couple of record hits came her way including "Sixteen Reasons" and the novelty song "Kookie, Kookie, Lend Me Your Comb". Connie's acting talent was light and limited, however, and some attempts at adult film drama, including the title role in Susan Slade (1961), Parrish (1961), Palm Springs Weekend (1963) andTwo on a Guillotine (1965) came and went. In the 1970s, she refocused on her voice and started lining up singing commercials (Ace Hardware) while subsisting in nightclubs and hotels. Connie eventually built herself up as a Las Vegas headlining act. She also starred on Broadway with "The Star-Spangled Girl" and won a Theatre World Award for her performance in 1967. Comedian Bob Hope's made her one of his regular entertainers on his USO tours. Sporadic films came her way every now and then. A TV-movie The Sex Symbol (1974) had her playing a tragic Marilyn Monroe type goddess. There was also innocuous fun with Grease 2 (1982) and Back to the Beach (1987) with Frankie Avalonand Annette Funicello. Episodics on Murder, She Wrote (1984), The Love Boat (1977) andBaywatch (1989) also kept her afloat — but barely. Once wed to actor James Stacy, she later married and divorced singer Eddie Fisher. From her union with Fisher came two daughters, Joely Fisher and Tricia Leigh Fisher, both of whom became actors. Single with two daughters, and completely out of sync with Hollywood, Connie started experiencing severe financial woes. In the 1990s, the never-say-die personality began a new lucrative career in the infomercial game with skin-care and make-up products. She was unbelievably successful in turning her finances around. Now a self-made tycoon with her own successful beauty line to boot, Connie is living proof that anything can happen in that wild and wacky world called show biz.
– IMDb Mini Biography By: Gary Brumburgh / gr-home@pacbell.net
TCM overview:
Actress and singer Connie Stevens was a vivacious presence on television and the pop charts in the early 1960s, thanks to her popularity as Cricket Blake on the hit detective show "Hawaiian Eye" (ABC, 1959-1963) and singles like "Sixteen Reasons." Stevens' perky turn as Cricket, a singer and sometime photographer who aided a pair of Honolulu hotel detectives in solving crimes, granted her a brief time as an idol for younger viewers, but after the show's cancellation, she struggled to maintain her presence in the entertainment business. After her divorce from singer Eddie Fisher in 1969, which gave her daughters Joely and Tricia Leigh Fisher, Stevens doggedly pursued her career as an actress and nightclub crooner throughout the 1970s and 1980s. A reversal of fortune came in the 1990s when she launched a successful line of cosmetics. Throughout the ups and downs of her life, Stevens maintained the same sparkle she showed as Cricket Blake, which endeared her to several generations of fans.
Born Concetta Rosalie Ann Ingoglia in Brooklyn, NY on Aug. 8, 1938, Connie Stevens was the daughter of jazz drummer Peter Ingoglia, who performed under the stage name of Teddy Stevens, and singer Eleanor McGinley. After her parents' divorce, she was raised largely by grandparents or by the staff of various Catholic boarding schools. Blessed with a pleasant singing voice, she was performing professionally at an early age, first with three male vocalists in a group called the Foremost, and later, in an all-girl group called The Three Debs. At 15, she relocated to Los Angeles with her father, where she adopted his surname and worked as an extra and bit player in various teen-oriented films. 1958 proved to be her breakout year, with the release of her debut album, Conchetta, as well as her first major role as Jerry Lewis' love interest in "Rock-A-Bye Baby," a loose remake of "The Miracle of Morgan's Creek" (1944). The following year, she was signed to a contract with Warner Bros., who placed her in their new detective series, "Hawaiian Eye."
Cast as Cricket Blake, a singer and amateur photographer who helped series' leads Anthony Eisley and Robert Conrad solve cases on the big island of Honolulu, Stevens quickly rose in popularity among the show's audience of young viewers. A cross-over appearance on ABC's other hip crime show, "77 Sunset Strip" (1958-1963) led to a Top 10 single, "Kookie, Kookie, Lend Me Your Comb," which featured "Sunset" star Edd Byrnes in his series role as suave beatnik Kookie. It was soon followed by "Sixteen Reasons (Why I Love You)," a Top Five hit that stayed on theBillboard charts for over two months. Bigger roles in feature films were the next step in her natural progression, and in 1961, she starred in two films by Delmer Daves: "Parrish" was a potboiler with Troy Donahue – Stevens' co-star on "Hawaiian Eye" in its final season – as a young man pitted against his stepfather (Karl Malden), an unscrupulous tobacco tycoon, while "Susan Slade" was an outrageous camp fest about an innocent (Stevens) whose unwanted pregnancy leads to a near-Biblical series of tragedies as well as the attention of two competing suitors (Donahue and Bert Convy). When Stevens began dating Elvis Presley offscreen, she essentially assured herself pop culture sainthood.
However, a series of clashes with Warner Bros., including contract disputes regarding "Hawaiian Eye" and a well-publicized outburst over losing the chance to audition for "My Fair Lady" (1962), led to the studio dropping her contract. Stevens was soon adrift in a string of misfires, including the sitcom "Wendy and Me" (ABC, 1964-65), produced by George Burns, who co-starred as her landlord who observes her misadventures through his closed circuit television. Her recording career dried up in the middle of the decade, so she adjusted her focus to stage and screen projects, including a stint on Broadway in 1967's "The Star-Spangled Girl," which earned her a Theatre World Award. She was also a regular performer in Bob Hope's jaunts to Southeast Asia for the USO, which would later influence her documentary, "The Healing" (1997), about Red Cross nurses in Vietnam. After the dissolution of her marriage to actor James Stacy in 1967, she married singer Eddie Fisher, who was coming off the embarrassment of his wife Elizabeth Taylor leaving him for Richard Burton. The Philadelphia-born crooner fathered her daughters, Joely and Tricia Leigh Fisher, both of whom followed in their parents' footsteps as performers. Stevens and Fisher were divorced in 1969, just two years after being married.
Stevens raised both of her daughters as a single mother, which required her to work constantly in order to make ends meet. There was a steady stream of singing jobs, including headlining stints in Las Vegas and guest starring roles on episodic television and in TV features. With her ingénue days long behind her, Stevens began to play more adult, sexually forthright roles, most notably in 1971's cult favorite "The Grissom Gang," as a vampish Depression Era singer, and "Scorchy" (1976), a low-budget crime picture with Stevens as a gun-toting, bed-hopping private eye. She also served as the spokesperson for Ace Hardware in the 1970s, and sang the company's jingle in numerous television commercials.
The 1980s saw Stevens back on screen in several minor features, most notably "Grease 2" (1982) and "Back to the Beach" (1987), both as vixenish older women who served as temptation for the respective, much younger male leads. She experienced greater success with a line of cosmetic products called Forever Spring, which she launched in 1986 and pitched via informercials. She also became a tireless supporter of various charities, including the Windfeather Project, which the part-Mohican Stevens launched to provide scholarships to Native American students. In 1994, she re-launched her recording career with the LP, Tradition: A Family at Christmas, on which she was joined by her daughters. Three years later, she made her directorial debut with the aforementioned "The Healing," on which she also served as writer, editor and cinematographer. The documentary was well received at a variety of film festivals, and earned a Best Film award at the 1998 Santa Clarita International Fest. In her sixth decade, Stevens had finally achieved a degree of respect that had eluded her career for so many years.
Her proficiency as a businesswoman, as well as the longevity of her time in the spotlight, contributed to her 2005 election as secretary-treasurer of the Screen Actors' Guild, the second highest elected position in the governing body. She concluded her tenure with the Guild in 2007, then made her debut as a feature film director with "Saving Grace" (2009), a period drama about a Missouri family whose life was turned upside down by the arrival of a relative (Tatum O'Neal) who was discharged from an asylum
The above TCM overview can also be accessed online here.