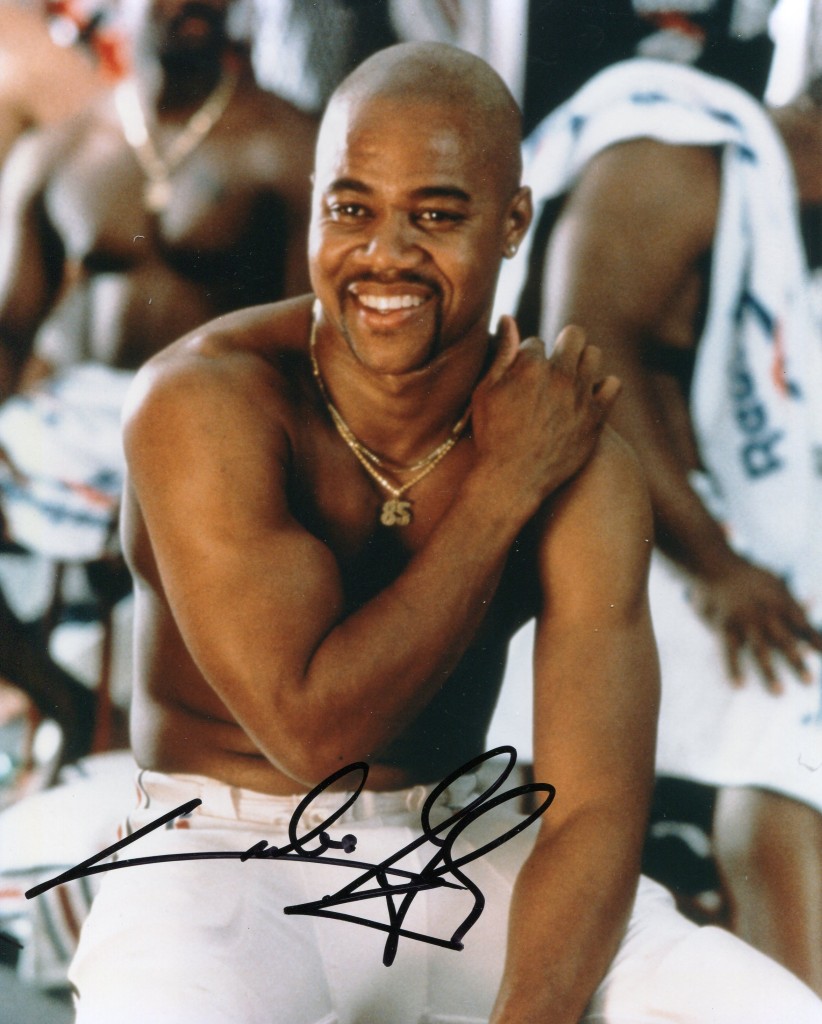 Cuba Gooding Jnr was born in 1968 in the Bronx, New York. He is perhaps best known for his Academy Award winning performance in "Jerry Maguire" in 1996. His other films include "As Good as it Gets" and "Men of Honor".
TCM Overview:
An energetic performer who inexplicably countered critically acclaimed dramatic performances with buffoonish comedies, Cuba Gooding, Jr. experienced both serious highs and embarrassing lows in his uneven career. After starting his career as a backup break dancer for Lionel Ritchie at the 1984 Olympic Games, Gooding forged ahead with an acting career with several brief film and television appearances before showing early talent with his subtle portrayal of a bright youth being led down a dangerous path in "Boyz N the Hood" (1991). The role earned him serious consideration from Hollywood, though he failed to take advantage of his newfound clout. For the next few years, he languished in forgettable movies like "Lightning Jack" (1994) and "Outbreak" (1995) before finally striking Oscar gold with his highly infectious performance as an arrogant football star in the winning "Jerry Maguire" (1996). But like "Boyz," Gooding failed to seize the moment, choosing instead to star in "Snow Dogs" (2002), "Boat Trip" (2002) and "Daddy Day Camp" (2007). Though he received strong critical attention for his performances in "As Good As It Gets" (1998), "Radio" (2003) and "Gifted Hands: The Ben Carson Story" (TNT, 2009), Gooding still had work to do in living up to his early promise.
Born on Jan. 2, 1968 in the Bronx, NY, Gooding was raised by his father, Cuba Sr., the lead singer for the R&B group, The Main Ingredient, best known for their 1972 hit "Everybody Plays the Fool," and his mother, Shirley, a backup singer who toured with Jackie Wilson's Sweathearts during the 1960s. Gooding moved to Los Angeles during the height of his father's success, only to see Cuba Sr. abandon the family, forcing his mom to raise three boys while moving from one hotel to another. In fact, he moved around so much that he attended four different high schools in Southern California – North Hollywood High School, Apple Valley High School, Tustin High School and John F. Kennedy High School – and became class president at all but one of them. During this time, Gooding became interested in acting, which he began at the Drama Teachers' Association of Southern California drama festival competition in the early 1980s. In 1984, he had his first professional gig as a break dancer on stage with Lionel Ritchie, who performed at the Summer Olympic Games in Los Angeles.
That same year, Gooding landed his first onscreen role, playing a thug on an episode of "Hill Street Blues" (NBC, 1981-87), which he followed by stealing some hubcaps in a guest starring role on "Jake and the Fatman" (CBS, 1987-1992). Following his first named role in CBS Schoolbreak Special, "No Means No" (1988), he made his feature debut with a walk-on part as a barber shop customer in the Eddie Murphy vehicle, "Coming to America" (1988). Following a more significant role in the little-seen teen drama "Sing" (1989), Gooding had his big break with a starring role in John Singleton's celebrated directorial debut, "Boyz N the Hood" (1991). Gooding played Tre Styles, a troubled, but promising youth sent to live with his disciplinarian father (Lawrence Fishburne) in South Central Los Angeles, where he finds the strength to rise above the self-destructive violence all around him. Sensitively conveying the pressures and contradictions attendant upon young black men growing up in the 'hood, Gooding emerged from the independent drama a bona fide star. A sudden media darling, Gooding found himself fielding offers that came flooding in, though most were variations on "Boyz N the Hood." The actor steadfastly refused to cover the same ground and went on the hunt for more challenging material.
After landing in the high-powered supporting cast of the blockbuster court-martial drama "A Few Good Men" (1992), Gooding stumbled as the star of that year's "Rocky" wannabe "Gladiator" (1992), which he followed with a supporting turn in the forgettable thriller, "Judgment Night" (1993) and played the mute sidekick of an Australian outlaw (Paul Hogan) in "Lightning Jack" (1994). While struggling to build upon the success he had with "Boyz," Gooding kept his career on life support with small roles in "Losing Isaiah" (1995), "Outbreak" (1995) and "The Tuskegee Airmen" (HBO, 1995). Five years after his "Boyz" breakthrough, the actor finally landed the role of a lifetime after Damon Wayans left the producers of "Jerry Maguire" (1996) scrambling for a last-minute replacement. Gooding took on the role of Rod Tidwell, a headstrong NFL wide receiver whose potential for stardom is hampered by his overwhelming arrogance, only to be put in check by his doggedly loyal sports agent (Tom Cruise). An undeniable force from beginning to end, Gooding delivered a high-caliber performance that turned him into a star, thanks in part to his catchphrase, "Show me the money!" Most importantly, however, Gooding earned recognition at the highest levels when he won the Academy Award for Best Supporting Actor, which he received at the Oscar ceremony by telling everyone involved in the film that he loved them before jumping around the stage with wild and hilarious abandon.
Having finally delivered on the promise he displayed in "Boyz," Gooding landed high profile supporting roles, playing Greg Kinnear's gay art dealer in "As Good As It Gets" (1997) and Robin Williams' tour guide through the afterlife in "What Dreams May Come" (1998). To raise his profile further, he appeared in a series of Pepsi One commercials which showcased his high energy and neon-bright smile. Some critics faulted him for doing the pesky ads, though the spots certainly did increased his exposure, helping with the all-important name recognition that powers Hollywood clout. In his first leading role since his Oscar win, Gooding broke out of the rut of outgoing, flamboyant characters with a much more cerebral turn as an ambitious psychiatrist trying to draw out Anthony Hopkins' psychotic killer – equal parts Hannibal Lecter and King Lear – in the psychological thriller, "Instinct" (1999). Thrilled by the color-blind casting, Gooding earned positive reviews, though the film itself left little else to recommend it. That year, he also portrayed a small-town guy trying to prevent a chemical weapon from detonating in "Chill Factor" (1999), while he took his first crack at producing with "A Murder of Crows" (1999), an independent thriller broadcast on Cinemax.
A further sign of his growing prowess came when Gooding was cast opposite Robert De Niro in "Men of Honor" (2000), the biopic of the U.S. Navy's first black salvage-and-retrieval expert. Staying in uniform, Gooding played the real-life naval petty officer whose valiant heroics helped defend the U.S.S. Arizona from the Japanese attack air raid on "Pearl Harbor" (2001), the flag-waving, explosion-fest courtesy of Michael Bay and Jerry Bruckheimer. The actor followed with a modest, albeit hard to fathom success for Disney in the goofy, forgettable comedy "Snow Dogs" (2002), in which he played a Miami dentist who inherits a sled dog team and finds himself racing across the frozen Alaskan tundra. Gooding next reached arguably the lowest point of his career with the limp comedy, "Boat Trip" (2002), playing a heterosexual man who inadvertently embarks on a gay singles cruise with his dim-witted pal (Horatio Sanz). Unfortunately, the eager, infectious enthusiasm that permeated Gooding's early roles had grown tiresome, while his performances were typically overloaded with mugging and grandstanding that failed to enhance the already dubious quality of the material.
His next venture, "The Fighting Temptations" (2003), was well-received at the box office for its winning gospel and soul music. But Gooding, who played a morally impaired advertising executive who returns to his Southern home to collect an inheritance and finds himself struggling to build a competitive church choir from a gang of misfits, took it on the chin with a critically panned performance permeated by onscreen desperation. His next role, however, proved that Gooding still had power left in his punch. He took on the title role in the drama feature "Radio" (2003), playing a mentally-challenged South Carolinian who is allowed to help out with a high school football team despite objections from the locals, thanks to the trust and friendship of the head coach (Ed Harris). After voicing the karate-kicking stallion Buck in the middling animated feature "Home on the Range" (2004), Gooding starred opposite Helen Mirren as a romantically entwined pair of hired killers looking for one last chance at redemption in the low-budget thriller, "Shadowboxer" (2005).
In another low-budget turn, Gooding was a corrupt cop dragged into an Internal Affairs investigation in the noir thriller "Dirty" (2005), which he followed by playing a Secret Service agent who teams up with a hot-shot reporter (Angie Harmon) to find the assassins of the President of the United States in "End Game" (2006). Back in a studio feature, Gooding played second fiddle to the many incarnations of Eddie Murphy in "Norbit" (2007), a painfully unfunny comedy about a hapless man (Murphy) forced into marrying a large, mean and junk food-addicted woman (Murphy) just when his childhood sweetheart (Thandie Newton) moves back to town. In "American Gangster" (2007), he played a small-time dealer rivaling a Harlem drug kingpin (Denzel Washington), while he did an about-face for "Daddy Day Camp" (2007) in taking over for Eddie Murphy as the put-upon Charlie Hinton, who decides to expand his daycare business by refurbishing a dilapidated camp. One of the worst movies of his uneven career, "Daddy Day Care" surely would have marked the end of a less-determined actor's career. After phoning it in for two more duds – "What Love Is" (2007) and "Harold" (2008) – Gooding returned to top form with a mature dramatic performance in "Gifted Hands: The Ben Carson Story" (TNT, 2009). He played the titular Carson, who rose from a poor inner-city youth to become one of the world's most accomplished neurosurgeons, thanks to the love of his single mother (Kimberly Elise) and his faith in God. Gooding earned high marks from critics, as well as a Screen Actors Guild award nomination for Best Actor in a TV Movie.
The above TCM overviewcan also be accessed online here.