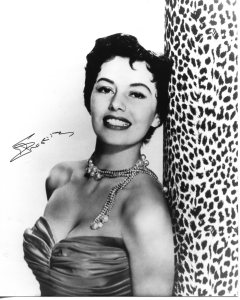 Cyd Charisse was one of the greatest female dencers ever to grace the screen.   She was born in Amarillo, Texas in 1922.   She won a contract with MGM and dances with Fred Astaire in "Ziegfeld Follies" in 1944.    She starred in some of the best MGM musicals of the 1950's including "Singing in the Rain", "The Band Wagon", "Silk Stockings", "Brigadoon" and "It's Always Fair Weather".   She was long married to singer Tony Martin.   Cyd Charisse died in 2008 at the age of 86.
Her "Guardian" obituary:
The camera seems to track forever along a pair of crossed female legs, extending almost beyond the frame. It moves up to reveal a femme fatale with a Louise Brooks hairdo, wearing a flapper-style emerald green dress and holding a mile-long cigarette holder. She is teasing Gene Kelly by balancing his straw hat on the end of her foot. It was in the Broadway Melody Ballet from Singin' in the Rain (1952) that the beautiful, long-limbed, sexually dynamic dancer Cyd Charisse, who has died following a heart attack aged 87, first made an impact. Later in the ballet she is seen as a warm and inviting vision, her long white veil blowing in the wind. In a few minutes, Charisse's film persona is encapsulated – at first cold and aloof, later melted by the love of the right man.
In Vincente Minnelli's The Band Wagon (1953), she is the supercilious ballet dancer to Fred Astaire's hoofer until they dance together sublimely to Dancing in the Dark. In the same movie, The Girl Hunt Ballet featured two faces of Charisse, dark-haired and tough, or blonde and vulnerable. As Astaire says in the pastiche private-eye narration: "She came to me in sections. She had more curves than a scenic railway." In Silk Stockings (1957), she is the stern Russian commissar who gives in to Astaire's American charms, and in It's Always Fair Weather (1955), she is haughty and patronising to gambler Kelly until he corrects her Shakespeare.
Charisse (her brother called her Sid when trying to say sister) was born Tula Ellice Finklea in Amarillo, Texas. Her mother was a ballet fan who made her daughter take lessons from the age of eight. While still in her teens, she joined Colonel de Basil's Ballet Russes de Monte Carlo and worked with David Lichine and Leonid Massine, using the names Felia Sidorova and Maria Istomina. In 1939, she married her former dance instructor, Nico Charisse, during a tour of Europe. On their return, they opened a dancing school together in Hollywood.
In 1943, Lichine asked her to appear in her first movie as a ballet dancer in Something to Shout About, in which she is credited as Lily Norwood. The same year, she appeared as a Bolshoi dancer in Mission to Moscow. This led to her signing a seven-year contract with MGM, for whom she made the majority of her movies.
With little hint of the sexiness that characterised her appearances just a few years later, Charisse was first seen smiling prettily and pirouetting through a number of dance cameos in Ziegfeld Follies (1946) – in the opening number, Meet the Ladies, with Astaire – and in Till the Clouds Roll By (1946), dancing with Gower Champion to Smoke Gets in Your Eyes. Crooner Tony Martin also appeared in the latter, whom Charisse would marry two years later. She had her first speaking role in The Harvey Girls (1946), in which she performed a charming number, It's a Great Big World, with Judy Garland and Virginia O'Brien, all wearing nightdresses.
Because of what MGM considered her Latin looks, Charisse was paired with Mexican-born Ricardo Montalban in five films, notably supporting swimming star Esther Williams in Fiesta (1947) and On an Island With You (1948), in which they performed vigorous Mexican dances. They also enlivened the lame Frank Sinatra vehicle The Kissing Bandit (1948) with the excitingly-staged Dance of Fury, which was added after the film's completion.
Charisse's classical ballet training was to the fore in The Unfinished Dance (1947), choreographed by Lichine, in which vicious child Margaret O'Brien has a crush on her and plans to advance her idol's career as a prima ballerina by causing an accident to her rival.
After Singin' in the Rain, Charisse was given co-star billing for the first time in The Band Wagon. Her first pas de deux with Astaire, in the nocturnal setting of Central Park, recalls the best of the Astaire-Ginger Rogers duets. However, although she regarded Astaire as the "most perfect gentleman I have ever known", he later recalled that of all his dance partners, she was the heaviest, and he came to dread the lifts.
Yet their second pairing in Silk Stockings worked like a dream. In the number Paris Loves Lovers, they blissfully glide to "the urge to merge with the splurge of the spring", as Cole Porter's lyrics put it. Even as the caricature Soviet commissar, Charisse, with severe hairstyle and little makeup, and in a relatively drab dress, hots up the cold war in The Red Blues. In a solo dance in her Paris hotel, she strips off her heavy, green velvet dress and black woollen stockings, dons silk and satin underwear, silver high-heel shoes, diamond earrings and a frivolous Paris hat. Clothes have transformed her into the incarnation of capitalist glamour.
Macho Kelly meets his match in Charisse in It's Always Fair Weather, when he complains that she takes away his "male initiative" by being able to recite the names of all the heavyweight boxing champions. She also shows some nifty footwork in a boxing ring dance while being praised by a chorus of pugilists who sing Baby You Knock Me Out. In contrast, in Minnelli's Brigadoon (1954), she was the lovely Scots lass "waiting for my dearie", who comes in the shape of American tourist Kelly, romancing her as they dance through The Heather on the Hill. Charisse, who made a good shot at a Scottish accent, always had her songs dubbed.
With the decline of the musical, she took on a number of straight, dramatic parts such as in Twilight for the Gods (1958), an action picture with Rock Hudson; Two Weeks in Another Town (1962) as Kirk Douglas's promiscuous ex-wife; and in Party Girl (1958), where she at least had a chance to dance in a leopardskin dress. But as her body was far more eloquent than her voice or face, she began to appear rarely on the big screen, although she continued to play several roles in TV series.
In 1976, she teamed up with Martin in a series of nightclub revues, and the couple wrote a dual autobiography called The Two of Us. Charisse's belated Broadway debut was in 1992 in the musical Grand Hotel, when she played another role made famous by Garbo, an ageing ballerina in 1920s Berlin. In 1996 she went into business, marketing Arctic Spray, a formula she developed with a chemist after trying unsuccessfully to find a product to ease her mother's arthritis pain.
She is survived by Martin and their son, and a son by her first marriage.
· Cyd Charisse (Tula Ellice Finklea), dancer and actor, born March 8 1921; died June 17 2008
The above "Guardian" obituary can be accessed online here.