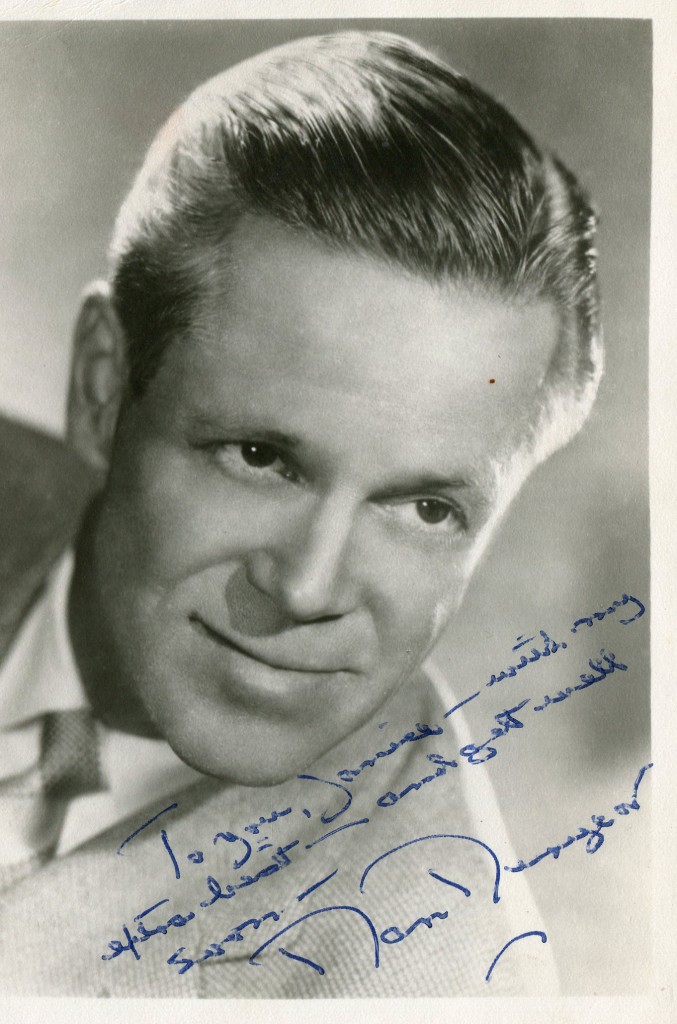 Dan Duryea was , like Zachary Scott, one of the great villians of film.   He was born in White Plains, New York in 1907.   He came to film with "The Little Foxes" in 1941 with Bette Davis, Patricia Collinge and Teresa Wright.   Some of his other great films are "The Pride of the Yankees", "Scarlet Street", "The Woman in the Window" and "Criss Cross".   He died in 1968.
Gary Brumburgh's entry:
Dan Duryea was definitely the man you went to the movies for and loved to hate. His sniveling, deliberately taunting demeanor and snarling flat, nasal tones set the actor apart from other similar slimeballs of the 1940s and 1950s. From his very first picture, the highly acclaimed The Little Foxes (1941), in which he portrayed the snotty, avaricious nephew Leo Hubbard who would easily sell his own mother down the river for spare change, the tall, lean and mean Duryea became a particularly guilty pleasure, particularly in film noir, melodramas and westerns.
Born in White Plains, New York, on January 23, 1907, the son of a textile salesman, Dan expressed an early interest in acting and was a member of his hometown high school's drama club. Majoring in English at Cornell University and president of his university's drama society, he abruptly changed the course of his career after deciding that the advertising business was perhaps a more level-headed pursuit. The frantic pace in such a cutthroat field, however, unexpectedly triggered a mild heart attack in his late 20s, and he gave it all up to return to his first love–acting. In the long run…all the better for filmgoers.
Following some summer stock experience, Duryea made his Broadway debut in a bit part in the Depression-era play "Dead End" in 1935. He progressed to the leading role of Gimpy later in the show's year-long run and never looked back. It was his yellow-bellied varmint in Broadway's "Missouri Legend" in 1938 that led to his delicious assignment as nephew Leo in "The Little Foxes" starring Tallulah Bankhead the following year. Playing the part for the entire Broadway run, he then capped it off by joining the national tour. Fortunately, when Samuel Goldwyn bought the film rights, Duryea was not excluded and the actor made his highly auspicious film debut in The Little Foxes (1941) with Bette Davis replacing Ms. Bankhead as the mercurial Regina.
Broadway became a distant memory for Dan following his move to 1940s film. In fact, he never returned. Seldom venturing into the "nice guy" arena either, audiences continued to revel in his perpetual mean streak and waited anxiously for his character to receive his comeuppance by the end of the reel, whether by gunshot, poison or even the electric chair. Co-starring in "A"-quality films at the onset, he played a henchman in Billy Wilder'sBall of Fire (1941) opposite Gary Cooper, then played Cooper's nemesis again as both a snide reporter in The Pride of the Yankees (1942) and as a gunslinger who takes pot shots at him in Along Came Jones (1945). He continued to harass other stars too, none more so than Edward G. Robinson in the dark and superb Fritz Lang films The Woman in the Window (1944) (again a blackmailer) and Scarlet Street (1945) (an art forger).
He signed with Universal at the peak of his villainy, but the post-WWII move resulted in a lack of quality films. More often than not he found himself mired in such "B" grade outings as Black Bart (1948) and River Lady (1948). His talents were blighted in light comedy as well, as in the case of his starring butler role in The Swindlers (1946), where he is somewhat overshadowed by Ella Raines and William Bendix.
"Once a scoundrel, always a scoundrel" was his motto. He redeemed his unsavory worth somewhat with fine work in Another Part of the Forest (1948), this time playing Oscar Hubbard in a prequel to "The Little Foxes", and in Criss Cross (1949), where he gets to off both Burt Lancaster and Yvonne De Carlo.
While most of Duryea's 1950s films were considered average, more sympathetic roles surfaced for him in the form of Chicago Calling (1951), Thunder Bay (1953), Battle Hymn(1957) and Kathy O' (1958). The 1950s also saw a noticeable move towards TV. This included his own brief series China Smith (1952) / The New Adventures of China Smith(1954), along with guest appearances on such popular series as Wagon Train (1957). He received an Emmy nomination in 1957 for one of his rare "nice guys" in an episode ofGeneral Electric Theater (1953).
Duryea's celluloid reputation as a heel did not extend into his personal life. Long married (from 1932) to Helen Bryan and a family man at heart (he was once a scoutmaster and PTA parent!), he had two children. One of them, Peter Duryea became an actor for about a decade in the mid-'60s; father and son, in fact, appeared together in the western filmsTaggart (1964) and The Bounty Killer (1965). A second son, Richard, became a talent agent.
Duryea found the pickings slim in his final years and even went overseas to drum up some work in European low-budgeters, including "spaghetti westerns." In 1967 he appeared in Winchester 73 (1967), a made-for-TV remake of one of his more popular 1950s western films, Winchester '73 (1950). His last acting work came in the recurring form of shady conman Eddie Jacks on the popular night-time soap serial Peyton Place(1964).
Wife Helen died in January of 1967 of heart problems and Dan followed her to the grave a year later at age 61 after being diagnosed with cancer. They were buried in Forest Lawn Cemetery in Los Angeles.
– IMDb Mini Biography By: Gary Brumburgh / gr-home@pacbell.net