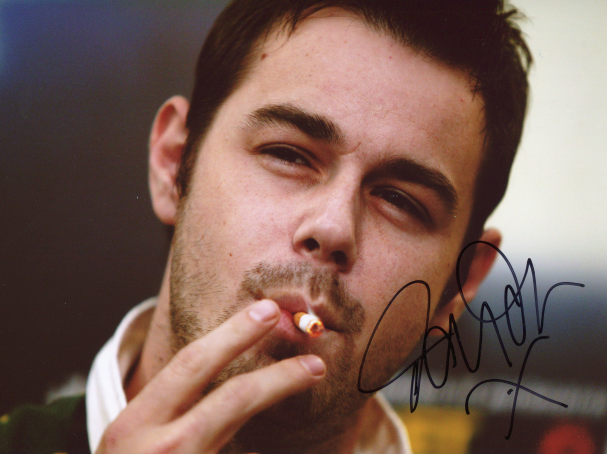 Danny Dyer is a brilliant British actor who seems to have cornered the market in playing hard young urban types with a penchant for violence. It would be good to see him in a different role, perhaps a university college professor with left-wing tendencies who is launching a campaign to save the trees in the New Forest. He was born in 1977 in Canning Town in London. He began his career at the age of sixteen in televisions "Prime Suspect 3" in 1993. His first film role was in 1999 in "Human Traffic". Other film roles include "The Mean Machine", "The Football Factory" and "The Borstal Boy, He has enormous screen presence and he should become one of the leading lights of cinema.
Interview with Danny Dyer here.
TCM Overview:
Football fanatic and working-class lad, Danny Dyer is also one of the most recognizable young actors in Britain. He began his career at the age of 16 after being scouted by a talent agent, appearing on numerous television shows during the â¿¿90s. His breakthrough role came in 1999 as Moff in Justin Kerriganâ¿¿s film romp through British club culture, "Human Traffic." The following year, Dyer found himself among some of the most highly regarded British actors with a role in the prison comedy "Greenfingers." In 2001, Dyer began his collaboration with Nick Love, the drama "Goodbye Charlie Bright" appeared in "The Football Factory," about football hooligans. The latter allowed Dyer to express his personal fandom, making him one of football cultureâ¿¿s most recognized fanatics. Capitalizing on this successful role, Dyer became the host of the Bravo documentary series "The Real Football Factories" and "Football Hooligans International" in 2007. Interestingly, his next film with Love, gangster flick "The Business," was followed by another Bravo documentary series, "Danny Dyerâ¿¿s Deadliest Men," about the British crime underworld.
The above TCM Overview can also be accessed online here.