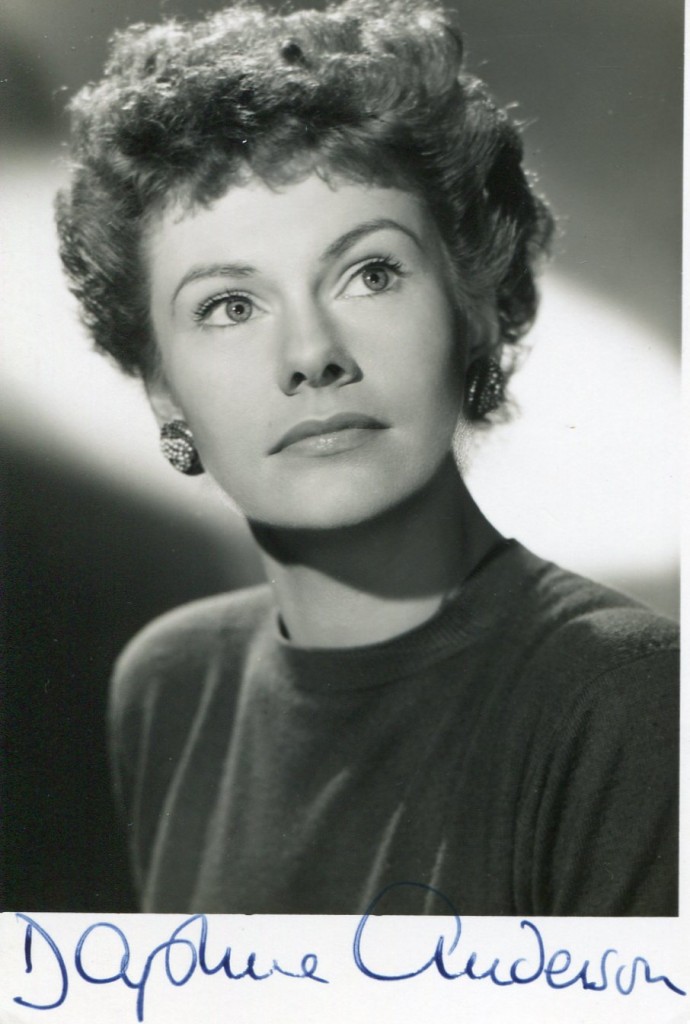 Daphne Anderson was born in 1922 in London. Her film debut came with "Trottie True" in 1949 which starred Jean Kent. Ms Anderson's films include "Hobson's Choice", "A Kid for Two Farthings", "The Prince and Showgirl" with Laurence Oliver and Marilyn Monroe and "No Time for Tears" with Anna Neagle. In 1965 she starred with John Gregson in the popular television series "Gideon's Way". She died in 2012.
Her obituary in "The Stage":
Having taken dancing classes, she made her professional debut as a member of the chorus in Cinderella at the Richmond Theatre in 1937-38. Later in 1938, she appeared at the Windmill Theatre in Revudeville, the non-stop variety show that featured tableaux of nude young women whom the law prevented from moving while on stage.
Her first substantial role was Dora in a tour of the Gershwins' musical Funny Face. During the Second World War, she worked for the Entertainment National Services Association, the organisation set up to entertain the troops. Towards the end of the war, she began a long association with the Players Theatre, the ersatz music hall club underneath Charing Cross station.
In 1943, she appeared in a musical adaptation of Alice in Wonderland, playing both Father William and the walrus at the old Scala Theatre. Two years later, she was in a rather more upmarket revue than Revudeville – Noel Coward's Sigh No More at the Piccadilly, in which she played the clairvoyant, Madame Arcati, in the Blithe Spirit Ballet.
Coward was evidently sufficiently impressed with her to give her a small part in Pacific 1860, his musical about a British colony set in Victorian times, at Drury Lane (1946-47).
After a revue at Bolton's, a small theatre club in South Kensington, she returned to the West End to appear in a long forgotten Eric Maschwitz musical, Belinda Fair (1949). More work at the Players and another small theatre club, the Watergate, followed. She then landed the best role of her career, playing Polly Peachum in the Brecht/Weill musical, The Threepenny Opera (1956), at the Royal Court. The Stage commended her for exhibiting "the right blend of coarseness and charm".
Her cinema career, which began in 1949, included three films of note – The Beggar's Opera (1953), Hobson's Choice (1954) and A Kid for Two Farthings (1955).
Daphne Anderson, who was born Daphne Scrutton on April 27, 1922, died on January 15, aged 90.
"The Stage" obituary can also be accessed online here.