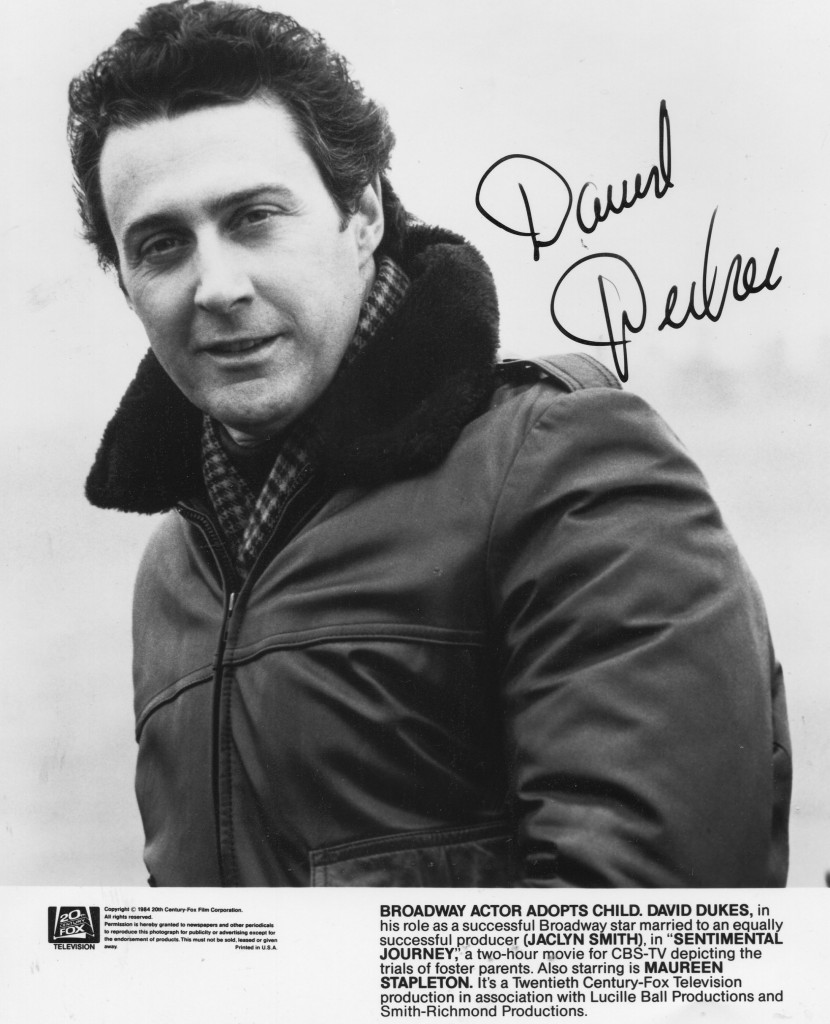 David Dukes. TCM Overview.
David Dukes was a very reliable young character actor who was born in San Francesco in 1945. He is best remembered for his role as 'Leslie Slote' in the dual television miniseries "The Winds of War" and "War and Rememberance". He also played major roles onstage in such plays as "Dracula", "Amadeus", "M Butterfly" and "Bent". His first film was "The Strawberry Statement" in 1970. Among his other films were "Without a Trace" and "Gods and Monsters". He died suddenly of a heart attack while on location making the TV film "Rose Red" . Tribute to David Dukes by his wife can be accessed here.
TCM Overview:
This classically-trained American repertory actor has gone on to a busy career as a leading man in Broadway shows, TV and films. Since the 1970s, David Dukes has often played diplomats, surgeons and other high-powered professionals and bluebloods. He is particularly remembered for his portrayal of low-level career diplomat Leslie Slote, who finds inner courage, in the ABC miniseries based on the Herman Wouk novels "The Winds of War" (1983), and "War and Remembrance" (1988). Dukes also spent three seasons as the wealthy doctor husband of Swoosie Kurtz's Alex on the NBC drama series "Sisters." seasons of the NBC series "Sisters."
The son of California highway patrolman, the handsome, dark-haired actor trained at the American Conservatory Theatre and had appeared in 37 professional productions before making his Broadway debut at age 25 in Moliere's "School for Wives." Dukes' subsequent Broadway work has included playing Horst, a gay concentration camp inmate who dares to love a fellow prisoner (Richard Gere) in Martin Sherman's "Bent" (1979), succeeding Ian McKellen as Salieri in Peter Shaffer's award-winning "Amadeus" (1982) and replacing John Lithgow as the diplomat protagonist of David Henry Hwang's "M. Butterfly" (1988).
Dukes made his TV debut as the son of a wealthy Irish-American family in "Beacon Hill" (CBS, 1975), a lavish soap set in the 1920s. His subsequent TV credits of note include "Harold Robbins' '79 Park Avenue'" (NBC, 1977) as immigrant Mike Koshko, "Mayflower: The Pilgrim's Adventure" (CBS, 1979), as Miles Standish, "Portrait of a Rebel: Margaret Sanger" (CBS, 1980), as the husband of the pioneer for contraceptive rights, "Sentimental Journey" (CBS, 1984), as clothing manufacturer Levi Strauss, "The Josephine Baker Story" (HBO, 1991), as orchestra leader Jo Bouillon, the husband of the celebrated music hall performer, and the Emmy-winning "And the Band Played On" (HBO, 1993), as a medical researcher.
In 1996, he played playwright Arthur Miller in the HBO film "Norma Jean & Marilyn." His most notorious TV guest shot came in 1977 on a special hour-long episode of "All in the Family" wherein he played a would-be rapist who detains Edith (Jean Stapleton) at gunpoint in her living room while friends and family await her at her 50th birthday party. Dukes also worked in the Norman Lear stable in the short-lived 1977 syndicated serial "All That Glitters," playing a male-rights activist (the series reversed gender power). More recent TV series have not proven successful, nor given Dukes roles through which he could shine. He was husband to Marilyn Kentz in the short-lived bomb "The Mommies" (NBC, 1993), and in 1997 was father to Pauly Shore on the equally short-lived Fox sitcom "Pauly."
In feature films, Dukes had a rare lead role in "The First Deadly Sin" (1980), as a psychotic killer pursued by detective Frank Sinatra. He was Kate Nelligan's estranged husband in the missing child drama "Without a Trace" (1983), and Marsha Mason's playwright former lover in "Only When I Laugh" (1981). Dukes played a stiff college professor in "The Men's Club" (1986), a poorly received talkfest about a men's encounter group and was Alice Krige's pianist husband in "See You in the Morning" (1989). Most of his 90s credits have been in direct-to-video releases, except for "Fled" (1996), in which he played a prosecuting attorney and 1998's "Gods and Monsters" which featured him as the lover of famed early Hollywood horror director James Whale.
The above TCM Overview can also be accessed online here.