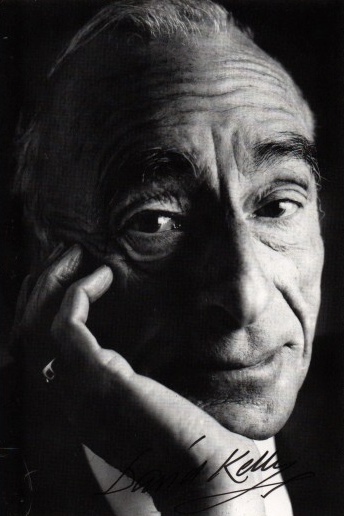 David Kelly obituary in "The Guardian" in 2012
David Kelly had a long theatrical career before he starred in some early RTE television series. In 1980 he scored a personal triumph with his moving portryal of Rashers Tierney in the series "Strumpet City" based on the novel by James Plunkett. He starred as the one-armed dish washer in "Robin's Nest" and of course was O'Reilly the Irish builde in the wonderful "Fawlty Towers". His prominence on film came late in his career with "Waking Ned Devine" and "Charlie and the Chocolate Factory". David Kelly died in Feb 2012 at the age of 82.
"Guardian" obituary:
The distinctive and beguiling Irish actor David Kelly, who has died aged 82, was as familiar a face in British television sitcoms as he was on the stage in Dublin, where he was particularly associated with the Gate theatre. But he was perhaps best known in recent years for playing Grandpa Joe in Tim Burton's movie adaptation of Roald Dahl's Charlie and the Chocolate Factory (2005), an engaging performance that was honoured with a lifetime achievement award from the Irish Film and Television Academy; Johnny Depp, who played Willy Wonka, paid a touching tribute on a video link from Hollywood to Dublin.
Kelly was a tall and flamboyant figure who was often cast as a comic, eccentric Irishman, notably as Albert Riddle, an incompetent, one-armed dish-washer in the late 1970s British sitcom Robin's Nest; he could always play up to stereotype, and beyond, in his extravagant facial and physical gestures. Despite playing old codgers, he was one of life's great dandies. His actor friend Niall Buggy said: "He was the best-dressed actor I've ever known – even when I look at myself." Happily married to the actor Laurie Morton, whom he met at the Gate theatre in the days of Hilton Edwards and Micheál Mac Liammóir (they founded the theatre in 1928), Kelly was always attired off stage in hand-stitched shirts, Jermyn Street suits and a trademark bow tie.
His career spanned over 50 years, and he never considered retirement. Equally, he would never accept a role unless he felt he could add something unique and personal to it. "He was the gentleman of our profession," said Michael Colgan, the Gate theatre director. But there were also wilderness years dedicated to drink. He told Colgan that he had no idea that President John F Kennedy had been assassinated until about 1974.
A Dubliner, he was educated at the Synge Street Catholic boys' school and acted from the age of eight at the Gaiety theatre. His stage work included plays by Chekhov and Brian Friel; he made a rare excursion to the Abbey theatre in Friel's Give Me Your Answer, Do! (1997), a wonderful play about the evaluation of writers and the personal crisis of a creative artist. But he was most celebrated at the Gate, where he returned in the 1990s to play Orgon in Molière's Tartuffe, Peter in Thomas Kilroy's version of Chekhov's The Seagull and, most famously, Al Lewis opposite his close friend Milo O'Shea in Neil Simon's The Sunshine Boys in 1996. That last production is still spoken of with awe in Dublin theatre circles, but he dug even deeper in a great performance of Beckett's solo memory play, Krapp's Last Tape – which he had first played at its Irish premiere in 1959 – and made this revival a cornerstone of the Gate's Beckett festival in 1991; it was later seen in New York, Chicago and Melbourne.
Although he was always strangely noticeable in mediocre 1970s sitcoms such as Oh, Father! (with Derek Nimmo) – and played a hapless builder, O'Reilly, in the second episode of Fawlty Towers – he distinguished himself, and first endeared himself to a television audience, in RTÉ's 1980 series Strumpet City, based on James Plunkett's novel about the Dublin lock-out, also starring Peter O'Toole, Cyril Cusack and Peter Ustinov. He played "Rashers" Tierney, the colourful basement dweller, and counted the role his favourite (alongside Krapp). He maintained his popularity in two long-running television soaps both set in fictional villages in County Wicklow: Glenroe, the first RTÉ series to be shown (from 1991) with Irish subtitles, and the BBC's Ballykissangel, screened from 1996 to 2001. Kelly worked consistently in films from 1969, when he played the vicar in a funeral scene in The Italian Job, starring Michael Caine. He appeared again with Caine in Terence Young's spy movie The Jigsaw Man (1984).
His most notable film appearances in the 1990s were in two delightful Irish movies: Mike Newell's Into the West (1992), scripted by Jim Sheridan, with Gabriel Byrne and Ellen Barkin, in which he played an old storyteller in a community of travellers; and Kirk Jones's Waking Ned (1998) in which, with his best friend, played by Ian Bannen, he engineered a small village's response to an unexpected lottery windfall and set about fooling the claims inspector. He also boasted of becoming an overnight sex symbol as he went naked on a motorbike.
He appeared with Kevin Spacey in the Irish crime caper Ordinary Decent Criminal (1999), and with Helen Mirren and Clive Owen in Greenfingers (2000). Kelly's last major movie appearance was in Matthew Vaughn's Stardust (2007).
He is survived by Laurie and their children, David and Miriam.
• David Kelly, actor, born 11 July 1929; died 12 February 2012
His obituary in "The Guardian" by Michael Coveney can also be found online here.