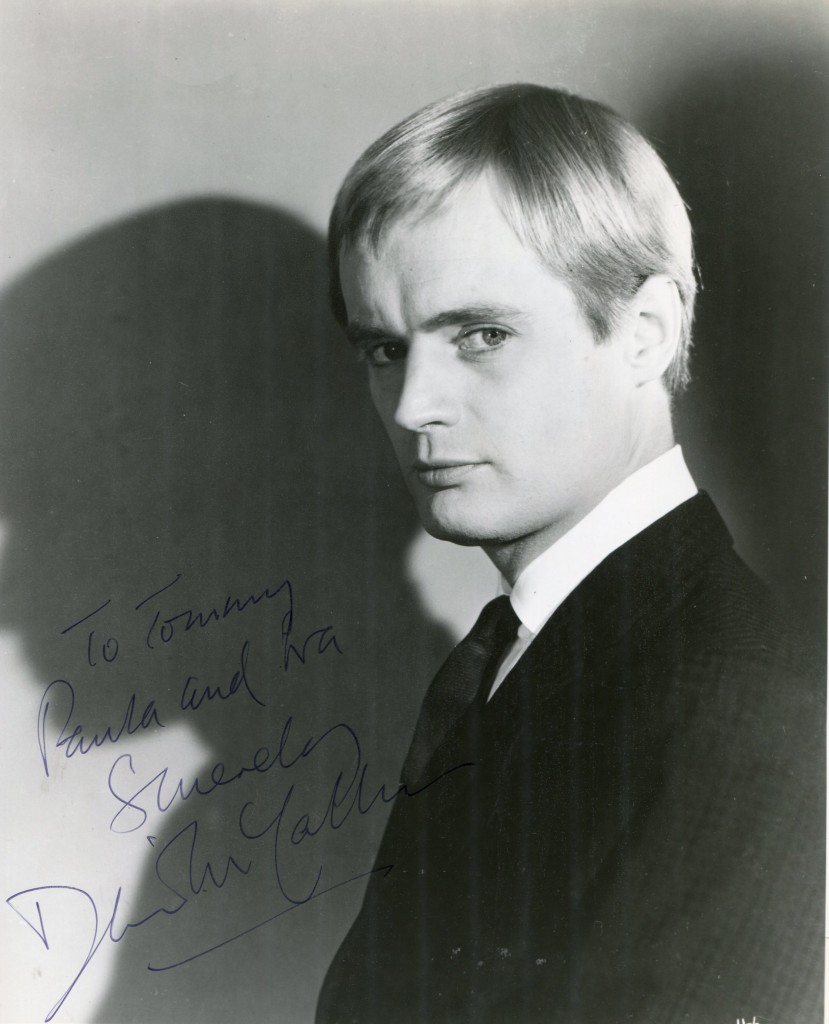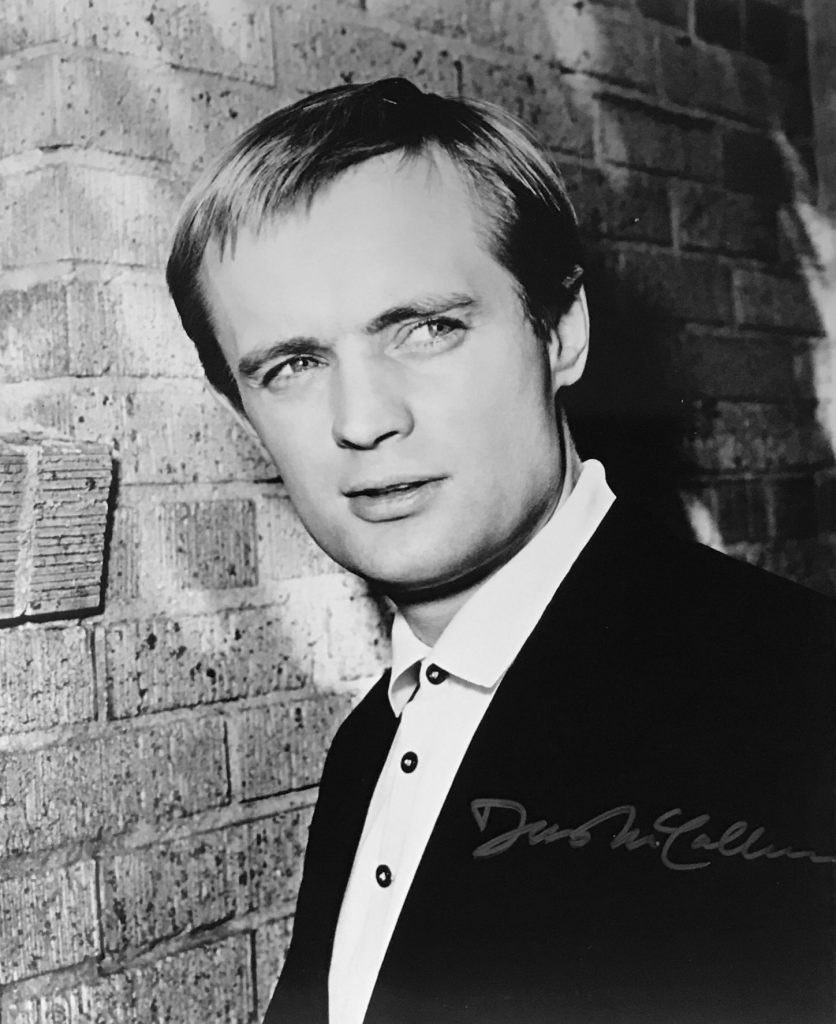 David McCallum. TCM Overview.
David McCallum was born in 1933 in Glasgow. He began his career in British films in the 1950's usually as a skinny sullen juvenile deliquent.In the early 1960's he went to Hollywood and very soon became enourmously in the television series "The Man from Uncle". He has since gone on to have a very lenghty career on television in the United States. His films include "A Night to Remember", "Robbery Under Arms" and "The Great Escape". Interview with David McCallum here.
TCM Overview:
A thoughtful, intense presence on television in America and his native United Kingdom, David McCallum was a pop culture sensation in the mid-1960s as the suave spy, Illya Kuryakin, on "The Man from U.N.C.L.E" (CBS, 1965-68) and later as the avuncular Donald "Ducky" Mallard on "NCIS: Naval Criminal Service Investigation" (CBS, 2003). The Scottish-born McCallum worked his way up the ranks in British film and television before bursting onto the American scene with "U.N.C.L.E." His cool charm and blonde good looks made him an immediate TV idol, but failed to translate into stardom after the show left the air. McCallum settled into a steady diet of TV appearances on both sides of the Atlantic, frequently essaying mellowed professorial types or pensive government figures, before scoring his late-inning smash with "NCIS." The rare performer with two major hits to his credit, McCallum's image and talent ensured his fame for generations of TV fans.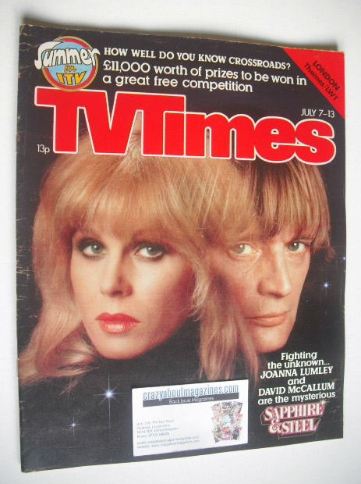 Born David Keith McCallum, Jr. in Glasgow, Scotland on Sept. 19, 1933, he was the son of David McCallum, Sr., the famed principal violinist for numerous orchestras in the United Kingdom, including the Royal Philharmonic Orchestra, and cellist Dorothy Dorman. Both parents encouraged McCallum and his brother Iain, who later became a novelist, to pursue their chosen fields; for McCallum, this was initially the oboe, which he studied at the Royal Academy of Music. But when a performance from Shakespeare's "King John" at a local theater group yielded a positive response from its audience, he switched his focus to acting while keeping music as a secondary interest. After studying at the Royal Academy of Dramatic Arts, he made his debut in a 1946 BBC Radio production of "Whom the Gods Love, Die Young." Bit and supporting roles in British features and on television soon followed, often as troubled youth, as benefiting his brooding intensity. Among his more notable turns during his period was in 1958's "Violent Playground," where his psychotic gang member is spurred by poverty and rock and roll to take a classroom of school children hostage.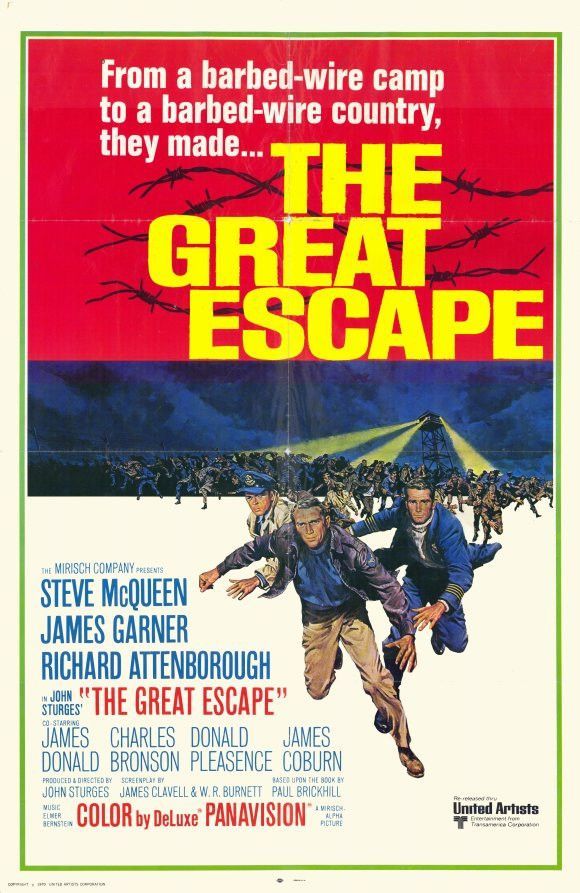 McCallumâ's American film debut came as the mother-fixated Carl von Schlosser in John Huston's "Freud" (1962), with Montgomery Clift as the pioneering analyst. The following year, he played Royal Navy Officer Ashley-Pitt, who devised the method of dispersing the dirt from tunnels dug under a POW camp in "The Great Escape" (1963). His co-star in the film, Charles Bronson, later became entangled in a headline-grabbing relationship with McCallum's wife, actress Jill Ireland. McCallum and Ireland eventually divorced in 1967, which allowed her to marry Bronson. An early American television appearance on "The Outer Limits" (CBS, 1963-65) became one of his most enduring, thanks to the eye-popping makeup applied to McCallum. His character, a bitter Welsh miner, agreed to take part in an evolutionary experiment, which turned him into a hyper-intelligent mutant with a massive domed cranium. The image was memorable enough to make McCallum a go-to for numerous science fiction efforts in the ensuing decades.
In 1964, McCallum was cast as Illya Kuryakin, a minor character on the spy series "The Man from U.N.C.L.E." Despite having only two lines, the producers saw that McCallum and star Robert Vaughn had considerable chemistry together, and boosted the character to co-star status. The move changed McCallum's career forever. Kuryakin's cool demeanor, physical proficiency with any weapon, and passion for art, music and science not to mention his wealth of blonde hair made him an immediate favorite among female viewers, whose fan mail to the actor was the most ever received in the history of MGM, which produced the show. For the series three years on the air, McCallum was at the apex of television stardom, and netted two Emmy nominations and a Golden Globe nod, as well as major roles in several films. He was the tormented Judas in George Stevens's epic Biblical drama "The Greatest Story Ever Told" (1965), and took the lead in a number of minor features, including 1968's "Sol Madrid" and "Mosquito Squadron" (1969), many of which traded on McCallum's popularity in "U.N.C.L.E." by casting him in action-oriented roles. During this period, McCallum also orchestrated and conducted a trio of lush, sonically adventurous records that put unique spins on some of the period's more popular songs.
In the 1970s, McCallum was a fixture on television in both America and England. In the States, he was a staple of science fiction and supernaturally-themed TV features, including "Hauser's Memory" (NBC, 1970), as a scientist who injected himself with a dying colleagues brain fluid to preserve defense secrets from foreign agents, while "She Waits" (CBS, 1972) cast him as the husband to a possessed Patty Duke. He also briefly returned to series work with "The Invisible Man" (NBC, 1975-76) as a scientist who used his invisibility formula to aid a government agency against evildoers. His work in England hewed more towards dramatic fare: in "Colditz" (BBC, 1972-74), he was an aggressive RAF officer who put aside his anger towards the Nazis to help organize an escape from a notorious German war prison, while in "Sapphire & Steel" (ITV, 1979-1982), he and Joanna Lumley played extraterrestrial operatives who investigated strange incidents involving the time-space continuum. In 1983, he reunited with Robert Vaughn for "The Return of the Man from U.N.C.L.E." (CBS), which saw Illya retired from espionage to design womenâ¿¿s clothing in New York. The escape of a top enemy spy brings both U.N.C.L.E. men back into action, albeit with other, younger agents. The TV-movie was intended as the pilot for a new version of the series, but the show was never greenlit.
After logging time on countless, unmemorable series like "Team Knight Rider" (syndicated, 1997-98) and "The Education of Max Bickford" (CBS, 2001-02), McCallum found his next hit with "NCIS," a police procedural drama about Navy investigators. McCallum played Chief Medical Examiner Donald "Ducky" Mallard, an eccentric but highly efficient investigator with a knack for psychological profiling. A close confidante to Mark Harmon's Jethro Gibbs, he served as father confessor and paternal figure for the show's offbeat cast of characters. The show's slow-building popularity brought McCallum back to a television audience made up in part of the children of viewers who sent him fan letters back in the "U.N.C.L.E." days, granting him a rare burst of second stardom.
The TCM Overview can also be accessed online here.