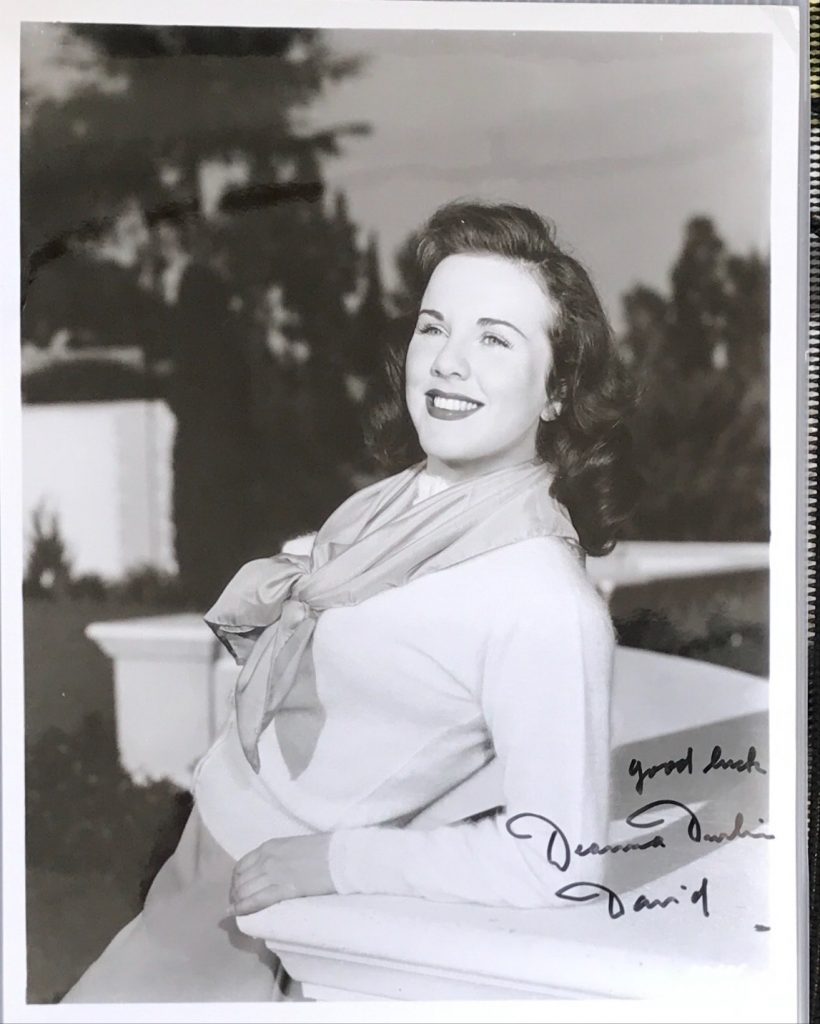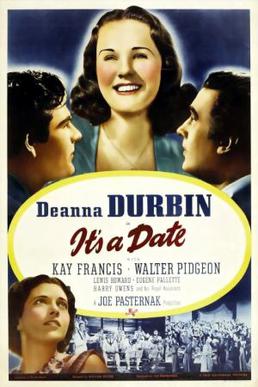 Deanna Durbin was one of the most popular film stars of the 1940's and is credited with saving the fortunes of Universal Studios.   She was born in Winnipeg, Canada in 1921.   She made her first film for that studio "Three Smart Girls" in 1936.   Her unique singing voice made her very popular and she had a string of very popular movies over the next dozen  years.   Some of her movies are "The Amazing Mrs Holliday" in 1943, "Christmas Holiday" and "Up in Central Park" in 1948.   That same year she made her final film "For the Love of Mary".   At the age of 27 she retired after her marriage and went to live in France where  remained until her death in 2013.
Michael Freedland's obitury of Deanna Durbinin "The Guardian":
When a teenage Deanna Durbin appeared on screen in the 1930s, wearing a decorous white dress with her hands clasped together, singing with a bell-like purity, audiences sighed contentedly. And so did film and music executives. In the days when child stars were wholesome, Durbin was everyone's idea of the perfect girl next door, and she was a huge money-spinner. Audiences flocked to see her musical comedies and, after she had trilled numbers such as It's Raining Sunbeams (in the film One Hundred Men and a Girl, 1937), Home Sweet Home (in First Love, 1939) and Waltzing in the Clouds (in Spring Parade, 1940), her fans queued to buy the latest record bearing her name.
Durbin, who has died aged 91, was the antithesis of the Hollywood glamour girl – which made her the kind of star that teachers liked to offer as an example to their students. Her films were tailored to fit both her personality, which made the word "vivacious" seem like an understatement, and her singing voice, which was feminine, sweet, mature beyond her years and extraordinarily powerful.
In 1939, Durbin, aged 17, and her fellow child star Mickey Rooney were awarded special Oscars "for their significant contribution in bringing to the screen the spirit and personification of youth and, as juvenile players, setting a high standard of ability and achievement". Ten years and fewer than 20 films later, she suddenly announced her retirement from show business.
She was born Edna Mae Durbin in Winnipeg, Canada. Her parents took her to live in California when she was a baby. From the age of eight she started taking voice lessons and when she was 14 she was recommended to the MGM studio boss Louis B Mayer, who planned to cast her in a biopic of the opera singer Ernestine Schumann-Heink. She was due to play the diva as a child, but the film was never made.
In those days, there was a way into movies that is no longer available: the studio put her into what was called a "short subject", and allowed the public to judge. In 1936, audiences saw her in the short Every Sunday and approved; Mayer saw it and did not. Judy Garland was also featured in the film and she and Durbin sang together, but the much more gauche-looking Garland appealed more to the mogul than the prettier Durbin, who he decided was a little too womanly for what he had in min
Mayer let her go, but his notion of box-office poison was another studio's sweet success. Universal was going broke and the idea of a new star who had two very obvious advantages – she had great talent and came very cheap – was extremely tempting. Universal cast Durbin in a film called Three Smart Girls (1936), about a trio of plucky sisters determined to reunite their estranged parents. Its box-office success is generally held to have been responsible for saving the studio from bankruptcy.
The film, combined with her appearance on Eddie Cantor's radio show in 1936, announced her as a new star. In the late 1930s and through much of the 40s, Durbin was a top box-office attraction. She was prolific, too: her second film, One Hundred Men and a Girl (with an orchestra conducted by Leopold Stokowski), was followed by Mad About Music (1938), in which she played a girl with a rich imagination; That Certain Age (1938), co-written byBilly Wilder; and Three Smart Girls Grow Up (1939), a sequel to her debut feature, with the sisters this time caught up in a romantic conflict. When Durbin had her first screen kiss – with Robert Stack in First Love, a riff on the Cinderella plot – it filled columns in the American newspapers for weeks.
In It's a Date (1940), Kay Francis and Durbin played mother-and-daughter actors. The New York Times's reviewer noted a "plot which leaks at every pore" but praised "the young-girlish magic which [Durbin] is able to evoke with her pretty personality and … her phenomenal vocal cords".
Eventually, the inevitable happened: Durbin and her bosses had different ideas about what represented the right kind of vehicle. She tried very hard to shake off her girl-next-door image with films such as Christmas Holiday (1944), directed by Robert Siodmak and adapted from W Somerset Maugham's novel: Durbin and her co-star Gene Kelly were both cast against type, she as a nightclub hostess and he as a killer. Lady on a Train (1945), another film noir, also dealt with murder, but Universal did not think that changing Durbin's personality represented good business.
The conflict led to an unhappiness which was compounded by Durbin's divorce, in 1943, after two years of marriage to the film executive Vaughn Paul. Her second marriage, to the producer Felix Jackson, also ended in divorce, this time after four years, in 1949. She and Jackson had a daughter, Jessica.
The light comedy For the Love of Mary (1948) was her swansong. The Universal producer Joe Pasternak constantly tried to change her mind, but Durbin told him: "I can't run around being a Little Miss Fix-It who bursts into song – the highest-paid star with the poorest material."
In 1950, she married the producer and director Charles David, with whom she had a son, Peter. She then withdrew from show business and lived in France, closely guarding her privacy for decades. In a rare interview, given in 1983 to the film journalist David Shipman, she said: "I did not hate show business. I loved to sing. I was happy on the set. I liked the people with whom I worked and after the nervousness of the first day, I felt completely at ease in front of the camera. I also enjoyed the company of my fellow actors … What I did find difficult was that this acquired maturity had to be hidden under the childlike personality my films and publicity projected on me."
Charles David died in 1999. On 30 April, via the Deanna Durbin Society, Peter announced that she had died "several days ago".
• Deanna Durbin (Edna Mae Durbin), singer and actor, born 4 December 1921; died April 2013
The above "Guardian" obituary can also be accessed online here.
.