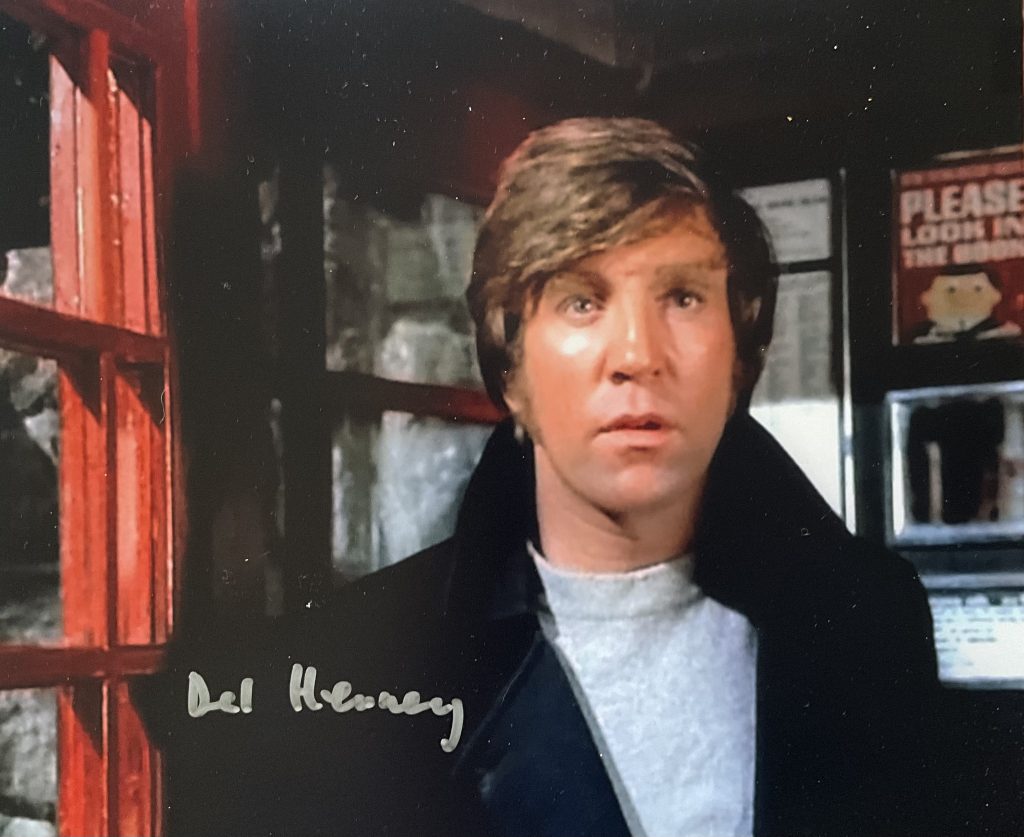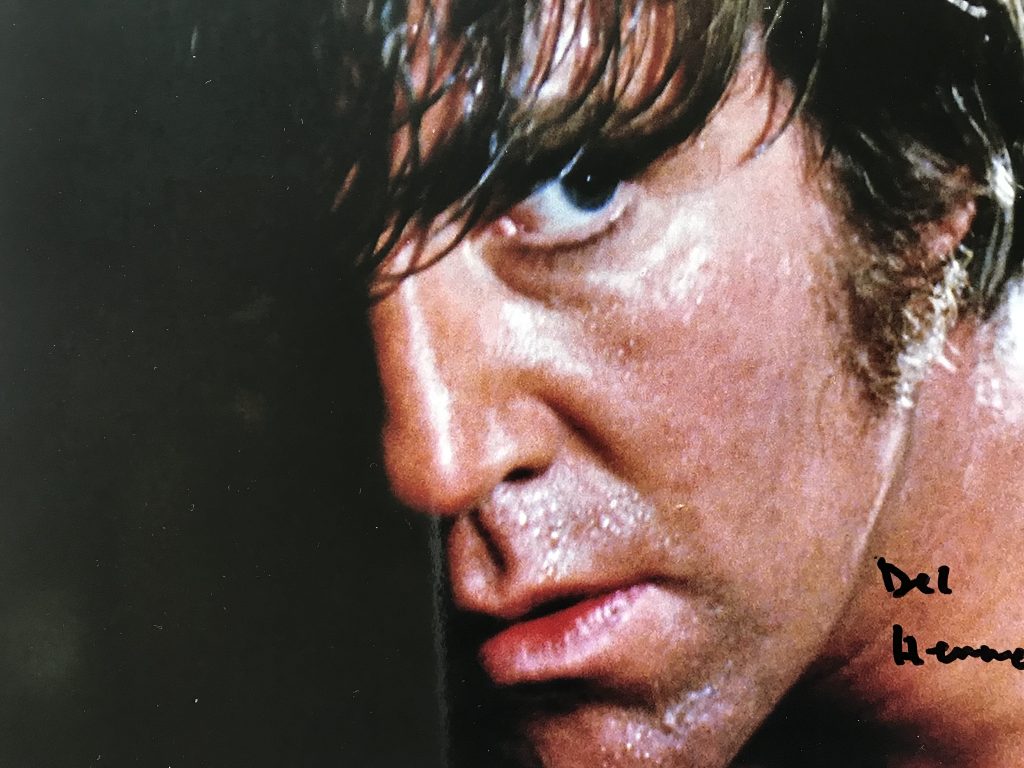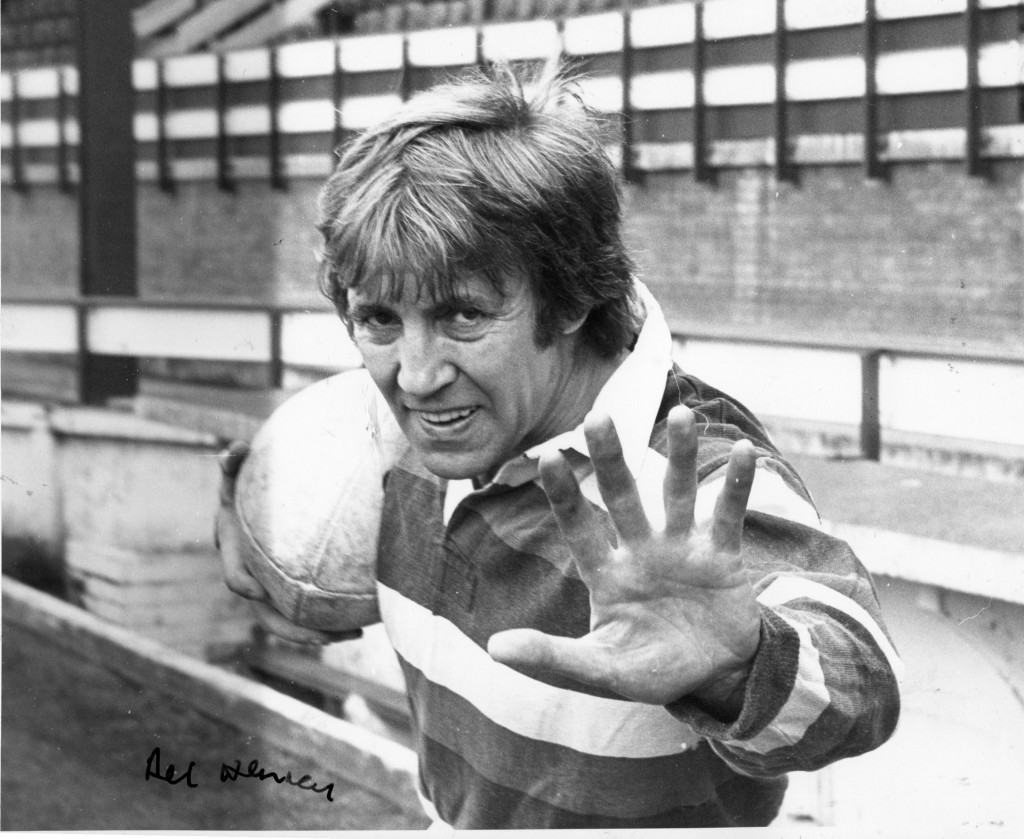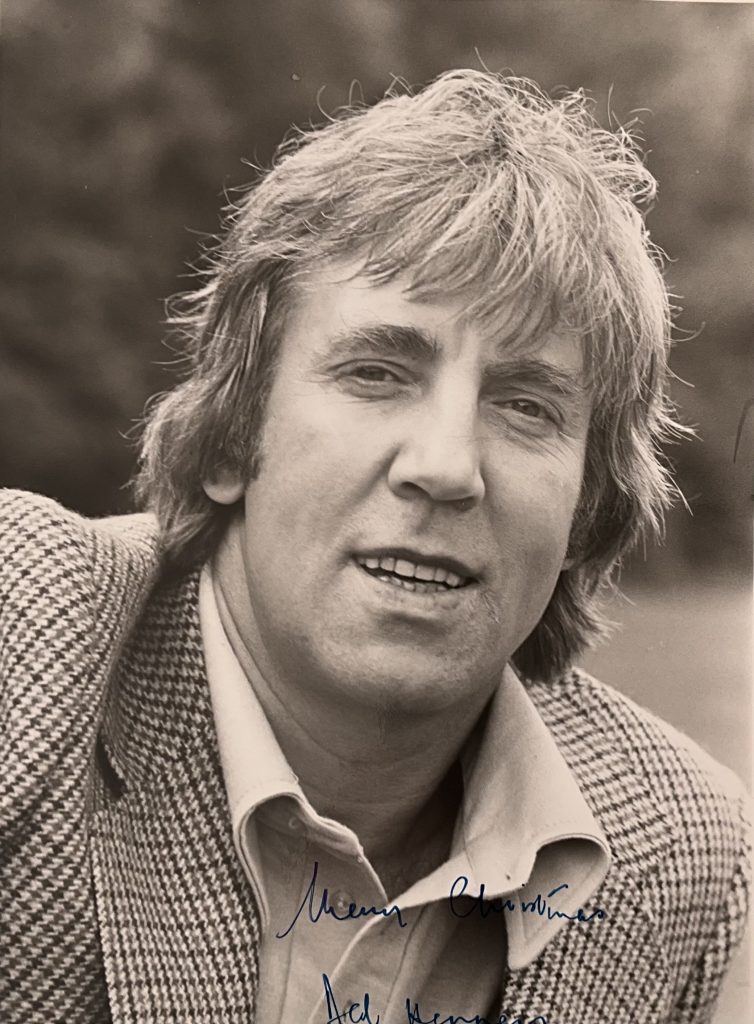 Del Henney obituary from "The Hearld in 2019.
Del Henney was born in Dublin in 1942.   He has spent most of his career working in the United Kingdom.   His most famous role was as one of the thugs in Sam Peckinpah's violent thriller "Straw Dogs".   He has made many television appearances over the years and brings great presence to the roles that he plays.   He is one of my favourite actors but I have been unable to find out any recent information about him.
.
Del Henney who has died aged 83, was a subtle, understated actor capable of projecting burning intensity whilst seemingly doing very little. His impressive screen career often found him playing roles of simmering masculinity or cold villainy.
Perhaps his most enduring role is Charlie Venner in Sam Peckinpah's violent feature film Straw Dogs (1971), in which Dustin Hoffman's ineffectual American mathematician is besieged by thuggish locals in an isolated Cornish farmhouse. The film's most controversial scene involves Venner sexually assaulting Susan George's character, Amy. Despite the encounter's violent initiation Venner's powerful masculinity ultimately stirs her enjoyment, and Henney's complex characterisation complements the film's ambiguous morality well.
Born in Anfield, Liverpool, he was educated at the Liverpool Collegiate before joining the army. He then subsidised his love of amateur dramatics with various manual jobs and it was whilst washing dishes at Butlin's that he was encouraged by a fellow employee (Jimmy Tarbuck, impressed by Henney's deft impressions of American film stars) to consider a professional acting career.
Emboldened, he won a place at the Royal Academy of Dramatic Art, and upon graduating in 1965 was awarded the medal for the student with the most potential. A middleweight with the Maple Leaf Boxing Club in Bootle in the late 1950s, his sportiness helped with early television breaks – he debuted in the football soap United (1966), starred in Colin Welland's rugby play Bangelstein's Boys (1969, directed by John MacKenzie) and had a stint in Coronation Street as Weatherfield FC's star player (1971).
He also guested in most popular television of the period, including three parts in Z-Cars (1970/72/78), two in The Professionals (1978/83) and three in Juliet Bravo (1980/82/84). He played the lead character's father in A Woman of Substance (1985) and DI Cossall in Resnick (1992/93) and popped up in everything from The Expert (1968) to Midsomer Murders (2001). He was especially memorable as a smoothly arrogant criminal in The Sweeney (1975) and an affable colonel who becomes a cold instrument of murder in Doctor Who (Resurrection of the Daleks, 1984).
Fallen Hero, about a Welsh rugby player injured at the height of his career and having to come to terms with a new life of hard work and bad luck, ran for two series (1978-79). Henney brought a sympathetic edge to the initially macho and misogynistic lead character, Gareth Hopkins. In real life, he studied for an external English degree whilst starring in the show (he had also written a play for BBC2 in 1976).
His film work was sporadic but included Villain (with Richard Burton, 1971), Going Off Big Time (2000) and Devil's Playground (2010).
The camera loved his piercing eyes and understated simmering, but he was no less effective on the stage. He had a successful stint with the Glasgow Citizens Theatre in 1965 and then played an impressive roster of roles at the Edinburgh Lyceum: Iago in Othello, Biff in Death of a Salesman, Andrei in Three Sisters and and McCann in The Birthday Party.
Other theatre highlights included the lead in John Lennon's play In His Own Words (Liverpool, 1969), Lenny in The Homecoming (Oxford, 1966), Stanley in A Streetcar Named Desire (Gate Theatre, Dublin, 1980), Claudius in Lindsay Anderson's Hamlet (Theatre Royal, Straford, 1981), and Eddie (a role he'd also played for the BBC) in A View From the Bridge (Ipswich). West End credits included The Resistible Rise of Arturo Ui (Saville Theatre, 1969) and Sleuth (Garrick Theatre, 1973).
He is survived by his partner, the actress Rosemary McHale, and children Tracy, Stella and Jack from previous relationships.
Del Henney obituary from "The Telegraph" in 2019.
Del Henney, the actor, who has died aged 83, brought a powerful machismo to the screen. He will be best remembered for a performance of understated menace as Charlie Venner, leader of a gang of marauding labourers, in Sam Peckinpah's notorious 1971 film Straw Dogs – which the director described as his "British Wild Bunch".
Dustin Hoffman starred as the quiet American mathematician David Sumner, taking a break with his English wife, Amy, played by Susan George, in the Cornish village of her childhood. But it was the central scene featuring Venner's rape of Amy – once his girlfriend – that made the biggest headlines.
The ambivalence, as Amy appears to enjoy the sex after the initial violence, further fuelled the controversy. Henney recalled: "Sam said, 'This is where it gets tender.' So I just did what I thought was tender."
This contradiction was emphasised by the rest of the sequence – missing from the film's original release – with Amy clearly not enjoying a subsequent attack by one of Charlie's gang.
For years, Straw Dogs was labelled a "video nasty" and failed to secure a certificate for home viewing. Then, in 2002, the full scene was reinstated and the British Board of Film Classification finally certified it for video and DVD.
"The ambiguity of the first rape is given context by the second rape," explained the British Board of Film Classification's official statement, "which now makes it quite clear that sexual assault is not something that Amy ultimately welcomes."
David Z Goodman's script was based on Gordon Williams's novel The Siege of Trencher's Farm, although the author claimed it was a "distortion" of the book. The second half of the film followed Hoffman's usually timorous academic seeking brutal revenge against the gang – including slashing Venner's throat with an ornamental man-trap.
Later, on television, Henney was seen as a more sympathetic character. In Fallen Hero (1978-79), he played Gary Hopkins, a rugby league player rebuilding his life after being forced to retire through injury. The challenge of finding a new job was exacerbated by that of bringing up his baby daughter alone after the break-up of his marriage.
Joseph Derek Henney was born at Anfield in Liverpool on July 24 1935, the eldest of two boys and two girls born to Joseph and May (née Wadkin), who were both of Irish origin.
On leaving Liverpool Collegiate, he worked at the city's docks until National Service with the Army in Germany. On demob, he moved to London and acted with the amateur Tower Theatre Company in Islington as he went through various jobs, from pipe-fitter's mate to transporting fireplaces.
While washing dishes at Butlin's he was encouraged to turn professional as an actor by the comedian Jimmy Tarbuck, who was impressed by his impersonations of American film stars. He trained at Rada (1963-65), before joining the rep companies at the Nottingham Playhouse (1965) and Glasgow's Citizens' Theatre (1965-67).https://www.youtube.com/embed/yXkqGVfm1mo
He starred in In His Own Write, Victor Spinetti and Adrienne Kennedy's stage adaptation of two books of essays, stories and poems by John Lennon, at the Liverpool Playhouse in 1969, and appeared in the West End in The Resistible Rise of Arturo Ui (Saville Theatre, 1969) and Sleuth (Garrick Theatre, 1973).
At the Gate Theatre, Dublin, in 1980, he played Stanley in A Streetcar Named Desire. His physique and sporting prowess – which had led him to box as a middleweight with the Maple Leaf Boxing Club in Bootle – had seen him cast as Alec Pitman for a short run in the football serial United! in 1966.
Three years later, he starred as a rugby player in Colin Welland's television play Bangelstein's Boys, and for a two-month stint in Coronation Street in 1971 he played the Weatherfield County footballer Eddie Duncan, who had affairs with Irma Barlow and Bet Lynch before being transferred to Torquay.
In the 1984 Doctor Who story "Resurrection of the Daleks", Henney played Colonel Archer, a bomb disposal squad boss killed by the villain's fellow mercenaries and then cloned.
In between other character roles in many popular dramas, he acted the father of Jenny Seagrove's young Emma Harte in the mini-series A Woman of Substance (1984) and played Detective Inspector Reg Cossall in the crime series Resnick (1992-93).
Henney is survived by his partner of 25 years, the actress Rosemary McHale, and by a daughter from his 1957 marriage to Patricia O'Brien, another from his relationship with the actress Lorna Edwards, and a son from a relationship with the photographer Sarah Saunders.
Del Henney, born 24 July 1935, died 14 January 2019