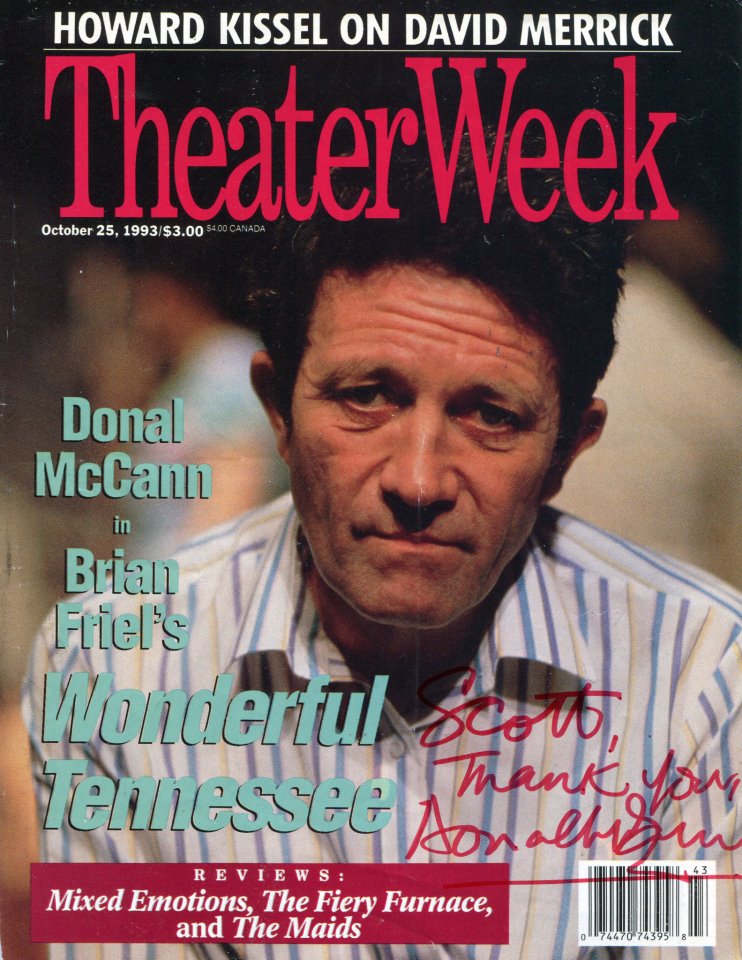 Donal McCann obituary in "The Independent" in 1999.
Primarily a stage actor Donal McCann has made very few films since his debut in 1966 in Walt Disney's "The Fighting Prince of Donegal". However his magnificent performance in John Huston's elegy "The Dead" with Anjelica Huston ensures him a place in film history. He played the central part of Gabriel Conroy the steady responsible nephew and his monologue at the end of the film is among the most moving on celluloid. He died in 1999.
"Independent" obituary:
DONAL McCANN was the finest Irish stage actor of recent years. His last great role, in Sebastian Barry's The Steward of Christendom, prompted Newsweek to describe him as "the greatest actor in the English- speaking world"; the play was a huge success in Britain, America and Australia as well as Ireland. McCann epitomised a strong modern Irish theatre tradition of intense but unforced acting, the antithesis of the method school, in which creation of character depends more on empathy with the core personality than contrived mannerism. From the mid-1980s he became fixed in the public mind as the quintessential performer of Sean O'Casey's Irish classics. He had a disarmingly easy fluency in O'Casey's flinty dialogue and the musical nuances of working-class Dublin accents. But most of all he had an exemplary timing which carried scenes that could otherwise fall flat. His performances drew many back for a second and third time, prompting several return productions and lucrative foreign tours for Dublin companies. His father, John McCann, was an author and journalist who was President of the Writers, Actors, Artists and Musicians Association and wrote comedies staged at the Abbey Theatre in Dublin and several radio plays for RTE and the BBC. An active politician in the largest Irish party, Fianna Fail, led by Eamon De Valera, he held a seat in the Dail, the Irish parliament, from 1943 to 1954.
Donal was reared in the pleasant Dublin suburb of Terenure. After schooling at Terenure College, where his early acting potential was noted, he studied architecture and then tried his hand as a journalist, working for 18 months as a copy-boy on The Irish Press (a Fianna Fail newspaper).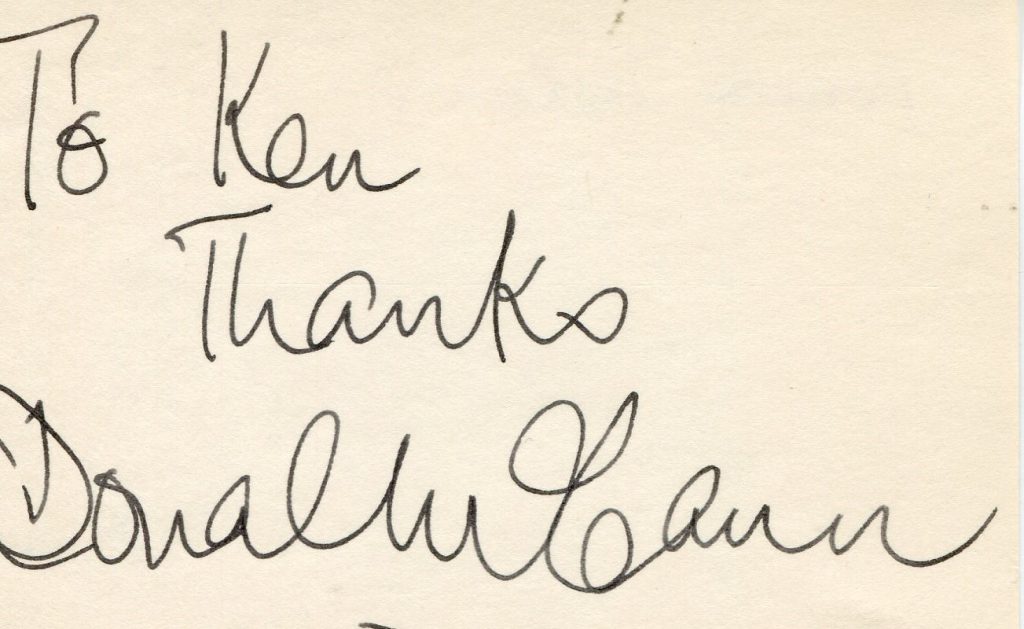 While there he began acting, training with Dublin's Queen's Theatre, the Abbey School, and the Academy. His theatre debut was as the Cardinal of Uganda in Rolf Hochhuth's play The Successor, but his breakthrough came in the stage version of Patrick Kavanagh's novel Tarry Flynn.
The story is a poignant memoir of the sensitive writer's bleak, impoverished youth in rural Co Monaghan where the only certain pleasure was rejoicing in a neighbour's misfortunes. It was well suited to what was to emerge as McCann's hallmark, an ability to evoke the darker, harsher sides of adversity and to bring acute sensitivity to moments of tragedy. Kavanagh himself was enthralled by the performance.
From 1968 McCann was a full member of the Abbey's repertory company, effectively Ireland's national theatre. He appeared in Dion Boucicault's The Shaughran, which travelled to London and won him many British offers of work.
He subsequently played in London productions such as Strindberg's Miss Julie for the Royal Shakespeare Company in 1971, alongside Helen Mirren, and with Peter O'Toole in Beckett's Waiting for Godot. At the Royal Court he was in A Prayer for My Daughter opposite Anthony Sher, and his television performance in the BBC's Your Man from the Six Counties won a best actor award in the Prague d'Or Festival.
In the 1970s screen work brought him to a wider audience, for example in such serials as The Pallisers, in which he played "Phineas Finn, the Irish Member", and as Mulhall in Strumpet City. He also acted in smaller Irish films, joining Cyril Cusack and Niall Toibin in Bob Quinn's Poitin (1979), and playing the lead in Budawanny (1987), a tender but painful story of an island priest who falls in love, also directed by Quinn.
In 1980 he took the role of Frank in Brian Friel's Faith Healer, but it was his roles in O'Casey plays that confirmed him as as a major actor for Irish audiences. His first Gate production of Juno and the Paycock, playing Captain Boyle, was in 1986. It was widely hailed in Ireland as the theatrical event of the decade, going on successful tours round Britain, Israel and New York. Similar success was also enjoyed by other O'Casey plays featuring McCann, such as Shadow of a Gunman and The Plough and the Stars.
In John Huston's The Dead (1987), based on a James Joyce short story, McCann brought a restrained dignity to his role as the kindly Gabriel Conroy, who learns that his wife Gretta, played by Anjelica Huston, still longs for her long-dead young sweetheart, and appeared in a stranger persona in Neil Jordan's High Spirits (1988). There was also a cameo role of a doctor in Out of Africa (1985). McCann quipped: "It was very draining having to break news like that [of VD] to Meryl Streep." In 1996 Bernardo Bertolucci gave him the leading part of an artist with a hidden past exiled in Tuscany, in Stealing Beauty.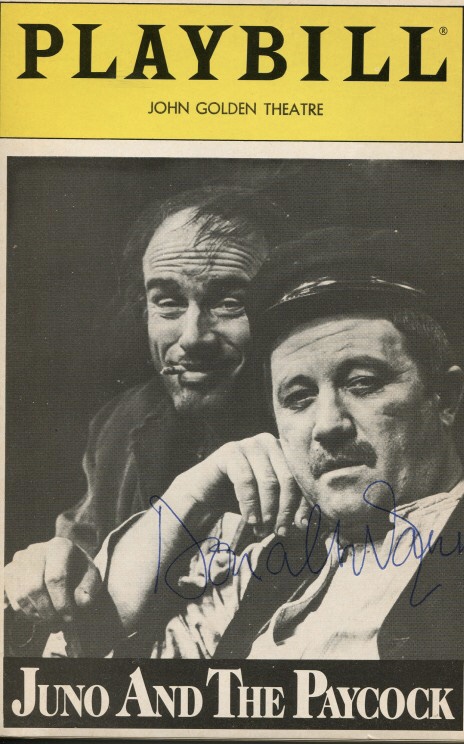 His greatest achievement in the last decade and, as it turned out, his swan song on Dublin and New York stages, was his mesmerising performance in Sebastian Barry's The Steward of Christendom, as the mentally unstable pensioner recalling his traumatic memories as the first Catholic police superintendent in the Royal Irish Constabulary. During rehearsals he so moved his normally sharp-edged fellow actors that several broke into tears.
Sebastian Barry said of McCann: "He was a nuclear actor. He had so much compression in himself that when he brought that on to the stage, it broadcast in the most extraordinary and unique way." He described how on the last night of the play in New York in February 1997 the actor gave a towering performance on the anniversary of his father's death, which was also the day his mother died. "It was in a sense his own farewell."
Donal McCann, actor: born Dublin 7 May 1943; died Dublin 18 July 1999.
The above "Independent" obituary can also be accessed online here.