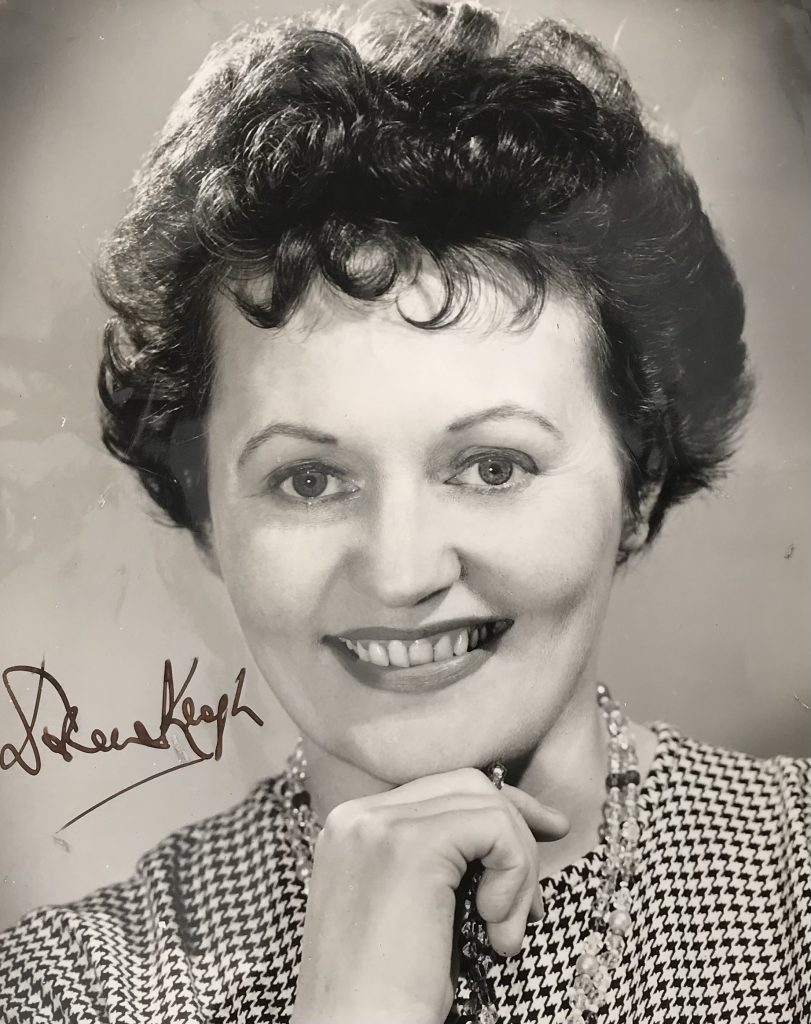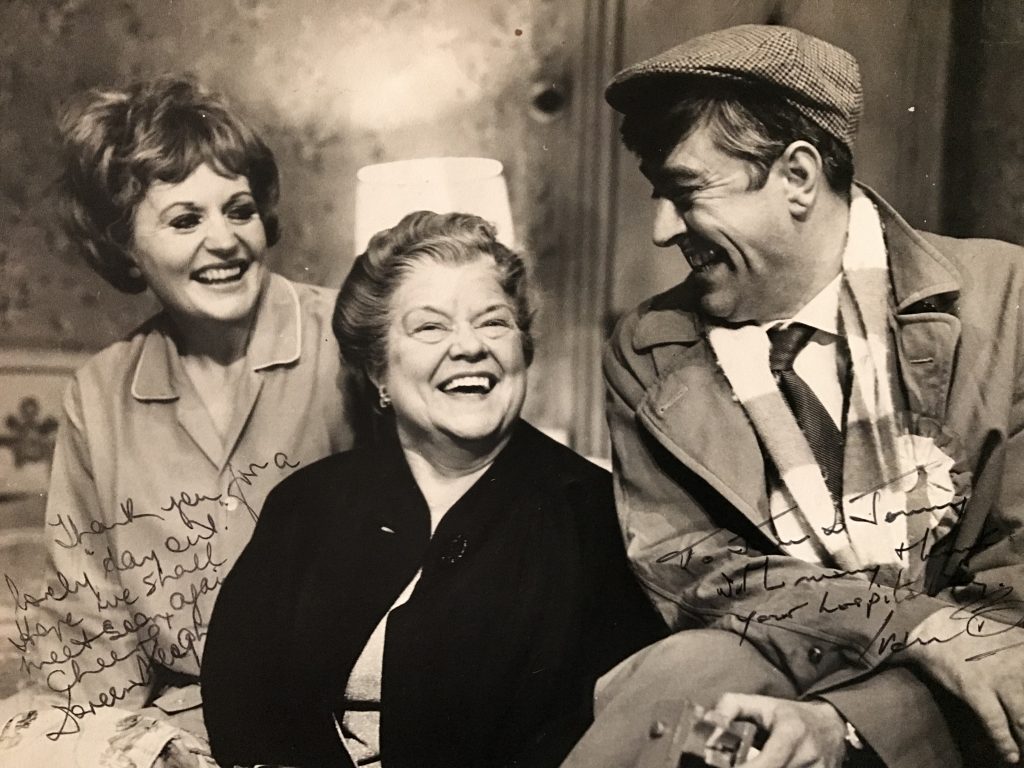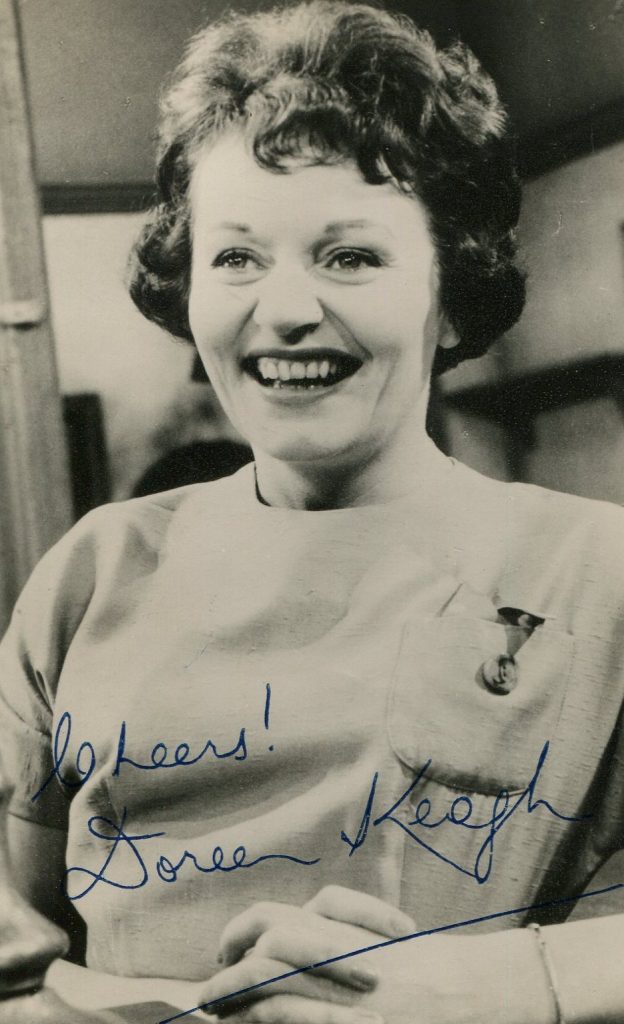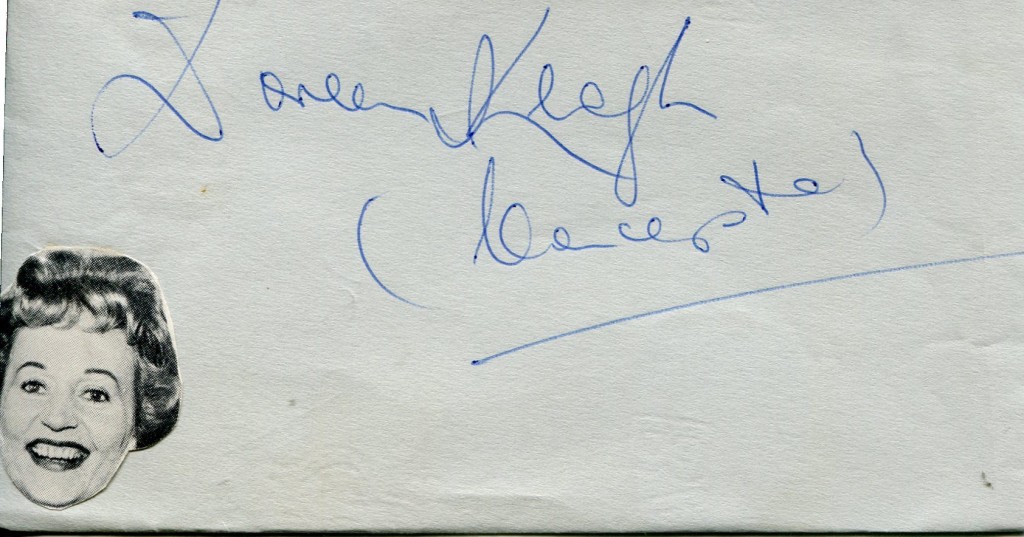 Doreen Keogh obituary in "The Guardian".
The actor Doreen Keogh, who has died aged 93, secured herself a place in television history by playing Coronation Street's first barmaid at the Rovers Return, Concepta Riley. She brought to the ITV soap opera, which was broadcast live or recorded "as live" in its early days, a wealth of experience in theatre. Once, while speaking outside the pub to its landlord, Jack Walker (played by Arthur Leslie), she went to open the doors, only to find them locked. "You're as bad as Harry – he's always locking himself out," she improvised. "I'll go round the back." This quick thinking earned a grateful embrace from the director at the end of the transmission.
Although she was an original cast member, Keogh was not seen on the soap's launch night, 9 December 1960, but made her first appearance in the fifth episode, two weeks later. Concepta was seen returning from a festive visit to her family in Ireland and was conceived by the serial's creator, Tony Warren, as a character providing some variation to the north of England accents, like the Polish refugee Ivan Cheveski played by the Austrian actor Ernst Walder.
Concepta became a confidante of the Rovers' landlady, Annie Walker (Doris Speed), and married Harry Hewitt (Ivan Beavis), a widowed bus inspector, in 1961, becoming stepmother to his wayward daughter, Lucille (Jennifer Moss). Together, Concepta and Harry had a son, Christopher, who provided drama when he was abducted – but eventually found with a disturbed friend of Elsie Tanner's daughter. Away from the cameras, Keogh and Beavis had an off-screen relationship.
In 1964, the Hewitts – minus Lucille, who was taken in by Jack and Annie – moved to Ireland to run the Riley family garage and shop. Their departure was part of a cull of more than half a dozen characters by Coronation Street's new producer, Tim Aspinall, that included the controversial death of Martha Longhurst (Lynne Carol). Some of the axed actors, including Keogh, finished the year by touring in Vince Powell and John Finch's stage comedy Firm Foundations.
However, Keogh did make several brief returns to Coronation Street. In 1967, Concepta and Harry travelled to the fictional Weatherfield for Elsie's wedding to Steve Tanner – during their visit, Harry was crushed to death by Len Fairclough's van after a jack collapsed.
Five years later, Concepta was back to announce that she was marrying Sean Regan – who made a pass at Bet Lynch – and, in 1975, on another short visit, Concepta admitted to Annie that she knew Sean was unfaithful but she loved him. In all, Keogh appeared in 320 episodes of Coronation Street.
She was born in Dublin, to John Keogh, a librarian, and his wife, Alice (nee Mullany), and acted in school festivals while attending Holy Faith Convent, in the city's Clontarf suburb, as well as joining a local amateur dramatics society. After training at the Abbey theatre school, Dublin, Keogh performed with the sixth Earl of Longford's company at the Gate theatre in productions such as Sophocles' Oedipus, the Tyrant (1942) and acted and sang on Irish radio.
She then moved to London and played Christine Horan in a 1945 adaptation of AE Coppard's short story The Man from Kilsheelan, the first of dozens of BBC radio plays in which she acted over more than 60 years.
Her prolific theatre appearances included playing Cloyne in a 1953 British tour of Sean O'Casey's play Purple Dust, directed by Sam Wanamaker, and roles in the West End productions Say Goodnight to Grandma (St Martin's theatre, 1973), Once a Catholic (Wyndham's, 1978) and Ducking Out (Duke of York's, 1982). With the Royal Shakespeare Company, she played Mrs O'Toole in Look Out … Here Comes Trouble! (Donmar Warehouse, 1978) and Mrs Madigan in Juno and the Paycock (Aldwych, 1980).
Keogh made her TV debut as Miss Fulton in Denis Johnston's crime drama Death at Newtownstewart (1948) and followed it with other BBC plays that fitted in around her stage commitments.
Her later television roles included Mary in Inside Out (1985), a comedy-drama about an agency helping ex-cons to find employment, Imelda Egan (1997-99) in Ballykissangel, Audrey Gifford – mother of Pete – in Cold Feet (1998-2003) and the quirky neighbour Mary Carroll in The Royle Family, between 1998 and 2006.
Keogh also made a one-off appearance as Mrs Candour in Crossroads in 1969 and played Mrs Dineen, physically fighting over a tea-shop bill with Mrs Doyle, in Father Ted in 1998. By then, she had returned to Ireland and took the role of Mary O'Hanlon in the Irish soap Fair City from 1989 to 1995.
Keogh had many supporting roles in films, including playing a mother superior in the IRA hunger strike drama Some Mother's Son (1996), and appeared alongside Julie Andrews and Rock Hudson in the musical Darling Lili (1970), directed by Blake Edwards.
A lover of dogs, donkeys and ducks, she supported animal welfare charities and was an avid Liverpool football club fan. In 2007, she appeared in a spoof Irish election commercial for Alone, a charity for the elderly. As "Betty from the Grey Tigers party", she urged the electorate to vote so that "your granny would be proud of you".
Keogh's 1954 marriage to the actor Frank Singuineau ended in divorce nine years later. She is survived by her second husband, Jack Jenner, whom she married in 1976.
• Doreen Sheila Elsie Keogh, actor, born 10 April 1924; died 31 December 2017