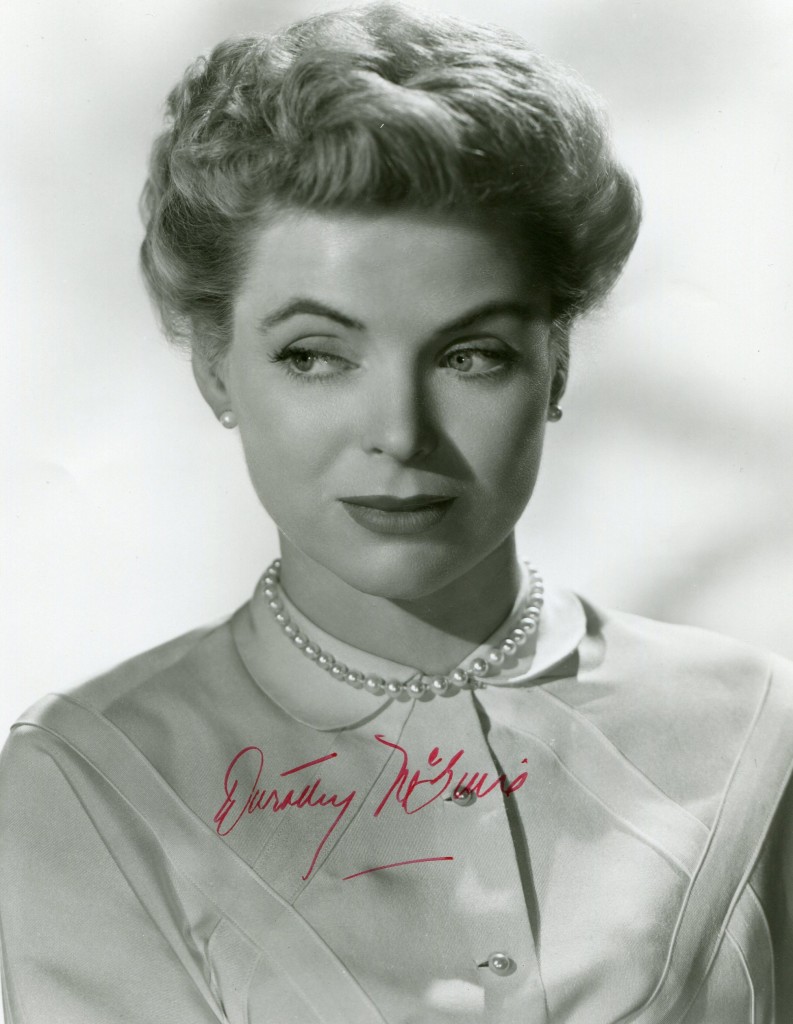 Picturegoer' once observed that Dorothy McGuire belonged to that coterie of players – it includes Margaret Sullavan, Betty Field, Martha Scott and Barbara Bel Geddes – whose charm is uncommon, elusive.   It is the charm of … frank unpretty features that can for some at times take on an amazing beauty.  In other words, they were not the sort of Hollywood girl you would discover at the soda fountain in a drugstore.   They all came from the stage.   They were all highly rated by the critics and by the top Hollywood brass, at least at first.   None of them had a prolific screen career.   One might speculate on the reasons – lack of drive or determination, dislike of type-casting or Hollywood or a combination of any of them.  Being most of them very talented ladies, they were individual in style, but 'Picturegoer' was right.  Sullavan played a tempestuous movie queen once and Field, memorably, a slut.   One thinks of them as very gentle and genteel heroines" – David Shipman – "The Great Movie Stars- The International Years".   (1972).
 "'P
Dorothy McGuire was born in Omaha, Nebraska in 1916.   She had a triumph on Broadway in the title role in "Claudia" an role that she recreated on film in 1943.   A gentle, sensitive actress she excelled in mother roles where her kindly nature shone.   Her major film roles include "The Enchanted Cottage" with Robert Young, "A Tree Grows in Brooklyn" in 1945, "The Spiral Staircase", "Gentleman's Agreement", "Three Coins in the Fountain", "Friendly Persuasion with Gary Cooper and Anthony Perkins,  "Old Yeller", "A Summer Place" with Troy Donahue in 1959, "Swiss Family Robinson", "Susan Slade" and "Flight of the Doves".   She starred on television in the series "Rich Man, Poor Man" in 1975.   Dorothy McGuire died in 2001 at the age of 85.
Ronald Bergan's obituary in "The Guardian":
The image of Dorothy McGuire, who has died aged 83, remained almost the same throughout her 20 years as a movie star. Her persona – on screen and off – was that of an attractive woman of integrity, intelligence and charm, and it imbued the series of loving sweethearts, faithful wives and doting mothers whom she played so sympathetically.
The producer Darryl F Zanuck called her an "angel", which, according to Elia Kazan, robbed her of her sexuality. She certainly had little chance to exude either sexuality or be malicious, like Bette Davis or Joan Crawford, but there was always room for an actor who was so good at being good.
McGuire's first screen appearance was in the title role of Claudia (1943), which she had played to acclaim two years earlier on Broadway, receiving the New York critics' circle award. She was chosen for the role – that of a child woman, too immature to be a wife until a family tragedy shocks her into adulthood – from 200 applicants by the Broadway producer John Golden because "she had a fresh, wind-blown quality and an impressive, though subdued, personality".
Born to well-off parents in Omaha, Nebraska, at school McGuire wrote plays, directed and acted in them, and joined the Omaha Community Playhouse, where, at the age of 12, she took the lead in JM Barrie's A Kiss For Cinderella – opposite the 25-year-old Henry Fonda. Her lawyer- father wired her on opening night: "Let your head touch the stars, but keep your feet on the ground." This caveat characterised her way of life.
In 1937, she left college to concentrate on acting. After doing the rounds in New York, she got a job understudying Martha Scott in Thornton Wilder's Our Town, taking over the part in July 1938, proving lovely and vibrant with emotion as a young girl who dies prematurely after her marriage. She then went into a popular radio soap opera, Big Sister, and toured in plays before landing the role of Claudia, which led to David O Selznick offering her a seven-year film contract. During the Broadway run of Claudia, McGuire married the photographer John Swope.
Wanting to get away from what she called, the "ingenue flutter" of Claudia, she played the poverty-stricken wife of a drunken waiter in A Tree Grows In Brooklyn (1944), Kazan's first picture. This was followed by The Enchanted Cottage (1945), in which she was touching as a lonely, plain woman married to an embittered, disfigured first world war veteran (Robert Young).
Better still was Robert Siodmak's chiller, The Spiral Staircase (1945), in which McGuire played a mute servant girl living in fear of being murdered by a maniac. She showed how the layers of trust peeled away from an intrinsically sunny- dispositioned young woman.
In Edward Dmytryk's post-war readjustment drama, Till The End Of Time (1946), McGuire was perfect as a confused and lonely war widow in love with ex-Marine Guy Madison. Kazan's Gentleman's Agreement (1947) saw her nominated for an Oscar for her role as a socialite divorcee who believes she is free from anti-semitism until her journalist fiance (Gregory Peck) has to pose as a Jew for a series of articles.
Around the same time, with Peck, Jennifer Jones, Mel Ferrer and Joseph Cotten, McGuire formed the La Jolla Playhouse Group, for which she appeared in The Importance Of Being Earnest, I Am A Camera and The Winslow Boy. She returned to Broadway in 1951 as the Actor opposite Richard Burton's Musician in Jean Anouilh's Legend Of Lovers. In the 1950s, her roles on screen were mostly unchallenging, as in Three Coins In The Fountain (1954).
Her best film of the decade was William Wyler's Friendly Persuasion (1956), in which she played a warm-hearted Quaker wife trying to prevent her husband (Gary Cooper) and son (Anthony Perkins) from fighting in the American civil war.
She had now found a niche playing ideal mothers: the Texas frontier mother in Old Yeller (1957); the mother of eight – taking care of Clifton Webb's nine as well – in The Remarkable Mr Pennypacker (1959); the practical, shipwrecked mother in The Swiss Family Robinson (1960); the mother in a loveless marriage in The Dark At The Top Of The Stairs (1960); and the protective mothers of teen- agers Troy Donahue, in A Summer Place (1960), Connie Stevens in Susan Slade (1961) and Hayley Mills in Summer Magic (1963). This run of mothers culminated in the role of the Virgin Mary in George Stevens's The Greatest Story Ever Told (1965).
As the film offers dwindled in the 1970s, McGuire was seen more in the theatre, notably in Tennessee Williams's Night Of The Iguana and Terence Rattigan's Cause Celebre in 1979, the year her husband died. After three years of not working, she returned to Broadway in the play Winesburg, Ohio, as glowingly reassuring as ever.
She is survived by her daughter and son.
•Dorothy McGuire, actor, born June 14 1918; died September 13 2001
"The Guardian" obituary can also be accessed online here.