Edmund Purdom obituary in "The Guardian".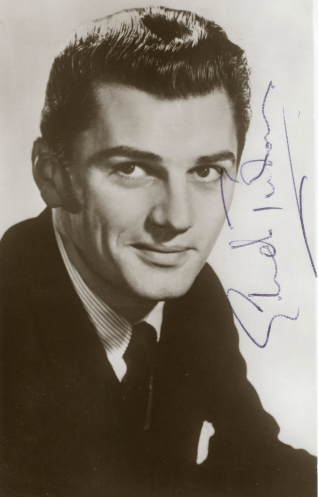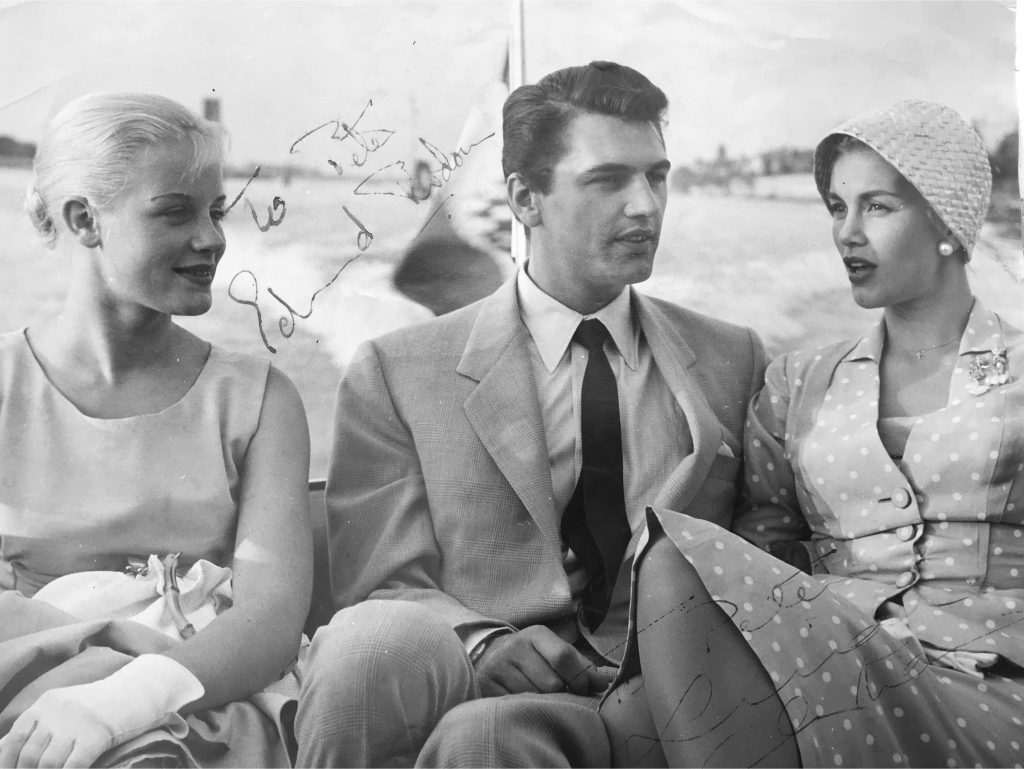 Edmund Purdom was born in 1926 in Welwyn Garden City. In 1946 he joined the Northampton Repertory Company. In 1951 he came to the U.S. to appear on Broadway with Laurence Oliver and Vivien Leigh in "Anthony & Cleopatra". He was spotted by a talent scout and brought to Hollywood and cast as one of the ship's officers in "Titanic" by 20th Century Fox in 1952. He was then cast to replace Mario Lanza in "The Student Prince" opposite Ann Blyth. Lanz's singing voice was used in the film. For a brief period Edmund Purdom was cast in big budget MGM films such as "The Prodigal" and "The Egyptian". However by the mid 50's his U.S. career seemed to be waning and he went to Italy where he made many films over the coming decades. He died in 2009 at the age of 82.
It was the sad fate of the actor Edmund Purdom, who has died aged 84, that the best known of his films, The Student Prince (1954), is remembered more for the star who wasn't in it. After the temperamental tenor Mario Lanza was fired from the film, the non-singing unknown Purdom replaced him. Luckily for MGM, Lanza had recorded the songs for the CinemaScope production before shooting began. Thus his voice is heard bellowing incongruously out of the slender frame of Purdom.
Purdom's reputation as a surrogate is underlined by the fact that he got his first chance of stardom when he replaced Marlon Brando in The Egyptian (1954) after Brando wisely cried off, preferring to play Napoleon in Desirée instead. In addition, Purdom was married to Linda Christian, better known as Tyrone Power's first wife.
Purdom was born in Welwyn Garden City, Hertfordshire, the son of a London drama critic. After being educated by Jesuits at St Ignatius College and by Benedictines at Downside School, he made his acting debut in repertory in 1945, aged 21. Six years later, he appeared with Laurence Olivier and Vivien Leigh on Broadway in alternating performances of Caesar and Cleopatra and Antony and Cleopatra, playing respectively a Persian and Thyreus, the unfortunate messenger of Octavius Caesar who gets whipped for his pains.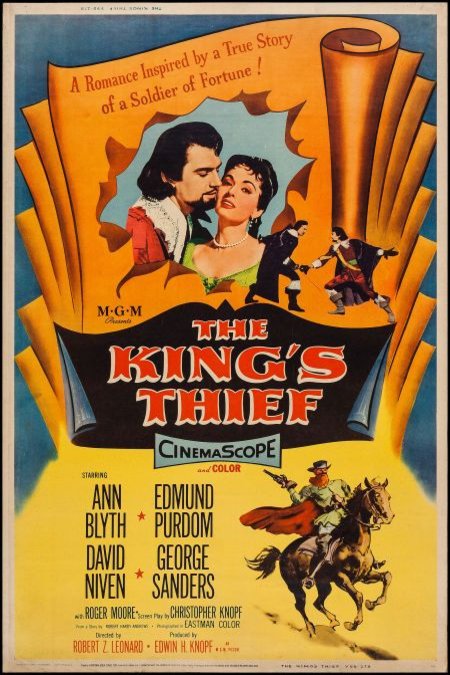 The roles gave Purdom an early taste for wearing togas and sandals as he was to do for a great deal of his career. One of his first film roles was in Joseph Mankiewicz's Julius Caesar (1953) as Strato, the young servant of Brutus (James Mason), who holds the sword out for his master to run on to at the climax.
Purdom, with his ex-ballerina wife, Anita Phillips, had gone to Hollywood in 1952 to test for My Cousin Rachel, but Richard Burton got the part. "I was so broke," Purdom recalled, "that I couldn't afford to pay the doctor's bill when my daughter was born. I had no money for bus fare. I had to walk from studio to studio looking for a job. Once we were evicted for not paying the rent."
Then after two bit parts, he was cast in the title role in The Egyptian, the brilliant physician in the service of the Pharaoh in 18th-dynasty Egypt. Purdom's striking dark good looks and dimpled cheeks made up for his rather wooden personality and inability to pronounce his 'r's, but not even Brando could have known how to react to dialogue such as: "You have bold eyes for the son of a cheesemaker."
At MGM, Purdom was given a huge build-up by the studio for The Student Prince after Mario Lanza's drugs-alcohol-weight problems got the better of him. Purdom made a handsome and likeable Prince Karl of Karlsburg in love with a barmaid (Ann Blyth) in the Heidelberg of 1894 in Sigmund Romberg's rather dated operetta. Apart from the (mismatched) singing of Lanza, the film's highlight for today's audiences is a group of students interlocking arms and warbling: "Come boys, let's all be gay boys."
After Vincente Minnelli gave up his attempts to film, with Purdom and Pier Angeli, Green Mansions, WH Hudson's South American fantasy novel Purdom went into another musical, Athena (1954). This told of an athletic vegetarian family, of which one of seven daughters, Jane Powell, falls for stuffy, meat-eating weakling Purdom, when she could have had Steve "Mr World" Reeves.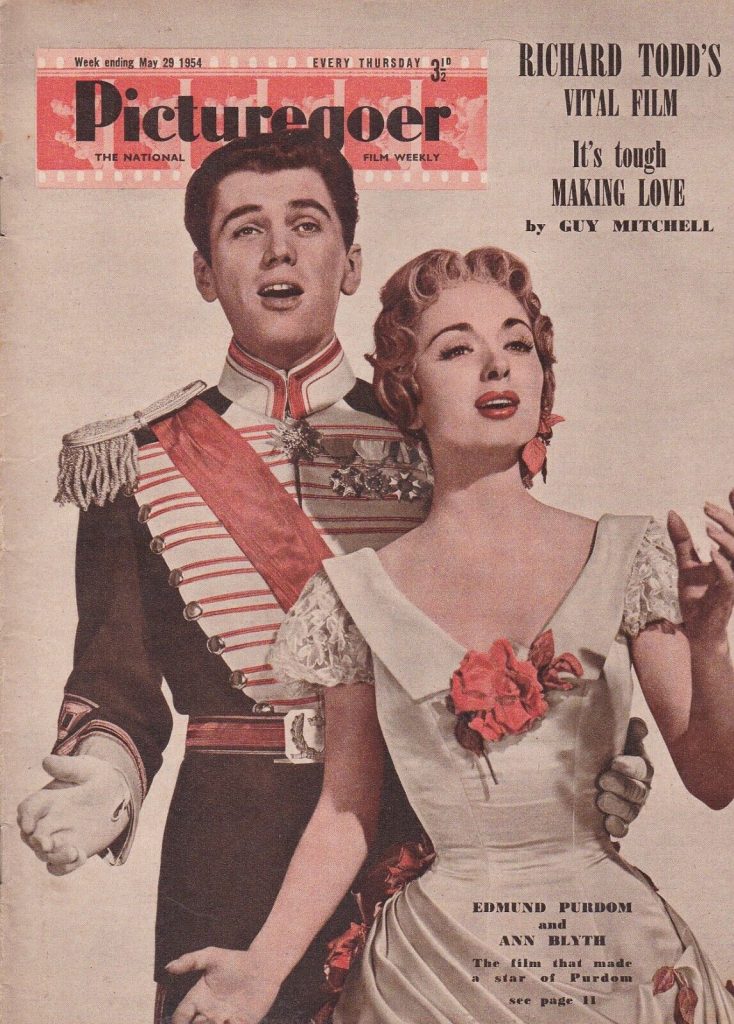 More significant was the fact that the Mexican-born beauty Christian, wife of Power, played his snooty fiancée. Christian had been at the same school as Purdom's wife, and the Powers and the Purdoms became good friends, even going on holidays together. But sexual jealousy broke up the once cosy foursome and, in 1955, Christian divorced Power, citing mental cruelty. Purdom's name was not mentioned in court. Meanwhile, his short-lived Hollywood stardom was, inevitably, ending. He was bearded to disguise his pretty-boy looks as a highwayman in Restoration England in The King's Thief (1955), a rather pallid swashbuckler, but the nail in the coffin was The Prodigal (1955). This risible spectacle, based on the Old Testament parable, had Purdom as a young Hebrew leaving his rural life for the big city where he falls under the spell of a beautiful scantily clad pagan priestess (Lana Turner, a former lover of Power's) who induces him to squander his money and betray his faith. A prodigal flop.
After Purdom's MGM contract was terminated, Christian found no shortage of millionaires to help keep him in the manner to which he was accustomed. But it was not until 1962 that they were married. The marriage lasted little more than a year.
By the end of the 1950s, like a number of stars for whom Hollywood work had dried up – including Reeves – Purdom went to Italy and into rubbishy costume melodramas such as Herod the Great (1959), The Cossacks, Salambo (both 1960), Suleiman the Conqueror and Nefertiti, Queen of the Nile (both 1961). This stream of Italian films was interrupted by some British television work and, in 1964, two films made in England, The Beauty Jungle, revealing the seedier side of beauty contests, and The Yellow Rolls-Royce. In the latter Rex Harrison, an English peer, finds his French wife (Jeanne Moreau) in the embrace of caddish Purdom in the vehicle of the title.
Then it was back to his home in Rome and a stream of eurotrash horror movies, such as Frankenstein's Castle of Freaks (1974). Purdom directed and starred as a police inspector in a British stalk-and-slash picture called Don't Open Till Christmas (1984) which features a psychopath hunting down and killing streetcorner santas. Apparently he saw his mother murdered by a Father Christmas when he was a kid.
Purdom, who kept his looks and sense of humour into old age, is survived by his fourth wife, Vivienne, a photographer, and two daughters by Phillips.
• Edmund Purdom, actor, born 19 December 1924; died 1 January 2009
To view "The Guardian" obituary by Ronald Bergan of Edmund Purdom, also please click here.