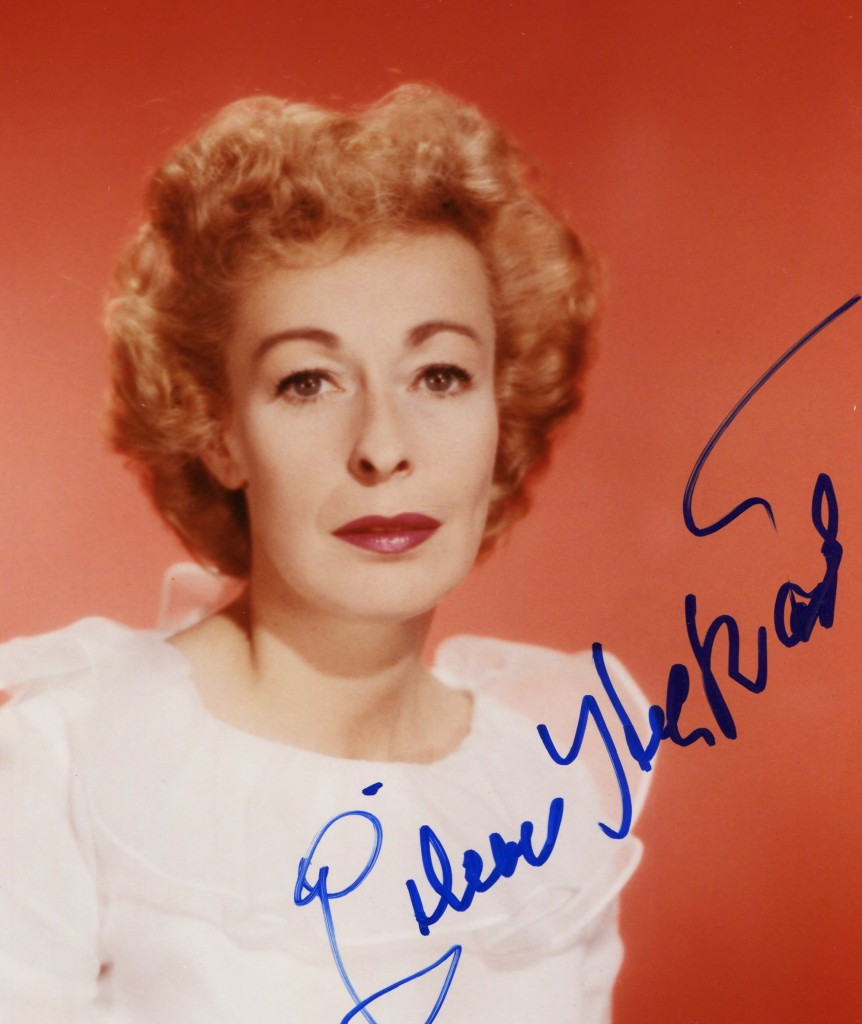 Eileen Heckart was a wonderful astringent actress with a rapier wit.   She enlivened every movie in which she was featured.   She was born in  1919 in Columbus, Ohio.   She was in her thirties before she made her first film in 1956, "Miracle in the Rain" with Jane Wyman and Van Johnson.   She can be seen to marvellous effect in "Bus Stop", "The Bad Seed", "Heller in Pink Tights" as the mother of Margaret O'Brien, "Up the Down Staircase", "No Way to Treat A Lady", "Butterflies Are Free" and her final fim "The First Wive's Club" as the mother of Diane Keaton.   She died in 2002 at the age of 82.
"Telegraph" obituary:
EILEEN HECKART, who has died aged 82, was a character actress specialising in interfering mothers, overbearing career women and villainous dames.   Lanky and thin with sharp, angular features, mournful eyes and a rasping, smoky voice, Eileen Heckart was regarded as one of Broadway's most accomplished comediennes and starred in numerous major stage productions.   She also distinguished herself in films, playing Rocky Graziano's mother Mrs Barbarella in Somebody Up There Likes Me (1956), Marilyn Monroe's waitress friend Vera in Bus Stop (1956) and Mrs Baker, the domineering and overprotective mother of the blind boy (played by Edward Albert) in Butterflies Are Free (1972), a role for which she won an Academy Award as best supporting actress.  On television she appeared in the 1970s as Mary Richards's brassy Aunt Flo Meredith, the globe-trotting international correspondent in the long-running sitcom The Mary Tyler Moore Show.
She was born Anna Eileen Heckart in Columbus, Ohio, on March 29 1919, the daughter of a building contractor. Her parents divorced when she was two and she was brought up by her grandparents.   From Bexley High School, Columbus, she went on to Ohio State University, where she became active in drama groups and was advised to become an actress. She also contracted whooping cough, and it was this, she later claimed, rather than her chain smoking, which gave her her rasping voice.  After graduation, Eileen Heckart moved to New York with just $142 in her pocket. She worked as a clerk in McCreery's department store, took small parts in radio commercials, called time for badminton players at up-market hotels and studied acting at the American Theatre Wing.   During the 1940s, she appeared in various touring productions and made her Broadway debut in 1943 as understudy and assistant stage manager in The Voice of the Turtles.   She took her first Broadway role as Nell Bromley in Hilda Crane (1950), appeared with Uta Hagen in In Any Language (1952), and won critical acclaim for her portrayal of a love-starved schoolteacher in William Inge's The Picnic (1953).
The following year she created the role of Mrs Daigle, the drunken, grief-stricken mother of a murdered boy in the stage version of The Bad Seed. She reprised the role in the film version of 1956, gaining an Academy nomination as best supporting actress.   Earlier in 1956 she had made her film debut in Miracle in the Rain, in which she played Grace Ullman, Jane Wyman's office confidante. The same year she appeared in Somebody Up There Likes Me and in Bus Stop.   On stage she played Eddie's wife Beatrice in Arthur Miller's A View from the Bridge, and Agnes in his A Memory of Two Mondays, both in 1955.   She earned a New York Drama Critics' Award for her performance as Aunt Lottie Lacey in William Inge's The Dark at the Top of the Stairs (1957) and the same year appeared in Eugene O'Neill's one-act play Before Breakfast, to mark the opening of Congress Hall in West Berlin.   In 1965, she was the disapproving mother in the Broadway production of Barefoot in the Park, and in 1969 created the stage role of the domineering mother in Butterflies Are Free, before repeating it in the film version that won her her Oscar.
On television she appeared in such early series as Kraft Suspense Theater and Philco Playhouse and in the 1960s appeared in programmes such as Gunsmoke and The FBI. She won television awards for her roles in Save Me a Place at Forest Lawn and the strangely entitled The Effect of Gamma Rays on Man-in-the-Moon Marigolds, both in 1966.   As well as her role in The Mary Tyler Moore Show (1970-77), she joined the cast of such American television series as Out of the Blue, Trauma Center, Partners in Crime and Murder One.   Among many other memorable stage roles, Eileen Heckart was particularly praised for her portrayal of Eleanor Roosevelt in a touring one-woman show, Eleanor. Her depiction of the First Lady as intelligent and even slightly sexy earned her the role as Eleanor in the 1979 television mini-series Backstairs at the White House.
Eileen Heckart retired at the age of 81 after completing a triumphant run in an off-Broadway production of The Waverly Gallery. Her portrayal of Gladys, a spirited woman stricken with Alzheimer's disease in Kenneth Lonergan's autobiographical play, was a harrowing and authentic account of an individual's decline into dementia and incoherence.   In 2000 she was awarded a special Tony Award for Excellence in the Theatre.   Although usually cast in eccentric character parts, Eileen Heckart always longed to play mainstream roles: "Just once," she told an interviewer in 1958, "before I get too old, I'd like to play an attractive, normal, uncomplicated woman."   After all, she protested in 1989, "I am not one bit an eccentric. I'm always on time. I know my lines. And I've been everything but eccentric for a whole lot of years."
Eileen Heckart married, in 1943, John Harrison Yankee, who died in 1995. They had three sons.
The above "Telegraph" obituary can also be accessed online here.