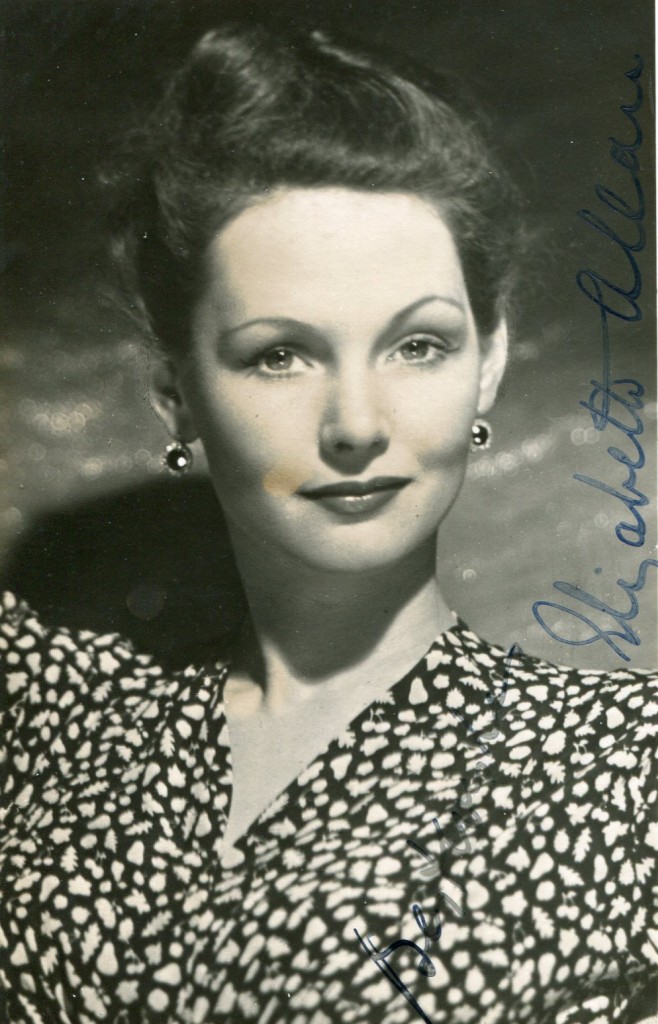 Elizabeth Allan was born in England in 1908. She began her career in British films with "Alibi" in 1931. By 1934 she was in Hollywood where she tended to play gentle roles such as Clara Copperfield, mother of David in "David Copperfield" and Lucy Manette in "A Tale of Two Cities" opposite Ronald Coleman. In 1938 she returned to England and resumed her career there. Among her British films, the better known are "Went the Day Well" in 1942 and "The Heart of the Matter" in 1953. She was married to the famous theatrical agent Bill O'Brien. Elizabeth Allan died in 1990 aged 82.
"Quinlan's Movie Stars":
Genteel, gracious dark-haired English leading lady adept as frightened misses early in her career. She was under contract to MGM in Hollywood where she played well-bred heroines, often in period dramas. Returning to Britain in 1938 after a dispute with her studio after she was dropped from "The Citadel". In the UK she appeared as upper-class wives often in undistinguished films. Latterly become popular on TV on game shows.
A Reminiscence by longtime friend Rob McKay:
Elizabeth Allan was an amazingly beautiful creature. with a perfect 36-24-36 figure. To really understand Liz, you have to realize that the center of her life for 47 years was her husband, theatrical agent Bill O'Bryen. Actor Herbert Marshall introduced Liz and Bill in 1930, and it was truly a marriage made in heaven.
In later years, Liz and Bill helped establish many younger artists in the London Theatre, most notably Paul Scofield.
When Bill suffered several strokes in the early 1970s, Liz nursed him at home until his death in 1977. Afterwards, she went into a very deep depression that lasted for some years. I knew her from this time until her death. She was very religious, a Roman Catholic, and went to church almost every day. I used to stay with her at her seaside house in Hove (Brighton) during my trips to Britain.
Liz was a lovely, dear woman who cared much more for others than herself. Once when I was visiting her, I mentioned that my mother was interested in Majolica pottery. Unknown to me, Liz called all over Brighton and Hove so she could present me with a list of antique dealers who had Majolica in stock.
I really miss her.
The "George Formby" website article on Elizabeth Allan can be accessed online here.
Interesting article from Immortal Emhemera BY Cliff Aliperti: