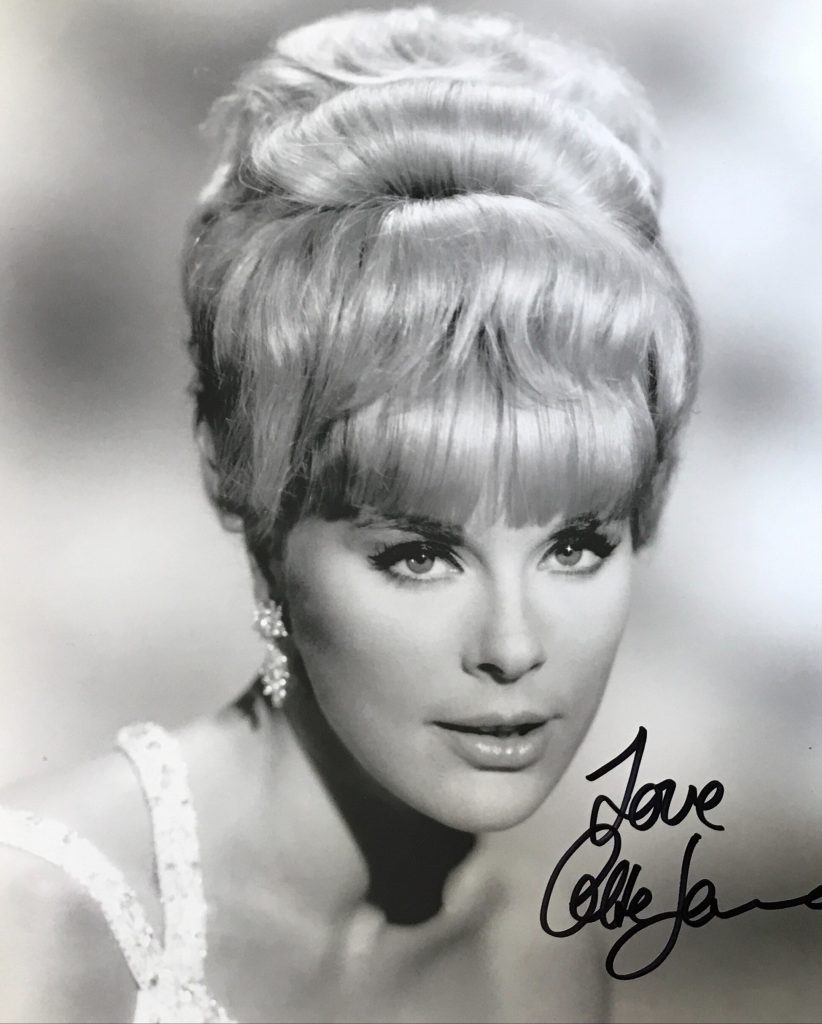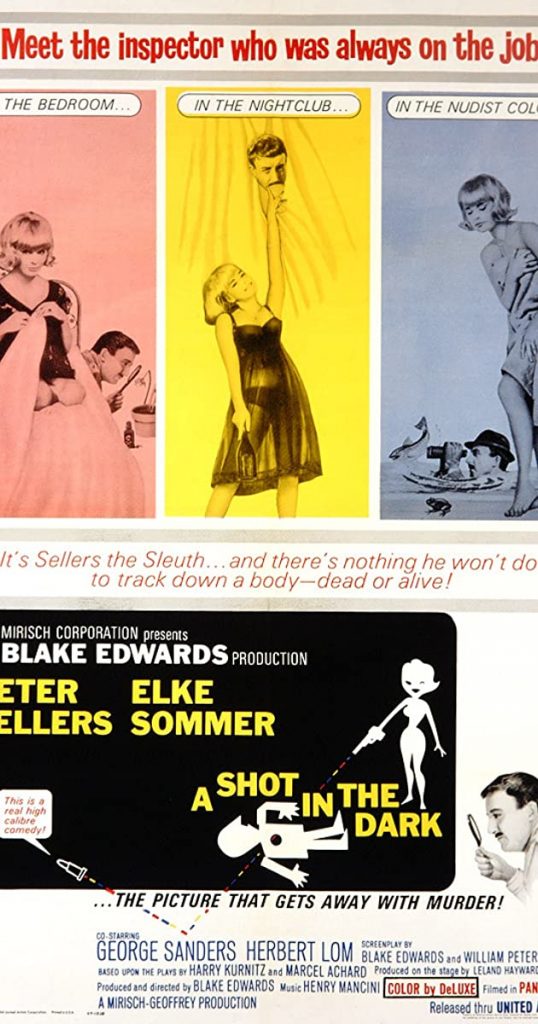 Elke Sommer was born in 1940 in Berlin.   She came to film prominence in the early 1960's and starred opposite the leading men of the time including Paul Newman in "The Prize" in 1963 , Peter Sellers in "A Shot in the Dark" in 1964, "The Art of Love" with Dick Van Dyke and James Garner and "The Oscar" opposite Stephen Boyd.   In the 1970's she starred in some classic Italian horror films and in the UK starred in a "Carry On", "Carry On Behind".   She currently lives in Los Angeles.
Gary Brumburgh's entry:
This gorgeous Teutonic temptress was one of Hollywood's most captivating imports of the 1960s. Blonde and beautiful, Berlin-born Elke Sommer, with her trademark pouty lips, high cheekbones and sky-high bouffant hairdos, proved irresistible to American audiences, whether adorned in lace or leather, or donning lingerie or lederhosen. She was born in Berlin-Spandau on November 5, 1940 with the unlikely name of Else Schletz-Ho to a Lutheran minister and his wife. The family was forced to evacuate to Erlangen, during World War II in 1942, a small university town in the southern region of Germany. It was here that her parents first introduced her to water colors and her lifelong passion for painting was ignited. Her father's death in 1955, when she was only 14, interrupted her education and she relocated to Great Britain, where she learned English and made ends meet as an au pair. She eventually attended college back in Germany and entertained plans to become a diplomatic translator but, instead, decided to try modeling.
After winning a beauty title ("Miss Viareggio Turistica") while on vacation in Italy, she caught the attention of renowned film actor/director Vittorio De Sica and began performing on screen. Her debut film was in the Italian feature, Men and Noblemen(1959), which starred DeSica and was directed by Giorgio Bianchi. Following a few more Italian pictures, which included her first starring role in Love, the Italian Way (1960), also directed by Bianchi, Elke began making a name for herself in German films, as well, and gradually upgraded her status to European sex symbol. A pin-up favorite, she appeared fetchingly in both dramas and comedies, with such continental features asDaniella by Night (1961), Sweet Ecstasy (1962) and her first English-speaking picture,Why Bother to Knock (1961), to her credit.
Hollywood naturally became intrigued and she moved there in the early 1960s to try and tap into the foreign-born market. Her sexy innocence made a vivid impression in the all-star, war-themed drama, The Victors (1963), the Hitchcock-like thriller, The Prize (1963), for which she won a "Best Newcomer" Golden Globe Award, and, especially, A Shot in the Dark (1964), the classic bumbling comedy where she proved a shady and sexy foil toPeter Sellers' Inspector Clousseau. She grew in celebrity, which was certainly helped after showing off her physical assets, posing for spreads in Playboy Magazine. In the meantime, she was appearing opposite the hunkiest of Hollywood actors including Paul Newman, James Garner, Glenn Ford and Stephen Boyd.
Always a diverting attraction in spy intrigue or breezy comedy, she was too often misused and setbacks began to occur when the quality of her films began to deteriorate. The tacky Hollywood entry, The Oscar (1966), the Bob Hope misfire, Boy, Did I Get a Wrong Number! (1966), the tired Dean Martin "Matt Helm" spy spoof, The Wrecking Crew(1968), and her title role in the tasteless Cold War comedy, The Wicked Dreams of Paula Schultz (1968), starring Hogan's Heroes (1965) alumnus, Bob Crane, Werner Klempererand Leon Askin, proved her undoing.
The multilingual actress, whose career took her to scores of different countries over time and benefited from speaking seven languages fluently, resorted to a number of low-budget features in Europe, including two Italian horror movies directed by Mario Bavathat have now gone on to become cult classics: Baron Blood (1972) and The Exorcist(1973) rip-off, Lisa and the Devil (1972). The latter movie actually was a guilty pleasure. "Lisa" was re-released in 1975 as "The House of Exorcism" and added more footage of a demonic Elke, Linda Blair style, spewing frogs, insects, green pea soup and a slew of cuss words! In England, she good-naturedly appeared in the "comedy" films, Percy(1971), and its equally cheeky sequel, It's Not the Size That Counts (1974), which starred Hywel Bennett (later Leigh Lawson) as the first man to have a penis transplant(!). She also showed up in one of the later "Carry On" farces, entitled Carry on Behind (1975).
Elke fared better on television, where she appeared in the television pilot, Probe (1972), opposite Hugh O'Brian, as well as the well-made 1980s miniseries, Inside the Third Reich(1982), Jenny's War (1985), Anastasia: The Mystery of Anna (1986) and Peter the Great(1986). A delightful personality on the talk show circuit, the lovely Elke also made appearances as a cabaret singer and, in time, put out several albums. She found a creative outlet on stage too with such vehicles as "Irma la Douce", "Born Yesterday", "Cactus Flower", "Woman of the Year" and "Same Time, Next Year".
The veteran actress has since focused more time on book writing and painting than she has on acting. Holding her first one-woman art show at the McKenzie Galleries in Beverly Hills in 1965, her artwork bears an exceptionally strong influence to Marc Chagall and she, at one point, hosted a mid-1980s PBS series ("Painting with Elke"), that centered on her artwork, which has now exhibited and sold for more than 40 years. Nevertheless, on occasion, she tackles an acting role, often in her native Germany. Divorced from writer and journalist Joe Hyams, whom she met when he interviewed her for a Hollywood article (he recently died in November 2008), she has been married since 1993 to hotelier Wolf Walther.
– IMDb Mini Biography By: Gary Brumburgh / gr-home@pacbell.net