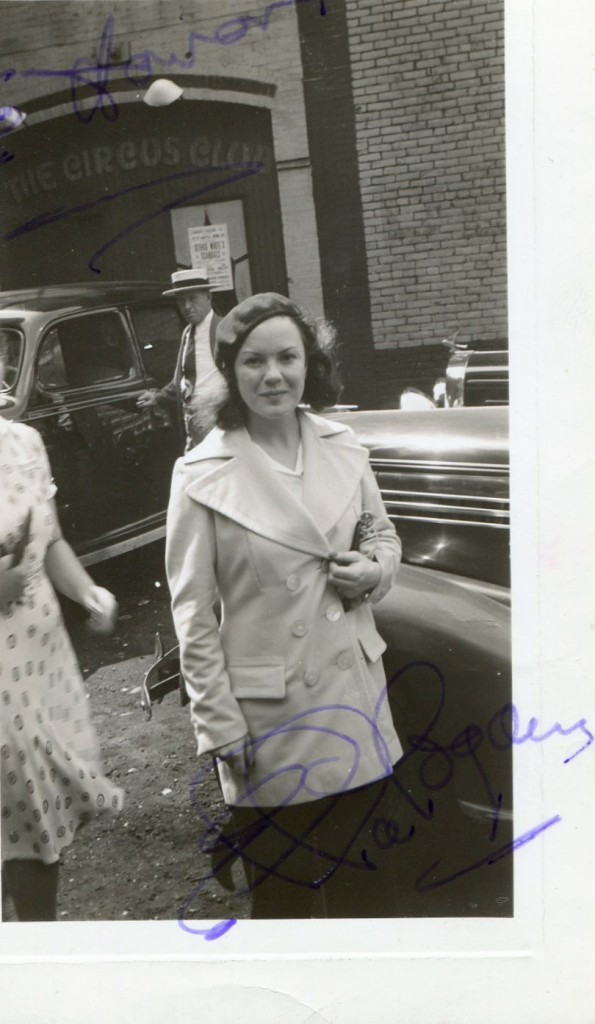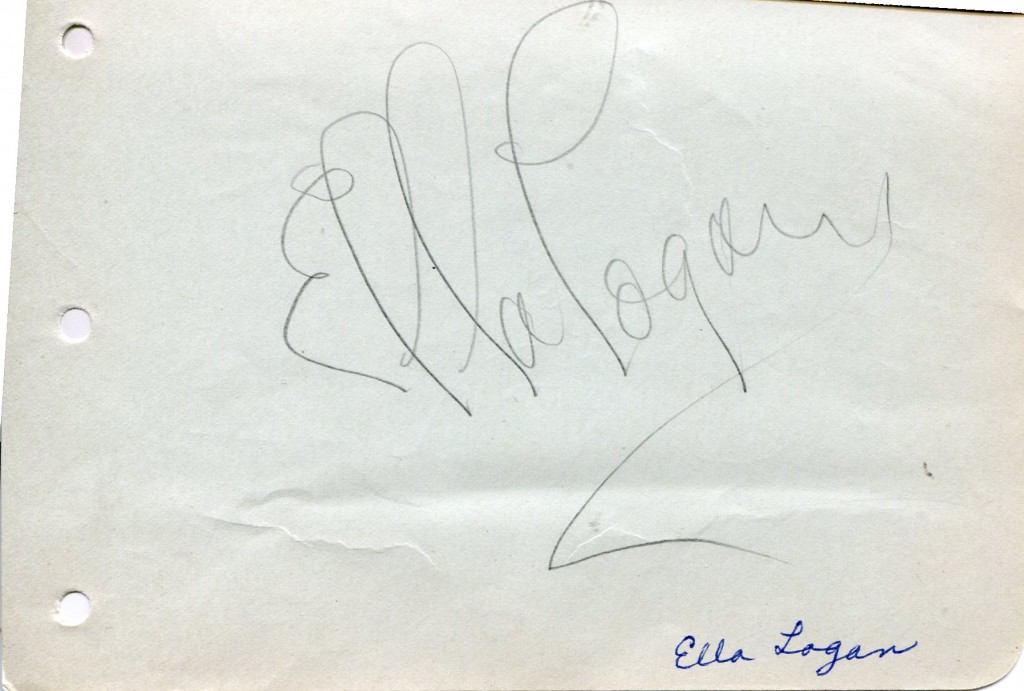 Ella Logan was born in 1913 in Glasgow.   She made her West End debut in 1930 with the play "Darling I Love You".   In the mid 1930's she emigrated to the U.S. and in Hollywood she made "Flying Hostess" in 1936, "52nd Street" and "The Goldwyn Follies" in 1938.   During World War Two she entertained the troops in Europe and Africa.   In 1947 she had a hufe success o Broadway as Sharon in "Finian's Rainbow".   It was her final Broaway show.   In the 1950's she starred on television and inconcert and supper clubs.   She died in 1969 at the age of 56.   Her niece is the actress/singer Annie Ross.
Article in "The Scotsman":
THE singer and entertainer Georgina Allan made her stage debut as a toddler, when she performed songs made famous by Sir Harry Lauder in music halls across Scotland. Briefly known as "Daisy Mars" and, by her late teens, as "Ella Logan", this daughter of a spirit salesman and a warehouse worker was singing with London's top dance bands, broadcasting on the BBC, and starring in West End revues. In the early 1930s she toured Europe – once apparently singing for a Cologne audience that included Hitler and several senior Nazis – before moving to the US where she is believed to have married for the first time. There she recorded with jazz greats including Benny Goodman. By the late 1930s, her exuberant swing recordings of traditional Scottish songs earned her the names "The Swinging Scots Lassie" and "The Loch Lomond Lass" when she topped the bill in nightclub revues. From 1935, she was based in Hollywood. Just before she left New York, her sister Mary Dalziel Short (May) (190169), and her family visited from Glasgow. May Allan and her husband, Jack Short, had a music hall act as The Logan Family, featuring their five children, including James Short (actor and comedian Jimmy Logan, 19282001) and Annabelle Short (the jazz singer Annie Ross, born 1930).
.
The above article can be accessed online here.
Article on Ella Logan on "Masterworks Broadway" website can be accessed here.
They believed that Annabelle could be the next Shirley Temple, and left the five-year-old in her aunt's care in Hollywood, where Ella Logan was trying to forge a movie career. Between 1936 and 1938 she had minor roles in five films: Flying Hostess (1936), Top of the Town (1937), Woman Chases Man (1937), 52nd Street (1937) and The Goldwyn Follies (1938), in which she introduced two of George Gershwin's last songs. In 1941, Ella Logan married the screenwriter and producer Fred Finkelhoffe, a marriage that raised her status in Hollywood society. After the Second World War, during which she entertained American forces in Italy and in Britain, she enjoyed her greatest triumph playing Sharon, a part written specially for her, in the original 1947 Broadway production of the musical Finian's Rainbow.
Divorced in 1954, she was subsequently romantically linked to several well-known bachelors, including former New York City mayor William O'Dwyer. During the 1950s she worked occasionally on television. In 1955, she returned to Scotland for a high-profile run at the Glasgow Empire and, the following year, she visited Glasgow to perform in jazz legend Louis Armstrong's show